2017 NFL Mock Draft: Projected First Round After Week 4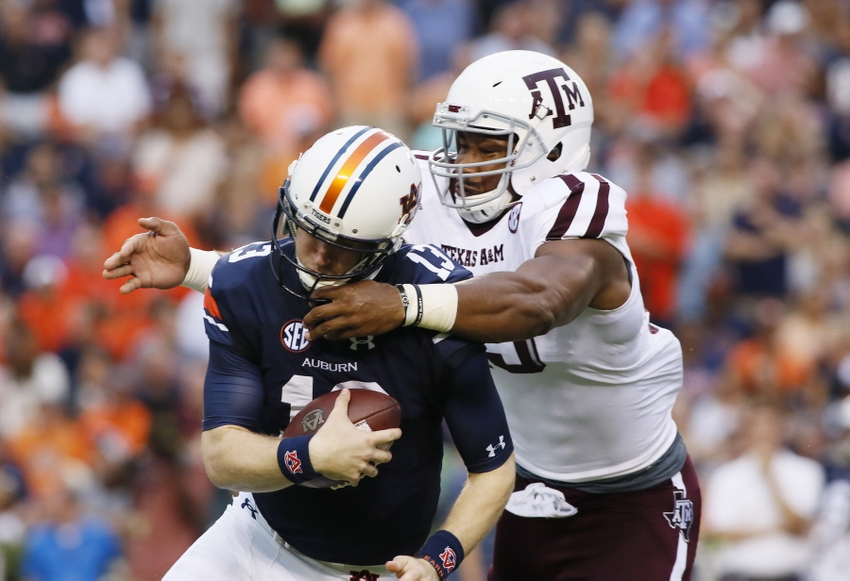 Prospects around the country are starting to show that they're worthy of being taken in the first round of the 2017 NFL draft after four weeks of college football games.
The 2017 NFL draft is still over half a year away, but a select few prospects are already making big names for themselves through the first four weeks of this college football season.
Of course, the draft order will change dramatically be the end of the year, as will the first-round prospects. However, here is what the entire first round of next year's draft would look like if it took place today.
Note: Draft order is based off of Super Bowl odds as of September 20th from OddsShark.
After all of the quarterbacks that have come through Cleveland, I'm still tempted to have the Browns take another QB in 2017. They could very well do so with two first-round draft picks, but they can't pass up on the most dominant defensive talent available with their first pick.
Texas A&M's Myles Garrett is an absolute beast. At 6'5" and 270 pounds, he's two inches taller and 20 pounders heavier than former Aggies edge rusher Von Miller. He's not the speed edge rusher that Miller is, but he's a dominant defender that utilizes his strength to dominate opposing offensive tackles.
Could Garrett not pan out in Cleveland? Sure, but he's such an incredible talent on that side of the ball that the Browns would be crazy not to give him a chance to be the franchise's star defensive player.
I'm not sure that Ryan Tannehill is the answer at quarterback for the Miami Dolphins. But don't tell them that, because they still have him under a $77 million contract through 2020. Instead of taking a QB, the Dolphins are going to want to give Tannehill as much talent as possible to work with.
Miami should start by adding talent in the backfield. Arian Foster is an aging veteran who just can't stay healthy, while Jay Ajayi hasn't exactly proven that he can be a workhorse at the next level. Instead, the Dolphins should grab their potential franchise back with the No. 2 overall pick in LSU star Leonard Fournette.
There's not a lot that you can say about Fournette that hasn't already been said. He has the size, speed, vision, acceleration and aggressiveness to be a star at the position at the next level. By giving Miami a running back that defenses will have to plan against, that will open up the passing game for Tannehill and company.
The Buffalo Bills are a mess right now, at least on defense. Tyrod Taylor and the rest of the Bills offense showed that they can put points on the board in Week 2 against the New York Jets, but that defense is so banged up that they couldn't do enough to slow their opponent down.
Fortunately, Marcell Dareus will be returning soon while rookies like Reggie Ragland and Shaq Lawson are expected to return in 2017. The talent will be there next season, but the Bills could still use some help in their secondary.
Rex Ryan has probably already fallen in love with Michigan's Jabrill Peppers. The Wolverines player is the most versatile athlete in college football, playing safety, linebacker, corner, returner and can even make some plays on offense.
The Ryan brothers could use Peppers in all kinds of ways due to his elite athleticism, instincts and nose for the ball. By adding Peppers and getting a healthy defense, the Bills could be back to making noise in 2017.
Like the Browns, the Tennessee Titans will get two first-round draft picks assuming that they don't make any draft day trades. This is far from a complete team, so they could go a number of ways with these picks depending on who is taken before their selections.
Looking at the first three picks, I don't see how the Titans can pass on Alabama's Jonathan Allen. Yes, Allen is only 6'3" and 294 pounds, but he is arguably the most talented defender on the Crimson Tide defense, and that's saying something.
Allen looks like the perfect fit as a five technique defensive end on Tennessee's defense. Rather than relying on physical tools, Allen thrives on technique and using his hands to create separation. He's not going to be an elite pass rusher in the NFL, but he's going to do a great job of setting the edge and plugging up running lanes, which is something that the Titans could use.
Jay Cutler has not been the answer for the Chicago Bears. The franchise quarterback has struggled to stay healthy and has failed to lead the team to anything meaningful over the past few seasons.
There's a good chance that Cutler could be gone after this season. In fact, the Bears would only lose $2 million in cap space if he was released before the 2017 season. If the Bears want to move forward, they could dump Cutler and pick up a new quarterback in the first round.
DeShone Kizer already looks like the best quarterback in this draft class. He has great size and arm strength while also showing off some solid mobility out of the pocket. He's made some pro-level throws this season, but has also had some mental errors that happen with young quarterbacks.
All of the tools are there, however, for Kizer to be a starting quarterback in the NFL. If the Bears want to blow it up and start rebuilding, adding a QB like the Notre Dame prospect would be a good way to start.
Who knows what the San Francisco 49ers front office is thinking, but it's probably more than likely that they understand Blaine Gabbert isn't going to be the franchise QB.
Instead, the 49ers would be wise to draft Clemson's Deshaun Watson, even if Kizer is still on the board. When looking at the two quarterback prospects, Watson looks like the better fit for what Chip Kelly wants to do on offense.
Watson and the Tigers offense had looked sluggish until the past two games, with Watson throwing for 456 yards, five touchdowns and one interception over that span. He's got a slightly slender build at 6'3" and 215 pounds, but has a solid arm and excellent speed to be a dual threat.
Still, Watson isn't exactly a polished prospect. He makes mistakes, can be inconsistent with his ball placement and stare down his No. 1 read instead of going through his progressions. The potential is still there, however, and Kelly could turn Watson into the quarterback that he's been so desperately looking for.
The Washington Redskins have a number of problems, but in order to build a playoff contender, you need to start with the defense.
Looking at the defense for Washington, they could go with a safety or a cornerback to help their secondary. However, looking at who is on the board, I also think that Washington could try and grab a potential Pro Bowl linebacker in Alabama's Reuben Foster.
Foster is a heavy hitter with the athleticism, size (6'1" and 240 pounds) and speed to stop running backs in their tracks at the line of scrimmage. While he can explode into the backfield, he can also drop back and making plays in the passing game.
The Alabama prospect is easily the most complete linebacker in this draft class, and could be a great addition to a Redskins defense that has recently added pieces like Josh Norman and Preston Smith.
I really like how the Jacksonville Jaguars have been building their franchise. After adding playmakers on offense like Blake Bortles, Allen Robinson and Allen Hurns, the team has switched to drafting defensive playmakers. Jalen Ramsey and Dante Fowler Jr. are two guys to build around, and they can continue to add defensive players in the upcoming draft.
Malik Jackson and Fowler are solid additiosn to the defensive line, but the Jaguars could pair them with Michigan State's Malik McDowell in the 2017 NFL draft. Although he's project to fit as a 3-4 defensive end in the NFL, McDowell looks like he could play as either a defensive end of tackle in a 4-3 system depending on how a franchise wants to use him.
Many compare McDowell to former Oregon prospect DeForest Buckner due to his raw talent and athleticism. If that comparison holds up, the Jaguars would love to wind up with the Michigan State prospect with the No. 8 pick.
With their second top 10 selection, the Titans can keep adding to their defense. Even though the Titans could also use some help offensively, the only way they're going to start making some noise in the AFC South is if they can start containing opposing quarterbacks like Andrew Luck and Blake Bortles.
The Titans could start doing that by taking Allen with their first pick and then the talented safety Jamal Adams with their second. The LSU defensive back isn't the versatile athlete that Peppers is, but he is still one of the most talented players in this draft.
Adams is an instinctive safety that can match up well with just about any pass catcher on the field. He's a strong tackler who isn't afraid to make big hits. Bringing in both Allen and Adams would give the Titans defense a toughness that it hasn't really possessed for quite some time.
All you have to do is look at the New Orleans Saints defense to know that they're in desperate need of cornerbacks. The current starters on the depth chart are undrafted rookie De'Vante Harris and undrafted veteran Delvin Breaux. P.J. Williams was starting but was placed on injured reserve after suffering a severe concussion.
Regardless of where the Saints pick, they're going to have to seriously consider drafting a cornerback. Fortunately for them in this mock draft, none of the top corners have been taken yet.
Florida's Jalen "Teez" Tabor could very well be the best cornerback in this class, although that could change in the next six months. He has some of the best ball skills in the country for a defensive back and has shown that he can play in man or zone coverage.
If the Saints are looking for a future No. 1 cornerback, they would be wise to take Tabor with their first-round pick.
You knew that the Atlanta Falcons were desperate for help at defensive end when they signed a 36-year-old Dwight Freeney to help man the position. While the Falcons have some young defenders like Vic Beasley who can get to the quarterback, they still need more help on that defensive line.
Auburn's Carl Lawson is so versatile that he could translate to the NFL as either a 3-4 edge rusher or a 4-3 defensive end, which is ideal for Dan Quinn's defensive scheme. Not only is Lawson an explosive pass rusher thanks to his aggressiveness off of the snap, but he also does a great job of staying low and setting the edge against the run.
The biggest concern with Lawson is the fact that he's dealt with multiple serious injuries. However, when healthy, Lawson is one of the best defensive players in the nation, making him an appealing prospect for the Falcons.
If Vincent Jackson leaves in free agency, the Tampa Bay Buccaneers may want to consider adding another wide receiver. However, this class just isn't as talented as previous ones at the position, and Tampa Bay could always wait until the second or third round to address the position.
In the first round, the Buccaneers would be smart to add another player who can get to opposing quarterbacks. Tennessee's Derek Barnett could be a great fit for Tampa Bay, especially with guys like Lavonte David and Gerald McCoy playing around him.
Barnett is a legitimately intimidating pass rusher, and I feel like he would be best served to play in the NFL as a 4-3 defensive end rather than a 3-4 edge rusher. He isn't particularly great at bending the corner and getting to the quarterback with a speed rush. Instead, he does a great job with violent hands to create separation while relying on his strength to get into the backfield.
The Volunteers defensive end could be a real force in the NFL with the right fit, and Tampa Bay could be exactly that.
The Detroit Lions have a solid offense, but they need to start adding some young talent to the other side of the ball. The linebacker position is especially thin with Tahir Whitehead being the only middle linebacker listed on the team depth chart due to injuries to Jon Bostic and Brandon Pettigrew.
Even when those two return, the Lions could use a versatile linebacker, and that's why Ohio State's Raekwon McMillan would be a fantastic addition to the defense.
McMillan is one of the hardest linebackers in the nation to block. He's so instinctive and decisive that he's capable of sniffing out plays at the line of scrimmage on a consistent basis. Combine that with his size (6'2", 240 pounds) and athleticism and you have an ideal NFL linebacker.
Although the Ohio State prospect wouldn't be an immediate threat as a pass rusher, McMillan looks like a potential long-term starter in the middle of a defense.
As someone who used to cover the Indianapolis Colts, I could tell you all about the issues that this team has on both sides of the ball. Despite all of those flaws, I can also tell you that I wouldn't be the least bit surprised if the Colts drafted another playmaker in the first round.
Coming out of Stanford, Christian McCaffrey genuinely looks like one of the most talented offensive weapons in this draft class. Not only is he an explosive running back with excellent vision and breakaway speed, but he's also a fantastic weapon in the passing game. The Colts could also use him as the return specialist that they have seriously lacked for quite some time.
Andrew Luck and McCaffrey almost feel destined to play together in Indianapolis as two Stanford players. Colts fans might want some help on defense, but they probably wouldn't be complaining as much once they saw McCaffrey play at the next level.
The injuries are already starting to pile up for the San Diego Chargers with big names like Keenan Allen and Danny Woodhead being lost for the season. On the bright side, the offense has still played well and both should be back and ready for the 2017 season.
On the other side of the ball, there isn't as much optimism. The secondary is particularly thin. Casey Hayward and Jason Verrett are solid cornerbacks, but neither are big or physical enough to be the No. 1 guy.
Marlon Humphrey is one of the most talented defensive backs in college football right now. He's a surprisingly aggressive tackler for a cornerback and uses that mindset when shutting down receivers in coverage. Opposing quarterbacks have a hard time completing passes when throwing Humphrey's way because he's almost always right on his receiver.
By adding Humphrey, the Chargers could move Heyward to the other side of the field while having Verrett play in the slot, making it a natural adjustment for all three players that would hopefully improve the defense as a whole.
The Oakland Raiders defense hasn't looked great to start the season. However, the defense is going to take time to mesh with new faces like Bruce Irvin, Reggie Nelson, Sean Smith and Karl Joseph all starting for the first time in Oakland.
With their first-round pick, the Raiders can afford to find a running back to take some pressure off of Derek Carr, Amari Cooper and the passing game. Dalvin Cook is still on the board here, so it should be an easy choice for Oakland.
The Raiders might be one of the best fits for Cook when he comes to the next level. The Florida State prospect isn't going to thrive somewhere where they stack the box because he relies so much on making big plays when he sees an opening. With Carr and Cooper stretching the field, that'll open up the running lanes for Cook on the ground.
Cook could very well go before the Raiders are on the clock, but they could very well swipe him up if he's available when it's their turn to pick.
The New York Jets look like a team that could make another run at the playoffs this season, but they're still far from perfect. They could go a number of routes with their first draft pick in 2017, but finding another offensive tackle to play opposite of Ryan Clady would be a good long-term move for the offense.
This year's class of offensive tackles is admittedly weak, but that doesn't mean that some of them could start their rookie years. Alabama's Cam Robinson looks like someone who could project best as a right tackle, which could work well for New York.
Robinson has the frame of an NFL tackle at 6'6" and 327 pounds. He's an absolutely dominant run blocker that can drive defenders back and open up some big rushing lanes. That's great news for a team looking to balance its offensive attack.
Although Robinson is still working on his technique and pass protection, he could have a positive impact on a Jets team that is currently starting Brent Qvale at right tackle.
You can tell me all you want about how badly the Cleveland Browns need a quarterback, but at the end of the day they're not going to compete for anything until the rest of the team around the QB gets better. By taking two impact defenders in the first round, the Browns could look a whole lot better next season.
Texas A&M safety Justin Evans is shooting up draft boards because of his eye-opening hits. Although he's always been a heavy hitter, Evans is also quickly developing some strong ball skills.
By adding two college teammates, the Browns could also potentially start developing a more tightly-knit locker room, which is something this franchise could definitely use after years and years of underwhelming seasons.
The Dallas Cowboys are dealing with a number of injuries and suspensions on defense this season. However, even when guys like Rolando McClain, Randy Gregory and Demarcus Lawrence return, the Cowboys are going to need to keep adding pieces on that side of the ball.
One area the Cowboys could use some additional help is on the defensive line. Dallas has lacked a serious pass rusher on the line since DeMarcus Ware was in town, but they could get a legitimate edge rusher here out of Illinois in Dawuane Smoot.
Smoot doesn't get a lot of national media attention playing for the Fighting Illini, but he has all of the tools to make a name for himself at the next level. He needs to continue to add some weight to his frame, especially as a 4-3 defensive end, but he's the aggressive and powerful player on the edge that the Cowboys could use.
The Baltimore Ravens have fallen a long way since winning the Super Bowl a few years ago. The defense is still rebuilding, but Joe Flacco also needs some weapons to work with moving forward, especially with Steve Smith likely retiring after this season.
If the Ravens are looking for a new No. 1 receiver, Mike Williams will be their guy on draft day. The Clemson prospect has an incredibly rare combination of size, speed and explosiveness that he has showcased time and time again with the Tigers.
At 6'3" and 225 pounds. Williams would be a fantastic big target for Flacco to look to as a safety blanket for years to come.
It's hard to pinpoint exactly what position the Kansas City Chiefs should target in the NFL draft after this season. They could try and find another wide receiver, but this year's class hasn't exactly blown anyone away outside of Williams.
On defense, the Chiefs could probably try to find a five technique defensive end that could fit in their 3-4 scheme. Although many project DeMarcus Walker as an edge rusher, the Florida State prospect could be a great fit for Kansas City.
Walker has a solid frame a 6'2" and 273 pounds but could potentially add even more muscle to that frame. He does a great job of staying low and using his short, stout frame to maintain his position against the run. Walker can also be a powerful pass rusher, as made evident by his 4.5 sacks against Ole Miss earlier this year.
The upside for Walker is someone like Mike Daniels in Green Bay, but he's still a developing prospect. With that kind of ceiling, the Chiefs would be happy to grab Walker in the first round.
The Cincinnati Bengals need to start looking at the future of their secondary. Adam "Pacman" Jones is 32 years old, and while they do still have Dre Kirkpatrick and Darqueze Dennard, they should make sure they're set at the position.
Iowa's Desmond King very well could have been a first round pick last year had he decided to declare for the draft. Instead, he stayed another season for the Hawkeyes and still looks like one of the best defensive backs in the nation.
Although King isn't the fastest cornerback out there, he has great awareness and fluid hips to stay with any wide receiver he's covering. When Adam Jones is gone, the Bengals are going to want someone like King to replace him.
Larry Donnell isn't necessarily a bad tight end for the New York Giants. However, if this offense wants to be one of the best in the NFL during Eli Manning's final few peak seasons, then they should consider finding a potential Pro Bowler at the position.
There is currently a two-man race for the nation's most impressive tight end between Alabama's O.J. Howard and Michigan's Jake Butt. For the moment, I'm giving Howard the edge, although that could very well chance once we get enough film on both prospects.
Howard looks like a potential mismatch waiting to happen in the NFL at 6'6" and 242 pounds. Despite that size, he's still a legitimate threat in the passing game and is much quicker than his frame would suggest. With Howard, Odell Beckham Jr., Victor Cruz and Sterling Shepard, Manning would have more than enough guys to throw to.
The Houston Texans play in the same division as Andrew Luck, Blake Bortles and Marcus Mariota. That's a pretty good sign that the team should consistently be picking up defensive players in every NFL draft.
While the Texans already have Kareem Jackson and Johnathan Joseph at cornerback, they could use a designated nickel corner with the speed to keep up with slot receivers. Michigan's Jourdan Lewis fits that description.
At just 5'10" and 170 pounds, Lewis isn't going to be an outside cornerback at the next level. However, he is so quick and surprisingly aggressive that he'd have no trouble transitioning into the slot in the NFL. That's something that should make the Texans take a long look at the Michigan defensive back.
Thanks to trading away Sam Bradford, the Philadelphia Eagles were able to pick up a first-round draft pick. Although the Eagles could wind up drafting much earlier than this, they would be wise to take a defensive player this late in the first round.
Florida's Jarrad Davis could be a nice fit for the Eagles. He's an athletic and instinctive linebacker who could play either in the middle or as an outside backer in Philadelphia's 4-3 scheme.
Not only can Davis make plays at the line of scrimmage, but he's also pretty solid in pass coverage. Few linebackers can say that coming into this year's draft, so Davis could very well wind up in the first round as long as he continues to produce for the Gators.
The Denver Broncos made an effort to bolster their offensive line by adding two offensive tackles in Russell Okung and Donald Stephenson this offseason. However, Stephenson probably isn't someone who should be starting.
With the Broncos picking this late, they can try and find a position of needs and go for offensive tackle Mike McGlinchey out of Notre Dame. Even though he projects best as a left tackle, he probably couldn't do much worse on the right side than Stephenson.
Of course, the Broncos could always try to find another running back, but something tells me that they're just fine with C.J. Anderson in the backfield, and they could always find a backup for him in later rounds.
Now that Josh Norman is gone, the Carolina Panthers desperately need a new No. 1 cornerback. It's only been a few weeks but it's become abundantly clear that Bene' Benwikere and James Bradberry aren't going to be that guy.
Before going down with a serious ankle injury, Tennessee's Cameron Sutton was one of the most impressive prospect I had watched this season. He has an ideal frame for a shutdown corner at 6'1" and 181 pounds while possessing the recovery speed and aggressiveness to prevent big plays.
Of course, Sutton's draft stock will depend heavily on whether or not he can return and play at a high level this season. However, judging from what we had seen earlier this season, Sutton looks like a genuine first-round prospect.
Marshawn Lynch has hung up the cleats, and the Seattle Seahawks are still trying to find out who is going to replace him as their workhorse back. So far, both Thomas Rawls and Christine Michael have failed to show that they're worthy of 20-plus carries a game.
However, the Seahawks could try to find their next franchise running back in a class that's loaded with them. Fournette, Cook and McCaffrey are all gone, but the Seahawks can still grab Nick Chubb with the No. 28 selection.
Chubb is a compact running back that can shed off tacklers and hit the hole with speed when he sees it. The production hasn't been there at Georgia this season with opposing defenses stacking the box, but the talent can't be denied.
With Chubb playing in the backfield behind Russell Wilson, the Seahawks offense could potentially get back on track.
At this point, there's not really much that the Arizona Cardinals need. They have one of the most complete teams in the NFL and a top-tier head coach in Bruce Arians. Looking forward, they could do themselves a favor and find Carson Palmer's eventual successor.
With the top two quarterbacks gone, the Cardinals could still scoop up Miami's Brad Kaaya. He's far from a finished product with inconsistent ball placement and can struggle with pressure in his face. However, Kaaya has a really smooth, quick release with a tight spiral and a strong arm.
Arians loves his vertical offense, and with a year or two to learn under Palmer, Kaaya could do a great job taking over under center in a couple of seasons.
With Josh Sitton now in Chicago, the Green Bay Packers offensive line has looked pretty shaky to start the 2016 season. If they want to keep protecting Aaron Rodgers, then it would be wise to look for an offensive guard early.
Fortunately for the Packers, there's an All-American guard waiting out of Indiana in Dan Feeney. A former teammate of current Packers rookie Jason Spriggs, Feeney has paved the way for some elite Big Ten running backs in Tevin Coleman and Jordan Howard.
Feeney's absence was felt this past Saturday when Indiana fell to Wake Forest, as he's arguably the most valuable player for the Hoosiers. He does a great job at paving the way for his running back and can protect his quarterback from A-gap pressure.
With Feeney stepping in for Sitton, the Packers offensive line problems could potentially start to fade away.
The Pittsburgh Steelers recently drafted Bud Dupree, but the promising edge rusher was placed on injured reserve/designated to return. Even when Dupree is back, the Steelers could use another linebacker on the edge to eventually replace Lawrence Timmons.
If Missouri edge rusher Charles Harris falls this late in the first round, the Steelers will have no choice but to grab him. He's a talented pass rusher who doesn't rely on just one way to get to the opposing quarterback. That kind of creativity could make Harris a dangerous edge rusher at the next level.
With Harris and Dupree on either side of the offensive line, opposing quarterbacks are going to have to start worrying a lot more about protecting themselves when they take on the Steelers.
No one can predict where the New England Patriots are going to go with their first-round draft pick. However, it is clear that they could use some more depth in the middle of their defensive line.
Utah's Lowell Lotulelei is the younger brother of the Carolina Panthers lineman Star Lotulelei. He's a powerful interior defender who can stay low and plug up rushing lanes, which is always something an NFL team could use.
Again, the Patriots could go a number of ways with this pick, but Lotulelei is starting to generate some noise right now as a potential late first-round pick.
This article originally appeared on