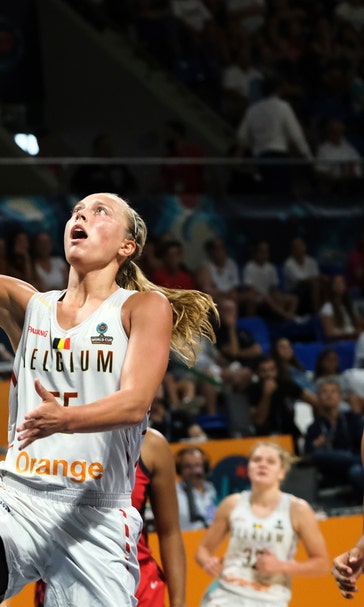 World Cup Diary: A'ja Wilson talks playing in the World Cup
September 30, 2018
SAN CRISTOBAL DE LA LAGUNA, Spain (AP) — Here we are on the morning of the gold medal game and it's been quite the experience so far.
It's been a joy to have the opportunity to play and compete against the best in the world and I've been capitalizing on every moment I've had here. I've enjoyed watching the games and playing in them and being with my teammates. You get a real appreciation for how good the players are throughout the world.
One special moment for me was playing Nigeria in the quarterfinals and going against my former South Carolina teammate Sarah Imovbioh. She was a teammate I really loved with the Gamecocks. She's always been herself and brought a lot of energy every time she played. Seeing her playing for her country and making history made my heart smile, to see how much fun she was having and how much pride she has for her country. I know it made coach Staley and I very, very, happy.
We took a photo together after the game and I can't wait to see it.
Playing around some of the best ever to play has been a lot of fun, seeing their basketball IQ and their knowledge. The stories they have from being in the league so long. I was talking with my Las Vegas Aces teammate Kelsey Plum and we hope we can be in the game long enough to build stories like that. I'm trying to take it all in.
One thing I've learned being on this team is to not do anything out of your role just because you're on a different team. I come from teams where they expect me to do a lot. Here I don't have to do that. Here I can just be myself and play a certain amount and know someone else is coming in to pick it up.
It definitely helps since the other day I got a little bit of food poisoning and was feeling under the weather. Fortunately, we have great doctors with us and they got me back on track and being the A'ja I'm used to being.
It's not been all basketball here. My mom and I found this really great manicure spot so I got my nails done. Then of course we went souvenir shopping a bit. No, I didn't get a flamingo to bring back, but we got scarves, clothes, jackets, shot glasses and bracelets. Out of our friends we travel the most, so we always try to get them things from every country we go to.
And now I hope to bring home one more thing, and that's a gold medal.
---
---