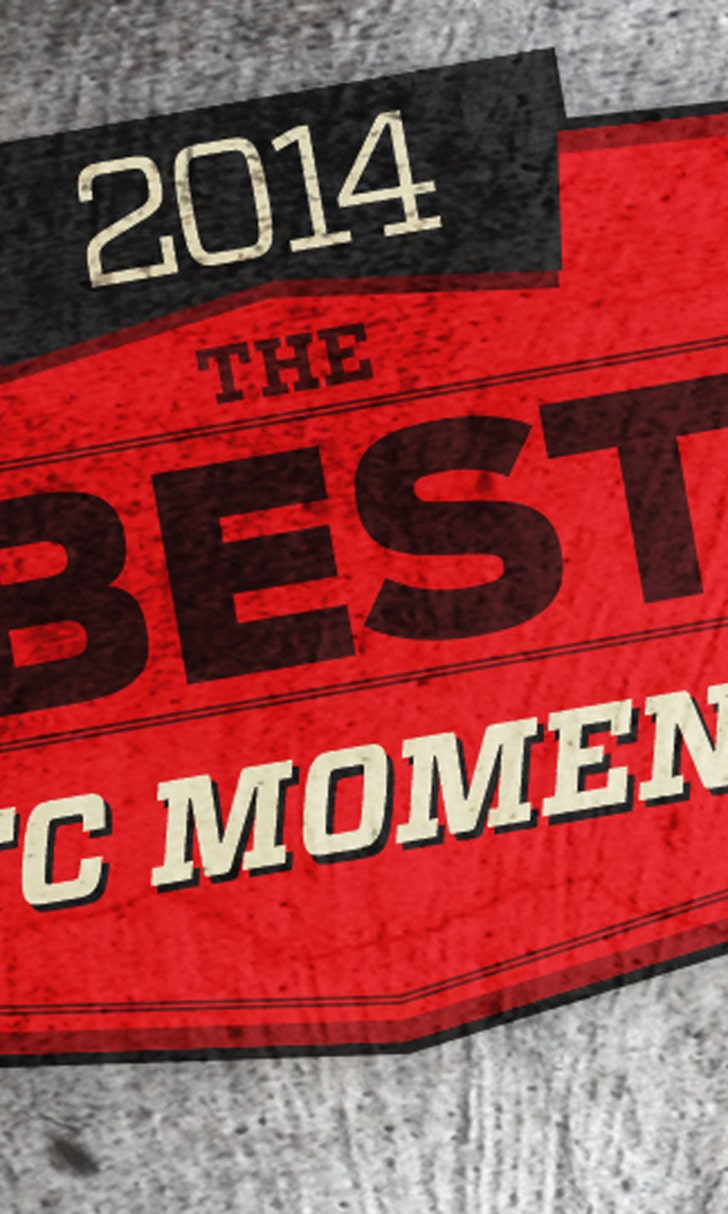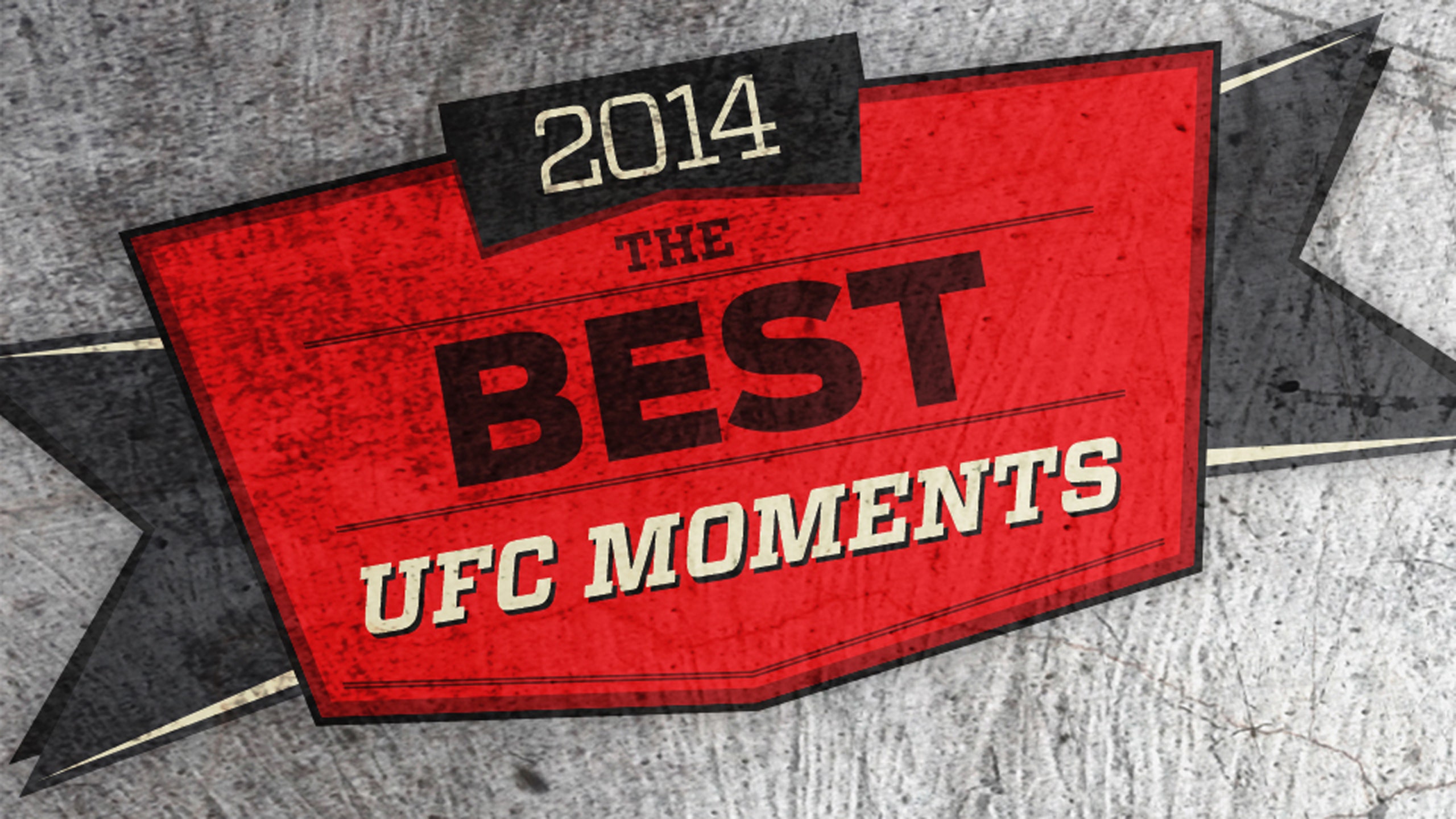 The Top 10 UFC Moments of 2014
BY Elias Cepeda • January 5, 2015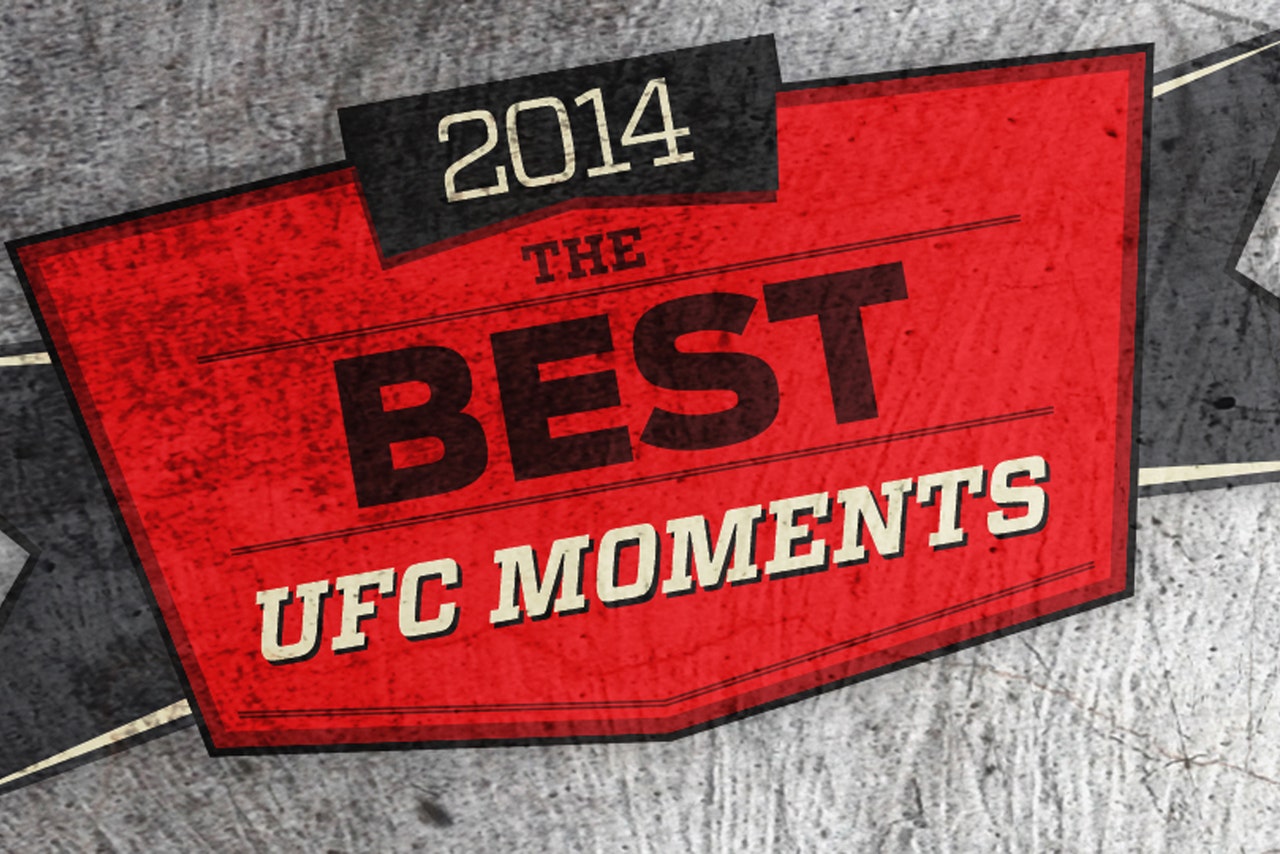 How do you describe a great moment? Is it a pleasant surprise? Is it when you finally achieve something you've wanted for years? Is it simple survival in overcoming hard times?
In the case of the UFC's best moments of 2014, it can be any of those things, and more. Check out our picks below and let us know your picks in the comments section and on Twitter!
10. UFC going to Mexico
2014 was the year that the UFC finally made its debut in one of the best fighting countries in the world, Mexico. On November 15, the UFC held its first ever event in the home nation of countless boxing champions and legends, choosing the gigantic, and global capital Mexico City as the location.
Sadly, the event didn't feature heavyweight champ and Mexican-American Cain Velasquez, as an injury forced him to pull out. But Spanish-language UFC broadcaster Fabricio Werdum still sort of represented Mexico with a heart-pounding come-from-behind KO victory over people's champ Mark Hunt.
The UFC has made global expansion a key to its plans for the future, and Mexico needs to be a center-piece of those plans, both because of their rich fight history, but also simply because the country contains millions and millions of passionate fight fans.
9. Ronda Rousey turning into a KO artist
For her entire career, Ronda Rousey had dominated opponents with takedowns and arm bars. Time after time, her attacks were as predictable as they were unstoppable.
All the while, the Judo Olympian and her coaches insisted she was working on her weaknesses, her striking on the feet. Rousey proved just how much progress she's made in the stand-up striking department in 2014, knocking opponents silly not just with her judo flips and ground striking, but also with knockout power in her limbs on the feet.
Rousey took just sixteen seconds to drop, flip and KO Alexis Davis, at UFC 175. At UFC 170, Rousey knocked Sara McMann down and out with a nasty knee to the body.
In 2015, opponents simply won't know which weapon to look out for from Rousey, and that will make the "Rowdy" one even more dangerous.
8. Anderson Silva's comeback
Anderson Silva was, perhaps, the most dominant champion in MMA history, from 2006, to 2013. Then, he got stopped twice by Chris Weidman and lost his title.
What was likely worse for "The Spider," was the specifically horrid way he lost the rematch to Weidman, in December, 2013. Weidman checked a leg kick from Silva, and the force of the defensive move snapped the Brazilian's leg in half.
Nearing 40 years of age, coming off of two straight KO's, and with a leg that many feared would never be the same, it appeared as though Silva's legendary career had come to an end. Instead, Silva got back into the gym as soon as he could, following reconstructive surgery, and made rapid recovery.
Now, he's set to face Nick Diaz in the main event of UFC 183 at the end of this month. Whatever the outcome of the fight, it was inspiring to watch Silva's champion spirit and will on display in 2014, as he doggedly set out to heal his physical and mental wounds, and step back into the cage for battle one more time.
7. UFC fighters like Joe Lauzon letting fans into his life
One of the most endearing parts of MMA has always been how relatively accessible its fighters, even the stars, usually are. Champion Jon Jones spent part of UFC 182 in the crowd, signing autographs and posing for photos, instead of warming up for his main event fight against Daniel Cormier, last Saturday.
Clay Guida routinely mingles with other Bears and Cubs fans in Chicago at Soldier's Field and Wrigley Field, beer in hand, laughing and cheering. And some fighters are so close to their fans that they even let them into difficult and private moments.
This past year, UFC bonus king Joe Lauzon and his family went through a great deal of stress and turmoil as the joyous occasion of he and his wife's first child being born had scary uncertainty added to it when Joey Jr. was born with a number of life-threatening illnesses and resulting complications.
Naturally, the Lauzons kept much of this private, at first, but once they did let the world know about little Joey's battles, they used their lives to help raise awareness about cancer.
By sharing updates of Joey's health, being open about worries, and celebrating successes and milestones with his fans on his Facebook and Twitter pages, this past year, Lauzon deepened the already strong connection he has with his many fans. And fight fans, got to see that their heroes are still human, and just like them.
6. Anthony Pettis's successful return
Right as Anthony Pettis broke through, became a champion and got the attention of big-time sponsors, the lightweight title-holder was sidelined for over a year with knee injuries.
While out, "Showtime" was taunted by rivals, and even questioned whether or not he'd ever be the same fighter that was able to capture WEC and UFC titles in spectacular fashion. Well, last month, Pettis made his Octagon return and looked better than ever, submitting Gilbert Melendez at UFC 181.
The champ is right back on the horse with a second title defense booked for March in Dallas at UFC 175 against Rafael Dos Anjos. It's clear that Pettis is as happy to be back as UFC fans are to have him.
5. Robbie Lawler finally claiming gold
Robbie Lawler burst onto the UFC scene as a teenage phenomenon. He had KO power and a quick temper to go with his fast hands.
However, Lawler's success at the highest levels was mixed and, though he continued to fight and fight well all over the world, he spent the better part of a decade outside of the UFC. Once he returned, however, the quietly cerebral fighter showed just how much he'd improved, stopping some of the very best welterweights in the world.
At UFC 171, last March, Lawler came thisclose to becoming a UFC champion, but ultimately slowed down ad Johny Hendricks stormed forward in the final round and took the decision and belt. Last month, however, Hendricks stepped back into the cage with Hendricks at UFC 182 after two more big wins, and fought hard for five rounds to become a world champion for the first time in his over decade-long career.
Even though most observers may have given up on Lawler as a contender years ago, the fighter himself never did give up on himself. Now, he's the smartest looking guy in the room for having maintained that self belief, with gold wrapped around his waist.
4. Dominick Cruz winning again
If  Anthony Pettis' year and a half out of competition seemed long, we have no idea what it must have felt like for dominant former bantamweight champion Dominick Cruz to sit out with injuries for three years as others grabbed the opportunities and titles he'd earned. In September, however, Cruz finally stepped back into the cage, and looked stronger, faster, and meaner than ever, in quickly finishing Takeya Mizugaki.
Unfortunately, Cruz once more has to overcome a serious knee injury, recently sustained, but watching "The Dominator" return to form in 2014 after such a long absence was a thing of beauty.
3. Jon Jones passing another hard test
Jon Jones does such fancy things in the ring and has been so mostly dominant that some erroneous conventional wisdom has managed to develop in the fight world. Namely, that he is lost when pressure, and that he can't grind out wins.
Jones spent most of 2014 being doubted by fans and his peers that he'd be able to deal with the wrestling, inside fighting and toughness of Daniel Cormier. Just days after the end of 2014, at UFC 182, Jones once more proved those assumptions wrong when he out-wrestled Daniel Cormier and fought in a telephone booth for five championship rounds.
For the second time in his career (the first being against Alexander Gustafsson in 2013), Jones was tested and pushed to the brink of defeat. And, for the second time in his career, he answered with the heart of a lion, and refused to give in when tested.
2. Johny Hendricks gutting through injury at UFC 171
Johny Hendricks' welterweight title win at UFC 171 in March against Robbie Lawler was brutally impressive enough, even before we learned that the wrestler had injured his biceps days before the fight, and then completely tore them in the first round. Re-watching the bout with that knowledge makes his heart, grit and conditioning awe-inspiring.
Hendricks refused to let a serious injury suffered early in the fight stop him from charging after and beating one of the most dangerous men in the world. Hendricks pushed past pain, past fear, and past doubt, to grab hold of a world title belt that should have already been his after a controversial loss to Georges St. Pierre in 2013.
Watching that desire, set to action in a brilliant display is a moment that will live on in MMA history for years to come.
1. Cat Zingano's perseverance
Throughout this list, we've covered fighters who inspired us by overcoming traumatic injuries. We've discussed fighters who kept on moving despite personal tragedy.
We've mentioned fighters who, after waiting and working for years, finally broke through a level they'd never had before, to reach new heights in the sport. Cat Zingano did all three.
The number one bantamweight contender was selected as our comeback fighter of 2014 last week for good reason. This fighter and mother's success is more than her re-earning a world title shot after a long lay-off.
Hers is a success of perseverance through career-threatening injuries, profound tragedy and personal loss, this past year. Watching Cat Zingano overcome all she did, and fight like the beast she is was enough to evoke tears of sadness and then joy.
Cat Zingano's success this past year, through adversity, isn't just what's great about MMA and sport, it's what is admirable and best about humanity.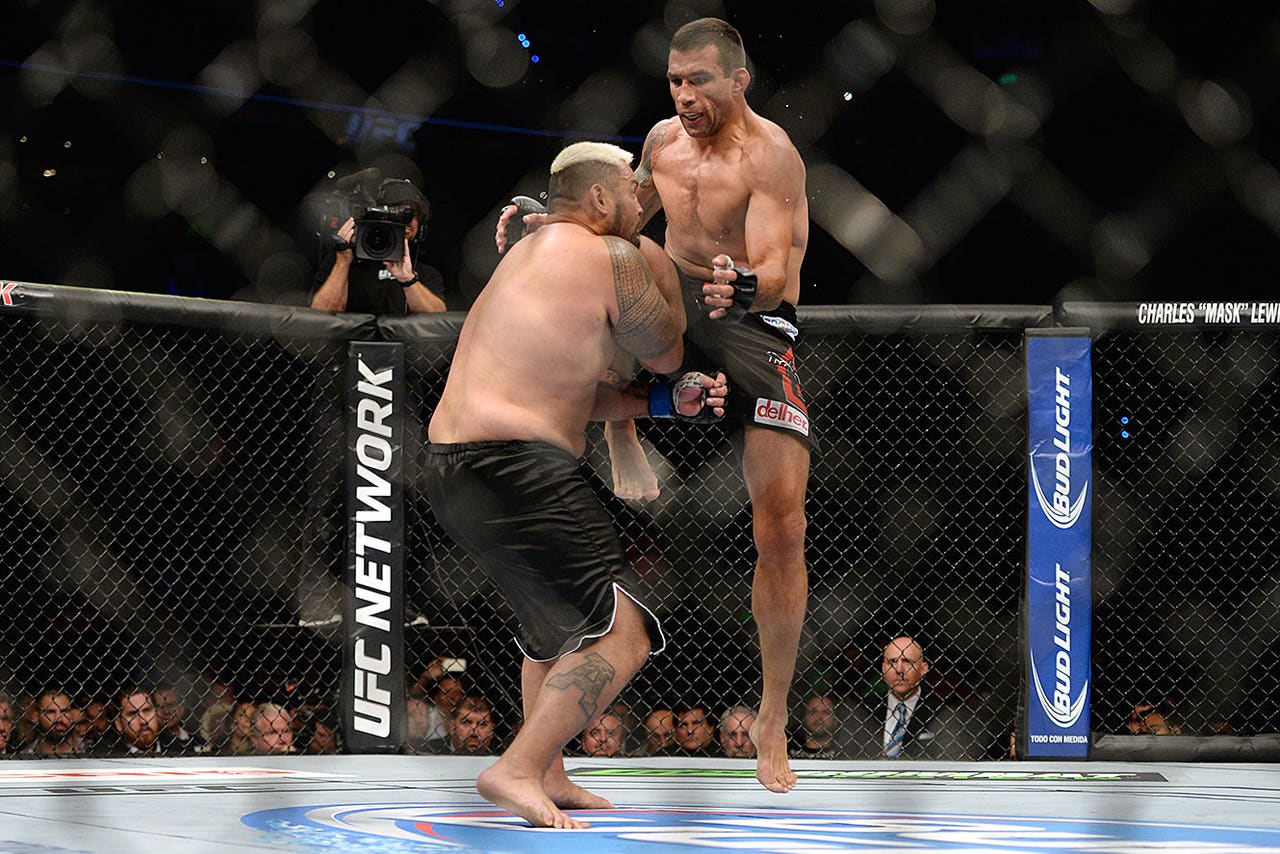 Fabricio Werdum [R] delivered a come from behind KO over Mark Hunt in the UFC's first ever event in Mexico, last November.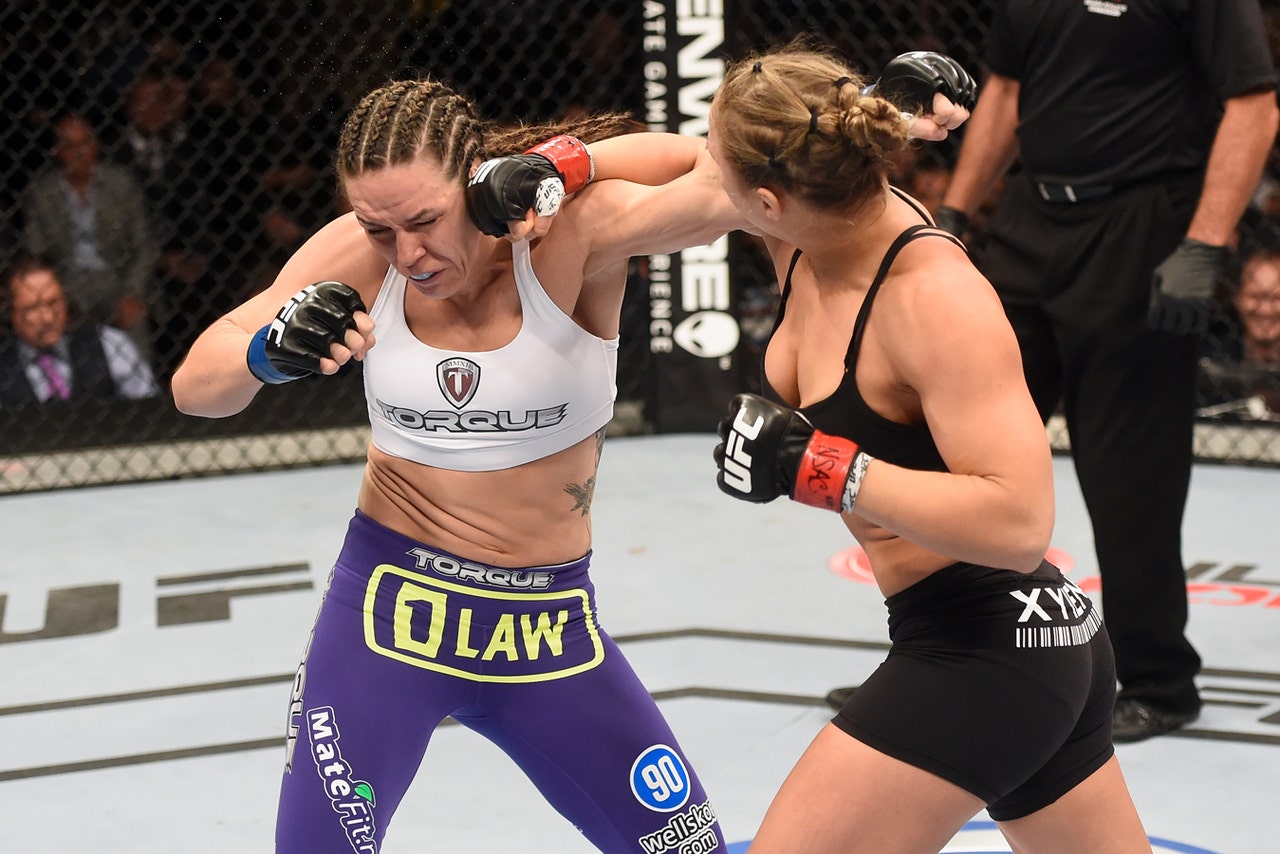 in 2014, Ronda Rousey [R] showed that her strikes are just as dangerous as her throws and submissions.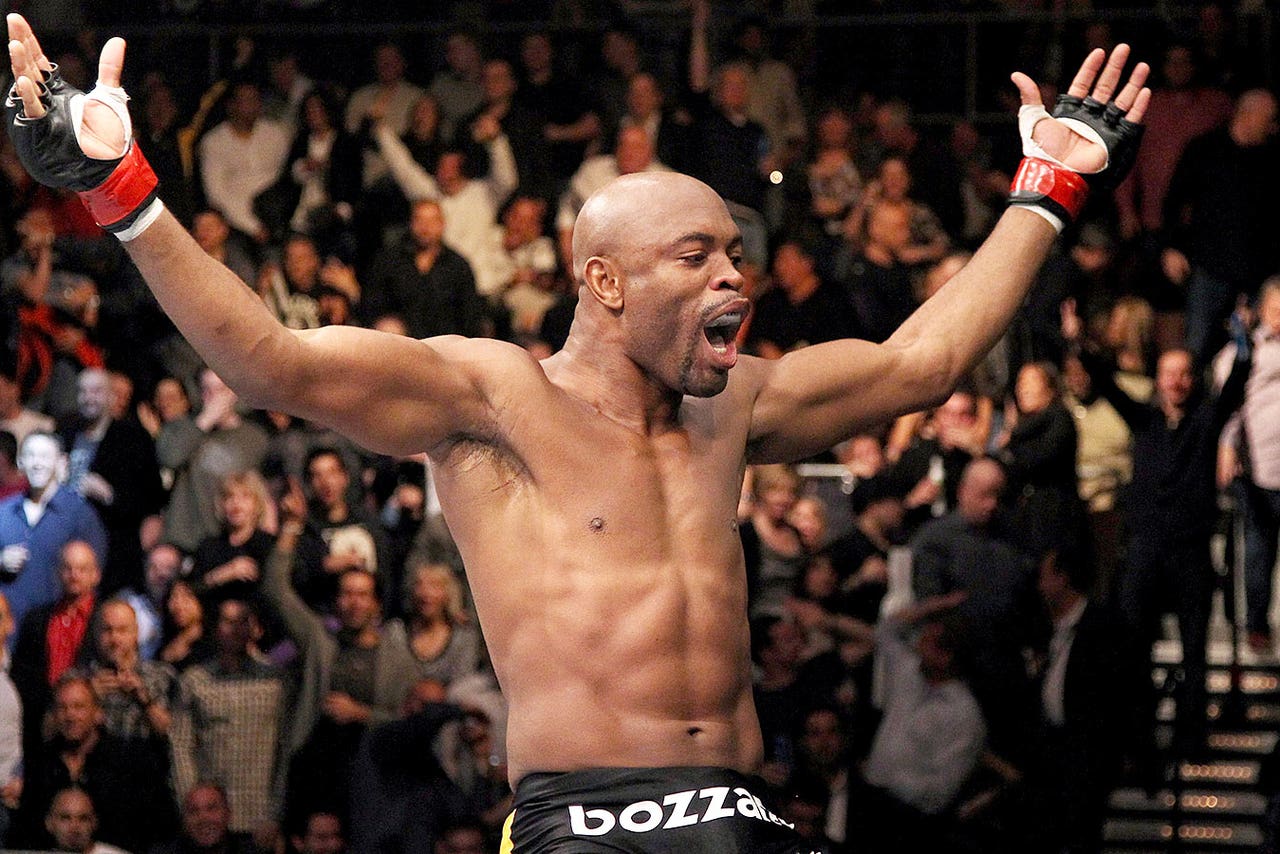 Watching Anderson Silva work hard to come back from a career-threatening injury, in 2014, was as rewarding as viewing any of his in-ring wins.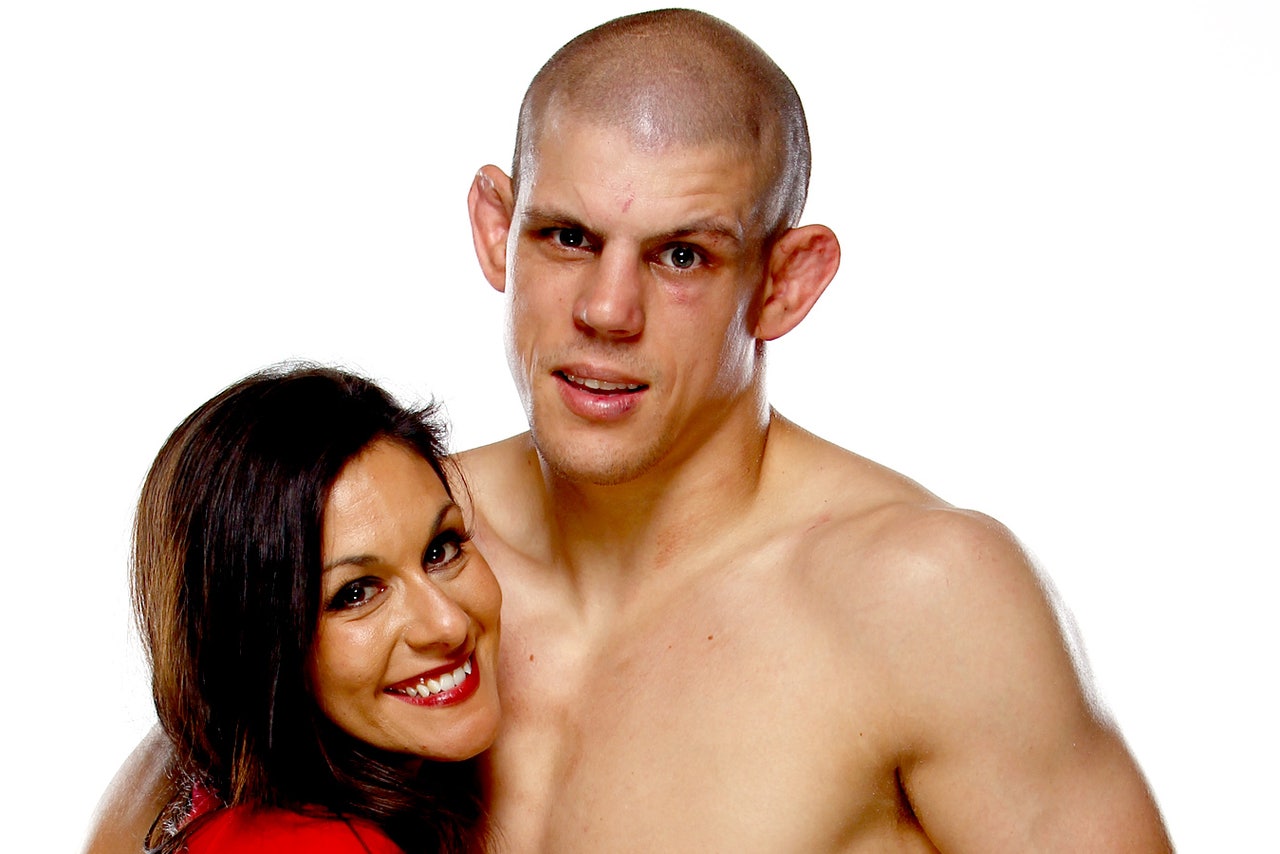 Joe Lauzon and his wife Katie shared a difficult but triumphant year with fight fans in 2014.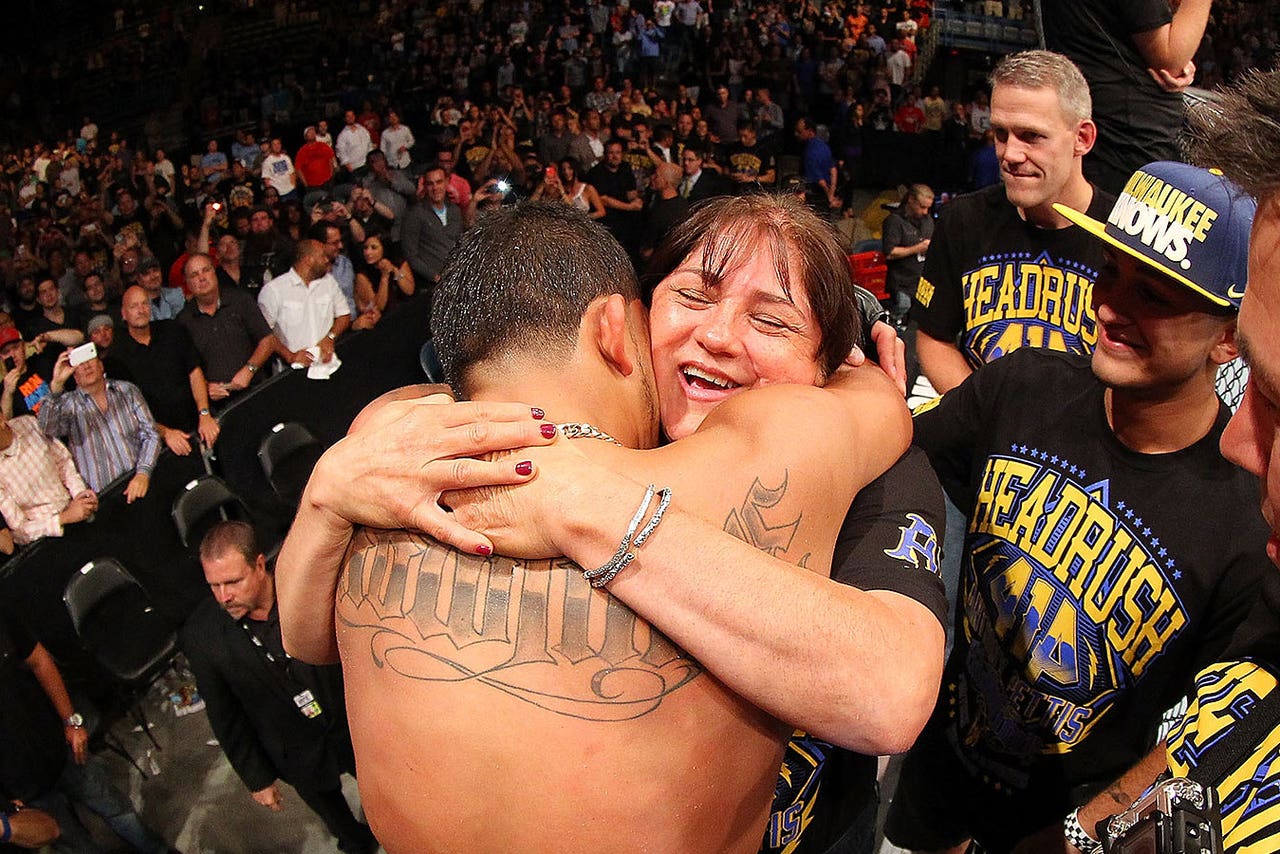 Anthony Pettis got to celebrate once more, in 2014.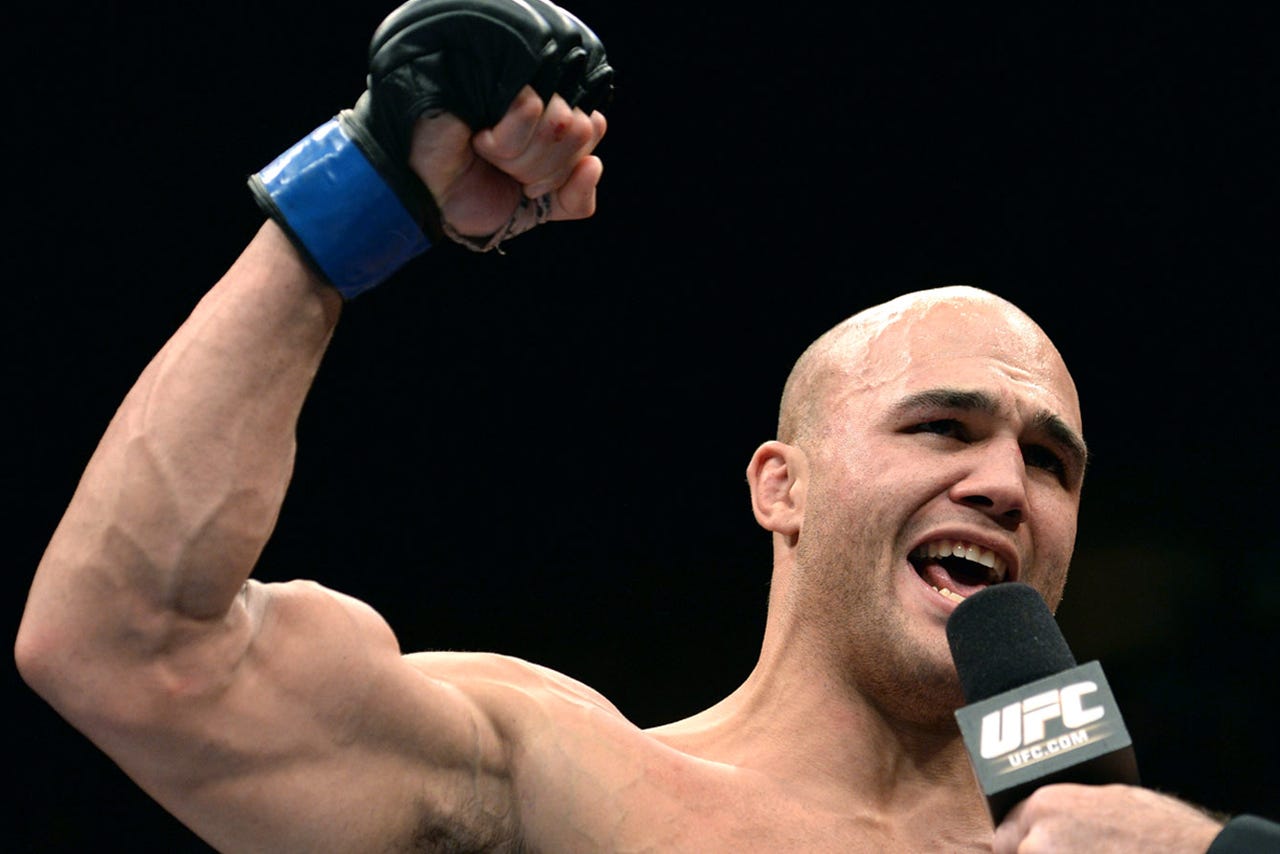 Robbie Lawler's long and winding road to a UFC world championship made it all the sweeter.
Dominick Cruz [top] refused to give up during three years out of action due to injuries, and made a triumphant return in 2014.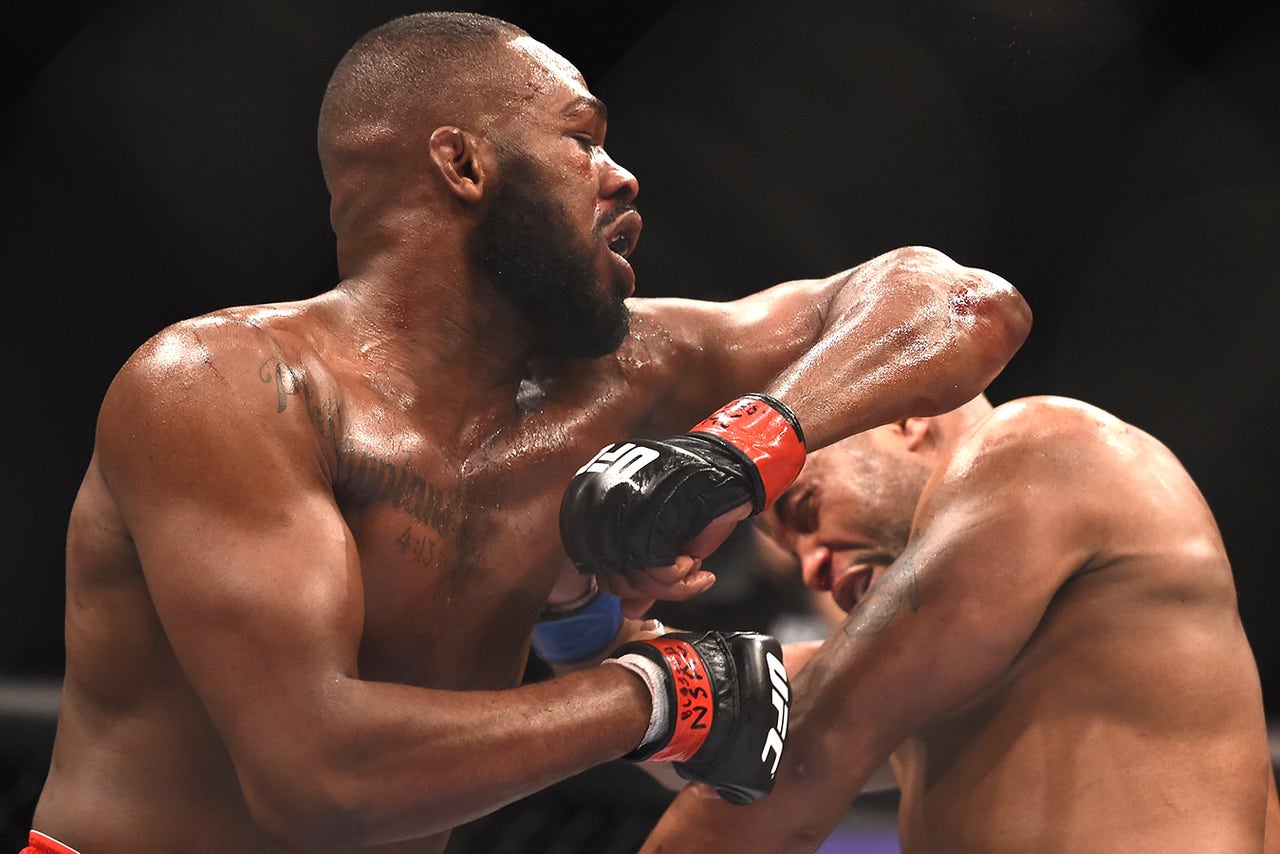 Champion Jon Jones [L] once more proved that he's got just as much grit and heart as he does natural abilities.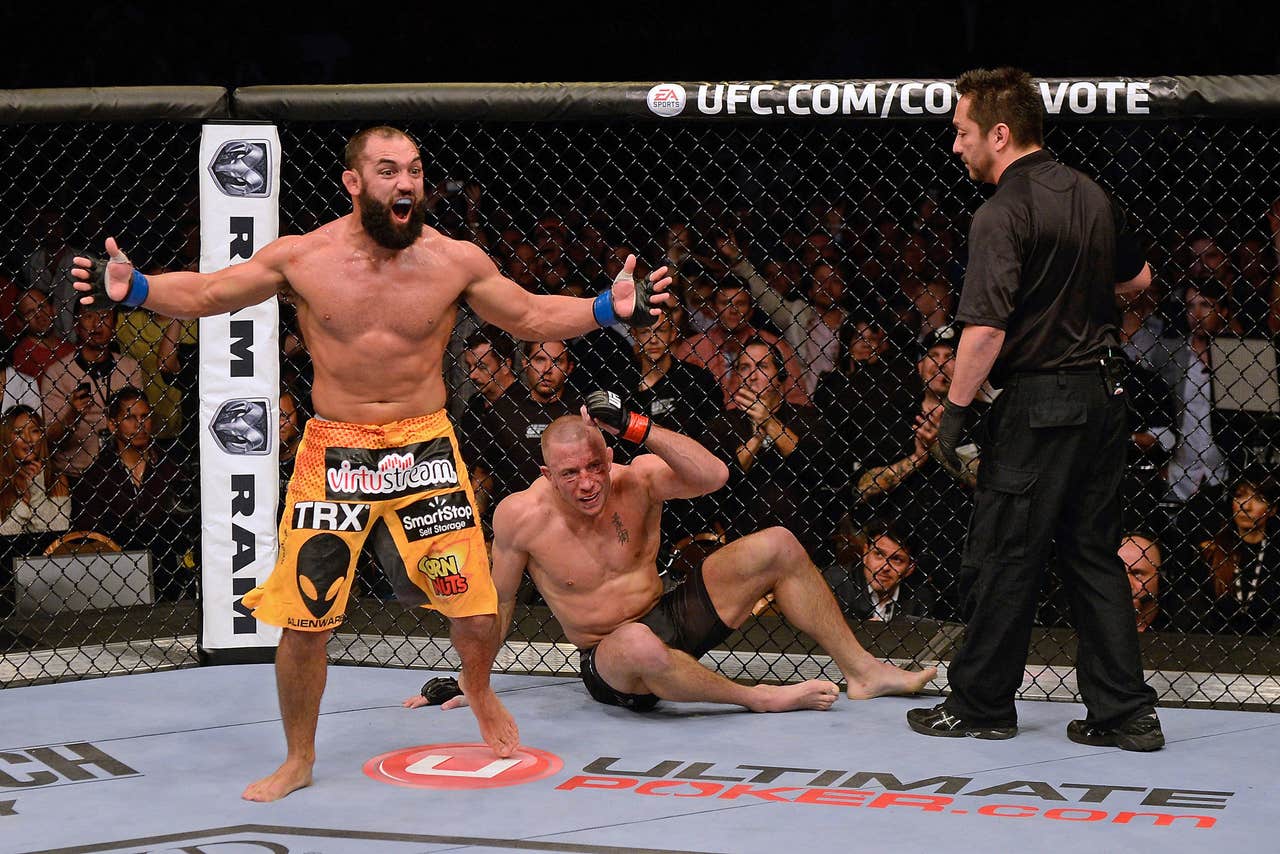 Johny Hendricks [L] is as tough as they come.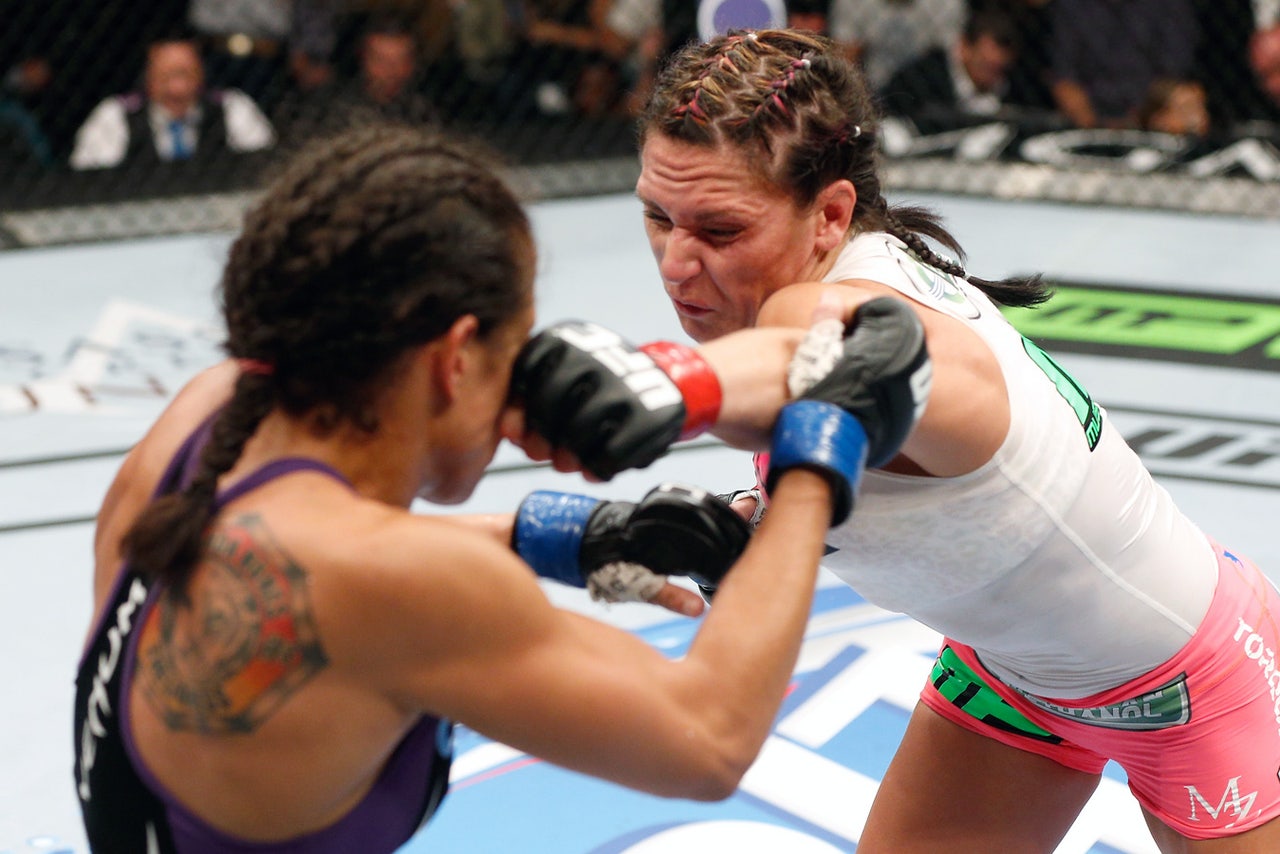 Cat Zingano [R] showed that she can handle whatever life throws at her, in 2014. 
---
---