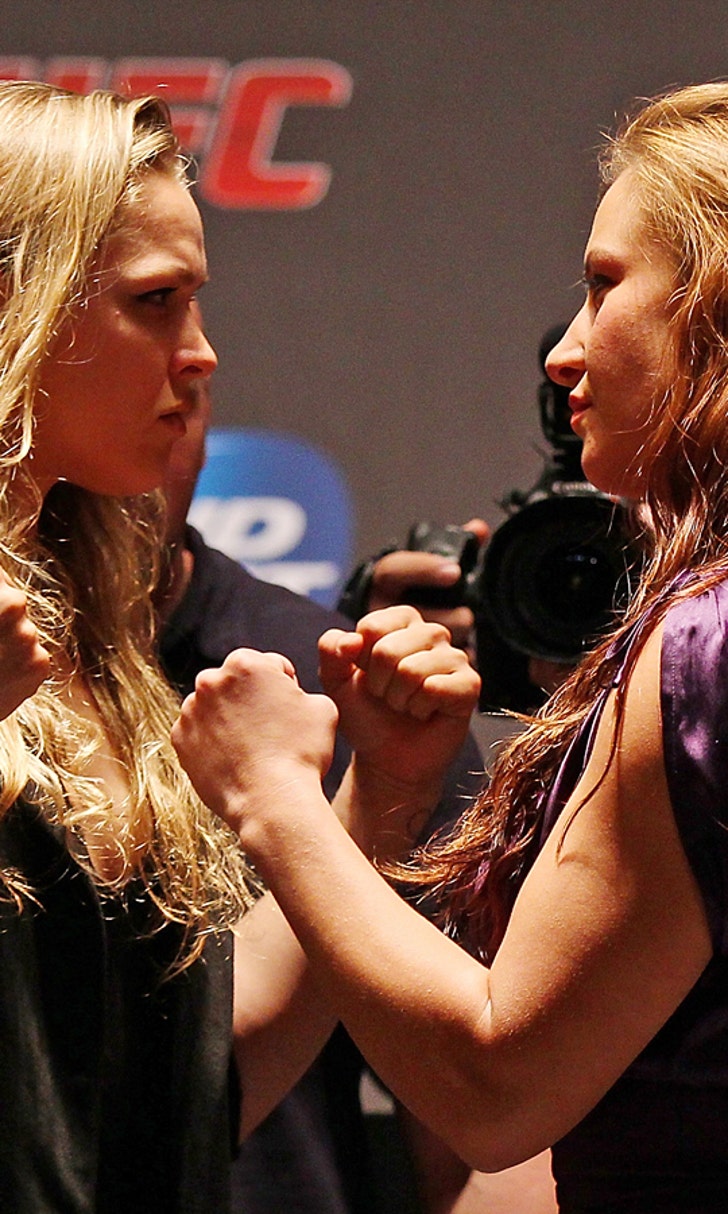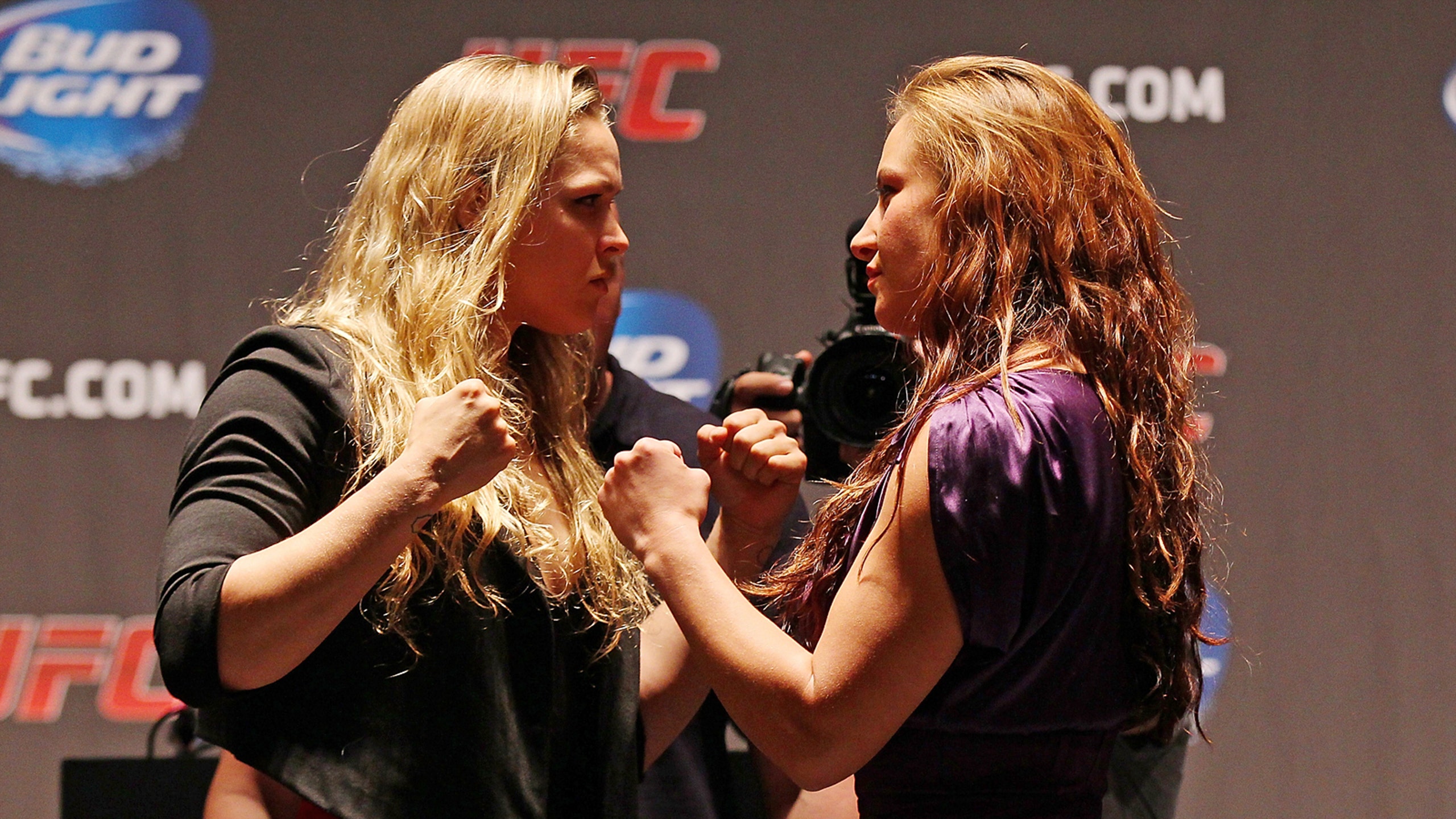 Best Beef of 2013: Ronda Rousey vs. Miesha Tate
BY Damon Martin • December 23, 2013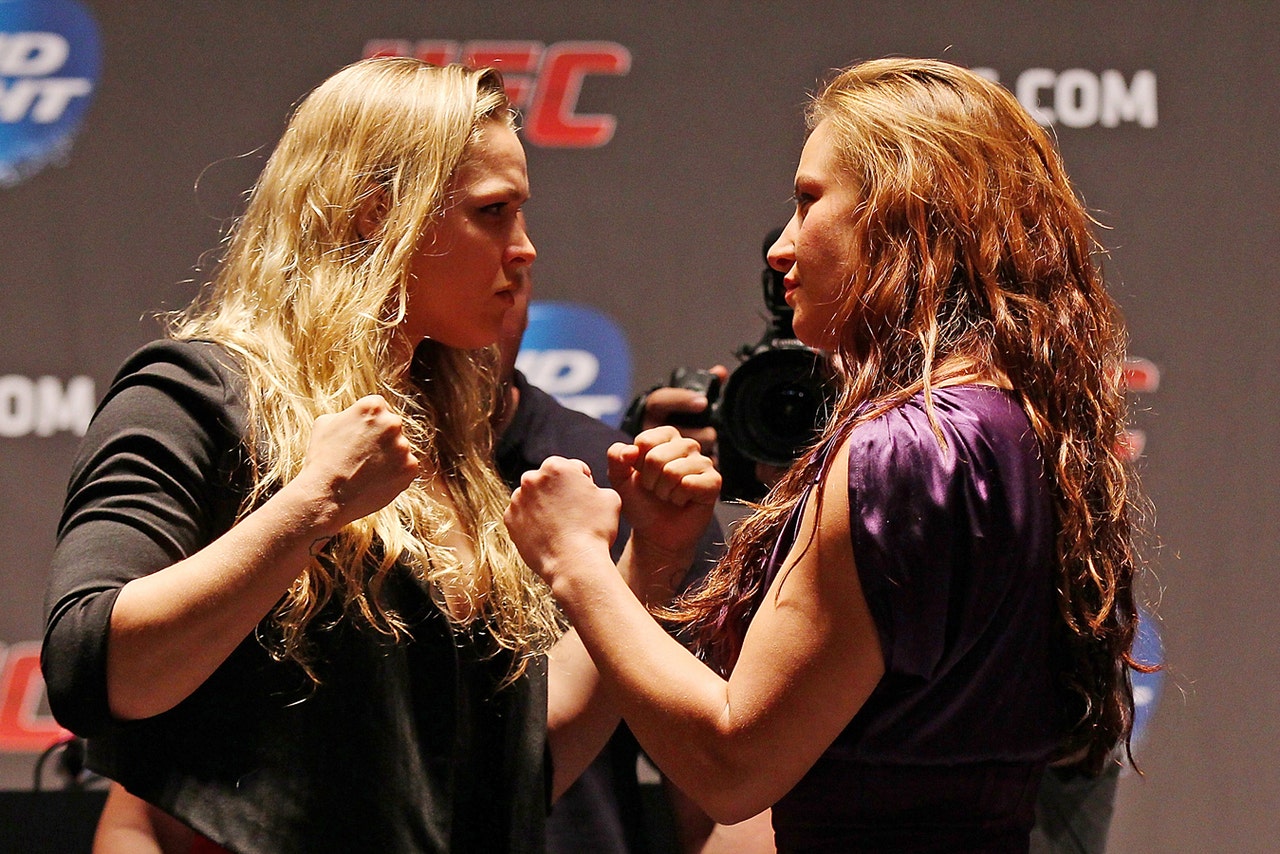 No matter how much mixed martial arts strives to be a sport held in the same light as the NFL or the NBA, it's hard to deny at the end of the day that this competition is a fight and there is no better way to settle a grudge than stepping inside the Octagon, lacing up the gloves and throwing down.
MMA has been built on the age old premise of one fighter not liking something about another fighter, one of them wants to punch the other in the face, and so we all get to benefit when it finally boils over into interviews, TV shows and eventually a fight.
In 2013 we saw some epic grudges unfold in the UFC with rivalries that may live on forever, but there was none bigger this year than the epic hate fest that was Ronda Rousey against Miesha Tate.
The two women's bantamweight fighters have been attached to one another ever since Rousey called out Tate in late 2011, which eventually led to a fight in 2012.  Rousey won that fight when she snapped Tate's arm with her signature armbar, but despite the definitive victory the venom and vitriol between the two ladies remained, just simmering under the surface like a volcano waiting to erupt.
It was during filming for The Ultimate Fighter season 18 when things finally reached a tipping point as Rousey and Tate led their respective teams during the season, but their heated rivalry touched every aspect of the show.  
Rousey took every opportunity to mean mug, flip off and generally just do anything to express her disdain for Tate. On the other side, Tate killed Rousey with kindness but didn't mind taking plenty of time to dig into her next opponent with subtle jabs and pranks over the course of six weeks of filming.
"With (Ronda), it's just like every time she could she was just sticking a pin and saying things purposefully.  Ronda's like 'I don't play the fake b*tch game'.  That is such a crock.  Any time we'd see each other at fights she'd be passing by and she'd walk as close as she could and be like 'hey buddy how are you?' and we'd just like walk away.  She was just trying to rub it in and she used to try and get that reaction out of me," Tate told FOX Sports about the heated rivalry.
"She uses the excuse of 'being real' to act like a brat and act unsportsmen like, and flip me off, and say whatever she wants.  That's easier than just being the bigger person."
Rousey and Tate's hatred for one another will finally come to a head at UFC 168 when they meet with the women's bantamweight title on the line, and there may not be a more heated moment than when these two fighters square off first at the weigh-ins before actually getting the chance to face off the next night.
In the annals of ugly rivalries in MMA history, Rousey and Tate stand near the top of an all-time list not to mention just being the best beef for all 2013.
Honorable Mentions:
Georges St-Pierre vs. Nick Diaz:
It's not often a fighter can elicit an emotional reaction from Georges St-Pierre, who is as cool as the other side of the pillow, but Stockton bad boy Nick Diaz managed to do just that before their fight in March of this year.  Diaz poked and prodded at St-Pierre during a pre-fight conference call, telling the champion that he lived a pampered lifestyle and didn't even think for himself.  St-Pierre fired back calling Diaz an 'uneducated fool' and in the world of GSP that's like 100 'your mama' jokes all rolled into one.  When the fight finally happened, St-Pierre dominated Diaz over the course of five rounds, but it didn't take away from what still stands as one of the best beefs of the year.
Michael Bisping vs. Vitor Belfort:
Having Michael Bisping's name attached to any fight is pretty much going to guarantee some epic smack talk and hype leading into a bout.  Bisping certainly did his best to get under Belfort's skin leading up to their bout earlier this year.  The weigh-in between Bisping and Belfort is where things really heated up as the Brit taunted his devout Brazilian opponent telling him at one point 'there's no Jesus'.  Belfort got his revenge in the fight, however, as he knocked out Bisping with a head kick in the second round.
Chael Sonnen vs. Wanderlei Silva:
"This one gets an honorable mention because while the two fighters haven't actually faced off in the Octagon yet, that'€™ll happen after they coach opposite each other on The Ultimate Fighter in Brazil.  Sonnen has been taking veiled shots at Silva for years, but definitely turned up the pressure over the last 12 months. Silva countered with a series of bizarre videos filmed with him shouting at Sonnen in Portuguese with a layer of heavy metal music blaring in the background. By the time their reality show finishes filming and they finally face off in the Octagon, Silva and Sonnen may lock down the best beef of 2014 but for now they still get a nod of recognition for 2013.
---
---