Manchester City places one hand on Premier League title after routing Villa
Published
May. 7, 2014 4:34 p.m. EDT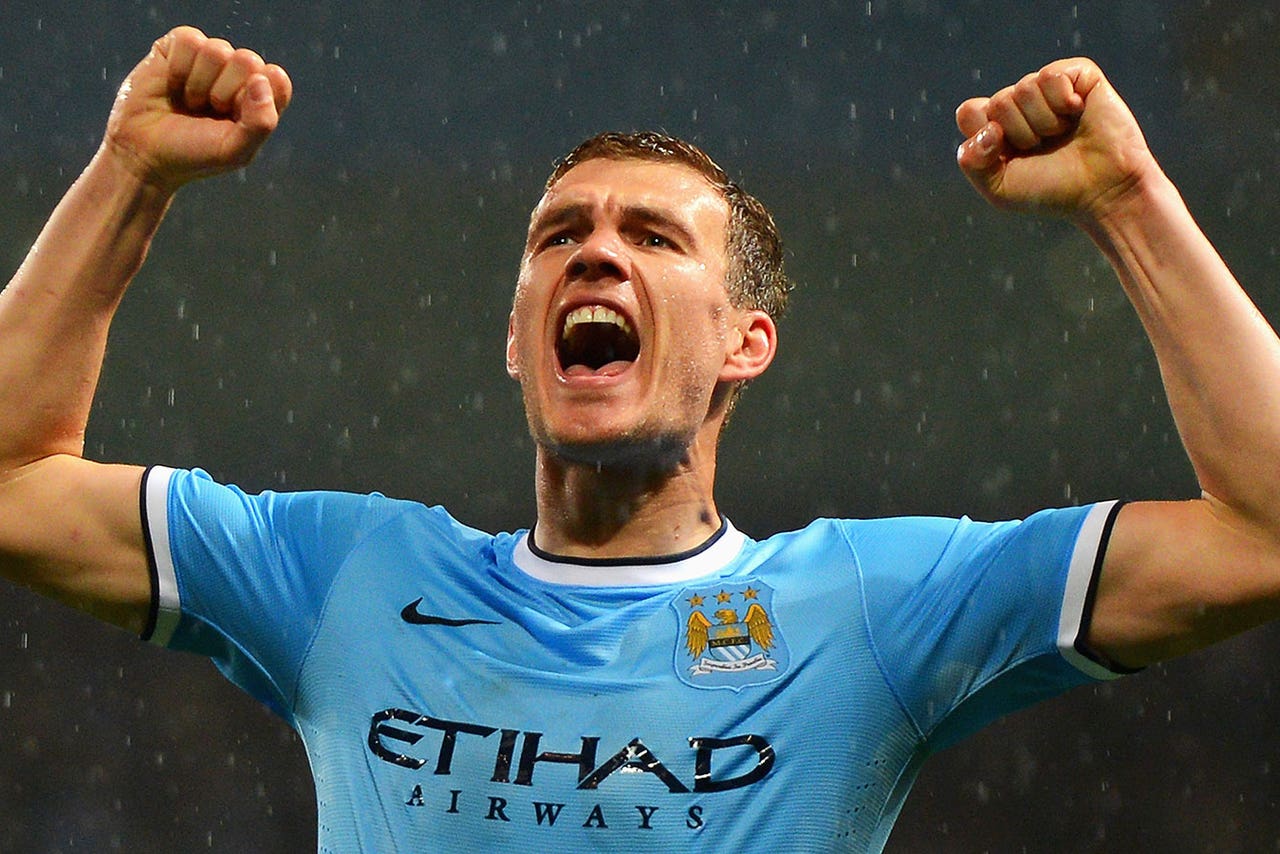 MANCHESTER --
Manchester City took a massive step toward their second Premier League title in three years tonight as Edin Dzeko scored twice to lead them to a solid 4-0 win over Aston Villa. The result means that City now only need to collect a single point in their final match, against West Ham on Sunday, to ensure that they will win the title.
Dzeko broke the deadlock 65 minutes in when he slotted home a cross from Pablo Zabaleta to score on what was only City's third shot on target of the night. Delightfully played through by David Silva, Zabaleta beat Villa's back five to send in a low sizzler that Dzeko was able to side-foot past a helpless Brad Guzan.
Dzeko would seal the game six minutes later on a near carbon-copy play: again Zabaleta was sent free on the right, again he crossed it in, only this time to see Silva slam a shot in that Guzan saved but could not hold. The rebound was there for Dzeko to tuck in, and he did not disappoint.
In what could be interpreted as a sign, as soon as the second goal ruffled the back of the net, and the home fans began to sing "Blue Moon," the rain that had lashed down upon the Etihad all night long suddenly ceased. Certainly, it felt like an omen for the damp 60,000 or so who had packed in tonight in the hope of seeing history made again.
Stefan Jovetic would add a third with a minute to play when he smashed in a shot from the top of the arc off service from Yaya Toure; then Toure would add a sensational capper when he dribbled from the halfway line in stoppage to score a stunning solo goal.
This was not an easy win for City, but it was a professional and patient one. With star Sergio Aguero unavailable (groin), City struggled for the better part of an hour to break down an organized and resolute Villa side that seemed entirely set up to frustrate. Paul Lambert deployed Jordan Bowery as nominally a lone runner, but for the most part, the Villans were sat in two big banks of four and six, pivoting to blunt City's attack. If Chelsea have been known to park a bus now and again, this was Villa docking an entire fleet. Manuel Pellegrini was undeterred, though.
Aleksandar Kolarov provided much of the service, with his runs down the left flank largely unimpeded, and from the start he was whizzing crosses in that Guzan had to be nimble to get to. Kolarov was saved in the fifth minute near post by the keeper in a harbinger of things to come: Guzan would have to stifle a half-dozen of them in the first half alone. The funny thing was, though, that only one of City's attempts was actually on frame in the first half, a combination of Villa having a lot of bodies back there and City sputtering a bit in the rain.
But the despite the growing nerves in the crowd, City looked calm and assured, growing in confidence as the game went along. Their two best chances came late in the half, with Toure first sliding the ball through a static back four to Zabaleta. He could have shot, but crossed inside left to Silva instead, who was unfortunate to see Ron Vlaar intercept from close range.
Then, James Milner and Zabaleta played a neat one-two on the near flank to set up a sizzling cross that was just parried wide of the near post by Samir Nasri at the death, which was perhaps the best look on goal that City had had to that point.
When Villa crossed the halfway line – which was rarely – they could look dangerous, and Andreas Weimann should have done better when he went on a clean ramble at Joe Hart's net, only to fire his ball to close to the keeper, for a fairly routine save.
After the break, City continued to pile on the pressure – and Villa were unable to get out of their own half. Pellegrini would remove James Milner on the hour to insert Jovetic and shift to a more orthodox 4-4-2 formation. That finally cracked Villa's increasingly desperate defending as they were unable to handle the pressure coming in from both fullbacks and mark the two forward runners.
Villa did have one chance late, when Weimann rocked a header off the crossbar that came straight back down on the line. Ref Michael Oliver consulted his goal-line tech: it was no goal despite Villa's protests.
City still must get a result on the final day against a West Ham side that cannot be taken lightly. Dzeko acknowledged as much, saying, "No, we don't think [it's over]. We have one game left. We all remember two years ago when everyone thought we would beat Queen's Park Rangers and we saw how difficult that was."
Liverpool will host Newcastle at their ground, and they will be gunning for a big win in the event that City somehow slip up. But on the evidence of this patient, professional show, the Citizens are easing towards the title, and not even Mother Nature can halt them.
---