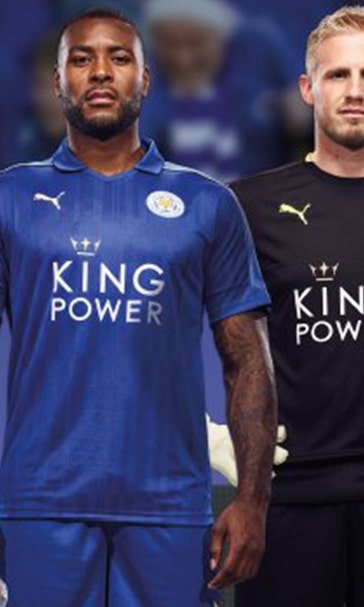 Leicester City unveil new kits as Premier League champions
May 5, 2016

Everybody loves kit drops. They give us a chance to praise (rarely) or rip (likely) the latest designs offered by teams. Leicester City's kits for the 2016/17 season though, fall into the former category.
The Foxes are blessed with a simple color scheme: Royal blue and white. But next season's duds will feature a new accent, and one that fans of the East Midlands squad will be more than accepting of: the gold-shaded Premier League badge, bestowed upon the previous season's Premier League champions.
The principally blue kit will feature other gold accents "to showcase Leicester's champion status," the team announced at midnight local time. Aside from the addition of a lapel collar to the kits, Leicester kept most of the other changes to their home strip subtle.
Given what they accomplished this season, there wasn't really any reason for Puma to come in and make drastic changes to the kit. Stick to what works. The kits are set to go on sale at the City Fanstore at 9 a.m. local time on Friday. Despite the midnight announcement, we imagine folks are already lining up.
And given the team ran OUT of 2015/16 kits to sell, we imagine these puppies will be flying off the shelves.
MORE FROM FOX SOCCER:
---
---