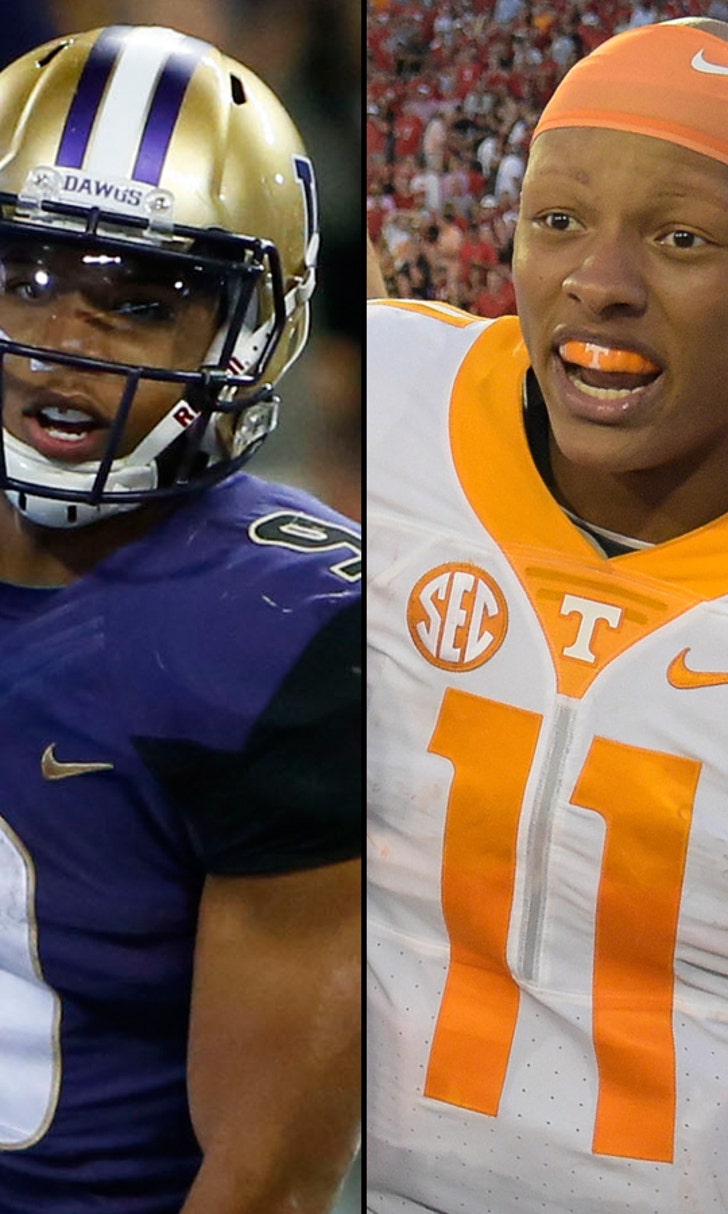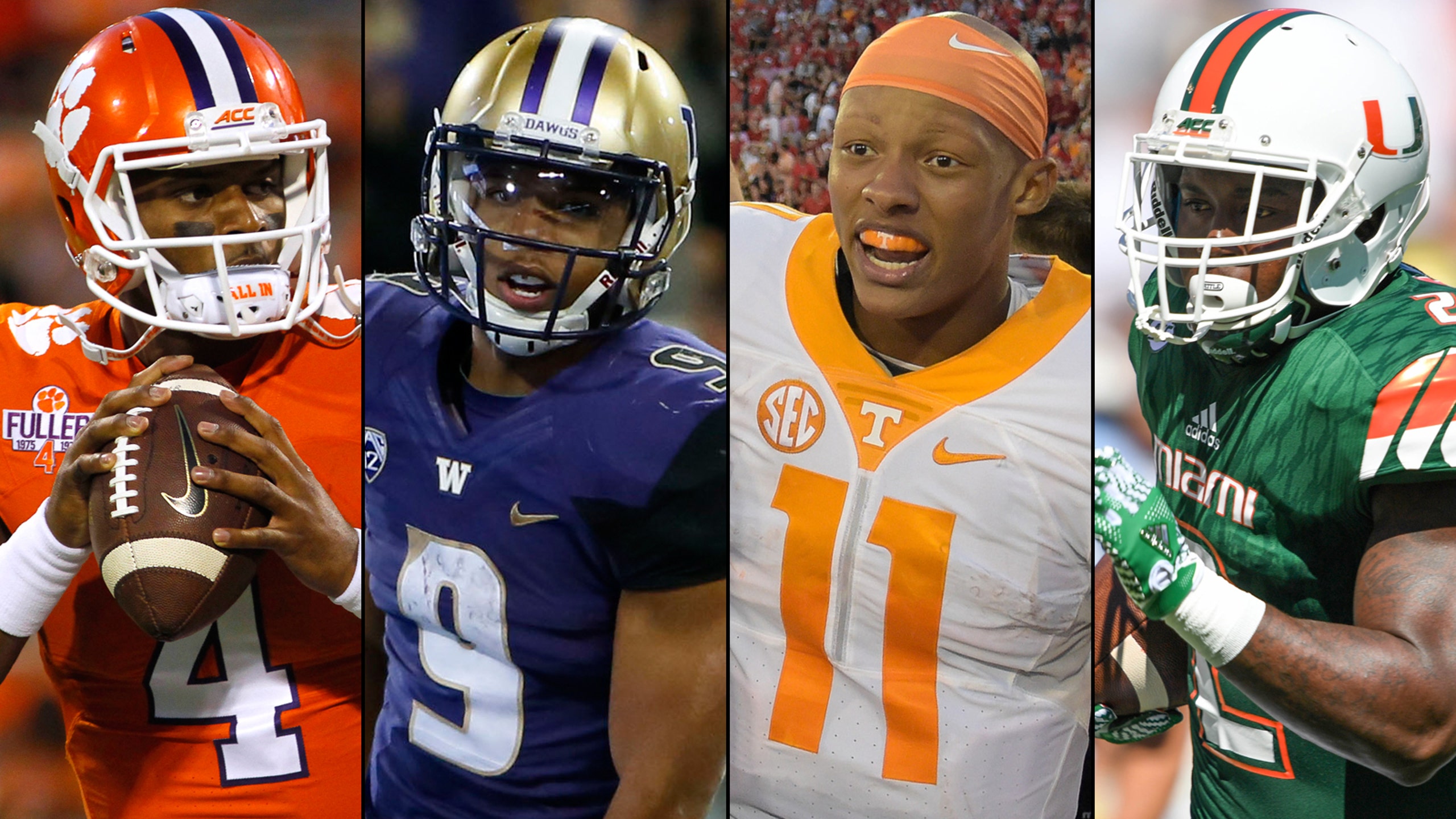 Woodshed Top 20 college football rankings: Week 5
BY foxsports • October 3, 2016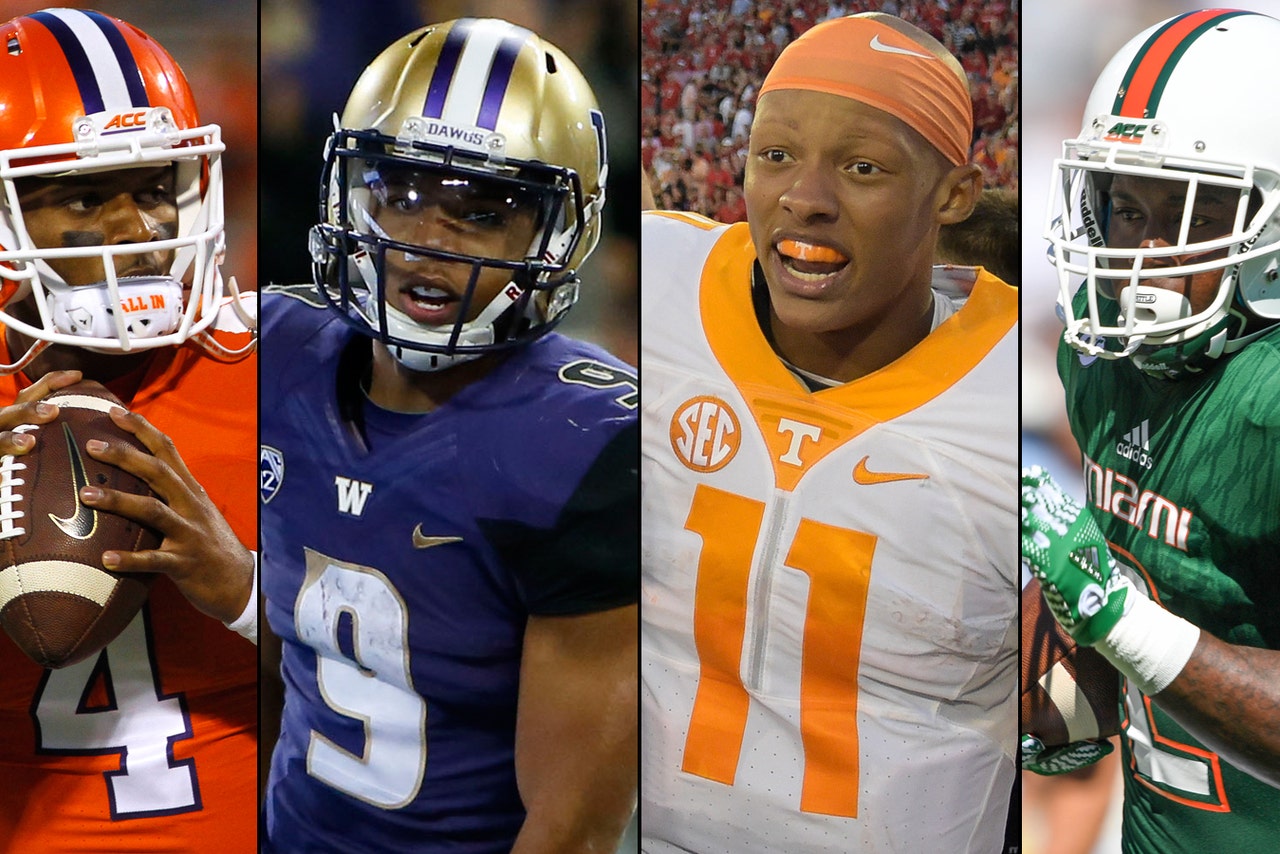 The smack talk around the office this week between Florida State and Florida fans will be epic. Yes, Florida beat Vanderbilt 13-6 in Nashville, but it was a doozy of a game. And the end of the Seminoles game vs. North Carolina was downright delightful. If you're a Gators fan, just play this on your phone when you walk up to the water cooler.
You will find that FSU alumni will scurry back to their cubicles without a word.
The 'Noles thought they had the game all wrapped up and were playing the war chant right up until Nick Weller drilled a 54-yard game winning field goal as time expired. The best part was watching Weller do his tomahawk chop as he celebrated on the field.
ROCKY TOP
If you missed the Tennessee vs. Georgia game, you missed the best finish in college football. The Vols ended up winning on a last-second Hail Mary, but I believe Georgia lost the game with three minutes remaining when Bulldogs coach Kirby Smart decided to have his team throw the ball out of its own end zone instead of just running the ball... and the clock.
The Dawgs were up three with the ball. Three running plays could have cut half the time off of the clock. NO, instead he decides to have his freshman quarterback Jacob Eason throw out of the end zone. He was sacked, and then the doc asked him to turn his head and cough up the football which resulted in a touchdown for the Vols.
Coaches everywhere, you have the statistics, how many bad things can happen throwing out of your own end zone?
Yes, I'm taking the Dawgs to the Woodshed. Let's not forget the unsportsmanlike conduct and offsides penalty that gave Tennessee an extra 15 yards or so and put them in position for the Hail Mary. So many coaching mistakes.
To the Woodshed we go:
1. ALABAMA
To be the champ, you have to beat the champ. If you just check the box score you may want to call this a rout, but Kentucky gave them a little bit of a game. The final was 34-6. Florida put 45 on the Wildcats. Let's think about that one for a little bit. Perhaps the team was distracted by the news of Blake Barnett transferring. By the way, I'm with Nick Saban on this subject. Whatever happened to players earning their position and competing to get better? Instead Barnett quits the team and wants to head elsewhere? The other distraction was Tim Williams' suspension for a half game due to a misdemeanor charge of possessing an unpermitted gun on campus. In this day and age, I'm happy that the traffic stop in a parking lot didn't go bad. Saban should just share Plaxico Burress' story.
2. OHIO STATE
The Buckeyes won 58-0 over Rutgers, and this was after OSU got off to a slow start, which I'm blaming on the bye week. Ohio State is fast and smart and getting better at every position week to week. If the playoff committee had to rank the teams now, there would be a strong argument for Ohio State as the No. 1 seed. I still need to see them play in Wisconsin for me to fairly assess them. J.T. Barrett, the Buckeyes' all-time leader with 59 career touchdown passes, is a Heisman candidate. Up next is Indiana and then off to jump around with the Badgers in Camp Randall.
3. CLEMSON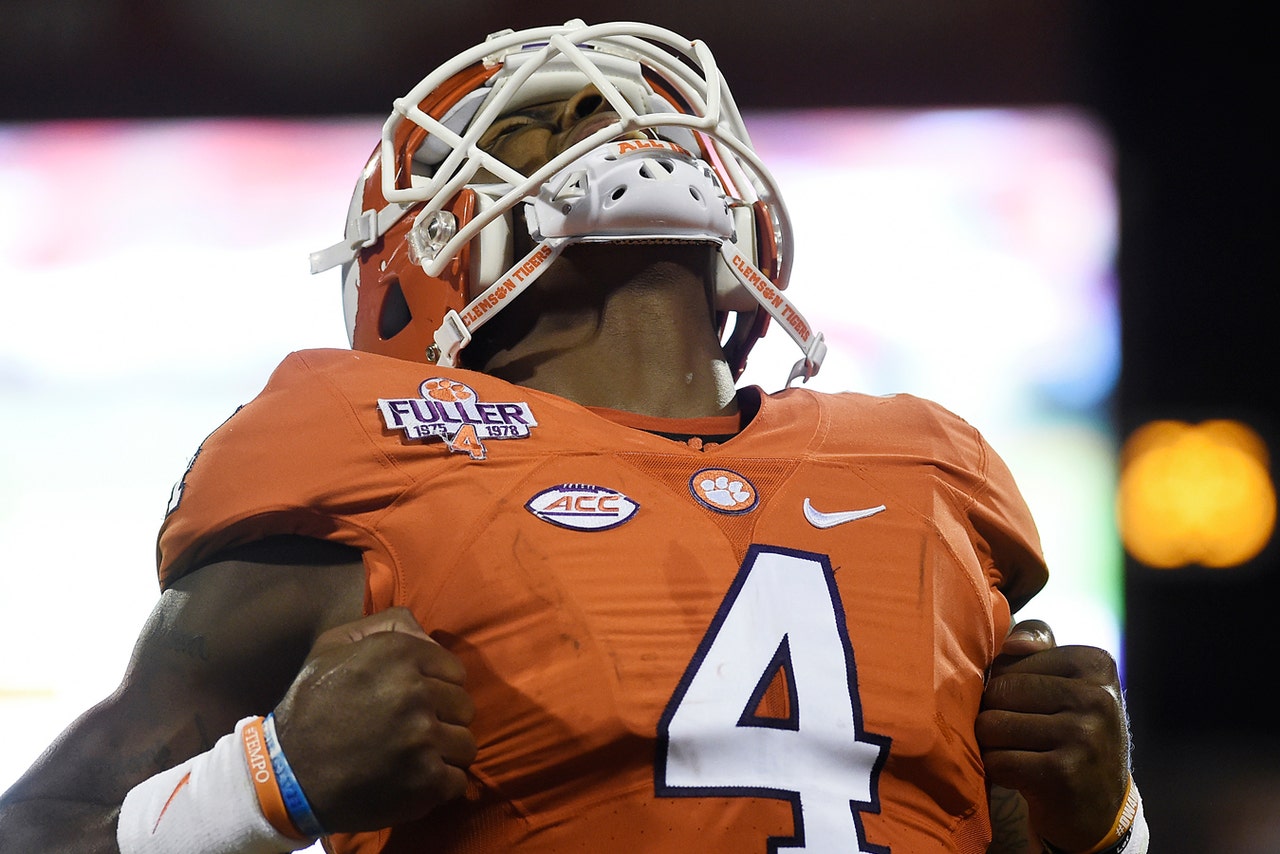 Deshaun Watson.
Impressive win at home over Louisville. Deshaun Watson answered the bell with 306 yards and five touchdowns. Lamar Jackson has been the Heisman favorite, but Watson made sure voters didn't forget whose league this is. To all the people out there who think the ACC should have two in the final four, this was the playoff and the Cardinals lost. The Tigers defense got to Action Jackson plenty. Clemson head coach Dabo Swinney will tell you this, "To be 12-0, you have to be 5-0." Say it isn't so, Dabo! I still remember the Tigers struggled with Troy, so I'm suspect that they can run the table again. By the way, it's Clemson's first victory over a ranked opponent this year, so don't puff out your chest and say you should be ranked first in the nation.
4. MICHIGAN
The Wolverines passed the test in knocking off Wisconsin at home 14-7. If you watched this game, you saw a defensive struggle. At times, it was tough to stay awake. If you did fall asleep and haven't seen the interception of the year, check out Jourdan Lewis' thievery, it's a peach.
I think the Wolverines defense is pretty snazzy, but they have not faced an explosive offense. Michigan will now head to Rutgers to see if they can do better than the 58 points Ohio State put up. There is a really strong chance that Ohio State and Michigan will be unbeaten when they face one another in Columbus on Nov. 26.
5. WASHINGTON
The Huskies chopped down the Stanford Cardinal on Friday night 44-6. It was just pure domination in Seattle. Prepare yourself for an argument at the end of the season; Washington could very easily run the table because the rest of the Pac-12 is not up to par. Ohio State skunked Rutgers 58-0, while Washington allowed 13 points to the Scarlet Knights. Just saying. The Huskies head to Oregon on Saturday. The Ducks are 2-3 and looking at 2-4.
6. TEXAS A&M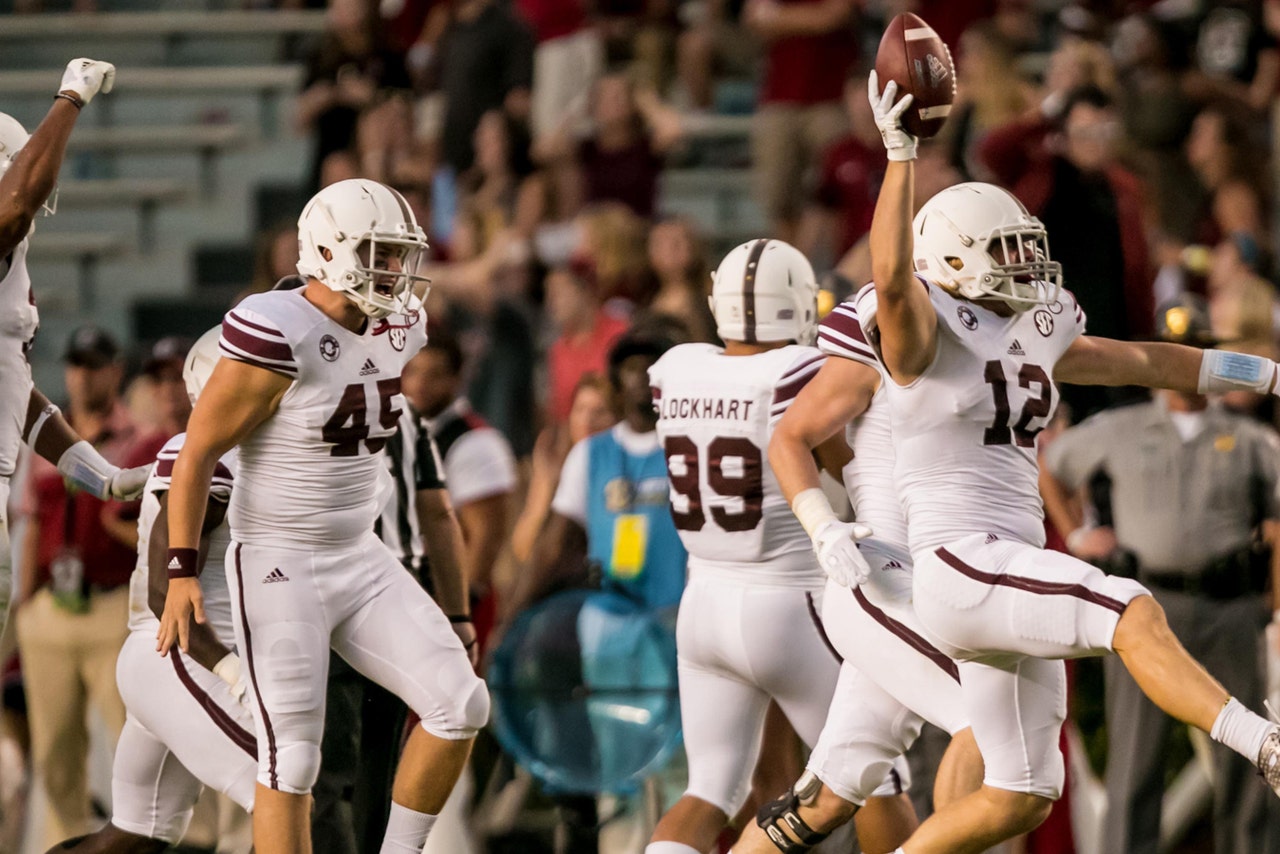 Texas A&M Aggies linebacker Cullen Gillaspia (12) celebrates a fumble recovery.
The Aggies quietly keep strolling along and racking up victories. If you buy into preseason rankings, the playoff committee would have these guys ranked higher because they already have two signature victories over UCLA and Arkansas. I believe TAMU is the best team in Texas (sorry Houston). Texas A&M heads to Knoxville to take on Butch Jones' Tennessee Volunteers this weekend. Do the Vols have another miracle left in them, or shall we say all 9 lives have been used up?
7. LOUISVILLE
If only James Quick tried to go airborne for that first down, the roles would be reversed with Clemson. I still commend the Cardinals for going into Death Valley and taking it down to the wire like they did. Lamar Jackson finally faced a team with a defense, and came back to earth a bit. We found out he's not Superman. So he only accounted for over 450 yard of offense and three touchdowns instead of seven. Jackson is the one that set the bar so high. I do not believe he did anything to damage his Heisman hopes. Louisville would still beat the rest of the teams below them on this list.
8. TENNESSEE
I still can't get over that game with Georgia. The Vols had less than a 1 percent chance with the Hail Mary and executed it with success. A friend of mine said they are God's team this year. I questioned that. Shouldn't it be BYU or Notre Dame depending on your faith? I do believe in miracles, and Joshua Hobbs is a miracle worker. A couple things we learned in this game: I'm sure Jalen Hurd will never taunt again in his life, right? That had to be one of the most idiotic 14 point swings I've ever seen. I say idiotic because if you play the game right, you play hard whistle to whistle and don't give up. Hurd deserved to fumble the ball at the 1-yard line. He's lucky he didn't get hurt. I know he'll take a few jabs in the film room this week. The next bonehead to taunt before a score will be on coach Butch Jones if it happens again. The other thing we learned is Alvin Kamara needs to have the ball in his hands. The Vols need to get a running game going. Tennessee has a big game this week against Texas A&M.
9. HOUSTON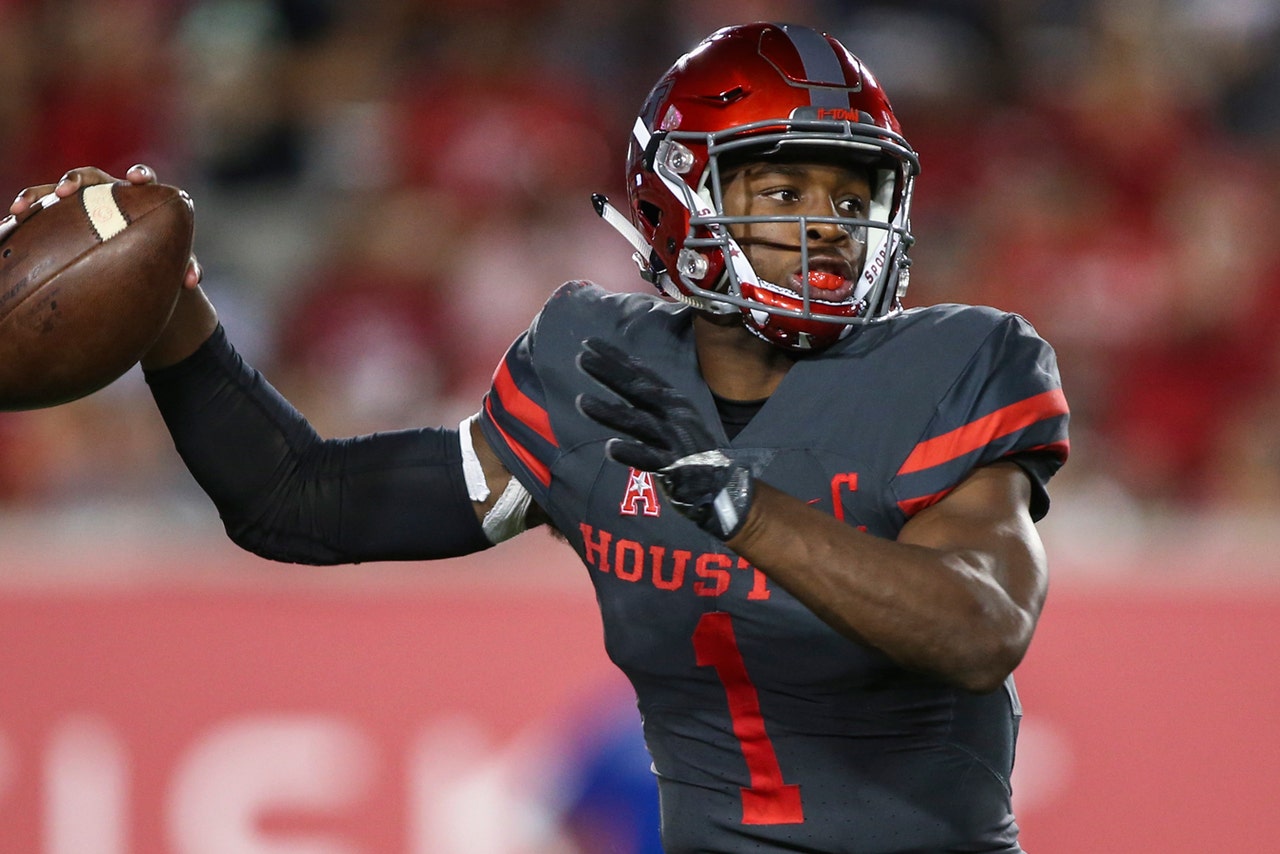 Houston Cougars quarterback Greg Ward Jr.
Houston head coach Tom Herman will now have to deal with the daily rumors of the coaching carousel. This could very much turn into quite a distraction. It's all for not if they don't run the table. They have to blow out teams to remain perfect going into the Louisville matchup. They have to beat the Cardinals if they want to get that fourth playoff bid. By the way, Houston is a great job, but if Texas wants to be back on top of the college football world, they make a move now to secure the next Urban Meyer. Houston can build itself quite a program with Herman staying at the helm. Oregon, USC, Penn State, LSU, Texas and maybe even Notre Dame will be giving Herman a call soon, if they haven't already.
10. NEBRASKA
The Cornhuskers have beaten every team they've played, but the only opponent worth its weight so far was Oregon, who we are finding out isn't the same name brand anymore. Tommy Armstrong Jr. is still the man in Omaha, averaging 230 yards per game through the air. The Big Red average almost 500 yards of offense a game. Nebraska has a bye this week to prepare for Indiana, which just knocked off ol' Sparty.
11. MIAMI
There is a storm brewing in South Florida. You'll hear much about it in the news this week. While most people will be watching the weather channel for the latest updates on Hurricane Matthew, others will be watching the sportscasts to see if the Miami Hurricanes are ready for the Florida State Seminoles. The 'Noles lost on a last second field goal last week, but do you really think they are ready to fold the tent. A category 4 storm would easily take out a grass house; the question is how strong these Hurricanes are? Miami has not played anybody worthy as of yet; Georgia Tech is less than average in my book. Hurricanes head coach Mark Richt knows how to win. The 'Noles fans I know are tiptoeing around the office avoiding Gator fans. I think there's a greater chance in Hurricane Matthew hitting South Florida than the 'Canes prevailing over the Seminoles.
12. WISCONSIN
The Badgers couldn't muster any offense vs. Michigan's defense. I don't think there are many teams in the country that would want to face Wisconsin's defense. The Badgers secondary had a lapse and allowed Amara Darboh to get behind them late in the game. They did hold Michigan's offense to 349 total yards, about 150 yards less than the Wolverines average coming into the game. The Badgers aren't going to beat anybody when Alex Hornibrook throws three interceptions. Cut out the turnovers and they may have squeaked out a victory over Jim Harbaugh. The Badgers get to lick their wounds this week and prepare for Ohio State. How nice, you get two weeks to prepare for possibly the best team in the country.
13. NORTH CAROLINA
The Tar Heels can play. Just ask the Seminole fans how good are they? Mitch Trubisky threw for over 400 yards and three touchdowns with zero turnovers. If you have never seen the Carolina Blue play, check out No. 3 in the program -- Ryan Switzer. He had 14 catches for 158 yards vs. the 'Noles. Talk about doing some dirty work. The Heels are poised to win the ACC Coastal division, and they're not out of the playoff conversation quite yet despite dropping the opener to Georgia. 14. STANFORD
I'm not sure what the Pac-12 has anymore after watching Washington throttle the Cardinal like they did. Stanford's Christian McCaffrey was held to 49 yards rushing and 30 yards receiving. That is what you call a great day by the Huskies defense. The Cardinal have a lot of work to do to get to the top of the Pac-12. Stanford faces Washington State next week before heading to South Bend for a date with the Irish.
15. FLORIDA STATE
Both of Florida State's losses came at the hands of ranked teams, but I have zero confidence in the 'Noles right now. It's apparent they have a defense that deserves to play in the Pac-12 or Big 12. Jimbo Fisher has his hands full. FSU has a tough test in Miami this week. As much as South Floridians want to wear their swag out in public again, I think the 'Noles have too many athletes compared to the 'Canes. Florida State has three weeks to get its team right before hosting Clemson.
16. OLE MISS
At this point in the poll, I go with who would beat who in head to head competition. Since FSU beat Ole Miss, it's only fitting they land right behind them in the Woodshed ranking. Ole Miss heads to dance with Bret Bielema's Arkansas Razorbacks after the bye week. They won't need the whole two weeks since it's likely that Arkansas will be a little beat up from playing Alabama this week.
17. OKLAHOMA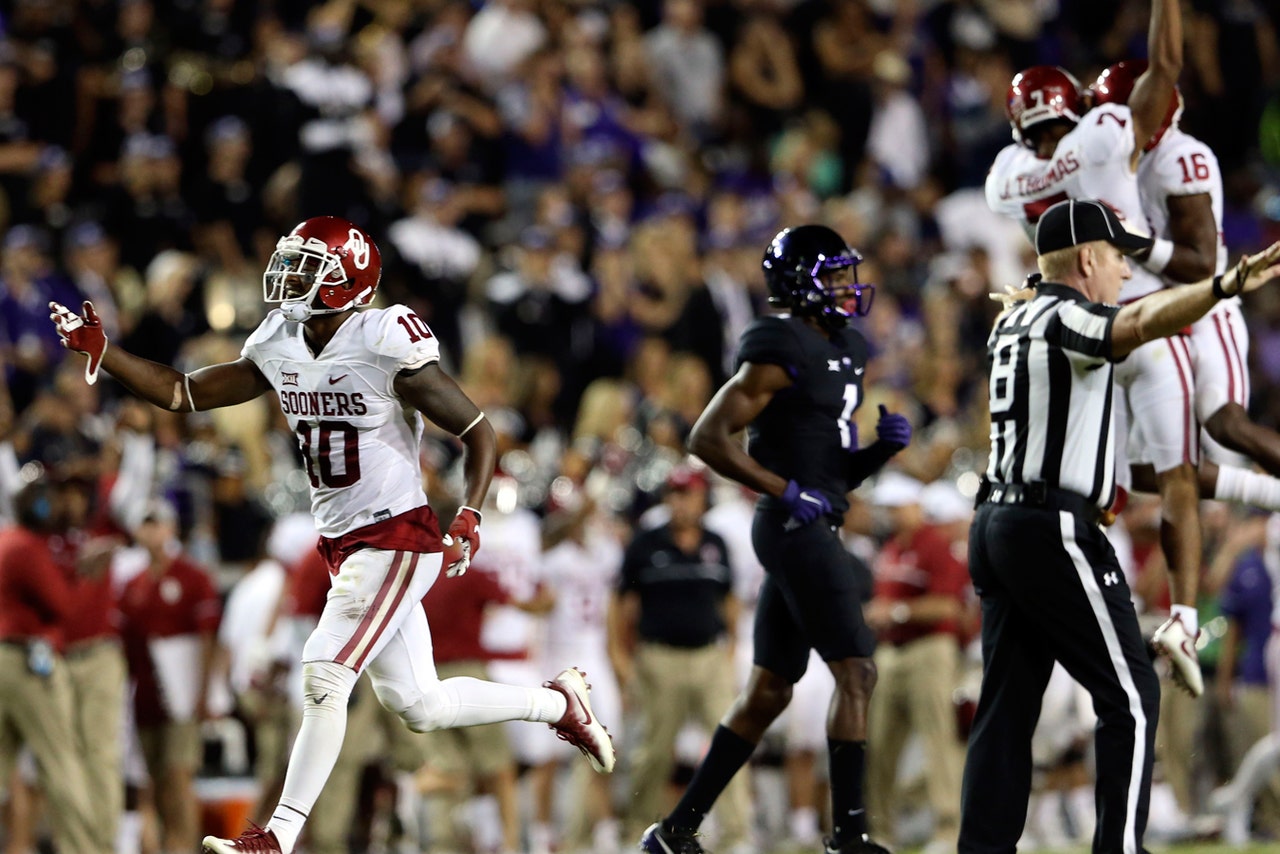 Oklahoma Sooners safety Steven Parker (10).
The Sooners have lost to Houston and Ohio State, who both happen to be ranked in the top 10. They still can with the Big 12. They did their part by knocking off TCU last week. By the way, can we put TCU and Baylor to bed now? I still believe Sooners are the only team in the Big 12 to be worth a darn. I just don't look at the wins and losses and statistics, I look at the number of athletes and recruits they get from year to year. All of that weighs in to my evaluation of these teams. Bob Stoops has some great players on this squad, more than any other Big 12 team. Oklahoma plays Texas in its annual rivalry game this weekend. It's a must win for Texas coach Charlie Strong.
18. FLORIDA
The 'Noles fans in the office would call this a mercy ranking for Gators fans. They beat up on Vanderbilt 13-6 this past week in Nashville. But I've heard nothing from Gators fans about the victory. All I hear are crickets instead of "She's a brick house." No, wait, wrong Commodores. Here come the injury excuses. Isn't head coach Jim McElwain an offensive-minded coach? There is no offense in Gainesville this year. Don't worry, there's not one in Baton Rouge either. Luke Del Rio or not, the Gators should have better backup quarterbacks. I hear there's one in Alabama that just left the team? Perhaps recognizing talent is the problem: Jordan Scarlett is special, give him the ball 30 times a game and see how many points you put up. He's built like a brick house!
19. LSU
The Tigers have lost two games. Yes, losing to Auburn was pretty bad. And beating up on Missouri isn't really something to write home to mom about. But, did you see what the purple and gold did on offense? They set a school record for an SEC game with 634 yards of offense, including 418 yards on the ground... without Leonard Fournette! Gators fans should be very worried about what they are about to face in LSU. I know Baylor is undefeated; I just don't believe they can stop anybody on defense. That and they haven't played anybody yet. Baylor should move its games to Friday night so fans can see them not play any defense.
20. GEORGIA
The Bulldogs took one on the nose this past week. And perhaps their fan base realized that it's not the coaching change that will enable them to win the big game. This will be one of the last times I refer to the Mark Richt era right? Not a chance. The Bulldogs had this game won. When Georgia's freshman phenom Jacob Eason threw a 47-yard dart into the end zone to Riley Ridley for the go-ahead score with 10 seconds left, I thought Kirby Smart had his first signature win. But then we saw what happened, fans everywhere shaking their heads. So many coachable moments in this game. The Bulldogs were without Nick Chubb, but have plenty of weapons on offense, including Sony Michel. Am I the only one who plays Guns N' Roses in my head when I see a Sony Michel highlight? Georgia can redeem itself by winning the rest of their games. I predicted Georgia winning the SEC East, they just can't have any more slip ups.
Florida is the only other tough game left on the schedule, which happens at the end of October.
---
---