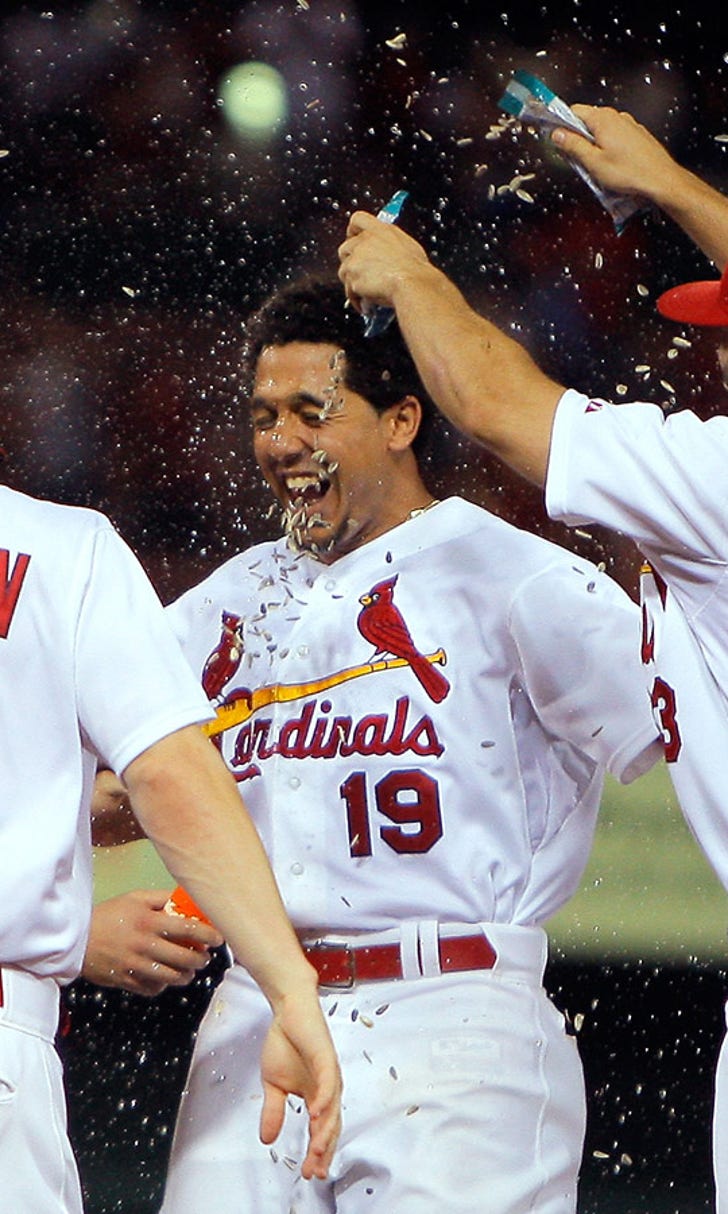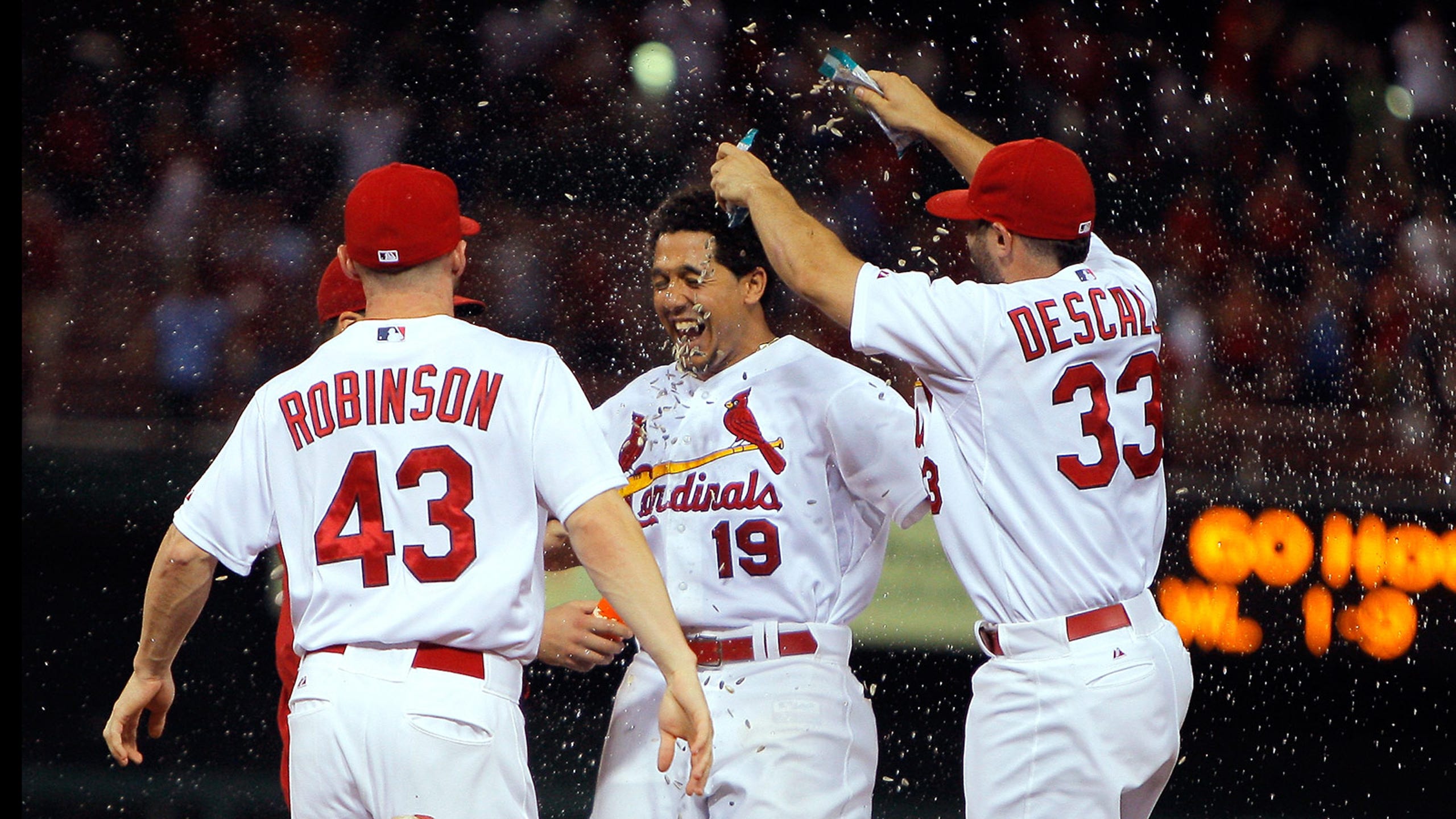 Which '14 Cards won't return? Picture clearer in wake of Heyward deal
BY foxsports • November 18, 2014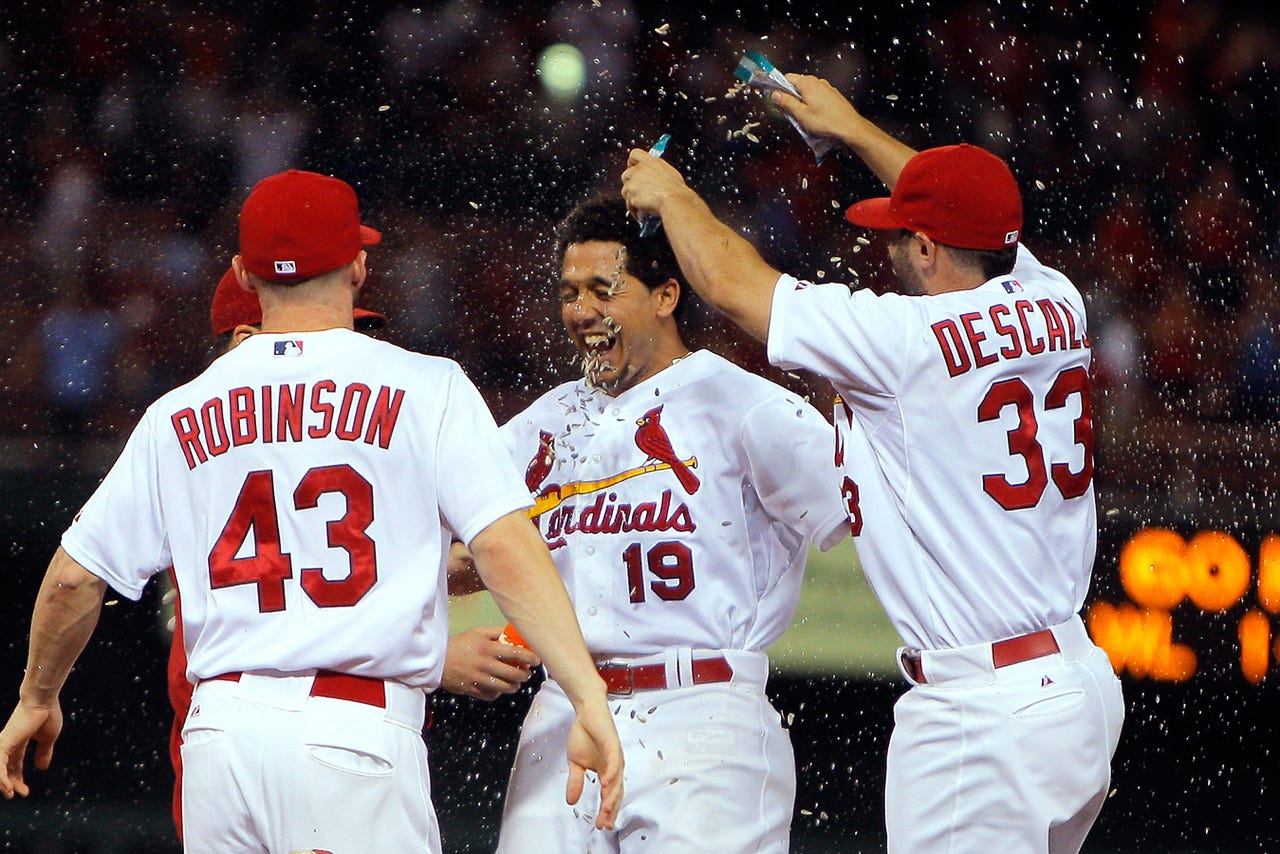 ST. LOUIS -- As we learned so suddenly Monday, Shelby Miller won't be wearing the Birds on the Bat in 2015. But he won't be the only Cardinals player who will be moving on.
No fewer than seven other players who finished 2014 in St. Louis are not expected to return, based on moves already made and what general manager John Mozeliak said Monday.
At his season-ending presser last month, Mozeliak said he anticipated he would tender contracts to the club's incumbent arbitration-eligible players: Lance Lynn, Jon Jay, Peter Bourjos, Daniel Descalso, Tony Cruz and, added as a Super 2 last week, Shane Robinson.
Mozeliak backed off that Monday during a news conference to announce the four-player trade that sent Miller to the Atlanta Braves and brought right fielder Jason Heyward and reliever Jordan Walden to St. Louis.
"Given some things we've been able to do and some things that we're seeing now, there could be a couple of non-tenders," Mozeliak said.
Start with utilityman Descalso, a valued member of the club's four-year run of reaching the National League Championship Series. As a second-time arbitration-eligible, he could make upward of $2 million in 2015 after agreeing to $1.29 million last year. The Cardinals don't figure to pay that much to a backup whose playing time has declined the past two seasons.
Another indication that Descalso is not likely to be back came last week when the club signed utilityman Dean Anna to a major-league contract.
"He gives us great flexibility," Mozeliak said of the 27-year-old who led the Pacific Coast League with a .331 batting average. "He can play middle of the infield; offensively, we like his profile and he has options (he can be shuttled back and forth to the minors). Just a good person to add."
Descalso, 28, is seeking a chance to play more, so the Cardinals could do him a favor by non-tendering him. If they were to trade him, Descalso would have no say in where he lands. If the Cardinals don't offer him a contract by midnight Dec. 2, he could sign with any team.
After playing in 143 games and getting 426 plate appearances in 2012, Descalso was down to 104 games and 184 PAs in 2014. It wasn't so much what he did or didn't do, either. Descalso essentially has lost out to Matt Carpenter, Jhonny Peralta and Kolten Wong, which is nothing to be embarrassed about. Two of them have $50 million-plus contracts and the other someday will be an All-Star.
If Descalso is one of the "couple of non-tenders" Mozeliak referenced, who could be the other? Well, Lynn won't be one. Neither will Jay. Bourjos isn't likely to leave, either, according to the GM.
"Peter is looking for more at-bats, but given the kind of year he had, reestablishing himself with us might make the most sense," Mozeliak said Monday. "I'm not ruling anything out as far as what could potentially happen but right now, I still would think of him as part of our club."
That leaves Cruz and/or Robinson, both of whom are arbitration-eligible for the first time. Robinson is an obvious candidate considering the way he was shuttled between St. Louis and Memphis last season before suffering a season-ending shoulder injury. Cruz's return likely hinges on whether the club decides it wants to upgrade at backup catcher.
One mainstay who almost certainly is gone is free agent Pat Neshek, the Cardinals' most effective reliever in 2014. Neshek figures to score a multi-year deal with a guaranteed salary many times greater than the $1 million he made after taking a minor-league deal with the Cardinals. The addition of Walden, who could command upward of $3 million in arbitration, should ease the pain of a Neshek departure.
Lefty specialist Randy Choate still has a year and $3 million left on his three-year contract, but he became a candidate to be moved at the season-ender presser when Mozeliak dissed his work as too one-dimensional. While Andrew Miller would provide a heck of an upgrade in the lefty-specialist department, to see the Cardinals pay his asking price would be a stunner. Hot-stove speculation has Miller landing a deal in the three-year, $30 million range.
Any chance free agent Jason Motte might return was shot down by Mozeliak during an interview on KMOX last week. He indicated that Motte is looking for a place he can pitch in the ninth inning, the domain of Trevor Rosenthal in St. Louis. Motte probably will have to settle for a one-year deal after his up-and-down return from Tommy John surgery.
Of the three other free agents, right-handed rental Justin Masterson has been attracting the most attention elsewhere. Hot-stove speculation says a return to Cleveland could be in the works. A pair of little-used mid-30-something veterans, catcher A.J. Pierzynski and second baseman Mark Ellis, both have said they want to play in 2015, but if they find playing jobs, they won't be in St. Louis.
You can follow Stan McNeal on Twitter at @StanMcNeal or email him at stanmcneal@gmail.com.
---