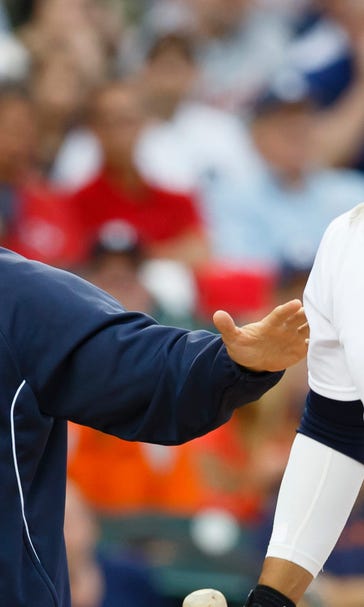 Tigers Notes: Ausmus reflects on first half of season; V-Mart out of lineup
BY foxsports • July 2, 2014
DETROIT -- For Brad Ausmus, his second rookie season is going a lot faster than the first.
Ausmus was startled momentarily when asked about reaching the halfway point of his first year as a manager -- the Tigers play game 81 out of 162 Wednesday afternoon. 
"This is definitely going quicker than when I was a player," he said. "I can't exactly pinpoint why, but it must be because there is so much more going on now than there was then. It doesn't feel like it should already be July, but here we are."
One thing that has helped Ausmus adjust to his new job is that he's found a routine to his day.
"I'm not an earlybird -- I've never felt like I need to be here eight hours before a game," he said. "But I'm probably one of the last managers to leave. After I talk to you guys, I come into my office, and there will be some coaches in there and we'll put on a game and talk. I'm definitely a lingerer."
Ausmus might stay for a while after the game, but there's one step he's not willing to take.
"I'm not spending the night at the ballpark," he said. "I know Jim used to do it all the time, but I don't think I could sleep on that couch. I'm proud of the fact that I've never spent a night in the clubhouse. I like my family too much."
V-MART NOT QUITE READY: Victor Martinez was ready to return to the lineup on Tuesday, despite his strained side, but Ausmus is being much more cautious. Martinez is still on the bench Wednesday afternoon, with Torii Hunter at DH and J.D. Martinez in right.
"I'm sure he thinks he can play, but I'm going to be cautious with a July injury rather than risk something that is going to cause problems down the line," he said. "He'll probably start on Thursday. That gives him an extra 24 hours."
Ausmus said that Martinez sitting out has delayed a planned day off for Miguel Cabrera, but that will probably come by the weekend.
MARTINEZ THE THIRD: Detroit already has Victor Martinez and J.D. Martinez in the middle of the batting order, and there might be another in the future. The Tigers signed 16-year-old Dominican outfielder Julio Martinez to a $600,000 deal on Wednesday.
The newest Martinez is several years away from the majors, but he does have a namesake on the team, as J.D. Martinez uses his initials instead of his given name, Julio Daniel.
---