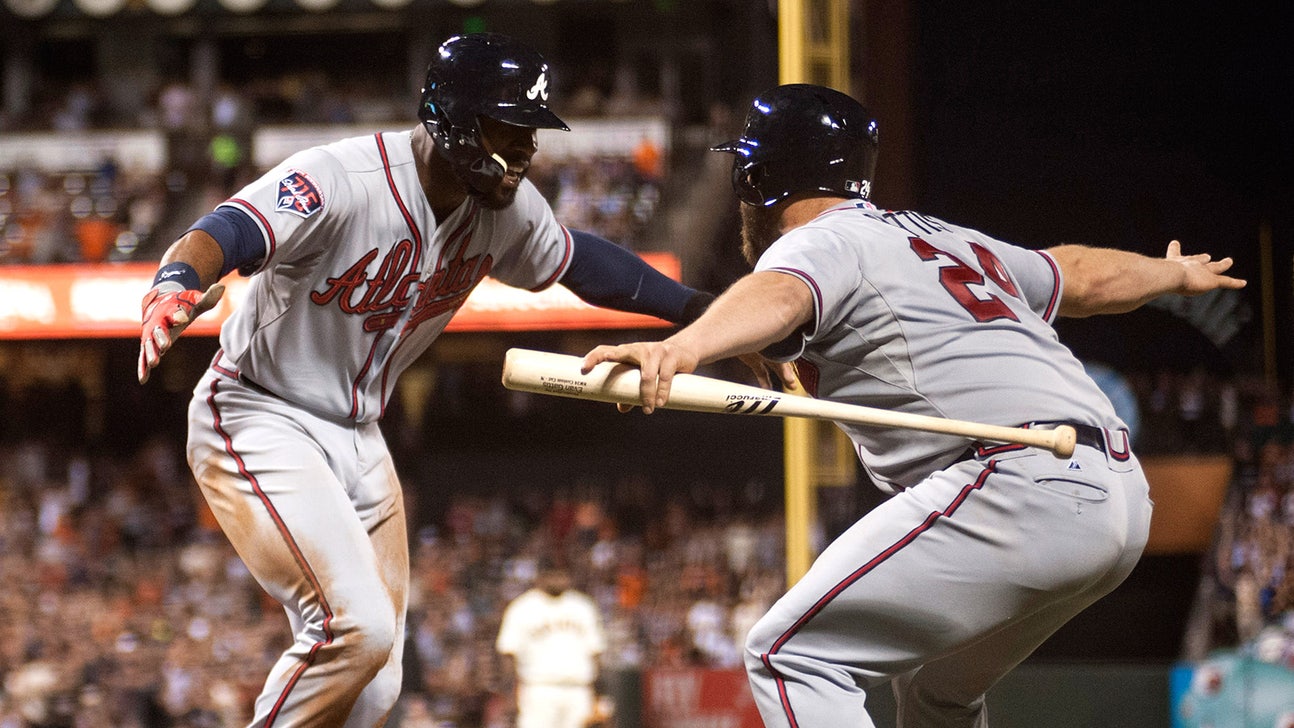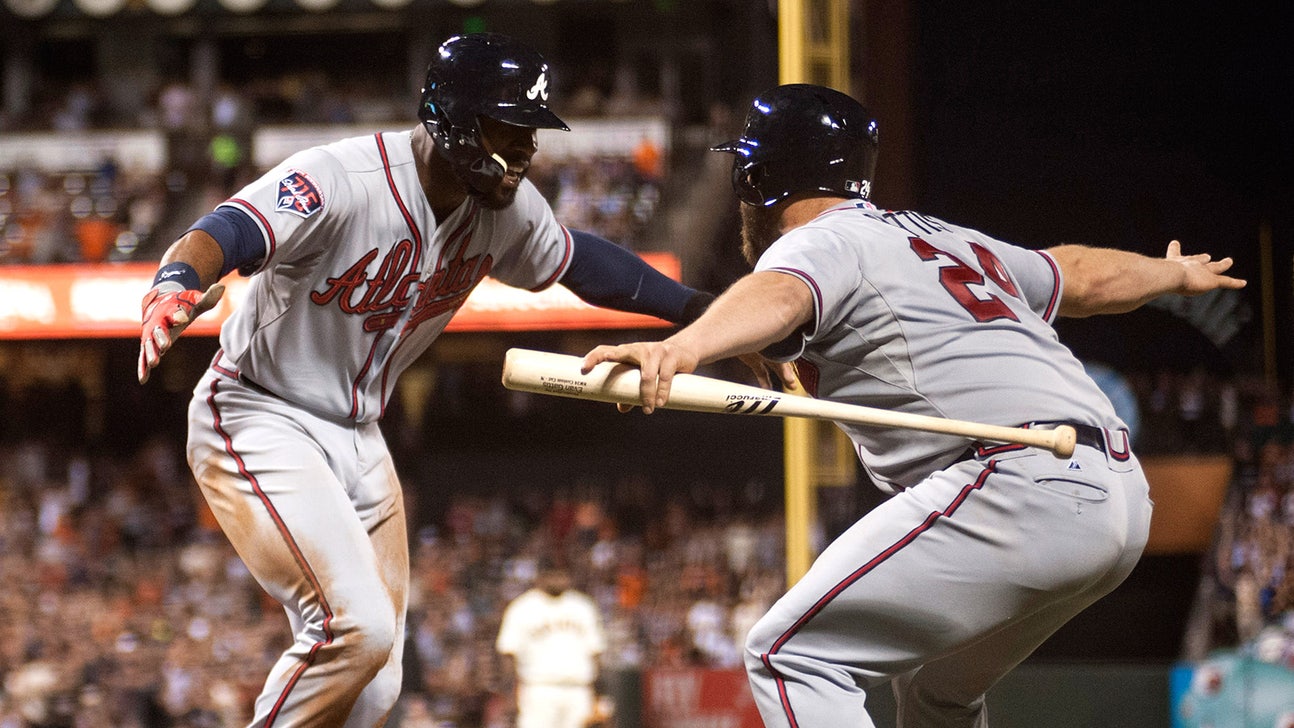 Three Cuts: Braves post road shutout in win over Giants
Published
May. 14, 2014 2:33 a.m. ET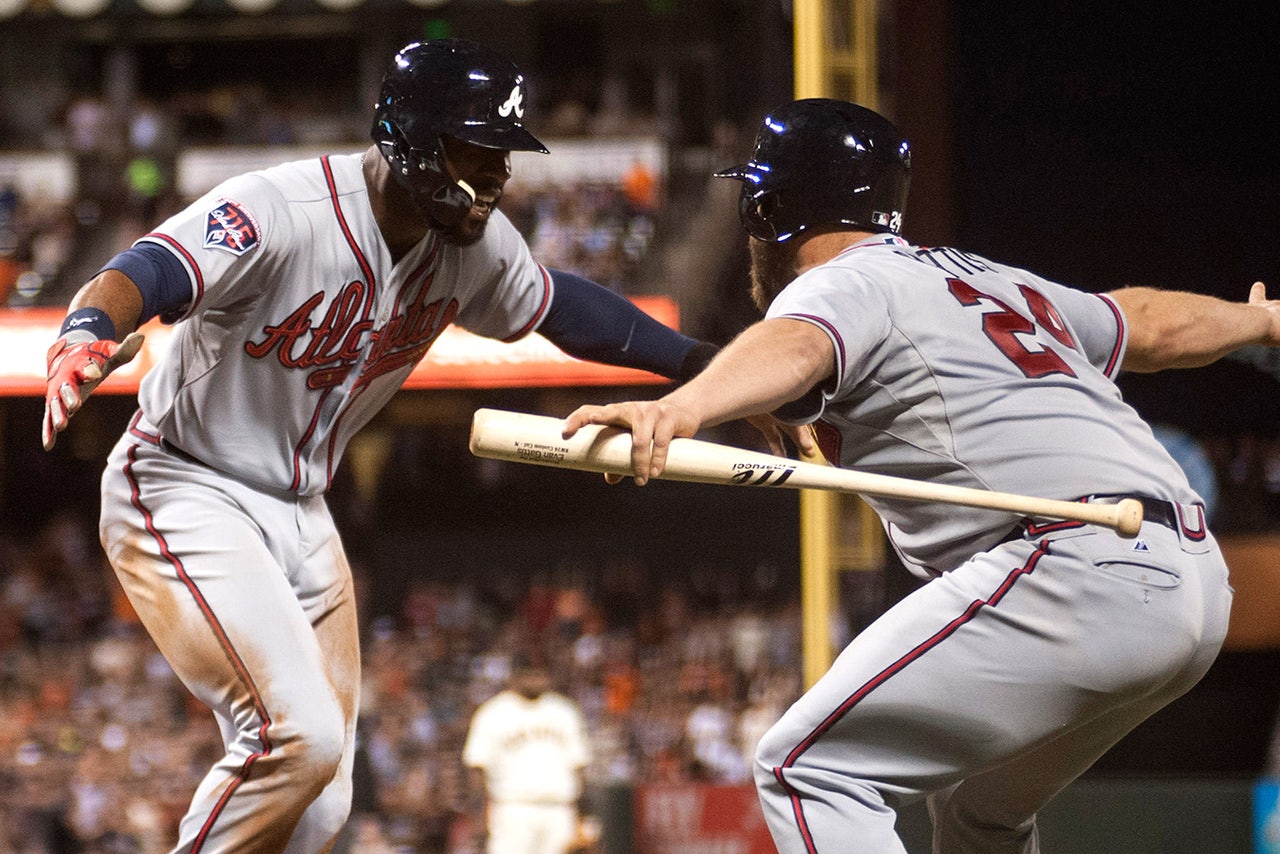 The fifth time was a charm for the Atlanta Braves, who finally earned their first win against the San Francisco Giants this season on Tuesday night. Behind the highlight-reel manufacturing of five runs and Mike Minor's best start of the campaign to date, the Braves became just the second team to shut out the Giants in 2014, winning 5-0 at AT&T Park. Here are three observations from the game:
There's more bad news for National League lineups. Minor, who was the Braves' most productive starting pitcher last season with 3.4 wins above replacement, is rediscovering his rhythm after missing his first five starts of the campaign. The left-hander struggled out of the gate -- manager Fredi Gonzalez basically chalked it up as Minor's extended spring training schedule -- and his 6.47 ERA entering Tuesday's game was one of the few blemishes on this staff's collective resume.
Minor returned to form on Tuesday, though, pulling his share of the load once again and setting the franchise up for even more optimism concerning its pitching numbers.
The 26-year-old lefty did not allow a single run in 6 2/3 innings pitched, his longest outing of the season, allowing just three hits and walking two. He also struck out six Giants batters before handing the ball over to his bullpen, which closed the door to complete the Braves' sixth shutout this season (tied for the MLB lead).
"I think (Minor) got strike one. Breaking ball was sharp. Threw it for a strike," Gonzalez said. "He's off that spring training mode, now he's pitching (at a) major league (level), not a rehab start. This is what we saw from him last year. So hopefully he'll continue giving us those type of quality outings."
The biggest difference that Minor talked about after the game was the increased command and effectiveness of his breaking pitches, which were not sharp in his first two outings. Through two starts, Minor was relying on his fastballs more than any time since his rookie season (62 percent). But when his secondary stuff is working off his very, very good fastball combo, there seems to be a next level of confidence for him. He mixes his repertoire nicely and doesn't shy away from batters, not even a Giants lineup that can hurt a pitcher in a variety of ways.
"Like I said last week, I didn't throw a lot of breaking balls in the last game. And then tonight, I feel like I mixed it up pretty well. For the most part, I didn't think they knew it was coming," said Minor, who now holds a 1-2 record with a 4.24 ERA. "Not that I executed all of them every time. But I felt like any situation, any count, any batter, I felt like I could throw whatever."
That's yet another good sign for the Braves, who cannot seem to miss on starting pitching at the moment. Even before Tuesday's game, Atlanta starters ranked first in ERA, second in fielding-independent pitching and fourth in WAR, behind only the Tigers, Indians (the team that released surprise standout Aaron Harang in spring training) and Red Sox. That will only improve with this latest outing from Minor, who is stepping back into the top-of-the-rotation lefty role -- and the lone lefty role as well -- on this staff now that Alex Wood is in limbo, either wotkinh in the bullpen exclusively for the time being or fluctuating back and forth between relief and starting roles.
All told, while Julio Teheran is living up to some of the "ace" hype and Ervin Santana is pitching like a $14 million man, Minor still plays a key role for this club. For him to submit his first really good outing since his victorious NLDS duel with Dodgers pitcher Zack Greinke means nothing but good things for Gonzalez & Co.
Let's be clear: Giants starter Ryan Vogelsong was cruising for a good portion of his start, nearly matching Minor pitch-for-pitch through five innings. Aside from the rare occurrence that led to the Braves' first run, the 36-year-old veteran tied his career high with eight strikeouts through the first five innings. He walked just one batter on the night.
In many ways, it was shaping up to a similar start as the one he pieced together against this Atlanta lineup just last week. But the Braves eventually found ways around their lack of productivity -- eight strikeouts, one walk and zero home runs is not easy to overcome -- and, on a night when Minor was on point, they eventually pulled away. After scoring five runs in their first four games against the Giants this season, the Braves put up five runs on Vogelsong and reliever David Huff. In other words, for the first time this season, a Braves starter received some help against San Francisco.
Of course, everyone watching should have known it was going to be an odd night for the Giants given how the first run scored.
Evan Gattis will not win too many footraces in his day, but he has AT&T Park to credit for his first nod to speed in his MLB career: a triple. The second-year catcher now owns one three-bagger in 495 career plate appearances. He has yet to steal a base. So take a good look around. This is the pinnacle of Gattis speed. (He did, however, log four triples at the minor-league level, so perhaps this is simply just an untapped weapon for this Atlanta offense. Probably not.)
"That must have been the longest trip it's taken to get to third base," Gonzalez said. "I think Big Papi takes a little bit longer for home runs. But that was a nice AB there."
The fourth-inning shot into the deep gap in right-center not only gave Gattis enough time to rumble into third base, but it also gave first baseman Freddie Freeman -- not exactly a speediest guy himself -- enough time to score from first. It's perhaps the most unlikely run the Braves have scored this season, which isn't saying too much considering their ranking on MLB's scoring list, but it was a sight to see.
The Braves went on to tack on four more runs in the sixth and seventh inning: two coming on challenged plays that Atlanta won and two coming on singles off the bats of B.J. Upton and Andrelton Simmons. In all, as right fielder Jason Heyward pointed out in his post-game interview, it was a "station-to-station" night for a team that rarely moves runners from Point A to Point B (and rarer still to Point D). The Braves finished with nine hits, including four coming with runners in scoring position.
"This was a team win here," Heyward said. "We all kinda kept it simple. We got pitches to hit and we didn't miss them."
The two runs the Braves scored off challenges were crucial for a team that's struggled to manufacture any sort of run support for their excellent pitching staff this season, but it was Heyward's play-at-the-plate magic trick that really sparked the offense.
On a Freddie Freeman single in the sixth inning, Heyward rounded third base and challenged right fielder Hunter Pence's arm. In the grand scheme of things, Pence delivered. The throw found catcher Buster Posey's glove with Heyward still about five yards up the third-base line. That's "sitting duck" territory. But the Braves' 6-foot-5 outfielder, the one practically every one of his teammates calls the best athlete on the team, still had a trick up his sleeve, contorting his body away from Posey's tag and, somehow, sliding across home plate without being touched.
I mean ... what?
"He started stepping towards me, and I wasn't necessarily trying to get around him. I was just trying not to make it ugly there," Heyward said. "I knew I had to slide. And I saw him coming my way and I didn't really know what to do. I just reacted late ... I didn't feel him touch me. I was going pretty quick by him. I knew he didn't get me on my helmet, where he tried to tag me initially. I know I definitely got to the plate. Obviously the umpire saw it plain as day and then they didn't take too long to review."
It should be mentioned that the new rules concerning blocking the plate -- rules that are ironically considered the Posey Rules, given his high-profile injury on a home plate collision earlier in his career -- likely factored into Posey's positioning on the play. Catchers are now required to allow runners a lane to home plate, and with the actual interpretation of that requirement still murky, catchers are often left to make a split-second decision: either allow the lane and put yourself at a disadvantage or block the path and risk being penalized a free run.
Posey went for the lane-plus-tag mechanism. Heyward somehow found a way around it.
"Somehow he gets this big 6-foot-5 body to go 5-foot-2 and get by Posey," Gonzalez said. "Yesterday, the replay got us. And today we got two runs. ... At the end of the day, the system is working."
---