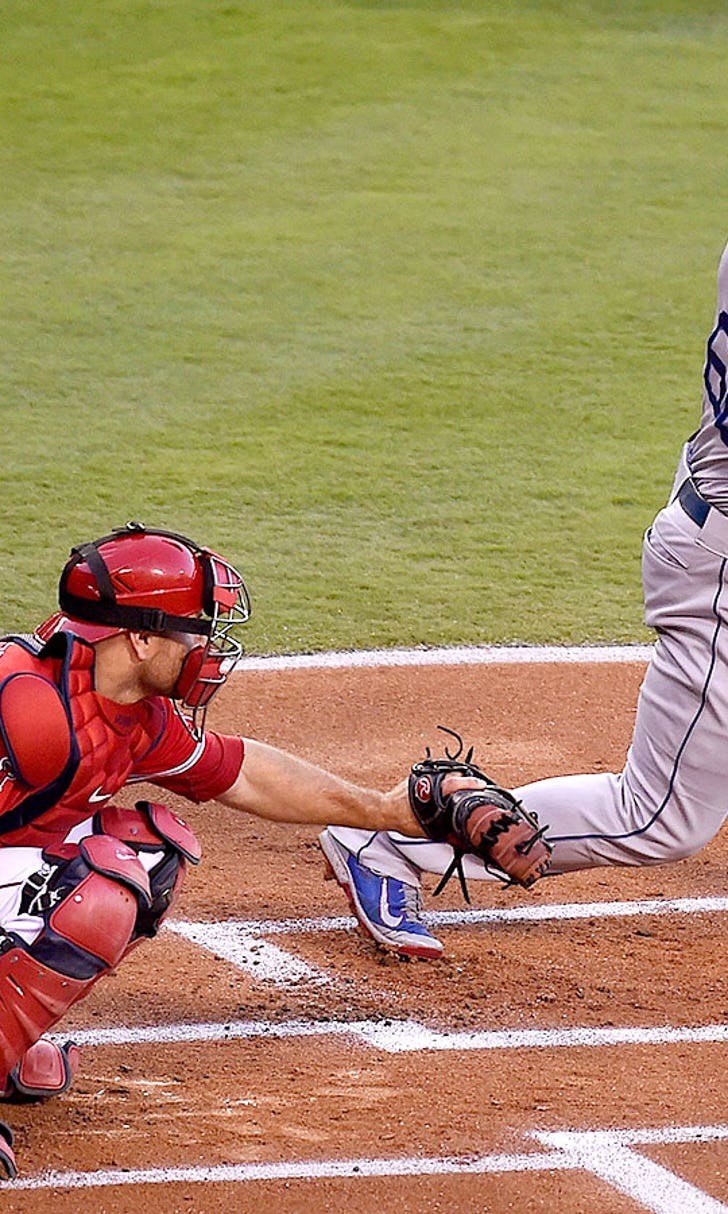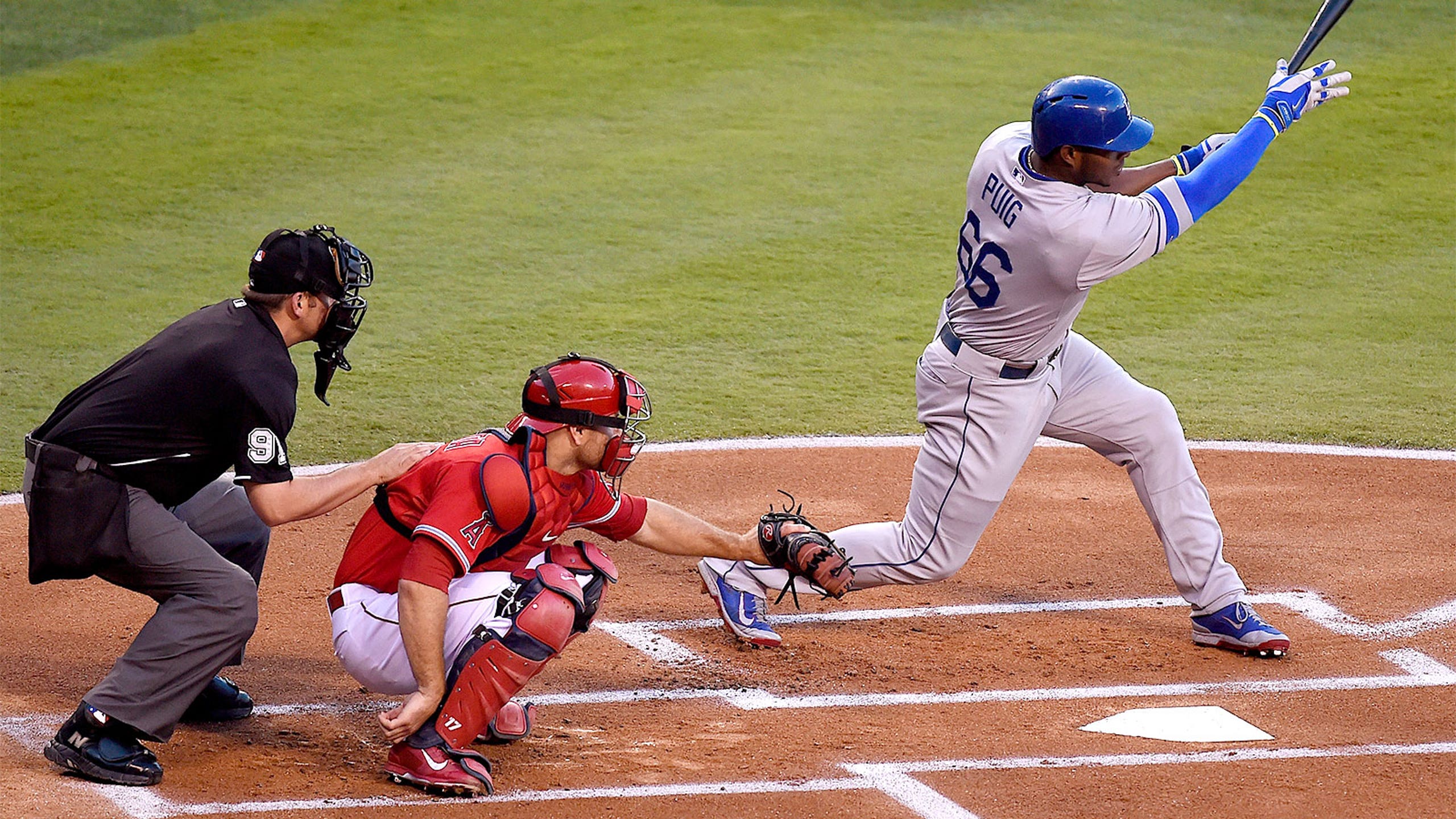 The Hall of Fame Probability Line
BY foxsports • December 9, 2014
Every year or so at Baseball Prospectus, Ken Funck inducts a few new members into the Hall of Famously Weak Arguments. You know the type of famously weak argument: He pitches to the score, He was feared in his day, You had to see him play to appreciate him, and so forth. There'€™s no set criteria, no WAR for bad arguments, but one isn'€™t needed: You know one when you see one.
Which, hey, speaking of which: That'€™s a pretty weak argument! Over the next few weeks, you'€™re going to see a lot of Hall of Fame ballots. Some will look just right to you; some will look all wrong, and many of these lists'€™ creators will explain certain omissions thusly: "€œHe doesn'€™t feel like a Hall of Famer." Which is a variation on "€œyou know one when you see one."€ In the past 10 minutes of searching, I'€™ve found "€œdoesn'€™t feel like a Hall of Famer"€ mentions from the past couple years for Alan Trammell, Jeff Kent, Larry Walker, Andy Pettitte, Fred McGriff, Kenny Lofton, Curt Schilling, Carlos Delgado. All guys who got (or will get) some Hall of Fame support -- €"so, to somebody, they felt like Hall of Famers -- €"but most likely not enough support, because to some other body they didn'€™t.
Where am I going with this? We don'€™t really know what a Hall of Famer looks like even after we'€™ve seen his career conclude, even after we'€™ve had five (or 20) years to put it all in perspective. Which means we really don'€™t know what a Hall of Famer looks like at age 28, or 24, or 20.
But I wanted to get close, so last year I came up with the Hall of Fame 50 Percent Probability Line for each age. For instance: 102 position players have produced at least 13.6 WAR through age 24. Of those 102, 51 would eventually make the Hall of Fame. Which means half didn'€™t. Which means that, if all you know about a player is that he has more than 13.6 WAR through age 24, you could surmise that he'€™s got a 50 percent chance (and not greater than 50 percent chance) of making the Hall of Fame. That'€™s the 50 Percent Probability Line. It looks like this:
Hall of Fame hopefuls
| | |
| --- | --- |
| Age | 50 Percent Probability Line |
| 20 | 2.1 WAR |
| 21 | 4.8 |
| 22 | 7.7 |
| 23 | 10.2 |
| 24 | 13.8 |
| 25 | 17.5 |
| 26 | 19.9 |
| 27 | 23 |
| 28 | 26 |
| 29 | 29.2 |
| 30 | 31.6 |
| 31 | 34.1 |
| 32 | 36.3 |
| 33 | 38 |
| 34 | 39 |
Using that line, I identified 28 players who were half-likely to make the Hall of Fame. Some of them felt like Hall of Famers and some of them did not. It makes for an interesting list, which we'€™ll get to in a minute, but first: Because this line is basically a Probability Progress Report, some players will move above or below the 50 percent line each year. The four men who joined the Half-Likely Hall of Famers in 2014 are the ones I want to focus on.
Yasiel Puig, age 23, 10.4 WAR; Half-Likely Line: 10.2 WAR.
Puig started late, remember; many Hall of Famers were producing at least some value at 21 or 20, so even after Puig'€™s extraordinary rookie season and All-Star sophomore campaign, he barely clears the bar. But if, instead of looking at Hall of Famers through age 23 -- €"Puig would rank 44th by WAR -- €"we look at Hall of Famers in only their ages 22 and 23 seasons, Puig begins to look like a more promising bet. Only 24 Hall of Famers did more during those two seasons, as he tops Frank Robinson, Lou Gehrig, Frank Thomas, and, of course, scores of others.
Justin Upton, age 26, 20.0 WAR; Half-Likely Line: 19.9.
By the slimmest of margins, which makes this a good time to point something out about this exercise: The 50 Percent Probability Line can be misleading. It means that, in the entire group of players above the line, half will make the Hall, but not all the players above the line are equally likely to. A player who had twice the WAR through Age 26 would obviously be much more likely than a player like Upton, who has a carriage-scrapingly low total. Throughout his career, Upton has been either decimal points above or decimal points below that line, never breaking away but never blowing his chances. He started young and swings away, which will give him the chance to reach the counting milestones. But at this point you'€™re betting not that voters will appreciate him so much as that he develops late-20s/early-30s superstardom.
Buster Posey, age 27, 23.2 WAR; Half-Likely Line: 23.0.
The ultimate "€œfeels like a Hall of Famer"€ candidate, whose chances seem far greater than even the WAR suggests. The broken 2011 season knocked Posey off the WAR pace, and, like many catchers, he started his career a bit later than most Hall of Fame hitters. He'€™s got so many non-WAR achievements at this point that he could probably compile his way into Cooperstown.
Adrian Gonzalez, age 32, 38.2 WAR; Half-Likely Line: 36.1.
The older the player, the most distorting the probability line can get for close calls. At the 21-year-old level, for instance, there'€™s very little difference between a player who has 10 career WAR and one who has 15; both are precocious, both have distinguished themselves just by making the majors, and both carry an enormous amount of risk. But by 32, there'€™s much less chance that a true Hall of Fame candidate will blow it, or that a fringe one will do something to seriously bolster his case. As an example: Albert Pujols and Mark Teixeira are both over the 50 Percent Probability Line for 34-year-olds. Technically, the system worked perfectly, but we all know that Pujols'€™ chances are 100 percent and Teixeira'€™s are close to zero.
Gonzalez has a better chance than Teixeira, better even (I'€™d guess) than Carl Crawford and Ian Kinsler, the other two 32-year-olds who very, very narrowly clear the bar at this level. None feels like a Hall of Famer, though. I'€™d be surprised if any does in 15 years (or 100 years), either.
Only one player -- €"Brett Lawrie -- €"played himself out of the group. Elvis Andrus is the player most likely to play himself off the list next year; after starting his career young, he'€™s now just a tenth of a win better than the Half-Probability Line.
No 20-year-old is half-likely at the moment, ending the Trout-Harper-Machado phenom boomlet. Trout, at 28.2 WAR through age 22, would still be in the half-likely group if he were to produce zero wins over the next six seasons. Nolan Arenado, Freddie Freeman and Andrelton Simmons are all close enough to reach their age-levels'€™ thresholds this year. Paul Goldschmidt, too, though his pace was interrupted by a season-ending HBP. 
Here are the players over the line at the moment:
Age 21: Machado, Harper
Age 22: Trout
Age 23: Puig
Age 24: Giancarlo Stanton, Jason Heyward
Age 25: Andrus
Age 26: Upton
Age 27: Andrew McCutchen, Posey
Age 28: Evan Longoria
Age 29: Troy Tulowitzki, Ryan Zimmerman
Age 30: Dustin Pedroia, Hanley Ramirez, Ryan Braun, Joey Votto
Age 31: Miguel Cabrera, Robinson Cano, David Wright, Joe Mauer, Jose Reyes
Age 32: Crawford, Kinsler, Gonzalez
Age 33: None
Age 34: Pujols, Teixeira, Matt Holliday
Age 35: Adrian Beltre, Chase Utley, Jimmy Rollins
That'€™s 31 players. Pick 15 -- €"if I had to, I'€™d go with Beltre, Utley, Pujols, Wright, Mauer, Cano, Cabrera, Pedroia, Votto, Longoria, McCutchen, Posey, Stanton, Trout, and Harper. Those are the guys who -- €"forgive me -- €"feel like Hall of Famers. Throw the other 16 off. Add a couple other players who are below the threshold but will come on later in their careers. There are, typically, around 20 Hall of Fame hitters between the ages of 20 and 35 playing at any one time. So that'€™s your Hall of Fame.
**
Caveats, conditions and terms
I used Baseball-Reference'€™s WAR. Some of these thresholds might seem too low, dragged down by Veteran€™s Committee inductees; they might even be too low. The Veteran€™s Committee used to induct a bunch of players, and now it inducts almost nobody. Indeed, even the regular voters have begun to hold players to an almost impossibly high performance/moral standard, and the crowded ballot dooms other worthy candidates. I'€™m going on the assumption that the Hall of Fame standards will swing wildly to and fro but basically find a steady level from generation to generation. In other words: No, I don'€™t think Utley or Wright (or, for that matter, Barry Bonds, Roger Clemens or Jeff Bagwell) are necessarily going to be Hall of Famers by 2035. But by 2095 I'€™d guess they will be.
It'€™s odd to type the year 2095. The future!
---