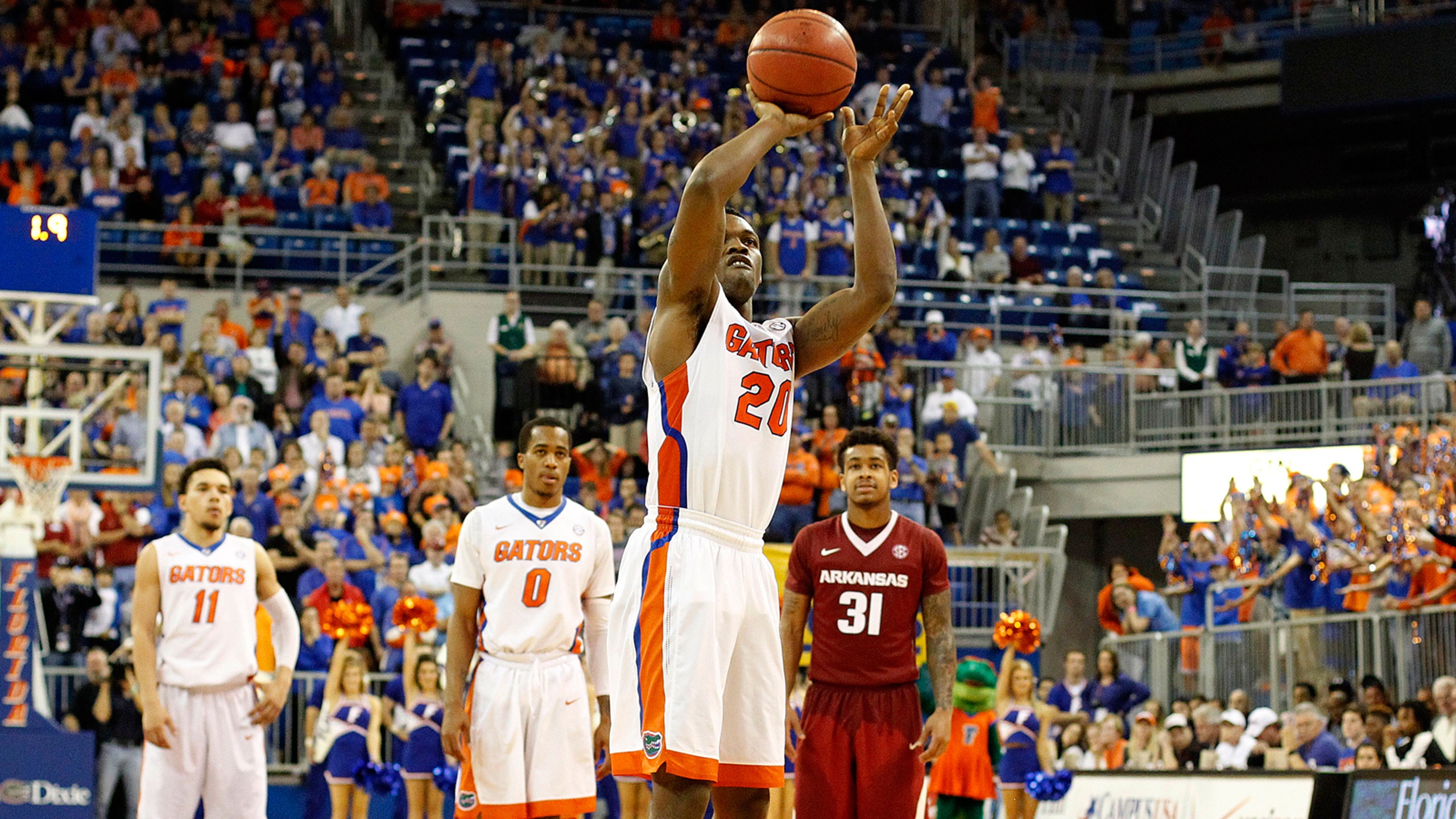 Thanks to Michael Frazier II's will, Gators get their way against Razorbacks
BY foxsports • January 31, 2015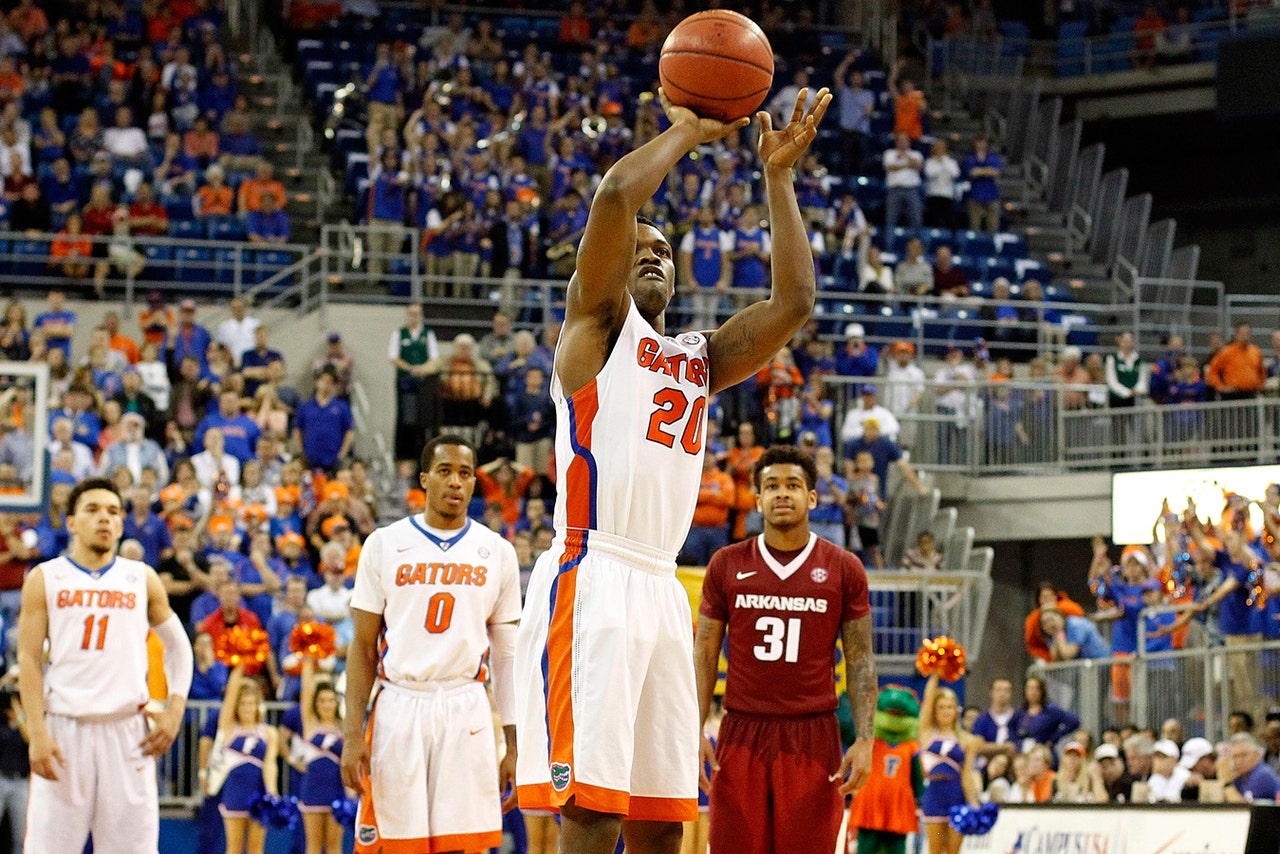 GAINESVILLE, Fla. -- In the locker room just before taking the floor Saturday for a nationally televised game against Arkansas, Billy Donovan went over some final points of emphasis with his Gators. He talked of avoiding live-ball turnovers that can turn into lightning-quick Razorback run-outs and mentioned defending the 3-point line against a team that led the Southeastern Conference in long-distance makes per game.
He also mentioned the need to rebound on the offensive end -- all three positions -- and how there would not be a lot of textbook blocking out in the game, but rather just raw athleticism leaping around the glass. He tapped his marker against the grease board on the numbers "5" (the center spot), the number "4" for the power forward spot and then circled over and over and over the number "3."
As in the combo forward/guard position.
Michael Frazier II's position.
Down one point with the clocking ticking down under five seconds, freshman guard Chris Chiozza snaked his way down the lane and pushed a shot toward he goal. Frazier (right), set up on opposite wing for a potential shot, crashed to the boards, grabbed the offensive rebound and went up for a stickback, only to be fouled by forward Alandise Harris with 1.9 seconds to go.
Frazier, the junior and team's best free-throw shooter, cooly stepped to the line and swished a pair to give the Gators a 57-56 lead that stood at the horn after point guard Kasey Hill intercepted the Arkansas inbound and clinched a second straight SEC win before a sold-out O'Connell Center crowd of 11,861.
"It was a winning play," UF forward Dorian Finney-Smith said. "A man's play."
A much-needed one, considering the Gators (12-9, 5-3) were on the verge of blowing another fat lead late -- four losses this season when up by double digits already, plus another six when holding leads inside of seven minutes -- but instead found a way to win a second straight barnburner.
Speaking of second straights, both Donovan and his players praised Frazier for pushing through a tough shooting night (2-for-9 from the floor, 0-5 from the 3-point line) and being the difference-maker at the end by doing something he's not particularly known for.
"You have to stay engaged," said Frazier, who has hit just two of his last 14 field-goal attempts and is 0-for-9 from long-distance his last two games, but both in UF wins. "Whenever you have a tough shooting night like that, you have to find a way that you can impact the game. That's what I tried to do. The ball wasn't going in for me, but I still wanted to help my team."
Finney-Smith scored 16 points and grabbed a season-high nine rebounds, while senior center Jon Horford made all three of his shots, scored eight points and grabbed seven rebounds for a UF team that hit only 34.6 percent from the floor and survived a dreadful combined offensive night (5-for-28 for 17.8 percent) from the backcourt trio of Frazier, Eli Carter and Kasey Hill.
Credit to UF's defense, though, which was good enough to limit Arkansas (16-5, 5-3) to just 40 percent from the floor and 3-for-16 from the arc, despite 21 points and 10 rebounds from 6-foot-11 forward Bobby Portis. Their final tally was the Hogs' fewest points of the season and nearly 26 below their league-best per-game average of 81.7.
Still, the Razorbacks had a 56-55 lead after a second-chance bankshot from guard Anton Beard with 10.7 seconds left, setting the stage for UF's final possession.
"We just kept playing," Hill said. "That's all the coaches kept saying. In situations like these, you have to be mentally and physically tougher as a team. We went out there and [Frazier] made a play."
Those cold-blooded free throws were Frazier's only attempts during the game, but also were his 25th and 26th in a row, dating to the SEC opener at South Carolina more than two weeks ago. He also had four rebounds and a couple steals.
It wasn't his day shooting, but he found other ways to impact the game.
To win it, actually.
"There's a balance between being worried about performance and being worried about competing," Donovan said. "When you're competing, you're never worrying about performance. You're just competing and competing and competing every possession. That's the biggest thing we've missed; a lack of competitive spirit. Today, we competed better."
Florida twice trailed by a half-dozen -- 6-0 out of the gate and 27-21 with less than three minutes to play before intermission -- but scored the last eight points of the first half and went to the locker room up 29-28 after Finney-Smith drove and rolled in a shot with three seconds to go.
The Gators led by nine, 53-44, with six minutes left in the game when the Hogs scored seven straight to close to 53-51 at the 4-minute mark. It was Florida 55-53 with 1:42 left, as both teams struggled to put the ball in the basket.
"Can we talk about defense?" Razorbacks coach Mike Anderson asked. "Offensively, there was probably a little bit to be desired by both teams, but that's life in the SEC. That's life in conference games. Teams are so familiar with one another and obviously you have to have an outstanding shooting night to come in here and beat a team like Florida."
Yet with 15.6 seconds to go, the cold-shooting Hogs had their chance when Harris was fouled and went to the free-throw line for a pair and his team down 55-54. He swished the first, but the second hit the left side of the rim and took a funky bounce toward the baseline, where it was chased down by Beard. Without hesitation, Beard took the ball into the UF paint and banked a shot high off the glass for a one-point lead.
Timeout, Florida.
"Coach told us in the huddle to crash the glass, no matter what happens," Frazier said. "That's what I did."
Anderson did not like the official's whistle at UF's end, but Frazier, the league leader in free-throw shooting coming in (96.0 percent), stepped to the line, cleared his mind and gave his team a big victory.
"That's what it's all about. That's what it's come down to all season, hasn't it?" Horford said. "There have been so many games where we're right there and they make the play. This time, we made the play. Mike willed it. As a team, we willed it."
For this group, it was a welcomed willing.
---