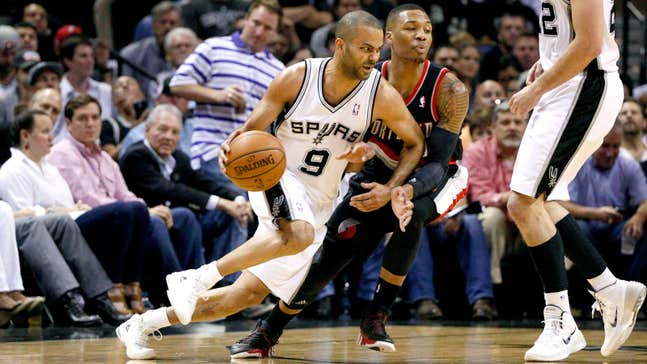 Spurs dominate Blazers again for 2-0 series lead
Updated
Mar. 4, 2020 10:23 p.m. ET

SAN ANTONIO (AP) -- Portland coach Terry Stotts is running out of adjectives and analogies to describe the San Antonio Spurs' dominance in the second quarter.

Kawhi Leonard scored 20 points, Tony Parker had 16 points and 10 assists, and San Antonio rolled to a 114-97 victory over the Trail Blazers on Thursday night for a 2-0 lead in the Western Conference semifinals.

After being struck by a "tidal wave" during the second quarter of the opener, Portland took on even more water in Game 2.

"The onslaught at the beginning of the second quarter was obviously the turning point in the game," Stotts said.

Boris Diaw scored six straight points to ignite a 23-8 run that gave San Antonio a 54-36 lead with 7 minutes remaining in the first half.

The Spurs outscored the Trail Blazers 41-25 in the second quarter, raising their advantage to 77-48 in that period in winning the first two games of the best-of-seven series convincingly.

Nicolas Batum scored 21 points for the Trail Blazers. Damian Lillard had 19 points and LaMarcus Aldridge added 16 points and 10 rebounds, but the Trail Blazers' All-Star duo put up 43 shots.

Aldridge was 6 for 23, missing back-to-back dunks in the second quarter.

"We missed a lot of shots," Aldridge said. "I definitely wasn't in a good rhythm tonight. I missed two dunks and four or five layups, so if those shots go in, then the whole game is different."

The Trail Blazers host Game 3 on Saturday night.

Manu Ginobili added 16 points, Marco Belinelli scored 13 and Diaw had 12 as San Antonio's reserves outscored Portland's 50-19.

Making matters worse for the Trail Blazers, reserve Mo Williams was limited to 9 minutes due to a groin injury. He finished with four points.

"Our bench is coming alive," Parker said. "They had a hard first round. They had a hard time against Dallas, but the last two games the bench is playing well."

The Trail Blazers, who found a snake in their locker room before the game, had a much better start than in Game 1.

Batum's 3-pointer gave Portland its first lead of series at 7-4 with 9:47 remaining in the first quarter. It lasted for 16 seconds before Leonard's 3 tied it.

San Antonio soon began using the quicker pace to force turnovers and find open shooters. The Spurs had 17 fast-break points in the first half compared to two by the Trail Blazers.

Wesley Matthews was clearly frustrated, taking his mouthpiece out and looking upward in frustration before glaring at his teammates.

Matthews responded by scoring 10 straight points in the third quarter while San Antonio went scoreless for 4 minutes, pulling Portland within 81-69 with 2 minutes remaining in the third.

After losing 116-92 in the opener, Portland was sparked by greater activity by Robin Lopez, who had six rebounds and a blocked shot in the opening six minutes. He struggled once Diaw entered the game.

Portland did not allow any fast-break points in the second half, closing within 10 points midway through the final quarter.

Lillard's 18-foot jumper pulled the Blazers within 92-80 with 9:17 remaining and his driving layup a minute and half later cut the margin to 94-84. Batum, who was 1 for 5 on 3-pointers in Game 1, hit his third of the game to cut the lead to 99-91 with 5:37 remaining.

"The first two games, they went on a big run in the first half of both games," Lillard said. "Then in the second half, we come out and make those adjustments and those corrections and clean things up and then we play a much better half. We have to do a better job of taking away those second chances."

The Trail Blazers had a chance to close within seven inside 5 minutes, but Leonard blocked Matthews' layup from behind to maintain the Spurs' advantage at 102-93.

Parker followed with a jumper in the lane on Lillard, and Leonard and Ginobili hit back-to-back 3s to put San Antonio up 110-93 and put the game out of reach.

NOTES: Portland's Thomas Robinson found the snake two hours before tipoff when he reached for a bag in his locker. The team initially thought it was a baby rattlesnake, but stadium officials later determined it was a non-venomous snake. The snake was estimated between 3 to 4 feet in length. ... Spurs general manager R.C. Buford was honored before the tip after being awarded NBA Executive of the Year on Wednesday. Buford, who won the award for the first time in his 12th season as the team's general manager, received a rousing ovation from the sell-out crowd. ... Parker had to towel off after having beer spilled on his left leg when he tumbled into the courtside seats 2 minutes into the game.

---