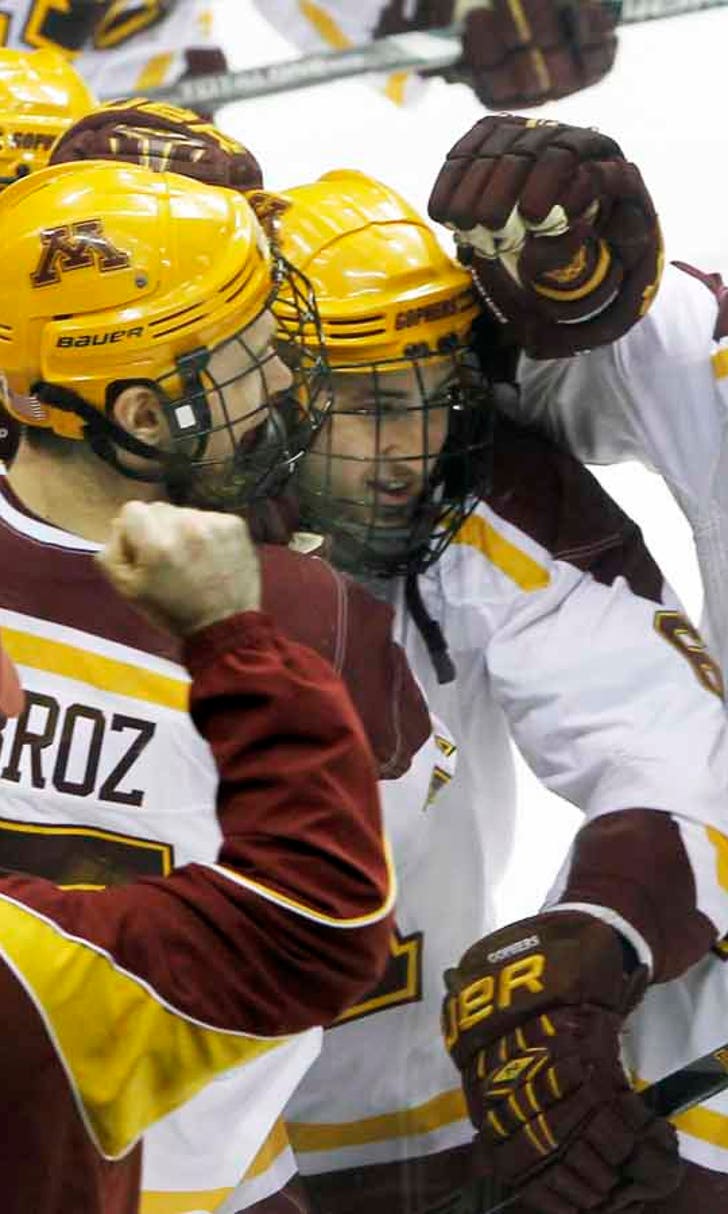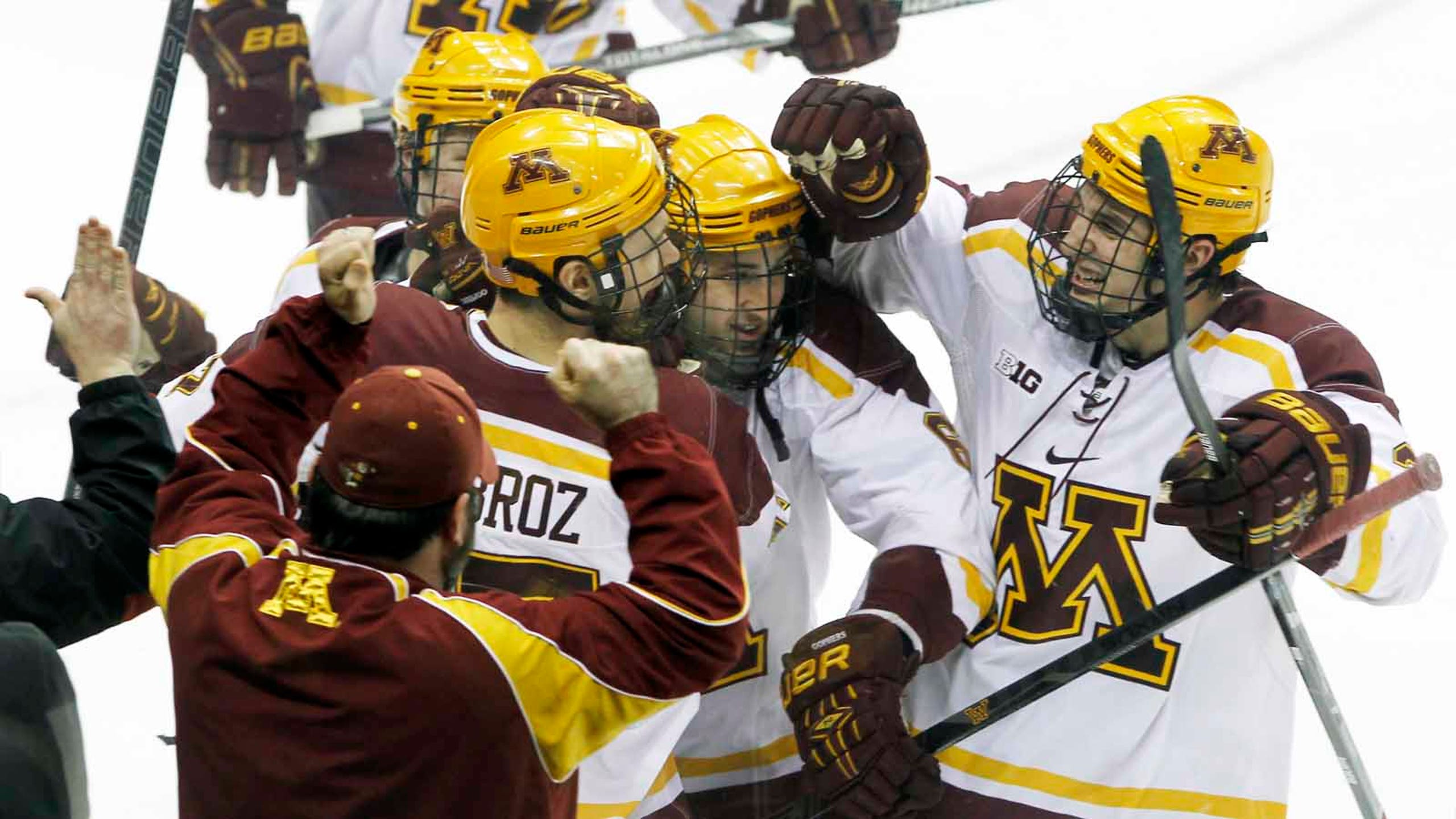 Short week has Gophers on road to Madison
BY foxsports • February 4, 2014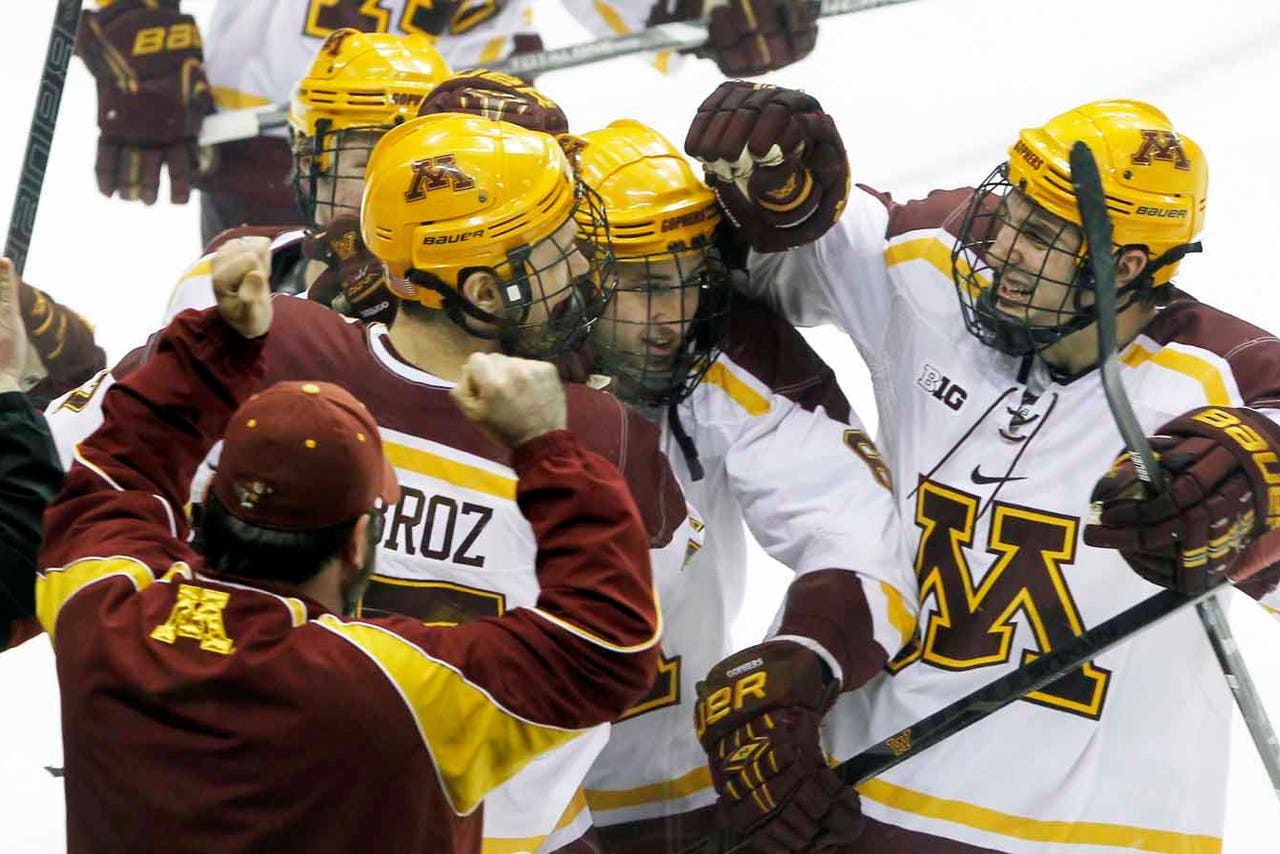 The border battle faces off in Wisconsin on Thursday and Friday. Everyone loves a good dustup between the No. 1 Minnesota Golden Gophers and the No. 12 Wisconsin Badgers so this week's tilts in "Mad Town" ought to be good.
The Gophers badly need to avoid another sluggish start like their embarrassing first period against Michigan State last Friday. Although it wasn't as bad as the Denver Broncos, who have pretty much redefined the term "embarrassing start" for all time.
The Gophers will still be without the services of two important players, Tom Serratore and Mike Brodzinski (injured). Each contributes every night and Serratore's big hits -- always clean and open-ice -- can change the complexion of a game. One or two of those might have provided some spark when it was needed in the first half of the Michigan State opener on Friday.
Ho Hum, Still No. 1:  Yet again, Minnesota is the top-ranked team in all the land. This week's NCAA Division I Men's Ice Hockey Poll is thus:
1. Minnesota
2. Boston College
3. Quinnipiac
4. Union (N.Y.)
5. Ferris State
6. St. Cloud State
7. Massachusetts-Lowell
8. Providence
9. Cornell
10. Michigan
Of interest: St. Cloud State is No. 5 and Ferris State 6th on the USCHO Coaches Poll. Wisconsin is No. 12 in the NCAA rankings. North Dakota is No. 16 and Minnesota-Duluth is 17th.
Minnesota has now been atop one or both national polls since October 12, 2013.
What's Up With Bucky? The Badgers have improved week by week since the Gophers swept them 4-1 and 4-3 at Mariucci Arena in Minneapolis in late November.
At the moment, though, Wisconsin is on a three-game winless jag (0-2-1) after a loss and a tie at No. 10 Michigan last weekend. Before that they'd won 10 of 11 games.
The Badgers, too, will be playing on four days' rest.
Michael Mersch (14-10-24) and Mark Zengerle (3-21-24) continue to pace the Badgers' scoring stats. Mersch and Tyler Barnes (10-11-21) are the only players with double-digit goals.
Junior netminder Joel Rumpel (11-3-0, 2.03, .026) carries the mail in goal. Rumpel had a nine-game winning streak snapped in a 3-1 loss to Ohio State on January 25.
How do I watch the game? You'll have to catch the action on the Big Ten Network for both nights. As always, Wally Mazzocco and Frank Shaver will call the shots on KSTP (1500 AM) in the Twin Cities.
DOUG McLEOD is the TV voice of Golden Gopher hockey. He began calling Gopher games in 1978 and returns with the Minnesota-Michigan game Saturday, February 15 on Fox Sports North
---