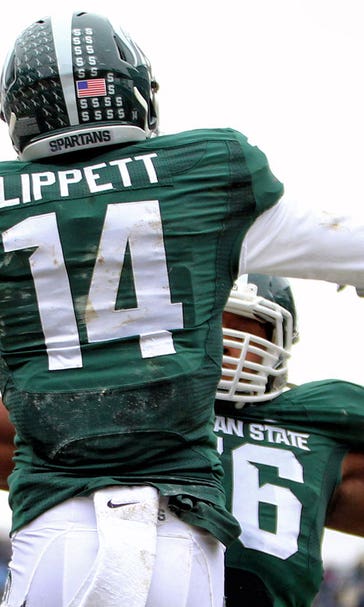 Seniors have special outing in MSU's rout of Rutgers
BY foxsports • November 22, 2014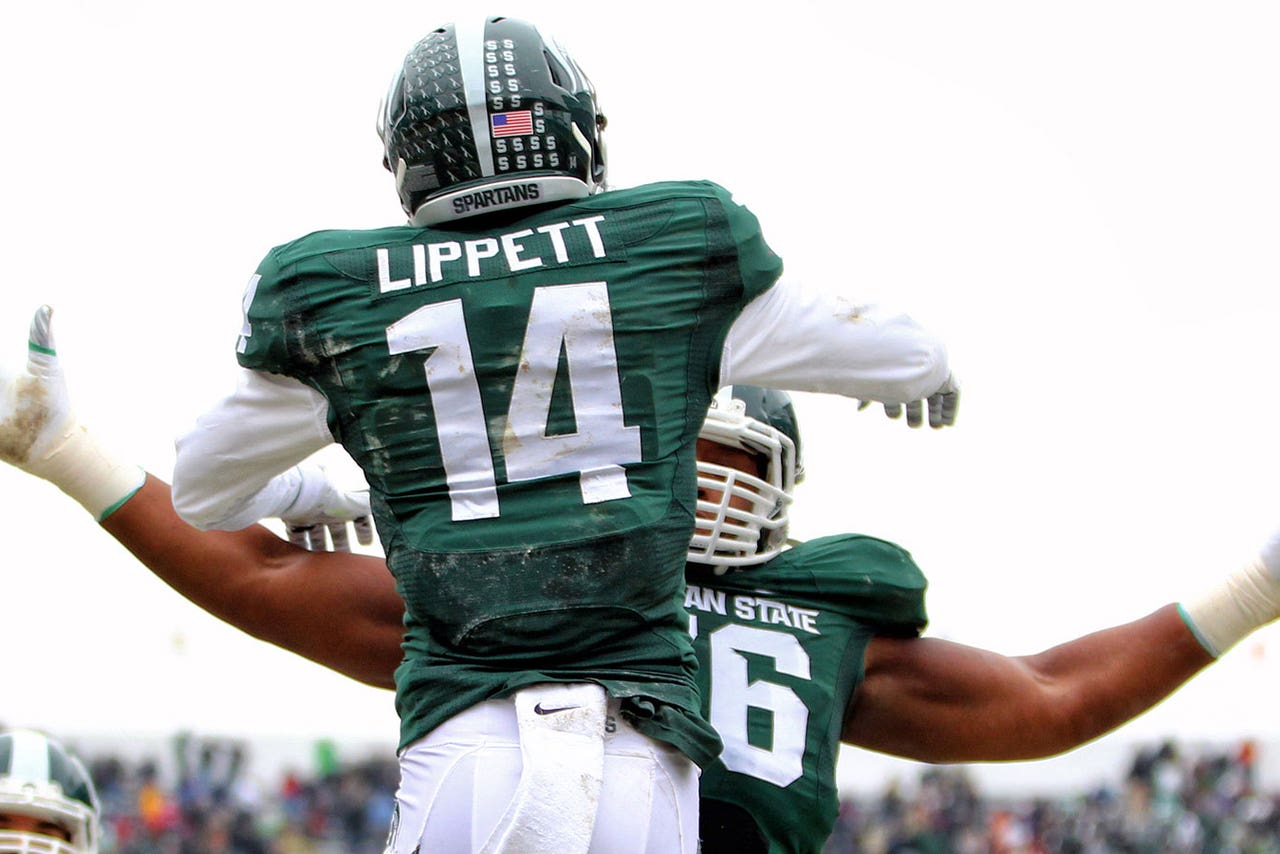 EAST LANSING, Mich. -- It was a simple play but one Connor Kruse will never forget.
With time winding down in Michigan State's 45-3 rout of Rutgers, the offensive lineman lined up in the Spartans' backfield for the first time in his life. The 330-pound senior took a handoff from backup quarterback Tyler O'Connor and rumbled around the edge for a one-yard gain.
Then, he stood up, took a bow and walked off the field.
It was the perfect way to end his career at Spartan Stadium.
"I didn't really care if I got a yard or lost five or anything; I just wanted to hold onto the ball, and it was just fun ending my career out there with a carry," said Kruse.
The play was originally designed for fellow senior Travis Jackson, but he left the game in the first half with an injury. At halftime, the torch was passed to Kruse.
"As soon as he (Jackson) heard that I was going to run it, he's like, 'You better run the hell out of that ball,'" Kruse said. "I was pumped."
Coach Mark Dantonio said Kruse "performed admirably with a high gear" and described the feeling of an offensive lineman carrying the ball as the equivalent to finding gold. For Kruse -- who hadn't received a handoff since fifth grade -- nothing could be truer.
"It probably doesn't look like gold -- we don't move as fast as other people; I can tell I don't move as fast as other people -- but for us and for all the guys who were so happy to see me run the ball, it is gold," Kruse said. "It's something special for us to have."
Saturday was a special day for MSU's seniors for more than one reason. They earned a dominant victory over a Big Ten opponent, ending their career at Spartan Stadium on a high note, and joined their families for an emotional pregame ceremony.
Even Dantonio couldn't ignore the atmosphere.
"You didn't see me smiling out there?" Dantonio joked. "They never pick up on that. It was about that."
His usual no-nonsense mantra was nowhere to be found, as he smiled on the sidelines while the seniors had a little bit of fun.
Standout wide receiver Tony Lippett showed off his athletic abilities both offensively and defensively. He was supposed to be a two-way starter against Rutgers, but it slipped his mind when MSU's defense took the field.
"I forgot I was starting," Lippett said. "I didn't know how he was going to do it. I didn't know if he was going to put me out there or call me over, so I was just chilling. I was supposed to be out there."
Luckily, Demetrious Cox quickly filled in for Lippett, and the senior receiver took over as cornerback on the ensuing play. And Lippett didn't disappoint.
"He fit right in with the no-fly zone," said senior safety Kurtis Drummond.
Lippett recorded two pass breakups and one tackle on defense, and led MSU's receivers with five catches for 72 yards, including one touchdown.
He had such an impressive outing, it probably won't be the last time Lippett sees playing time on both sides of the ball in a Spartan uniform.
"He could start for us on either side, and I have always maintained that it is possible to do that," Dantonio said. "When I say to a guy that he has a chance to start on both sides of the ball, I mean that. He is a guy that we have said that about, and we are going to do that."
Senior running backs Jeremy Langford and Nick Hill both had multiple touchdowns in their final home game. Langford scored two touchdowns and extended his 100-yard rushing streak against Big Ten opponents to 15 straight games. Hill also earned two rushing touchdowns.
Hill believes something much greater than numbers will define the Class of 2014's legacy, though.
"The legacy that we want to leave behind is that we're a class of hard workers," Hill said.
EXTRA POINTS
--- Kicker Michael Geiger converted a fake field goal on MSU's first drive of the second half. Geiger ran for 23 yards and appeared to have a touchdown, but stepped out of bounds at the one-yard line.
"I've been waiting to bring the wheels out," Geiger said. "Whenever you put the ball in the hands of a 5'9" kid from Toledo, it's going to be an adrenaline rush. Definitely a big moment for me."
Geiger said the play was called "Sword and Stone," for both MSU's opponent (Scarlet Knights), and also because it signified the passing of the torch as senior punter Mike Sadler handed the ball off to Geiger.
--- Connor Kruse's carry was the second time an offensive lineman has received a handoff in the last three years for the Spartans. On senior day in 2011, Joel Foreman had a carry in MSU's 55-3 victory over Indiana.
--- With his first catch of the game on a nine-yard reception, Lippett surpassed the 1,000-yard mark for the season. He became the eighth MSU wide receiver with 1,000 receiving yards in a season.
---