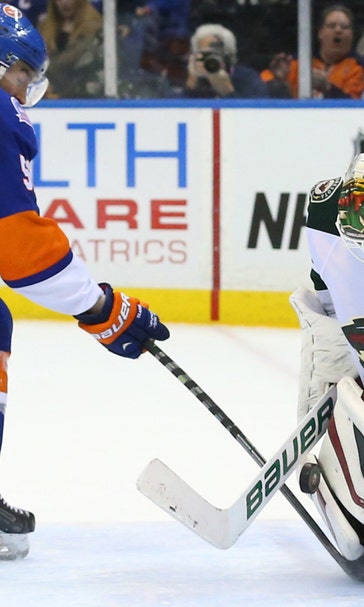 Road Reaction: Wild 2, Islanders 1 (SO)
BY foxsports • March 24, 2015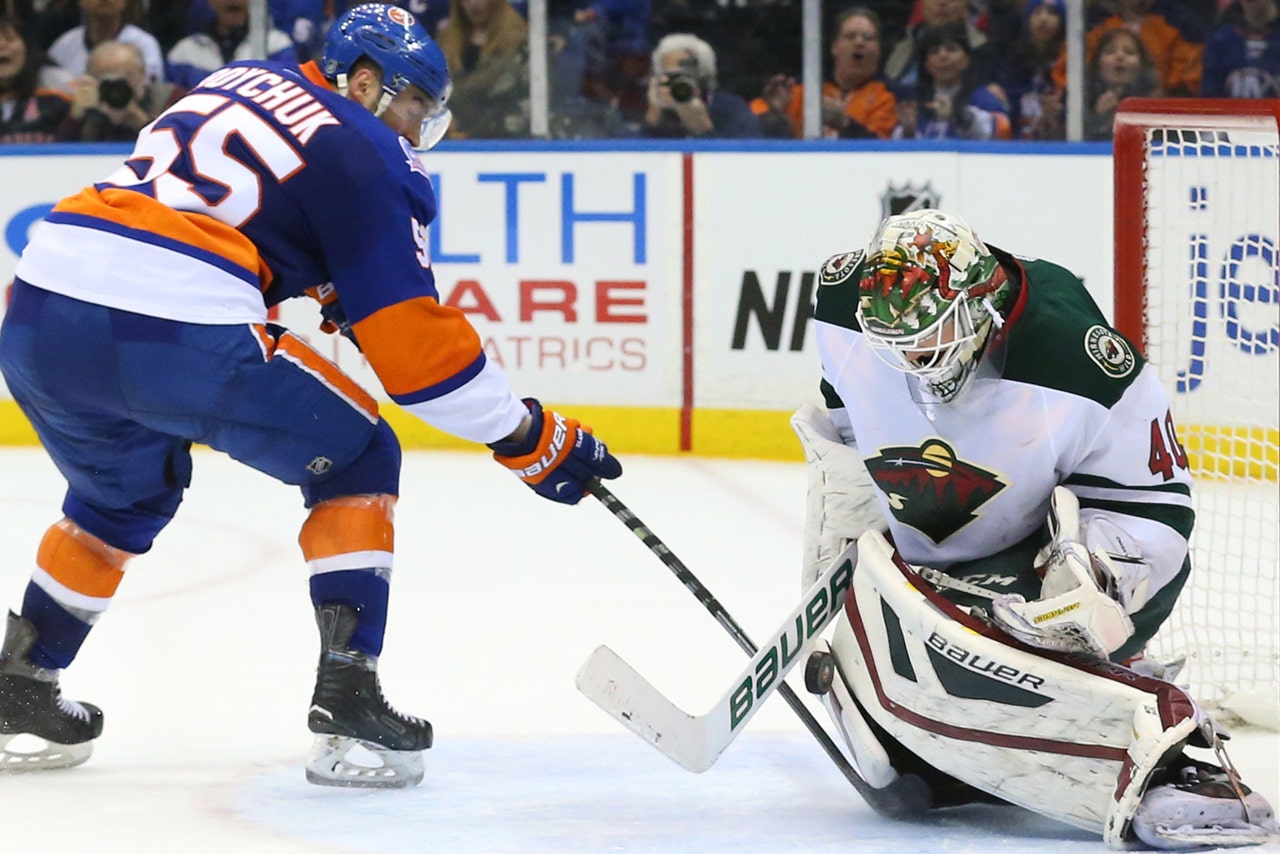 Zach Parise came up with the two important scores for the Minnesota Wild on Tuesday night and he looked to goaltender Devan Dubnyk as a reason Minnesota won its 10th consecutive road game.
Dubnyk made 37 saves in regulation and overtime, and stopped all three shots he faced in the shootout as the Wild beat the New York Islanders 2-1. Parise scored his 29th goal in regulation and scored the lone goal in the shootout as Minnesota extended its franchise-record road success.
The Wild added on to its franchise record by winning its 10th straight road game. Minnesota also added to its record with 22 road wins and 46 road points, and did so with another third-period comeback.
On the second night of a back-to-back, the Wild were swamped early against New York. The Islanders outshot Minnesota, 16-5, in the first and Dubnyk pushed a scoreless game into the first intermission.
Dubnyk is now 14-1-1 on the road in his time with the Wild with a 1.44 goals-against average and .952 save percentage.
THREE STARS
1. Dubnyk, G, Wild: Dubnyk: Yet again, could it be anyone else? Dubnyk started his 33th straight game, the most in the NHL since Anttii Niemi made 34 consecutive starts for San Jose in 2011, according to the Elias Sports Bureau. Dubnyk has started every game since coming to Minnesota on Jan. 15 in a trade, setting a franchise record with 32 straight starts with the Wild.
Tuesday was the fifth time Dubnyk has started both games of a back-to-back in his time with the Wild. He's set a career high in games played (51), wins (33) and shutouts (six).
Dubnyk handled New York's early onslaught as the Islanders often held the play in their offensive zone. Dubnyk's best save might have come in overtime. New York defenseman Johnny Boychuk got free in the 4-on-4 session and put a quick shot on Dubnyk, who slid across to make the save with his chest.
Dubnyk then stopped Frans Nielsen, Kyle Okposo and John Tavares in the shootout. Okposo has been one of the league's most dangerous scorers in the shootout this season, entering Tuesday with a goal on five of his seven chances. Nielsen was 5 of 10 and Tavares is one of the league's top goal scorers.
2. Parise, F, Wild: The post was kind to Parise. After Parise tied the game in the third, he got a bit of fortune in the shootout after his shot bounced off the goalpost, came back and hit New York goaltender Jaroslav Halak and bounced into the net.
Parise tallied his 39th career shootout goal, which is second among all NHL players.
In the third, Parise received a centering pass from Jason Pominville and Halak came up with a save, but Parise followed and knocked in the rebound chance. Parise now ranks 10th in the NHL with 29 goals this season. He has four goals, seven assists and is a plus-8 rating in the last 11 games.
Parise also had four shots on goal, four hits and four blocked shots.
3. Taveras, C, Islanders: Tavares is an MVP candidate this season and was in the thick of the early pressure on Dubnyk. He later scored his 34th goal, which is seventh in the NHL. He moved into a tie with Sidney Crosby for the NHL's scoring lead with 74 points.
Tavares had a game-high eight shots on goal.
Seen: Forward Jordan Schroeder made an impact in his return to the lineup. Schroeder had been scratched in eight straight games but was back in with Kyle Brodziak dealing with an upper-body injury. Schroeder started on the fourth line and used his speed and rested legs to stand out.
Schroeder tied a team-high with four shots on goal. Head coach Mike Yeo rewarded Schroeder in the third period and moved Schroeder to the third line with Thomas Vanek and Charlie Coyle.
Yeo made another third-period switch. Yeo moved center Mikko Koivu between Zach Parise and Jason Pominville, switching Mikael Granlund between Nino Niederreiter and Chris Stewart.
Said: "I don't think you want to make a habit of (a slow start). You expect these guys to always have good starts in this building and they did. Dubnyk, I mean, like he's been doing the whole year for us, kept us in the game. We're lucky to leave that first period zero-zero. We managed to get by and then regrouped after that." -- Parise.
Next: Two road games on back-to-back nights are followed by a bit of a break and a return to the Xcel Energy Center. Minnesota hosts the Calgary Flames on Friday night for the first of a five-game homestand to end the regular-season home schedule.
The Wild are 2-0-0 against Calgary this season and are 4-1-0 in the last five games against the Flames at the Xcel Energy Center.
Follow Brian Hall on Twitter
---