Rams can't hang with Cardinals in NFC West grudge match
BY foxsports • December 12, 2014
ST. LOUIS -- There was a 60-minute heavyweight fight Thursday night at the Edward Jones Dome with two football teams exchanging haymakers for four quarters. At the end of the night, the Arizona Cardinals defeated the Rams 4-2 on field goals (12-6 on points) in a game that featured no touchdowns, 554 total yards of offense, 26 first downs (13 for each team) and a combined nine conversions on 32 third-down plays.
The refrain in the Rams' locker room sounded like a broken record.
"It's hard to win football games when you don't score touchdowns," defensive end Chris Long said, speaking for everyone. "On defense, we played well enough to win, but when the offense is struggling you have to make a play as a defense, and we weren't able to do that."
They came close. In the third quarter, cornerback Janoris Jenkins appeared to intercept a pass thrown by quarterback Ryan Lindley, who had replaced an injured Drew Stanton (knee). Jenkins returned the ball to the Arizona 38-yard line, but the play was overturned after a review.
Then, late in the fourth quarter with the score 12-6, Arizona running back Kerwynn Williams fumbled at the Cardinals' 31-yard line, but tackle Jared Veldheer recovered for Arizona. The ball's bounce simply went Arizona's way.
"That was the play we needed in this game," Rams coach Jeff Fisher said. "We got the ball out, but we just couldn't get on it. If Jenks (Jenkins) turns one way and not the other, he might have had a better chance to get it. But that's football."
Truly, the game was lost in the third quarter when the Rams had a stunning five three-and-outs and ran 15 plays for 15 yards, and on two drives where the Rams were stopped on third-and-1 from inside the 10-yard line. Overall, the Rams were four for 15 on third down.
While the Rams' defense played up to expectations, the offense showed it simply isn't ready for prime time, especially against a defense as good as Arizona's.
Hill chalked it up to a lack of execution and "a breakdown here or there. Some of it was mental errors, which was the bad part. Physical errors are going to happen. We're human. On a short week, we have to be dialed in that much more and not have the mental errors and mental breakdowns. That was very discouraging. They do something different every week; that's how they are on defense. They're a game-plan defense, and they're going to bring something that you haven't seen.
"That's just the way they are. You have to adjust on the fly in order to execute against them, and just follow your rules -- the things you've just been taught to do. We didn't do that well enough."
As tight end Jared Cook lamented, "We just didn't move the chains enough."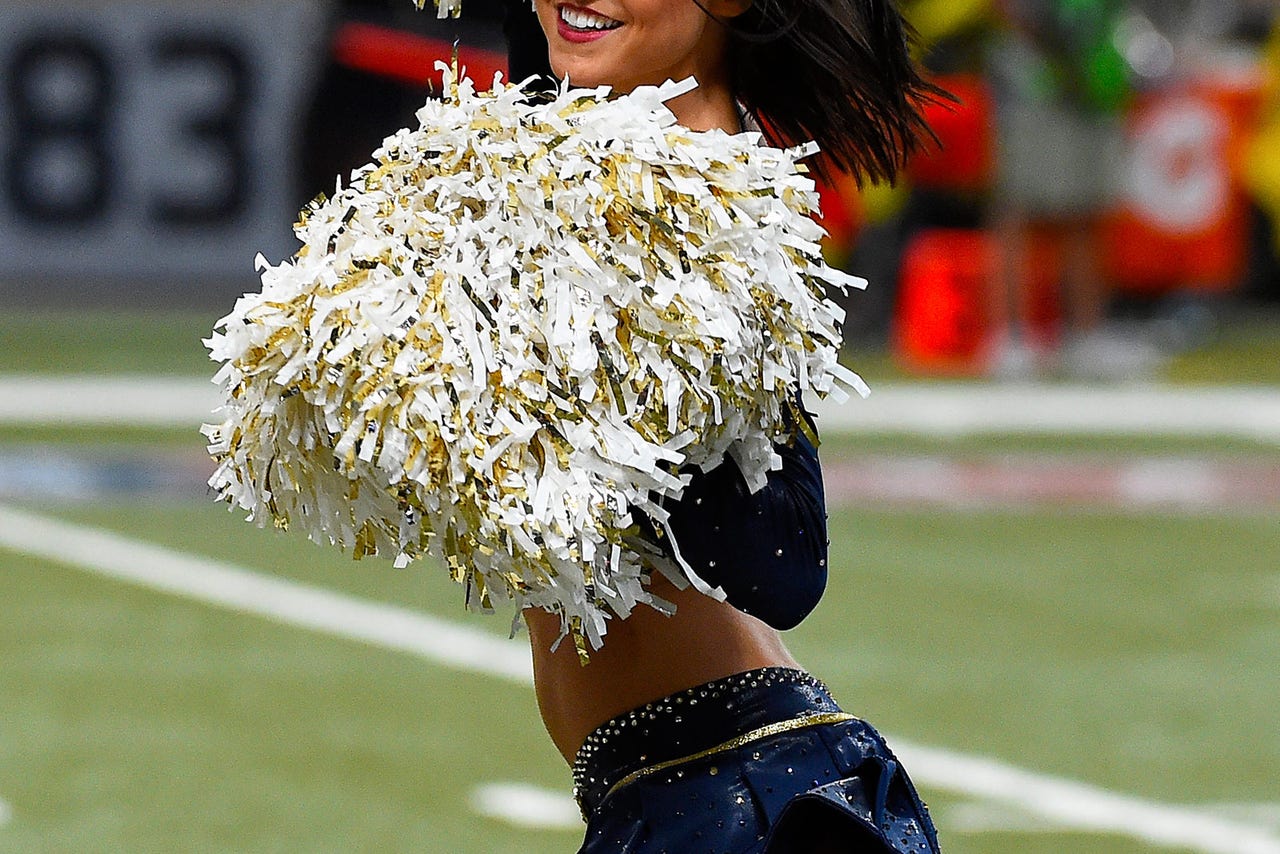 Flip through our photo album of NFL cheerleaders.
Of course, the Cardinals also didn't do that, extending the Rams' defensive streak to three games without allowing a touchdown. The last one came with 8:09 left in the fourth quarter against San Diego on Nov. 23.
But the Rams weren't able to get in the end zone thanks to those first- and fourth-quarter failures. On their first possession of the game after 19-yard and 21-yard pass plays to running back Benny Cunningham and tight end Cory Harkey, respectively, the Rams were set up with a first down at the Arizona 16-yard line. However, after a Cook 9-yard reception got the ball to the 7, Cunningham was stuffed on third-and 1.
Then, after their third-quarter failures, the Rams overcame an offensive pass-interference penalty on Cook when Hill hit wide receiver Stedman Bailey for a 38-yard play to the Arizona 39-yard line on their first possession of the final quarter. Five plays later, another pass to Bailey moved the ball from the 7-yard line to the 1-yard line, but on another third-and-1 play, Hill had to throw the ball away when he rolled out to the right.
"They did a good job of taking it all away. You've got to give them credit, too," Hill said. "They played it well."
Fisher said he considered going for it on fourth-and-1, but eschewed that because "we're down there first down, and down their second down, and down there third down. We had opportunities. But if we don't get points, then we're in trouble. So we needed 10 (to win), we got three thinking that we had plenty of time and would have a shot."
Which they did, moving from their own 20 to midfield on a 22-yard pass to Kenny Britt and a 10-yarder to Cook in the final minutes.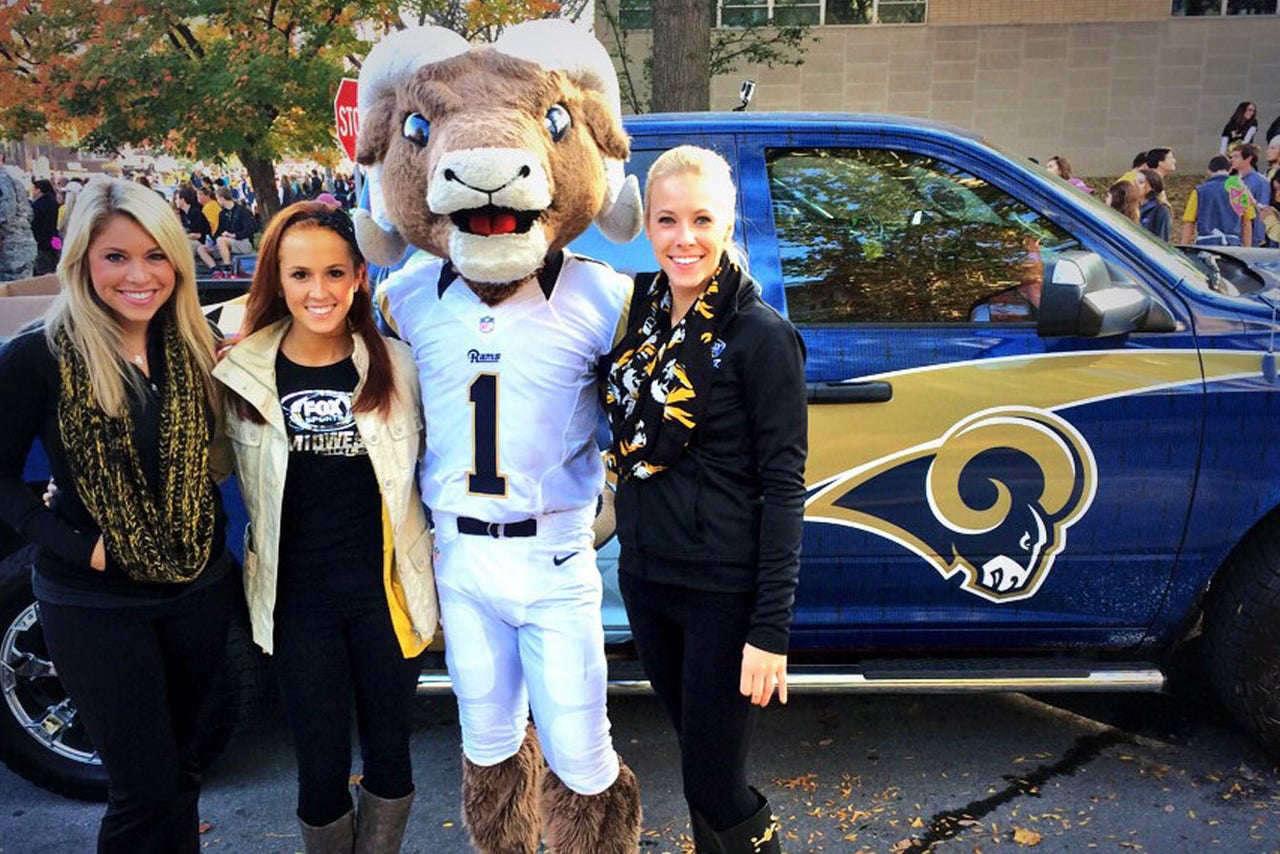 FOX SPORTS MIDWEST GIRLS: Read their bios, check out their upcoming appearances and view their photo galleries and videos.
However, any realistic chance of winning ended when Hill misfired on a third-and-7 pass to an open Bailey, and his fourth-down pass attempt was batted away.
Asked what went wrong on the pass to Bailey, Hill said, "I don't know, I'll have to take a look at it. Obviously, I missed him."
So it was that the Rams missed a chance to move to .500 in a game where they were favored, a rarity for a team that entered the game with four fewer wins than their opponent. It's also the kind of heavyweight fight this division has become with defenses that Cardinals coach Bruce Arians said "hit you in the mouth."
The Cardinals also were helped by a running game that totaled 143 yards with running backs Williams (15 carries for 75 yards) and Stepfan Taylor (14 for 61) combining for 136 yards on 29 attempts. Conversely, Rams running back Tre Mason had just 33 yards on 13 carries and Cunningham managed 4 yards on two touches. That's not a recipe for winning.
This is a division featuring similar battles each time these teams play, so get used to it.
"We've had several like this now," Fisher said. "They're field position, run game, stop the run, get off the field on defense, and play good defense (types of games). That's what our division's coming down to."
Howard Balzer can be heard daily on H & Friends from 9-11 a.m. on FoxSportsRadio 1490.
---