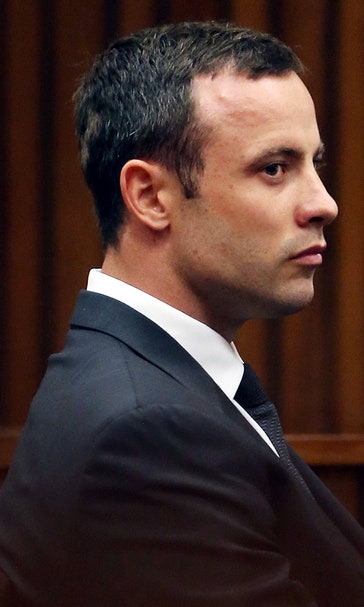 Prosecutor says Pistorius acted methodically
BY foxsports • July 3, 2014
Oscar Pistorius armed himself and took other methodical steps before he killed his girlfriend, the chief prosecutor said Thursday, trying to cast doubt on the athlete's account that he reacted instinctively to a perceived intruder.
Prosecutor Gerrie Nel made the argument while cross-examining sports physician Wayne Derman, who testified that the Paralympian acted on a ''fight or flight'' impulse in which he chose to confront what he thought was an attacker because his disability prevented him from fleeing. Derman has treated Pistorius for years.
Pistorius, 27, says he killed Steenkamp by mistake, thinking there was a dangerous intruder in his home. He shot her through a closed toilet door while on his stumps. The prosecution says he intentionally killed the 29-year-old model after the couple had a Valentine's Day argument last year.
Under questioning from defense lawyer Kenneth Oldwadge, Derman drew a contrast between Pistorius' past triumphs as a sprinter crossing the finish line with raised arms with the daily, severe limitations that he endured because of his disability.
''You've got a paradox of an individual who is supremely able, and you've got an individual who is significantly disabled,'' said Derman, who has worked with South African Olympic and Paralympic teams. He noted that Pistorius' anxieties included concern about flying.
''He has a specific fear of being trapped somewhere without being able to move very rapidly,'' said Derman, a professor of sport and exercise medicine at the University of Cape Town.
Derman said Pistorius has an extremely anxious nature, a condition that partly stems from the amputation of his lower legs when he was 11 months old. Pistorius was born without fibulas, the slender bones that run from below the knee to the ankle.
The defense wants to show that the athlete had a deep sense of vulnerability because of his disability and a long held fear of crime, and it was a factor in what he has described as a mistaken shooting.
During cross-examination, Nel said Derman was giving ''character evidence'' rather than ''expert evidence'' and questioned whether the witness was capable of giving testimony that would work against Pistorius' defense.
He suggested Pistorius acted methodically on the night he killed Steenkamp because he had to locate his gun, which was not where he normally kept it, then take the weapon out of its holster and then move down a passage from the bedroom to the bathroom while scanning for the perceived threat.
''The accused was careful before he entered the passage,'' Nel said.
Pistorius, who is free on bail, faces 25 years to life in prison if found guilty of premeditated murder, but he could also be sentenced to a shorter prison term if convicted of murder without premeditation or negligent killing. Additionally, he faces separate gun-related charges.
During one adjournment, Nel and Derman, the physician, smiled at each other while bantering briefly from their seats a few yards apart. But the exchanges that followed sometimes became testy as the prosecutor suggested the witness was biased toward Pistorius. Derman said Nel was unfair in his questioning.
''You're thinking of the point I'm trying to make, and you're not listening to the question,'' Nel said at one point.
On another occasion, Derman said: ''You put a statement. I'm not responding to a statement.''
The trial was adjourned until Monday.
---