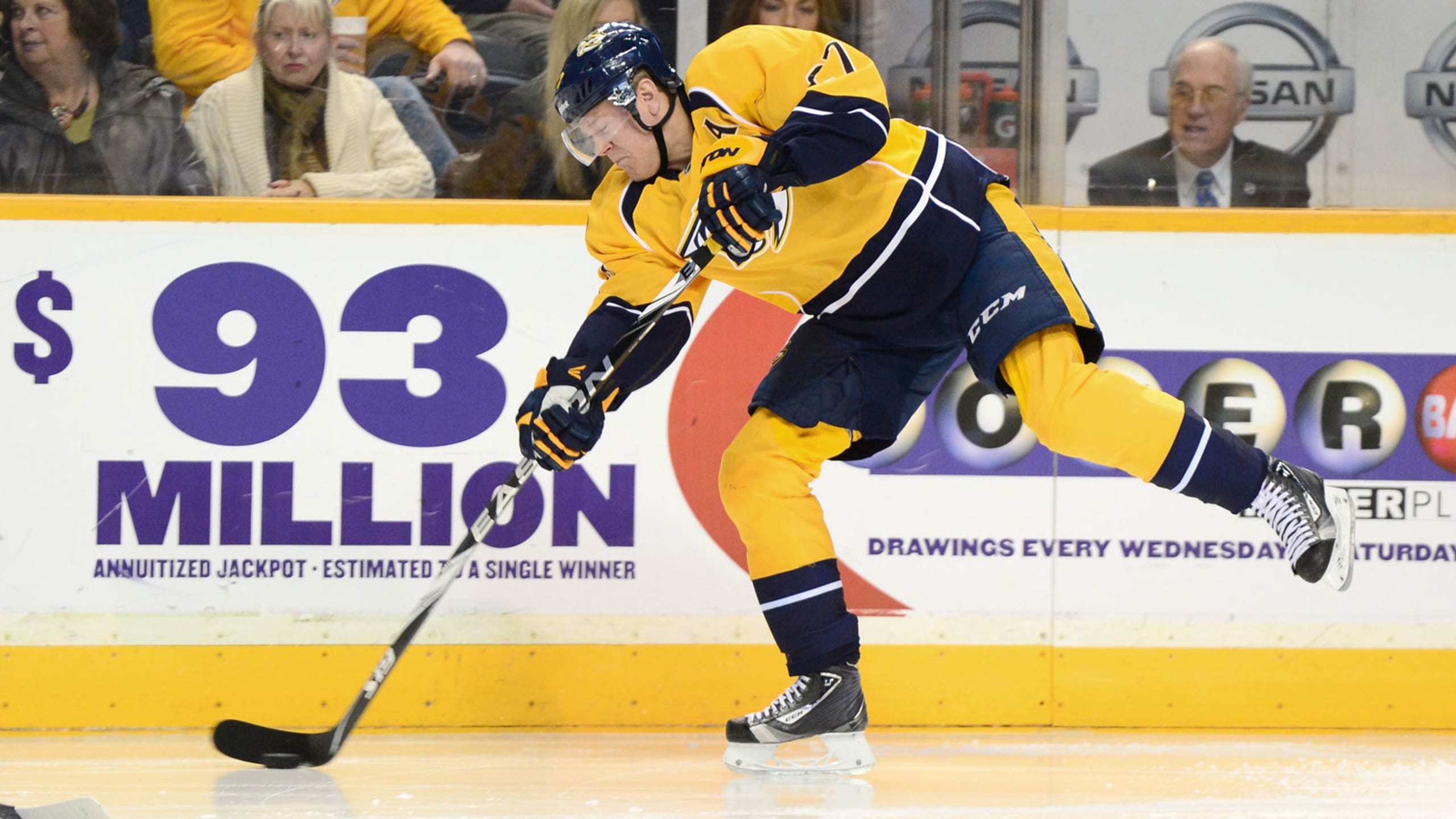 Preds' West Coast swing could make-or-break playoff chances
BY foxsports • January 21, 2014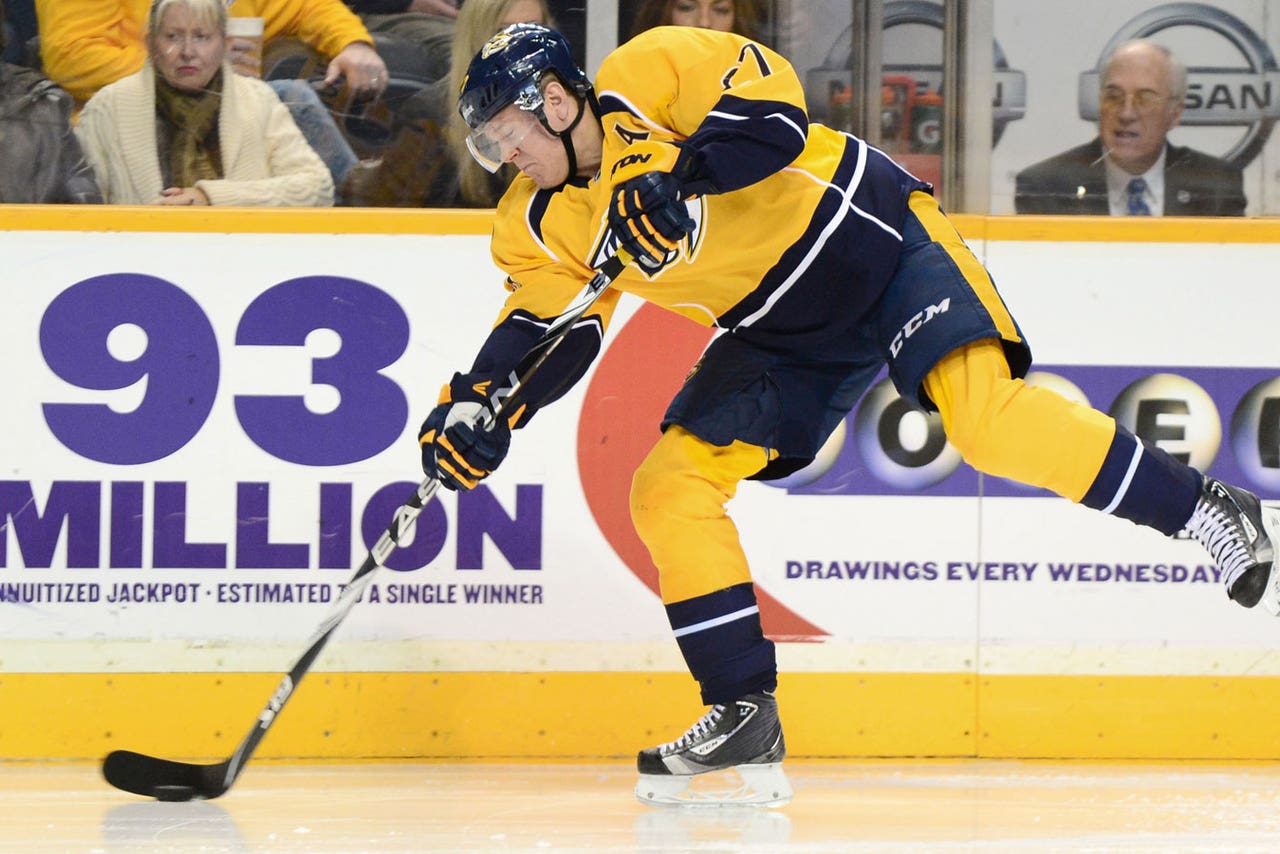 One game does not make a trend.
Nashville coach Barry Trotz made that point on Monday following his team's much-needed victory over the Dallas Stars at Bridgestone Arena.
It was only the Predators' second win in their past six home games (2-3-1 in that span).
"I don't know if we have re-established," Trotz said of home-ice advantage.
"We've played some pretty good games on home ice. We've just had some tough nights where we've been trailing and not getting what we need from areas of our game. But we've battled and the last game" -- a 5-4 loss to Colorado in which Nashville trailed 5-1 in the third period -- "was an example of it. There's no quit. We've just dug ourselves some bigger holes at home more than on the road."
The Predators are 13-11-4 at Bridgestone Arena. Contrast that mark with the previous two seasons, when they made the playoffs, and it pales in comparison. In 2011-12, the Predators boasted the sixth-best home record (26-10-5) and third-best home mark last year (24-9-8).
To be fair, those were different teams. Pekka Rinne twice finished as a finalist for the Vezina Trophy (best goalie). Plus, this week marks the third full month since Rinne has played, owing to an infection in his hip.
The previous Predators also had Ryan Suter, a finalist for the Norris Trophy (best defenseman) last season -- and his first with Minnesota since departing Nashville as a free agent.
The larger point: In recent years, Bridgestone Arena has gained a reputation as one of league's most difficult venues for opposing teams.
And to make up the eight points that separate Nashville from playoff contention -- Vancouver (7th in the West) and Minnesota (currently 8th) -- the Predators need to start playing much better at home.
"We take a lot of pride in playing at home," captain Shea Weber said. "The fans are the best in the league and definitely want to make it a tough place to play."
The good news is that Nashville's play is trending upwards. Since knocking off the Los Angeles Kings on Dec. 28, the Predators are 6-4-3 overall in their last 13 games.
All but one of the regulation losses (referenced above) came by one goal. That was a 4-0 home loss to the Wild, in which the Predators were playing their sixth game in nine days -- a virtually impossible stretch for any team to endure without reaching the point of exhaustion.
What's hard to stomach is the amount of points the Predators have left on the table. In Trotz's words, it involves certain areas club failures, particularly at home.
In a 4-3 home loss to Anaheim (Jan. 9), the league's best team, the Predators led 2-0 and hurt themselves with mental mistakes and a bad, untimely penalty.
In a home loss to Colorado last Saturday, the Preds could not register a timely save. In a shootout loss to Ottawa on Jan. 11, the power play went 0-for-2, including an overtime 4-on-3 chance, before the Predators came up short in the shootout.
That's five points right there. Being three points out of the playoffs would look a lot more manageable than eight.
On Thursday, the Predators embark on the road, where they are 9-11-3. They will play four games in six days, starting with the Vancouver Canucks, one of the teams they're trying to catch.
The Canucks have won once this month (nine games) and their coach, John Tortorella, was just suspended six games for his role in a brawl last Saturday.
The next two games are at Calgary and Edmonton, which, respectively, own the league's third- and second-worst records. The final stop is Winnipeg, which sits in last place in the Central Division but which has won three straight since firing coach Claude Noel and hiring Paul Maurice.
Trotz thinks the Predators have played better on the road than at home, saying players are feeling more pressure at home.
"I think on the road we've done a pretty good job of staying in the fight early," he said. "Not that we haven't tried or anything, it's just been a little bit at home, I think there's a negative curve for a few of our guys. Maybe a little more pressure at home than on the road."
Trotz noted the Predators' resilience after Monday's win. They're going to have to lean on that to overcome whatever pressure certain players might feel at home as the playoff stretch starts to heat up.
---