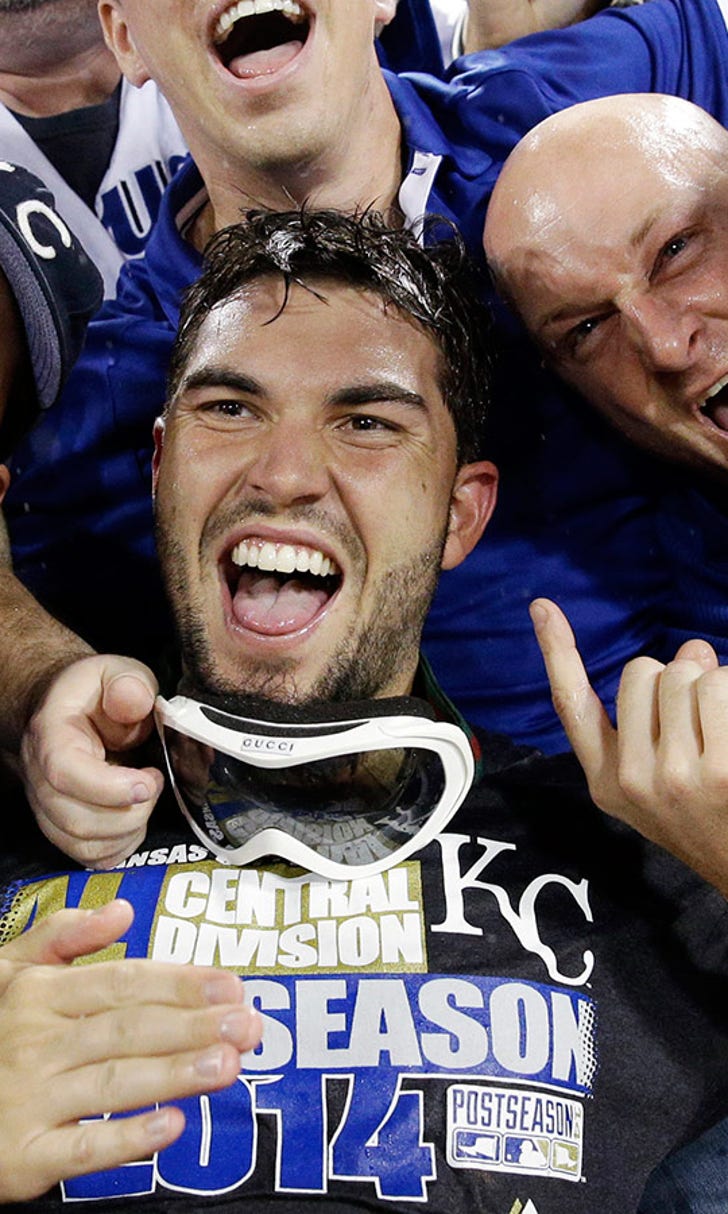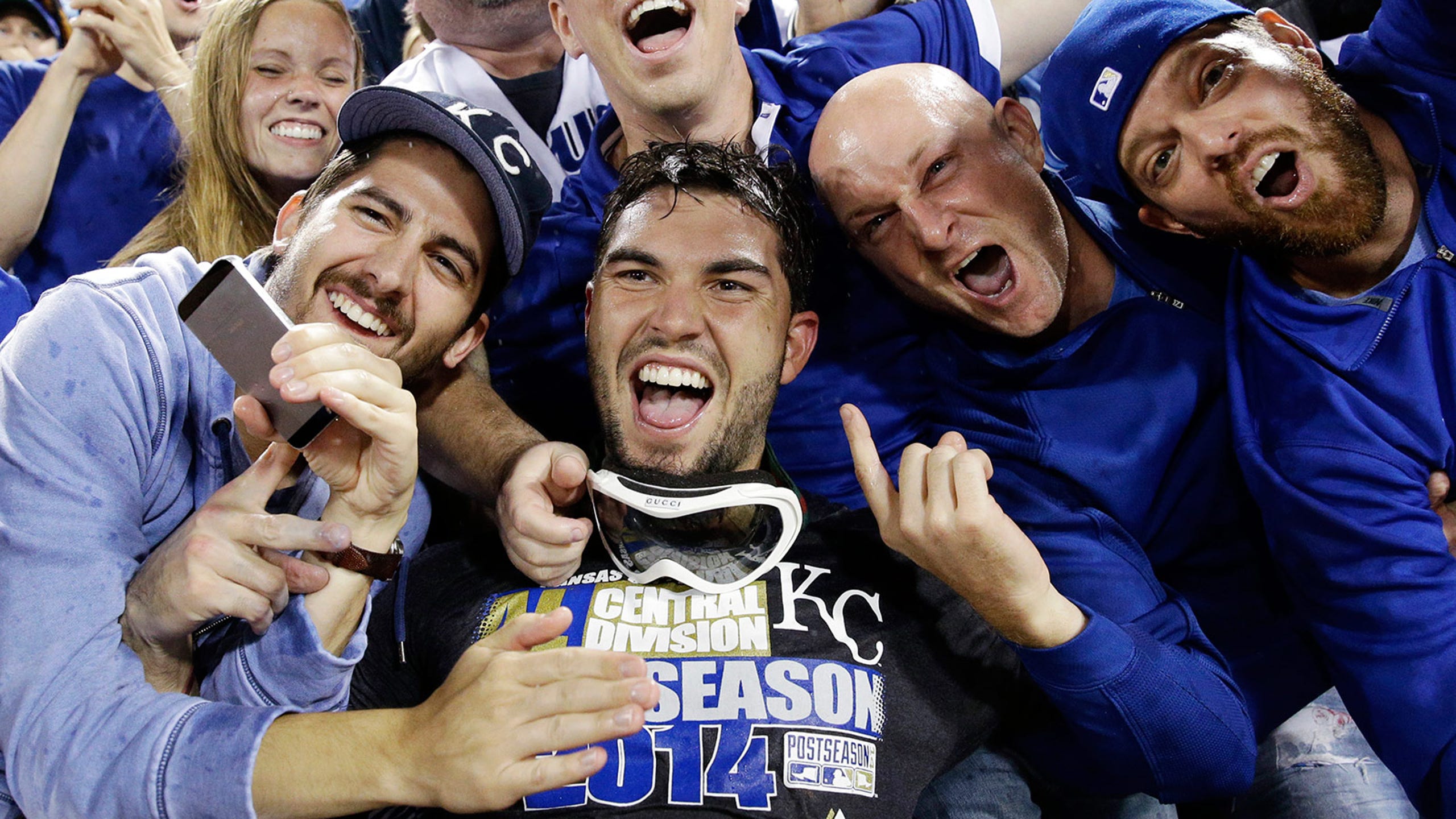 Pick the games for Royals Christmas Eve marathon
BY foxsports • December 9, 2014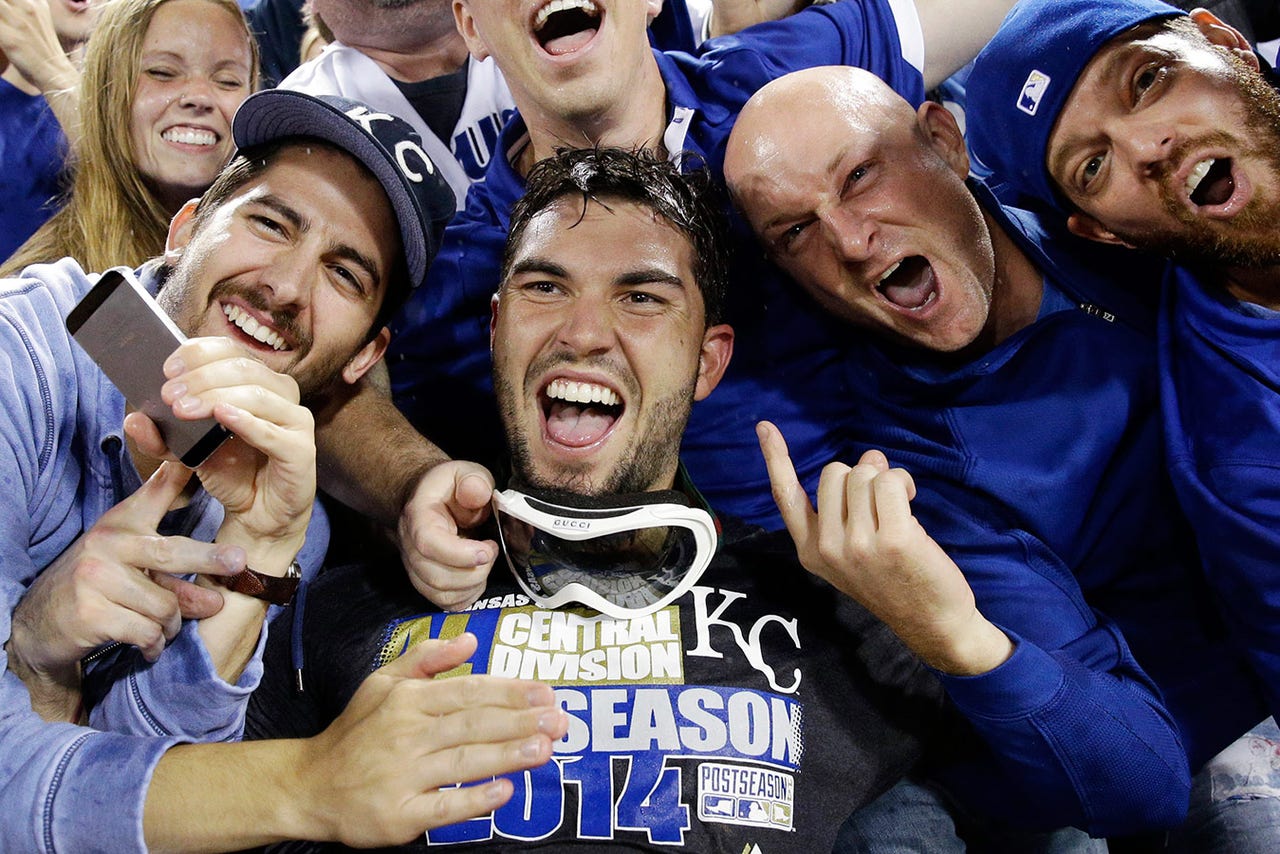 KANSAS CITY, Mo. -- A season like 2014 for the Kansas City Royals is one to be savored, a delight to be enjoyed and replayed in the mind's eye as often as possible.
FOX Sports Kansas City will present a smorgasbord of memories on Christmas Eve.
Below are groupings of top 2014 games. Come back each day this week and another grouping will be added. Select your favorite from each set and help us nail down our programming. The fans' choices will be announced Friday.
To help you reflect on each game, FSKC Royals writer Jeffrey Flanagan provides quick synopses below. Cast your ballots in the accompanying polls.
The Moose Gets Loose
April 16: Royals 6, Astros 4 (11 innings)
The Moose got loose in this one as Mike Moustakas belted a game-winner in the 11th inning to beat the Astros. This one was notable, too, because Danny Duffy whiffed four hitters in two dominant innings of relief. (Ha, bet you forgot that Duffy was a reliever!)
Gordon Drops Two Bombs
May 18: Royals 8, Orioles 6
On a pretty Sunday afternoon at The K, Alex Gordon went crazy, whacking four hits, including two homers. Since-traded Aaron Crow gave up three runs late and let the Orioles back in it, but Greg Holland sealed the deal. By the way, who knew then that another Gordon homer off the O's several months later would be even bigger in another 8-6 win over the Orioles in the American League Championship Series?
Who Says Pitchers Can't Hit?
June 3: Royals 8, Cardinals 7
Yep, this was a crazy one as James Shields muscled up at the plate and had two hits, including a big double. Gordon cracked a homer and Eric Hosmer delivered the game-winner in the ninth off closer Trevor Rosenthal as the Royals completed a two-game sweep of the Cardinals in St. Louis.
Big Sal's Big Fly
July 9: Royals 5, Rays 4
This was one of my favorites, just because it was so un-Royal-like at the time. The Royals were buried, losing 4-2 in the ninth, headed for another dismal loss. Then Big Sal Perez stepped up to the plate with two on in the top of the ninth and lofted a towering fly that just snuck over the fence in the shallow left-field corner in Tropicana Field. We were all stunned.
Royals Sail Past Sale
Sept. 17: Royals 6, White Sox 2
On the subject of stunned, how about the Royals knocking around the mighty Chris Sale in a game they desperately needed during the September chase? How about Alcides Escobar homering off Sale? How about Lorenzo Cain hitting a three-run homer off Sale on an 0-2 pitch? Good times, my friends. Good times.
Ace Tosses a Gem in Baltimore
April 25: Royals 5, Orioles 0
Royals fans had been waiting to see rookie Yordano Ventura dominate, and oh, my, did he. He threw eight shutout innings, striking out a then-career-high eight hitters and throwing a career-high 113 pitches. This was the game that got Royals fans truly excited about this kid's future.
Danny's Near No-no
May 17: Royals 1, Orioles 0
Royals fans had seen how dominant Danny Duffy could be out of the bullpen in April. They got a chance to see him dominate as a starter on a Saturday night against Baltimore when he retired the first 20 hitters he faced.  Adam Jones bounced a clean single through the middle to end the perfect game at 6 2/3 innings.
Vargas Makes it Look Easy
Aug. 13: Royals 3, A's 0
This was Jason Vargas at his very best. He pounded the strike zone and simply let the A's put the ball in play. Vargas gave up just three hits, walked none and retired the last 23 hitters he faced. When Vargas is on, he makes it look easy, and this looked easy.
Big Game James Tames the Tigers
Sept. 10: Royals 3, Tigers 0
Shields had started a vital road trip by shutting out the Yankees in his previous start, then was called upon to salvage the final game of a three-game set in Detroit. In a must-win scenario, Shields came through big time -- he gave up just two singles, walked one and struck out eight. Masterful.
The Miracle in the Great White North
May 29: Royals 8, Blue Jays 6 (10 innings)
The Royals had just been swept at home by the lowly Astros, had reassigned their hitting coach and trailed the Jays 6-5 in the ninth with two out and none on. Hopeless? Nope. Alex Gordon dumped a single, Jarrod Dyson pinch ran and stole second, and then Sal Perez hit a routine grounder to short, where Jose Reyes fielded it but threw the ball in the dirt, allowing Dyson to score from second. The Royals won it in 10.
Finally, a Walk-off Win
June 29: Royals 5, Angels 4
The Royals became the last team in baseball to enjoy a walk-off win, and it was a gift. With one out, Alex Gordon was hit by a pitch. Sal Perez hit a routine grounder to short that was thrown away, allowing Gordon to reach third. Omar Infante then drilled a game-winning single to left.
The Little-League Homer
July 24: Royals 2, Indians 1 (14 innings)
The Royals again were getting stifled by Indians starter Corey Kluber until one of the most bizarre plays you'll ever see occurred in the bottom of the eighth. Mike Moustakas floated a fly ball down the left-field line just fair. Moose churned around second base when left fielder Ryan Raburn picked up the ball and basically threw it sideways into the ground, far enough away to allow Moose to circle the bases. Nori Aoki then hit a walk-off single in the 14th.
That What Speed Do!
Sept. 15: Royals 4, White Sox 3
The Royals literally stole this one through the amazing speed of Jarrod Dyson and Terrance Gore. With two out and the Royals down 3-2 in the ninth, Dyson pinch ran, stole third and kept right on coming home when the pitch scooted away from the catcher for a wild pitch. After a double by Nori Aoki, Gore pinch ran and scored all the way from second on Lorenzo Cain's weak chopper over the pitcher's head for an infield hit.
A Max Effort to Move Into First Place
June 17: Royals 11, Tigers 4
A day after beating Justin Verlander, the Royals won their ninth straight game and in the process hammered another Cy Young Award winner in Max Scherzer. Alex Gordon and Mike Moustakas clobbered two-run homers in a seven-run second inning. Scherzer gave up 10 runs in four innings and the Royals claimed first place in the AL Central. Detroit players looked stunned in the dugout.
The Gordo Catch
June 18: Royals 2, Tigers 1
As he did so many times in 2014, Gold Glover Alex Gordon came up with a huge play to save a game. With the tying run on second in the fourth inning and two out, Detroit's J.D. Martinez sent a looping fly to left-center field that looked like it would drop for a game-tying RBI. But Gordon made a breathless, diving catch to save the run. Gordo also drove in a run in the win -- the Royals' 10th straight.
Big Game Jeremy Stops the A's
Aug. 1: Royals 1, A's 0
To a man, Royals players point to this game as a turning point. The Royals were hanging around second place but faced a daunting three-game set in Oakland. And Jeremy Guthrie came through in the opener with six shutout innings before turning it over to the HDH trio. Raul Ibanez's solo homer in the fifth was the only score in a tense, thrilling win that launched a road series in which the Royals won five of six.
The Dyson Back Flip
Aug.  11: Royals 3, A's 2
The Royals won their eighth straight and took over first place again, this time holding it for nearly a month. It was a white-knuckle ninth inning, though, as the A's threatened against Greg Holland. But with the tying run on second, Jarrod Dyson hauled in a deep drive to right-center field, then did a back flip as the scoreboard flashed that the Royals were in first place.
---