Parting shot: Michigan blanked by Notre Dame, 31-0
September 6, 2014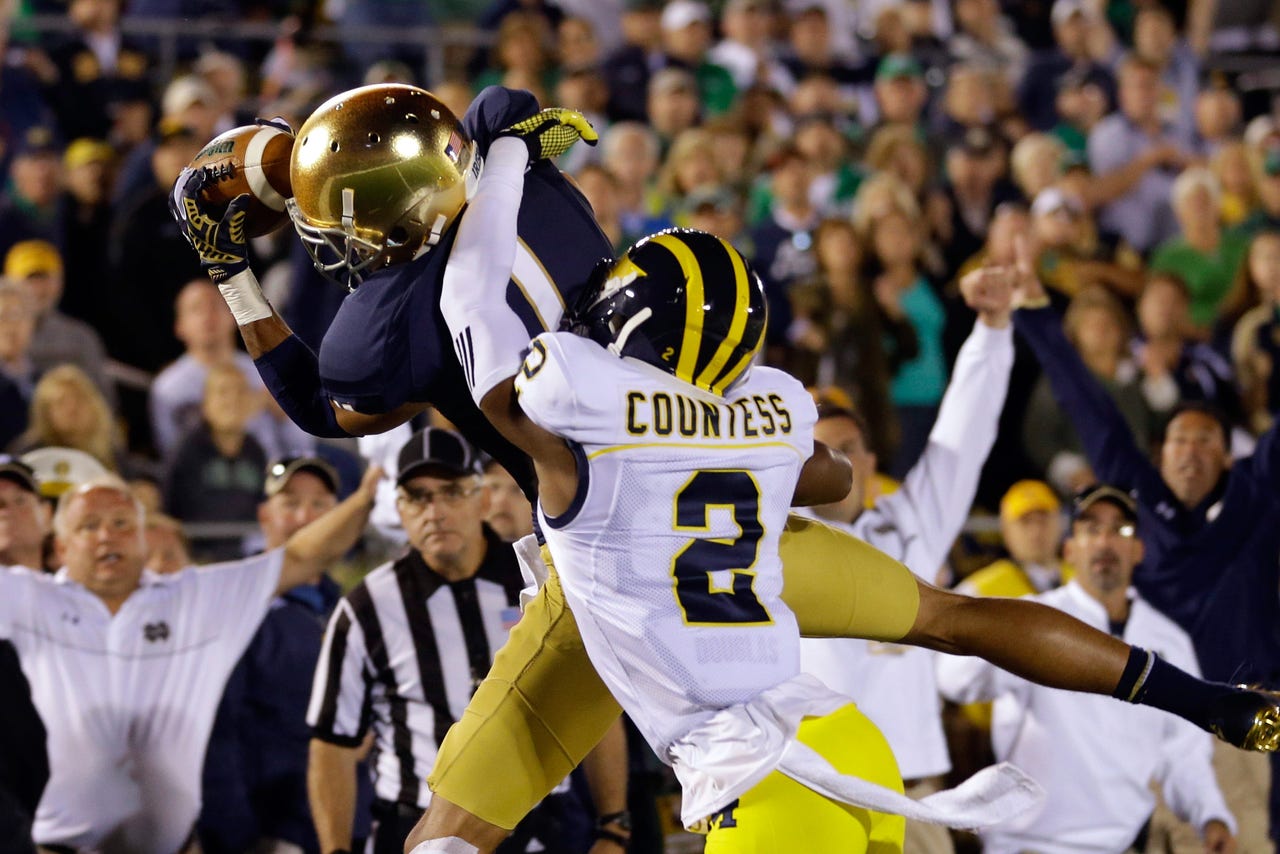 SOUTH BEND, Ind. (AP) -- The Michigan-Notre Dame rivalry is over for now. The Wolverines' NCAA record streak of games without being shut out is over for good.
Everett Golson threw three touchdown passes and No. 16 Notre Dame said so long to Michigan on Saturday night with a 31-0 victory, the Fighting Irish's most dominant performance in the historic rivalry that's now about to take a hiatus.
Game No. 42 in a rivalry that has been off-and-on for more than 100 years is the last scheduled. Notre Dame broke off the series to accommodate its new scheduling arrangement with the Atlantic Coast Conference. Michigan didn't take it well.
But with a chance to take a parting shot at the Irish, the Wolverines got hit with a haymaker and were handed their most lopsided loss in the series. And they were shut out for the first time since 1984, a span of 376 games.
"It's Notre Dame," said Michigan quarterback Devin Gardner, who committed four second-half turnovers. "It's the last game in the rivalry, and we wanted to come out on top and obviously that didn't happen. But it is just one game -- it is not even a league game. Our goal is to win this Big Ten championship. We are still on course to do that, and that's what we are working toward."
Gardner was 19 for 32 for 189 yards.
The last time Michigan didn't score in a game was Oct. 20, 1984, against Iowa, a 26-0 loss.
This one will probably sting longer, considering the circumstances.
"We will bounce back," coach Brady Hoke said. "This is a very resilient, hard-working group of young men, who know what it takes to win."
Michigan lost its 11th straight road game to a ranked team, the last came in South Bend in 2006, and Hoke fell to 7-12 away from Ann Arbor.
Notre Dame asked out of the series three years ago. Hoke jokingly accused the Fighting Irish of chickening out before last year's game at The Big House. Then after Michigan beat the Irish, "The Chicken Dance" blared through the sound system at the Big House.
No hard feelings?
"It was great revenge," Notre Dame linebacker Jaylon Smith said of Irish fans serenading Michigan with "Nah, Nah, Nah, Nah, Hey, Hey, Hey. Goodbye."
Well, maybe it was just a coincidence that this week Notre Dame announced a future home-and-home with Ohio State, Michigan's hated rival -- and a team that has owned the Wolverines in recent years.
Still, this is a rivalry that has been generally quite civil in recent years. Two of the bluest of bloods in college football history, they are the winningest programs ever by percentage. They have combined for 1,787 victories. In fact, Michigan had a chance to take back the top spot by beating the Fighting Irish.
Notre Dame and Michigan may not love each other, especially these days, but they've always seemed to like being associated with one another. Classic uniforms. Recognizable fight songs (they sound a little alike to an untrained ear). They both tout their high academic standards and doing things the right way.
The traditional early season meeting between the Irish and Wolverines has always been a measuring stick.
But things change. Notre Dame now has artificial turf and an interlocking ND logo at midfield. And Michigan has now been shut out for the first time in 30 years.
The golden domes and winged helmets will now go their separate ways. Michigan leads the series 24-17-1, but Notre Dame will get to bask in this one for a while.
Golson mostly worked the intermediate and short middle of the field, until he went deep down the sideline on a third-and-1 to Will Fuller, who stretched to make the catch and still keep a foot inbounds for a 24-yard touchdown with 34 seconds left.
Golson was 23 for 34 for 226 yards.
And Notre Dame still looks as if it can play some defense, though it's hard to tell just how good the Irish are on that side of the ball from this game. Michigan's offense, a mess last year, still looks out of sorts under new offensive coordinator Doug Nussmeier.
The Wolverines had a couple of good drives into Notre Dame territory in the first half that stalled and resulted in missed field goals. But the offense devolved into Gardner needing to make a play under pressure far too often.
"Maybe we can run into one another in a playoff game," Michigan Athletic Director David Brandon said. "That would be great. Or who knows. Things can change over time. But I think for the foreseeable future. We're going in two different directions."
---