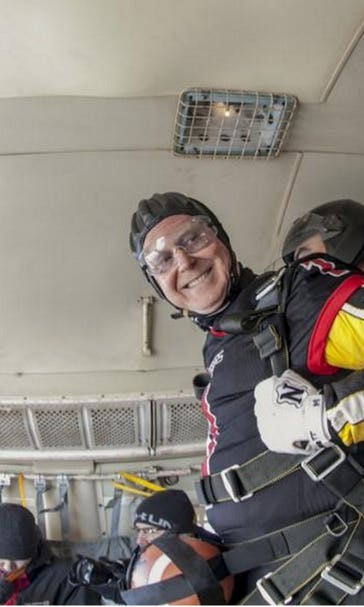 Parachuting president: WKU's pres. makes epic entrance
BY foxsports • November 16, 2014
Skydivers parachuting into college football stadiums on Saturday afternoon have become almost a weekly occurrence, but Western Kentucky took the parachute entrance game and flipped it completely on its head this past Saturday.
WKU's president Gary Ransdell dropped into the Hilltoppers' game against the Army Black Knights from 13,500 feet prior to kickoff.
According to the Courier Journal, with the help of the U.S. Army Parachute Team, Ransdell made a tandem jump onto the practice field beside the stadium and presented the game ball to the officials.
Ransdell told the Courier Journal it was an "amazing experience."
"It was 10 below zero when I was standing at the doorway of the plane," Ransdell said. "But boy, those guys are pros. You have so much respect for the Army and what they do. They're the best in the world. I had no apprehensions. It was an amazing experience."
Might be the best game entrance we've seen since Queen Elizabeth parachuted with James Bond into the Olympics.
Follow on Twitter @hank_green5
---