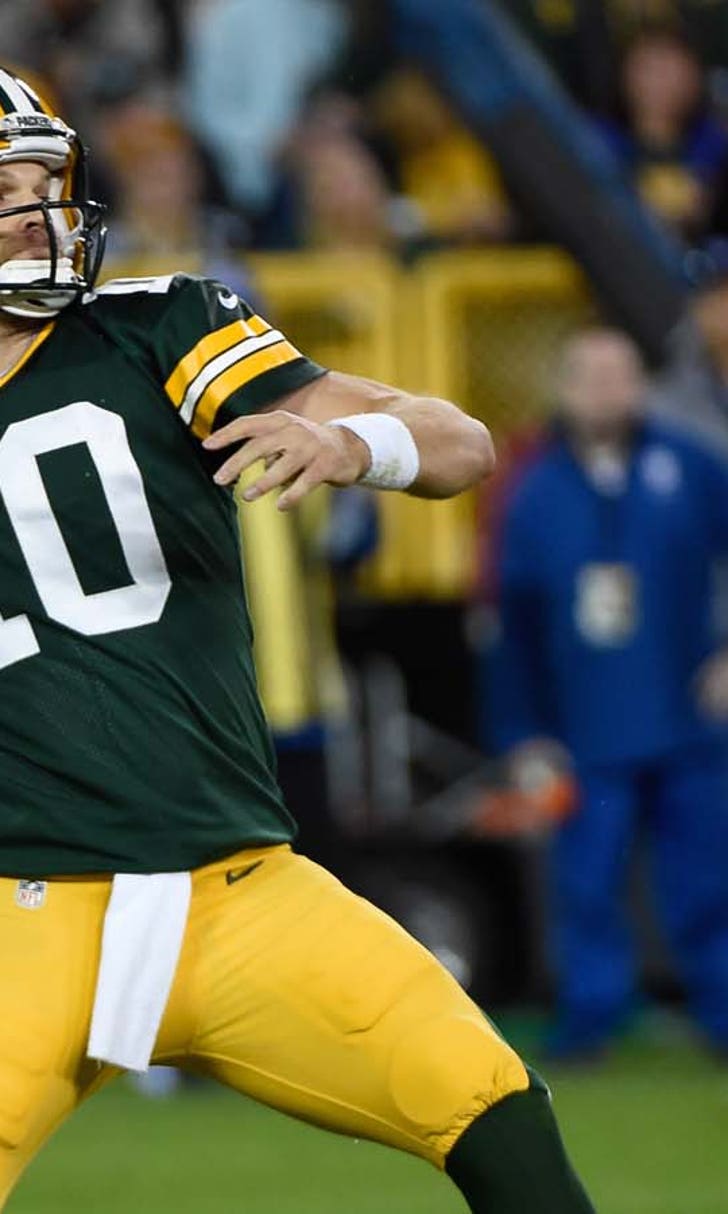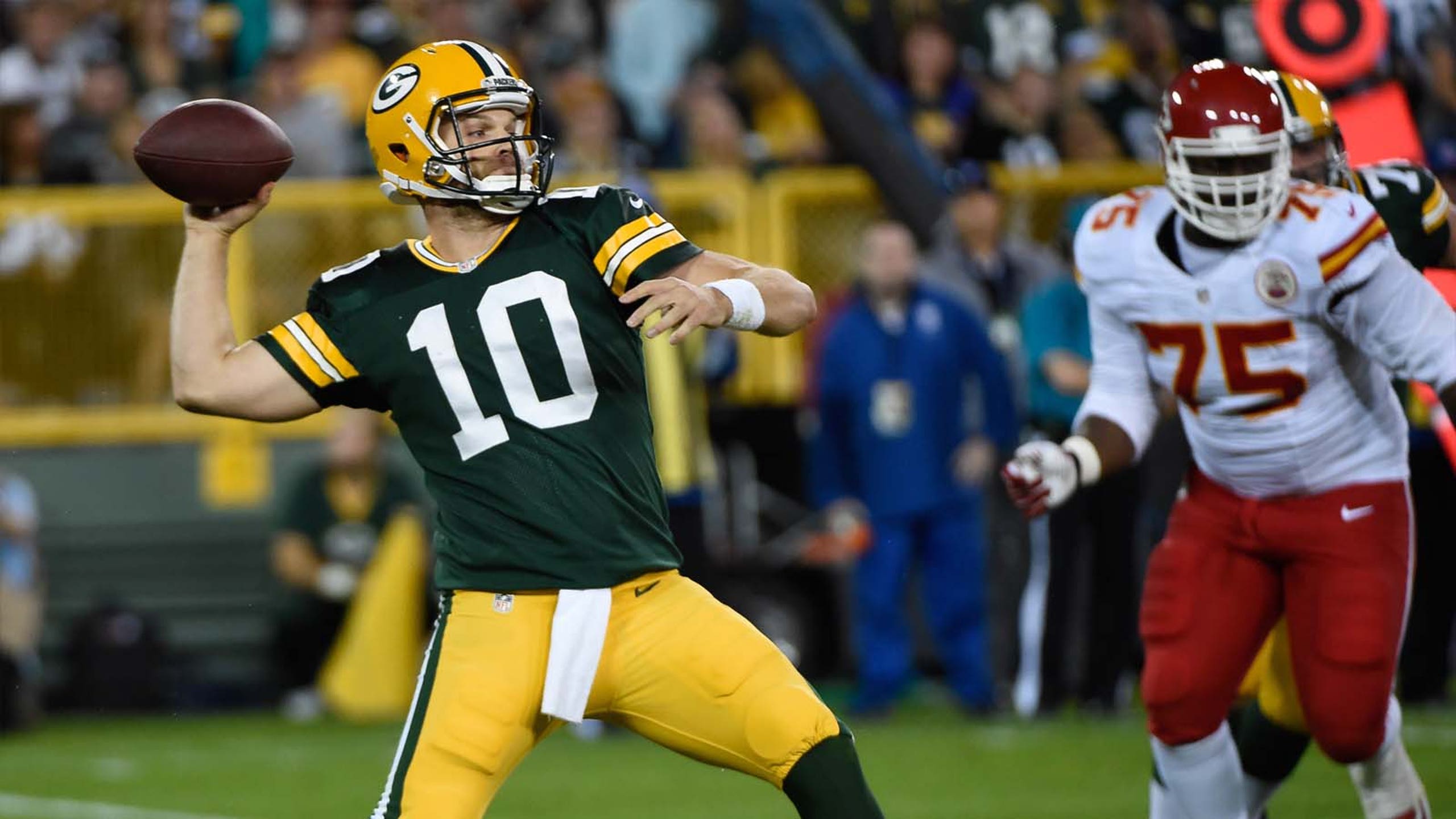 Packers Annual Checkup: Matt Flynn
BY foxsports • February 27, 2015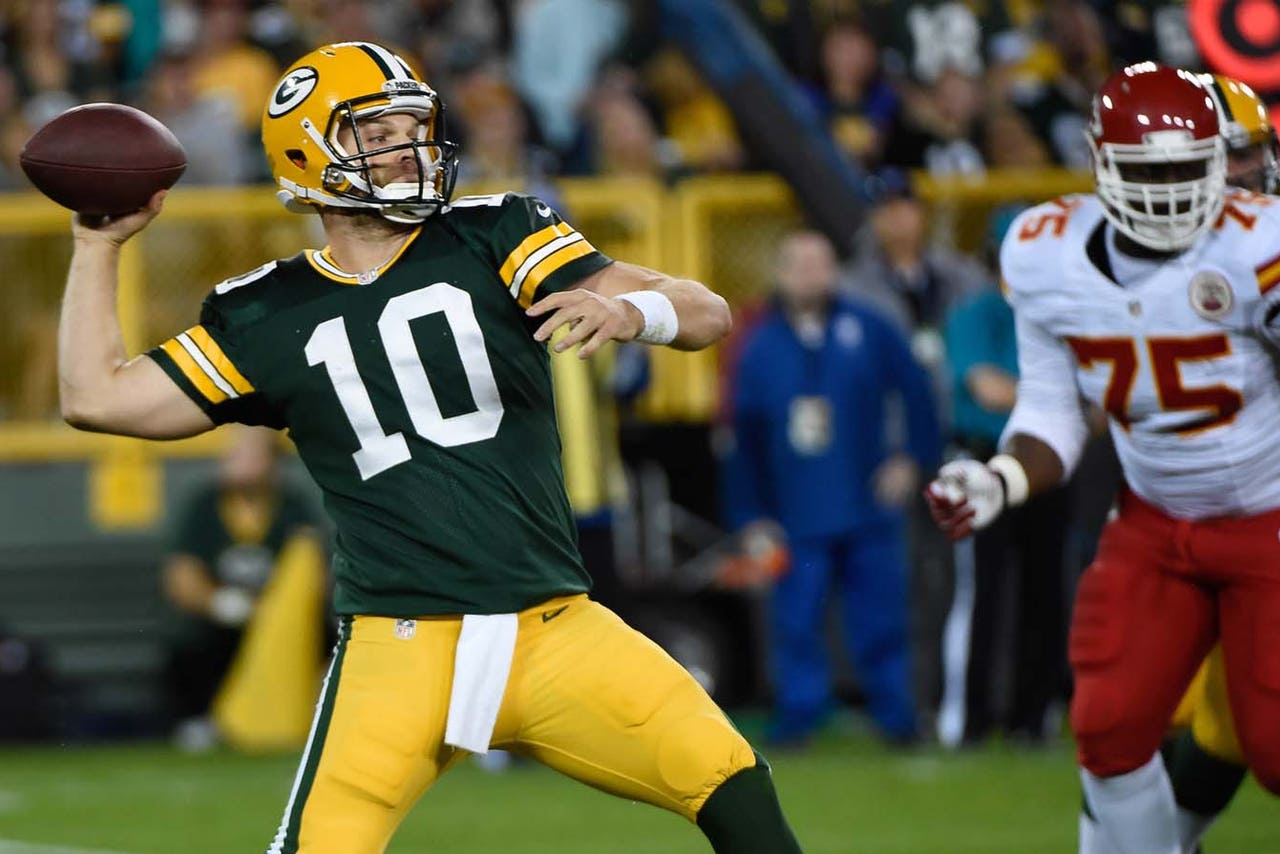 Matt Flynn, quarterback
FOX Sports Wisconsin's Paul Imig gives an in-depth statistical analysis and film study of every Packers player in his annual offseason checkup. Check every weekday through mid-April for his latest report.
Season stats (playoffs included): Seven games, zero starts (68 total offensive snaps); 8-for-16 passing (50 percent), 66 yards, zero touchdowns, one interception, 34.9 passer rating; sacked two times, fumbled one time
ProFootballFocus.com season rating: minus-1.8 (ranked No. 13 out of 21 Packers offensive players)
Best game: Week 11 win over Philadelphia; 2-for-2 passing (100 percent), 26 yards, zero touchdowns, zero interceptions, 118.8 passer rating; minus-0.1 PFF rating
Worst game: Week 5 win over Minnesota; 3-for-5 passing (60 percent), 22 yards, zero touchdowns, one interception, 30.8 passer rating; minus-0.7 PFF rating
Expectations at the start of the season: Medium
Expectations were ... Not met
Looking live: Matt Flynn played the role of unexpected team savior in 2013. Before signing with the Packers in mid-November that year, it looked like Flynn's career might have been over after Seattle, Oakland and Buffalo all parted ways with him. The injuries to Aaron Rodgers and backup Seneca Wallace, along with the inconsistency of Scott Tolzien, gave Flynn another shot at starting in the NFL. Flynn delivered for Green Bay exactly what Mike McCarthy hoped for by running the offense smoothly -- and without too many costly mistakes -- until Rodgers was healthy enough to return.
Flynn re-signed with the Packers for the 2014 season on a one-year, $1 million deal (only $75,000 guaranteed). The plan was for Flynn to compete with Tolzien to be Rodgers' backup.
Throughout the first half of training camp, Flynn and Tolzien went back and forth in terms of who took snaps after Rodgers. While it was Flynn who got the nod first, he struggled quite often. On July 27, he was recognized in the "So You Had a Bad Day" category of FOXSportsWisconsin.com's Training Camp Report series.
In the preseason opener at Tennessee, Flynn got the start when Rodgers was held out due to the intense rain storm. Flynn performed fine against the Titans, but Tolzien was the better of the two backup quarterbacks in that game.
The following week in practice, Tolzien saw increased practice snaps. Still, as the battle for the No. 2 job continued, there was no clear-cut leader in the race.
"We try to keep it even between the two, splitting them between the No. 2 and No. 3 group, trying to make it as equal a competition as we can," then-quarterbacks coach Alex Van Pelt said at the time.
Entering the preseason finale, it seemed like Flynn and Tolzien were squaring off in a winner-take-all battle. One was likely to be Rodgers' backup, the other was possibly going to get released. But they both performed well and made the decision much more difficult for McCarthy and Ted Thompson to keep just one of them.
"I think Matt and Scott have both championed the case to be on our football team," McCarthy said after the win over Kansas City in which Flynn and Tolzien both had passer ratings over 100.0.
Upon further review: Flynn and Tolzien both ended up making the 53-man active roster. But, despite being outperformed by Tolzien over the previous five weeks of training camp and preseason, Flynn was No. 2 on the quarterback depth chart as the regular season began.
The 2014 season was much less eventful for Flynn compared to a year earlier. Rodgers stayed mostly healthy, which meant the majority of Flynn's time on the field was in blowout situations.
Flynn played the fourth quarters of five different games, four of which the Packers had substantial leads. The fifth was in New Orleans when it was Green Bay on the losing end of a blowout.
It's difficult to judge much of what Flynn did in those games. He clearly wasn't working with anything close to a full playbook and was instructed to play conservatively. Even with that in mind, though, Flynn didn't look like a quality NFL backup in those games. His performances brought into question whether the Packers wouldn't be better off putting in Tolzien should an important situation arise. But McCarthy continued to stick with Flynn.
Flynn was pressed into an important role in Week 17 after Rodgers was carted to the locker room. The division title and a first-round bye were on the line against Detroit, and it sure didn't seem like Rodgers would be returning in that game. Flynn only ended up playing four snaps, but based on that it sure seemed like the Lions were going to feast on a Rodgers-less Green Bay offense in the second half. Flynn was sacked on third down to force a Packers punt. When Green Bay's offense came back for the next series, Rodgers made his unexpected return. That sack would be Flynn's last snap of the year.
Overall 2014 grade: C-minus
Status for 2015: Thirty percent chance of being on Green Bay's active roster to begin the 2015 regular season. Flynn is an unrestricted free agent this offseason and will turn 30 years old in June. His arm strength continues to be a question, so it's likely that his best football is now behind him. Flynn's 2013 heroics aside, he should probably be option No. 3 or 4 at quarterback for the Packers in 2015. Green Bay has groomed the younger, stronger-armed Tolzien for two seasons now. The advantage that Flynn once had over Tolzien by having a better grasp on McCarthy's playbook no longer exists. The other quarterback option for the Packers is that it might be the right time to select a quarterback in the middle rounds of the upcoming draft. McCarthy would prefer to carry three quarterbacks again 2015, but the odds are against Flynn in being among that trio.
Next: Cornerback Demetri Goodson
Follow Paul Imig on Twitter
---