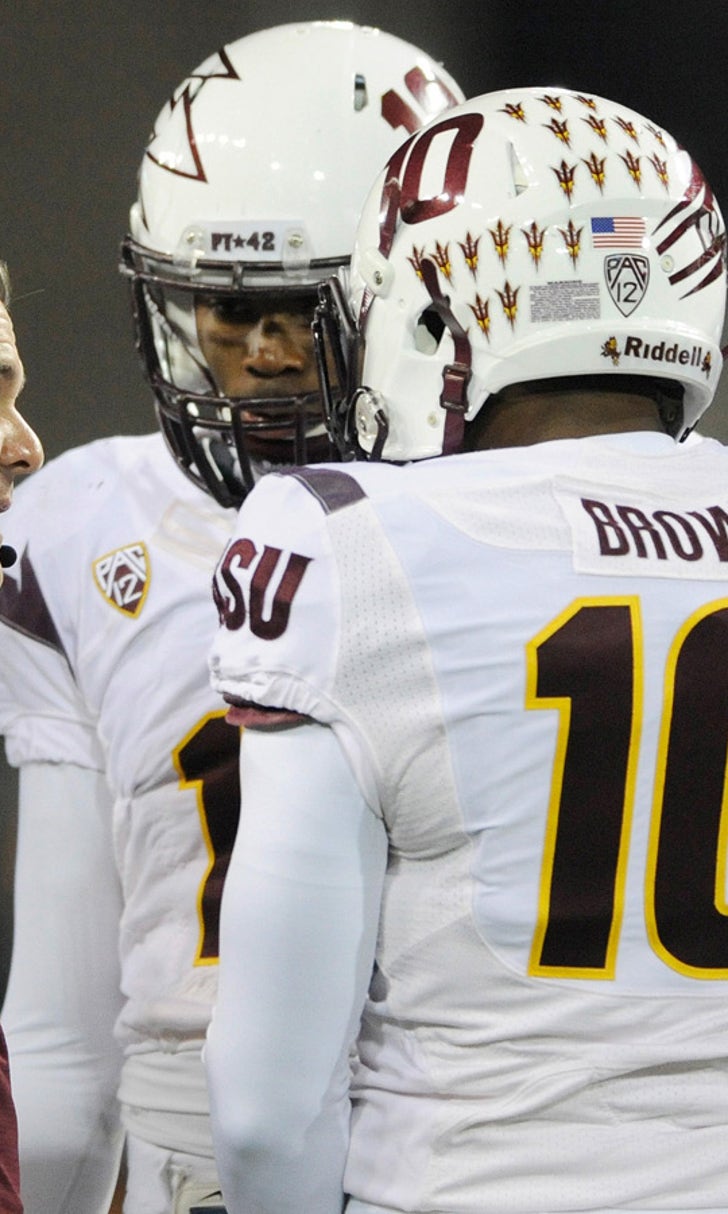 Oregon State ends ASU's dream of College Football Playoff
BY foxsports • November 16, 2014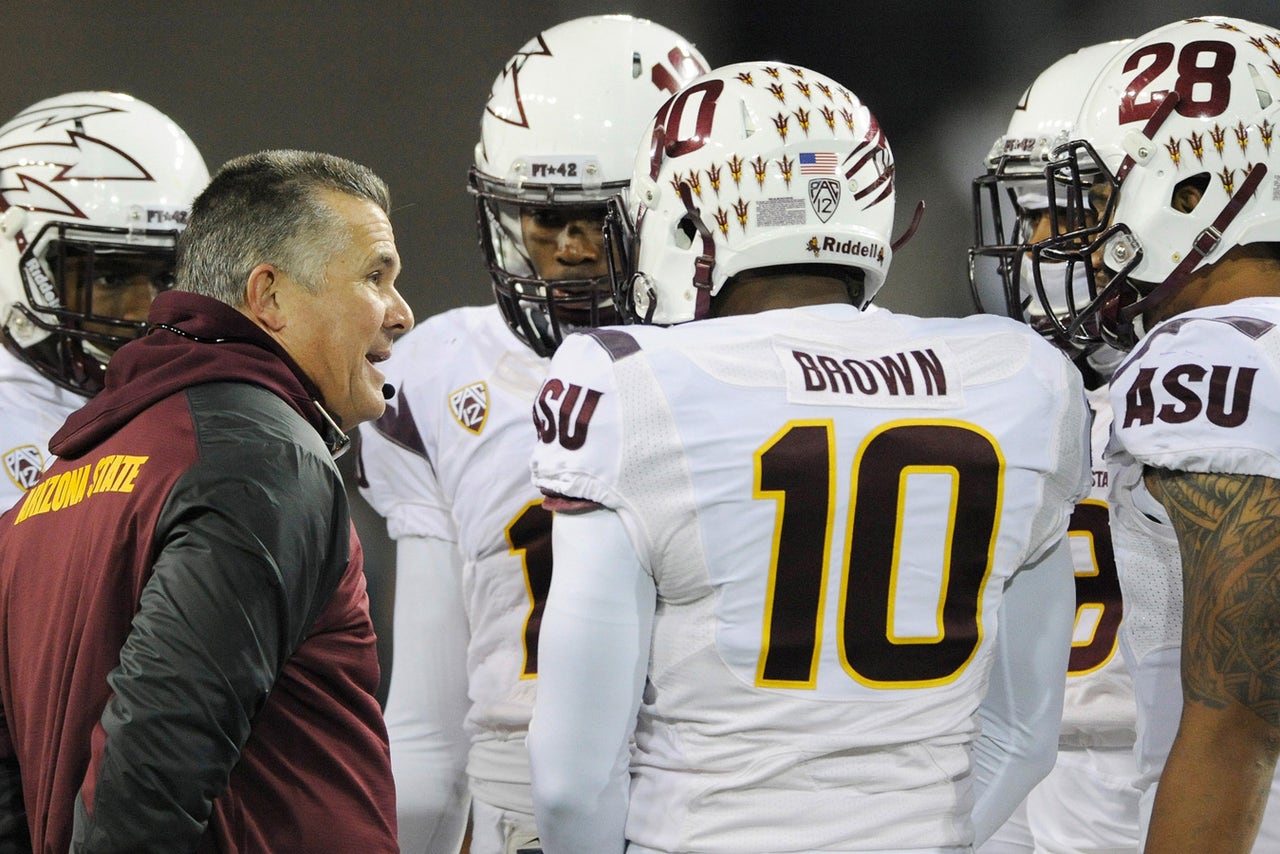 For weeks, Arizona State had been playing with fire, attacking on defense more than it ever has under coach Todd Graham. Playing in the freezing temperatures of Corvallis on Saturday night, the Sun Devils finally got burned.
The No. 6 Sun Devils gave up three plays of 66 yards or more in a 35-27 loss to Oregon State, a loss that seemingly ends their College Football Playoff aspirations and puts the Pac-12 South race out of their control.
"We did a poor job preparing 'em," Graham said on the 620 AM postgame show. "We self-destructed with penalties and turnovers and big plays and just played about as awful as we could play.
"It's heartbreaking to be where we're at. You can't take it for granted. We learned a big lesson tonight."
With the loss, ASU's fifth in a row at Reser Stadium, the Sun Devils fell to 8-2 (5-2 Pac-12) and ceded control of the Pac-12 South race. UCLA can earn a spot in the Pac-12 Championship Game by winning out. ASU (8-2, 5-2 Pac-12) would need help to return there and repeat as South champions.
Further, the second loss should eliminate ASU from contention for a spot in the inaugural College Football Playoff. While ASU's turnaround since an embarrassing loss to UCLA Sept. 25 remains impressive, it likely won't have the magical ending its fans had begun to dream about.
After blitzing on about 80 percent of its defensive plays last week and 87 the week prior, ASU kept the heat on against Oregon State (5-5, 2-5) and quarterback Sean Mannion, blitzing on 23 of its first 27 plays.
Graham said last week the trick to such an aggressive attack is minimizing risk, a point that proved relevant very early on. Less than four minutes into the game, Oregon State running back Storm Woods busted through a hole and ran 78 yards right through where a blitzing safety would have otherwise been to give the Beavers a 7-0 lead.
Then the pressure worked to ASU's benefit, as on Oregon State's next drive Mannion threw under pressure into the arms of ASU senior safety Damarious Randall, leading to an ASU field goal. Two plays later, ASU's heavy blitz proved costly again, as running back Terron Ward went 66 yards for a touchdown to put the Beavers ahead 14-3.
"They had a great plan, and we did a poor job calling plays probably," Graham said. "We just weren't prepared to play. We came out very, very flat."
Once more before the half, the pendulum of pressure swung the other way. ASU had already taken a 17-14 lead on two touchdowns from quarterback Taylor Kelly, but on a third down with about seven minutes left, ASU defensive end Marcus Hardison sacked Mannion, causing a fumble that linebacker Antonio Longino picked up and ran 36 yards into the end zone.
Despite the big plays it gave up in the first half, ASU didn't let up its pressure much. The problem: Oregon State adjusted. Mannion started picking up ASU's blitz better and twice in the second half threw touchdowns with the Sun Devils crashing in on him. The second went 67 yards to Jordan Villamin as ASU brought the house, giving the Beavers a 28-27 lead.
As much as ASU pressured, Oregon State answered with pressure of its own that led to two interceptions from Kelly, including a pick-six with 1:38 left to take an eight-point lead, and a sack that sealed the game. Oregon State finished with six tackles for loss (two sacks) to ASU's seven (two sacks).
The pressure got to Kelly much of the night, as he finished 22 of 44 passing for 264 yards and two touchdowns. It also limited ASU on the ground, as the Sun Devils finished with just 103 rushing yards.
The ASU defense, which stumbled in the second half last week against Notre Dame, was without junior safety Jordan Simone, its leading tackler and emotional leader, for most of the final three quarters due to a shoulder injury.
"Defensively we were just night and day from where we've been the last few weeks," Graham said.
ASU left points on the field as well, settling three times for field-goals attempts in the red zone, one of which missed. ASU also appeared to have at least two touchdown opportunities lost to a drop and a poor pass.
The Sun Devils, who dismissed the idea that Oregon State could be a "trap game" following their monumental win over Notre Dame, still remain alive in the race for the Pac-12 title.
"We've got to bounce back," Graham said. "These guys have got great character, they'll bounce back, and we've got to go figure out a way to win the next two and get in that conference championship game."
-- Graham said after the game he had "no idea" of ASU's injury situation. In addition to Simone, receiver Jaelen Strong suffered an injury late in the game. He appeared eager to return for ASU's final play but was not allowed.
-- Kelly's second touchdown of the night, a 46-yard pass to tight end Kody Kohl, moved him into second place all-time on ASU's list of career points responsible for (504), passing Rudy Carpenter (498). He also surpassed 8,000 career passing yards, becoming the fourth ASU quarterback to do so.
Follow Tyler Lockman on Twitter
---