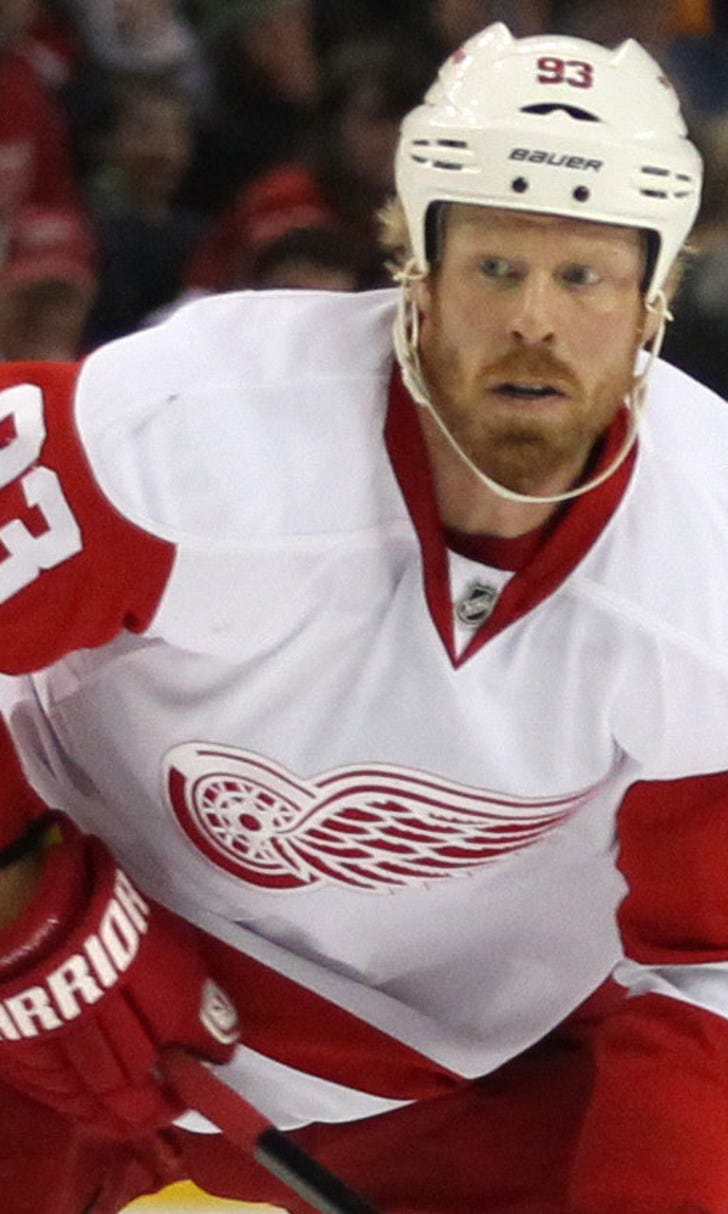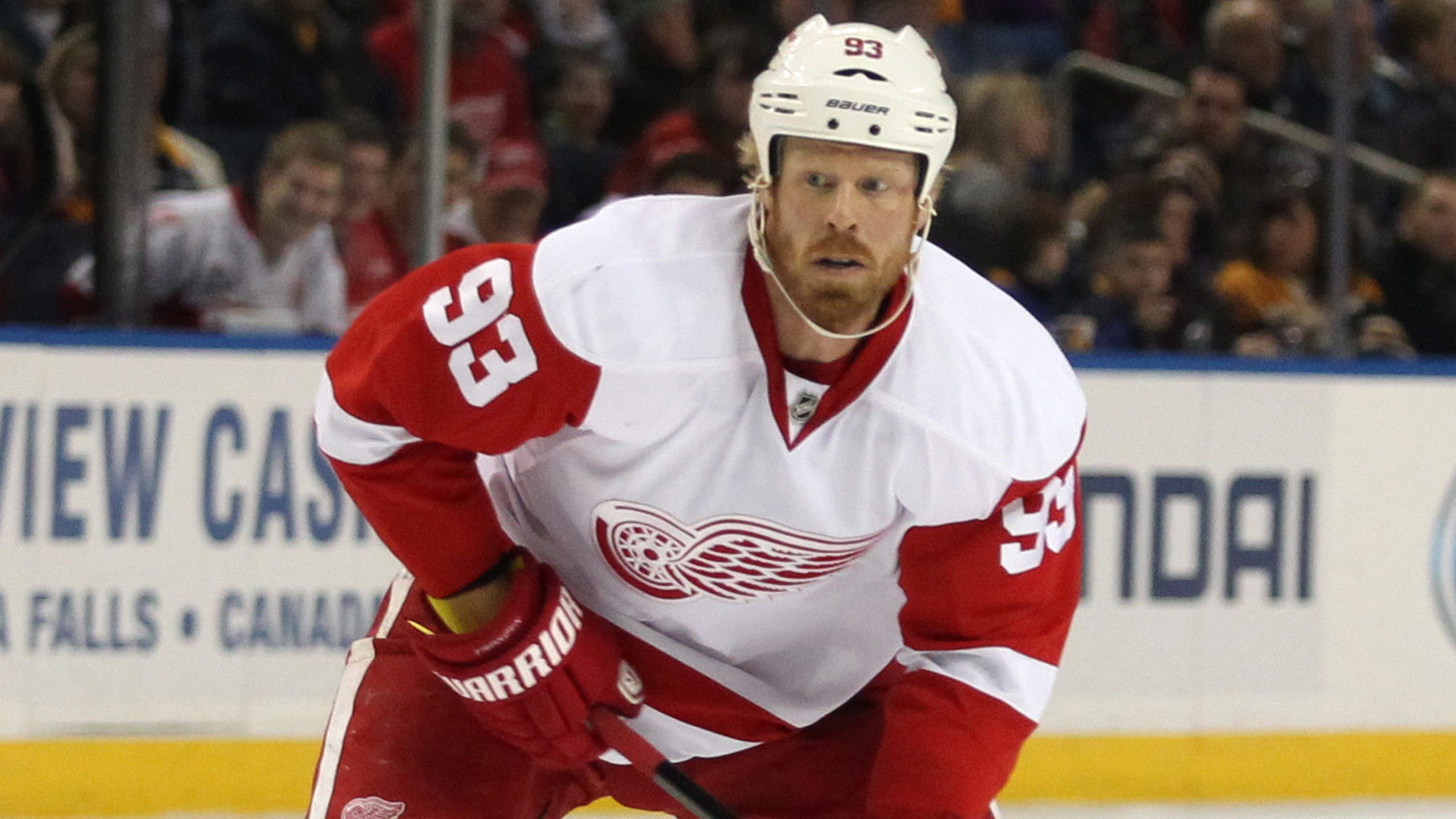 Notes: Franzen to return Sunday, Quincey out
BY foxsports • November 1, 2014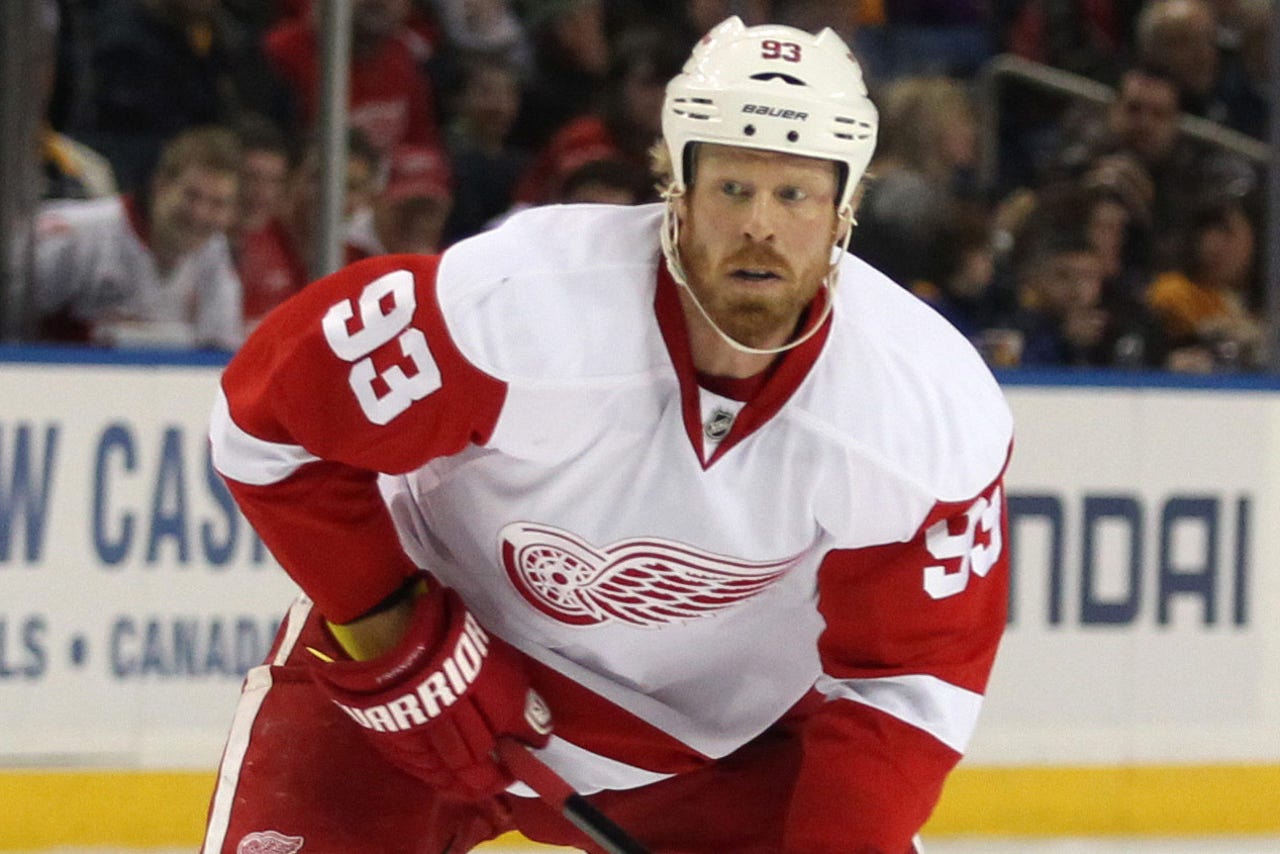 DETROIT -- Just as one player returns from injury, another will sit out.
Johan Franzen, who has missed the last six games with a groin injury, will play Sunday in Buffalo.
Defenseman Kyle Quincey, who left during the first period Friday against the Los Angeles Kings with an ankle injury, will not play.
General manager Ken Holland said Quincey is considered day-to-day.
"We've talked about it all the time, you never seem to have all hands on deck totally," Wings coach Mike Babcock said. "Up front right now we would. He should be fresh, energized. Anytime you're away for a while you don't probably skate the way you'd like to and it doesn't show the first game."
Franzen, who had two goals and three assists in his first four games, said he overcame the last hurdle.
"Just be pain free pretty much," Franzen said. "Like the first couple of practices I did I still had some issues. I got rid of that so the last three days I've been able to go full out.
"Feels good. Lot of energy right now. Hopefully that stays in my body longer than one period (Sunday)."
Franzen is set to play on a line with Darren Helm and Gustav Nyquist.
"They're great players," Helm said. "Gus is hot right now. Mule's coming back. He looks good. Hopefully I can provide energy, a spark, help those guys continue doing what they're doing."
Babcock explained why he wanted that line together.
"To me Helmer is an energy guy who will go to the net for them," Babcock said. "And with Mule and Nyquist, they're not going to let Helmer have the puck anyway. When Gus plays with Pav(el Datsyuk)  and Z (Henrik Zetterberg) on the power play, they don't give him the puck. They did (Friday) night. Only two guys get to touch it. Someone else has to go to the net and get the puck back for guys. That's the facts. I think it's important to have a guy like that with them. If Mule and Nykie do what they can do and Helmer does what he can do, that should be a good mix."
LASHOFF GETS OPPORTUNITY
Quincey and Drew Miller were the only two Wings to play in all 82 games last season because of all the injuries.
Quincey won't get a chance to repeat that because of an ankle injury.
But that means Brian Lashoff, 24, will get his first chance to play this season.
"It's been a tough year for me," Lashoff said. "I've got an opportunity to contribute and do something about it. Started last year the same way and I've just been biding my time and getting ready for this opportunity and I'm going to take advantage of it."
Because of the numerous injuries last season, Lashoff played in 75 games last season.
"Lash is a good pro, he's worked real hard, he's going to be an important penalty killer for us, was last year," Babcock said. "He gets his opportunity and when you get your opportunity, you gotta make good and you gotta carve out a little niche for yourself so make it a competition for the other guys."
Although Lashoff has worked hard in practice, it's hard to duplicate game speed.
"Little things like your gap and getting back to pucks are two things that are important for our team and for our success, those are two things that I'll have to concentrate on the most, especially gapping out there and making sure I don't have too much space between myself and the opposing forwards," Lashoff said. "Sometimes when you get a lot of time off it might seem like it might be tough but I think in practice we do a good job of doing a lot of drills."
HELM ROUNDING INTO FORM
Helm has four assists in the first 10 games and is minus-2, but he feels his game is rounding into shape.
"I definitely didn't have a great start," Helm said. "Something a little sluggish, just cautious with my body, but the last four-five games I feel like things are starting to come around. I'm starting to play more of my game. Still would like to get a little more physical but I'm pretty happy with where it's at now. Just want to continue to get better. I know there's still lots of room for improvement. Way more opportunity to help this team."
Helm said he was no worse the wear for the third-period hit from the Kings' Jordan Nolan, who was called for boarding.
"I haven't seen the video but if felt like it was pretty close to the numbers to me," Helm said. 
Helm didn't see it but defenseman Jonathan Ericsson did and immediately went after Nolan, taking a roughing penalty for his trouble.
Helm appreciated the support.
"It's awesome. I loved it," Helm said. "You hope that guys are you going to stick up for you and when you see that you know it's going to happen on a regular basis. It was great to see him do that and I'm sure everybody has a lot of respect. I have a lot of respect for guys who stick up for their teammates."
---