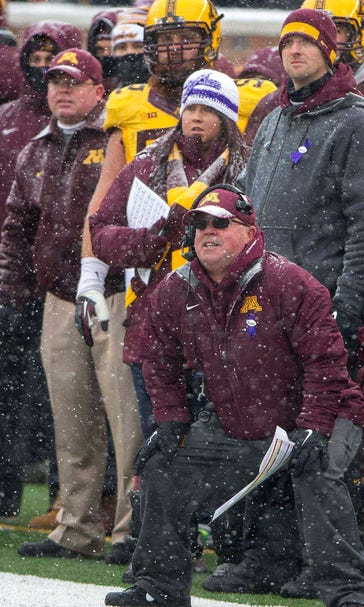 Notebook: With Badgers looming, Gophers not looking past Nebraska
BY foxsports • November 18, 2014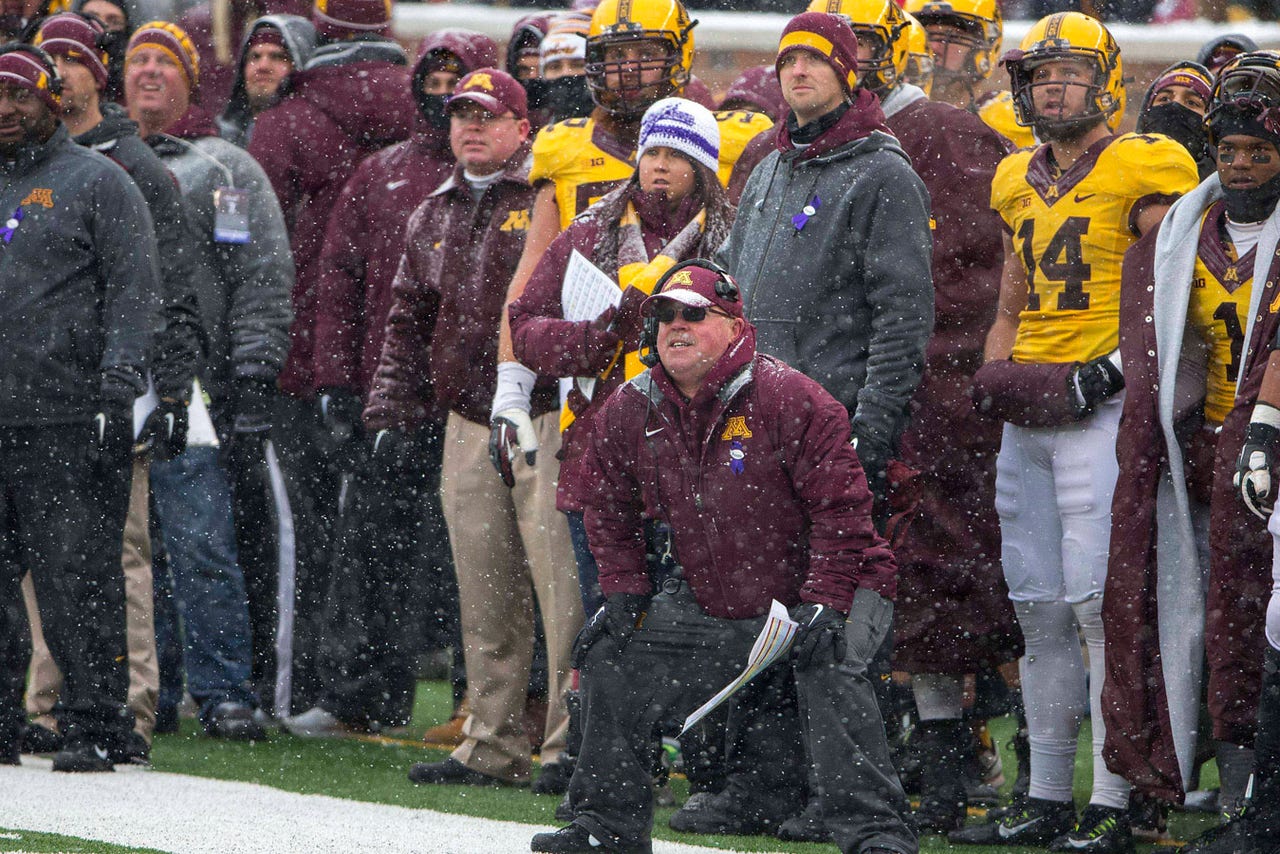 MINNEAPOLIS -- Gophers linebacker De'Vondre Campbell made a bold statement following Saturday's loss to Ohio State, insisting Minnesota would face the Buckeyes in three weeks in the Big Ten championship.
The words may have been a bit brash, sure, but they reflect the confidence this Gophers team has in itself. And despite Saturday's loss, Minnesota is still in good shape in the Big Ten West. Two wins and the Gophers are into the Big Ten championship, where a rematch with the Buckeyes would likely await.
The Gophers can't pencil themselves into that game just yet, though. Minnesota still has two tough road games remaining, beginning this Saturday at Nebraska.
"As far as facing Ohio State again, I've said it before, I'll say it again. If we don't take care of business this week, that's not a reality," Minnesota defensive lineman Cameron Botticelli said on Tuesday. "We're going to stay grounded and stay focused and take care of Nebraska."
Saturday's loss dropped Minnesota to 4-2 in the Big Ten, with that loss on the road against Illinois as the other blemish on the conference schedule. Wisconsin currently has sole possession of first place in the Big Ten West with a 5-1 record, while Nebraska and Iowa are also 4-2.
The Gophers happen to face the first-place Badgers in the final week of the season in a game that could determine which school will head to Indianapolis for the conference title game. But if Minnesota loses in Lincoln on Saturday and Wisconsin takes care of Iowa, it's a moot point.
That's why Saturday's game has so much meaning for Minnesota. If the Gophers want to achieve their goal of a Big Ten title, beating Nebraska is a must.
"This is my first playoff game ever in my life as far as football goes," said Minnesota cornerback Briean Boddy-Calhoun. "This is a playoff game. If we lose, we're out. If we win, we're in. Essentially, it is a playoff game. I think guys are going to need to look at it not as a pressure game but just look at it as we need to prepare really well and lay it all out on the field on Saturday."
Both teams are coming off losses Saturday. The Gophers dropped their contest against No. 8 Ohio State by a touchdown, while the Huskers were embarrassed in Madison by a 59-24 final, during which Badgers running back Melvin Gordon rushed for an FBS-record 408 yards against Nebraska.
With plenty at stake Saturday at Memorial Stadium, Minnesota expects to see a much different Huskers team than the one that allowed 59 points in its last game.
"You don't want to face Bo (Pelini) after that," Gophers coach Jerry Kill said of Nebraska's head coach. "I know what kind of competitor he is and how intense he is. When you play Nebraska, you want them to come off a win, not a loss. . . . He's probably got them in meetings right now. They'll be ready to play."
It's been a while since Minnesota's program has played meaningful games in November. Even though the Gophers finished with eight wins a season ago, a shot at the Big Ten title wasn't within reach at this juncture in the season. It's a sign of the progress Kill and his staff have made in their four years at Minnesota. With two games remaining, there's plenty on the line -- and that's just what the Gophers hoped for.
"It's great being able to control our own destiny, so to say, knowing that if we win out, our destiny's in our own hands," said Minnesota tight end Maxx Williams. "It kind of gives you that extra motivation knowing all the hard work is starting to pay off. You can kind of start seeing the light at the end of the tunnel, but you can't look ahead to that. Nebraska's our next opponent, and that's what we look ahead to."
Gophers preparing for Abdullah: Minnesota beat Nebraska at TCF Bank Stadium last year, but Huskers running back Ameer Abdullah still had a big day on offense. Abdullah rushed for 165 yards on just 18 carries and also had three catches.
In a conference filled with talented running backs, Abdullah is near the top of the list. Despite an off day against Wisconsin on Saturday, the Gophers fully expect Abdullah to warrant their attention this weekend in Lincoln.
"He's a patient runner, and then once he breaks out of there, you kind of hold your breath a little bit," Kill said. "We've got great running backs in our conference. The last three games that we're playing right now -- Ohio State, Nebraska and Wisconsin -- they all have high-level people that can make you miss and get it over with. You've got to play lights-out, great-disciplined defense."
Entering the weekend, Abdullah is currently fourth in the Big Ten in rushing yards per game (131.9). He's just behind Gophers senior running back David Cobb, who is averaging 135.0 yards per game. Abdullah is also second in the conference in scoring and third in all-purpose yards.
If Minnesota hopes to win Saturday and set up a chance at the Big Ten championship game, stopping Abdullah would be a good place to start.
"Talented running back, not unlike other talented running backs we've seen and will see in the conference," Botticelli said. "Stopping their ground game is going to be a challenge, but that's what we work so hard for during the week."
Williams a Mackey Award semifinalist: Gophers sophomore Maxx Williams leads Minnesota in catches (25), receiving yards (373) and touchdown receptions (7) and has emerged as one of the better tight ends in the Big Ten.
On Monday, Williams earned national recognition when he was named a semifinalist for the Mackey Award, given annually to the best tight end in college football. He's already won the Tight End of the Week award twice this season and is now one of eight semifinalists -- and the only one from the Big Ten -- up for the yearly award.
"It's a great honor and it's a great feeling knowing that they honored me as a semifinalist," Williams said Tuesday. "I can't look ahead. My focus is on Nebraska and winning the games coming up. It's cool, it's a great honor. It makes me feel happy and good. But that's not my concern right now. My concern is what can I do to help my team so we can win the games?"
Follow Tyler Mason on Twitter
---