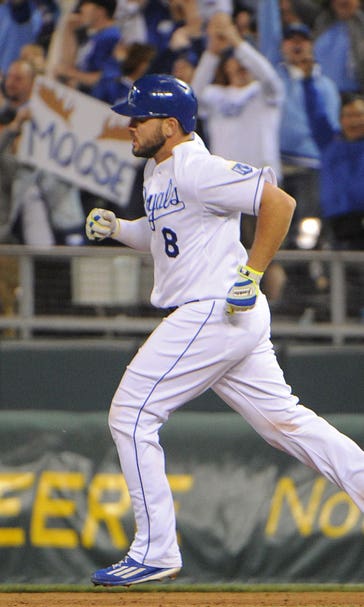 Moustakas sends Royals to victory over Twins
April 21, 2015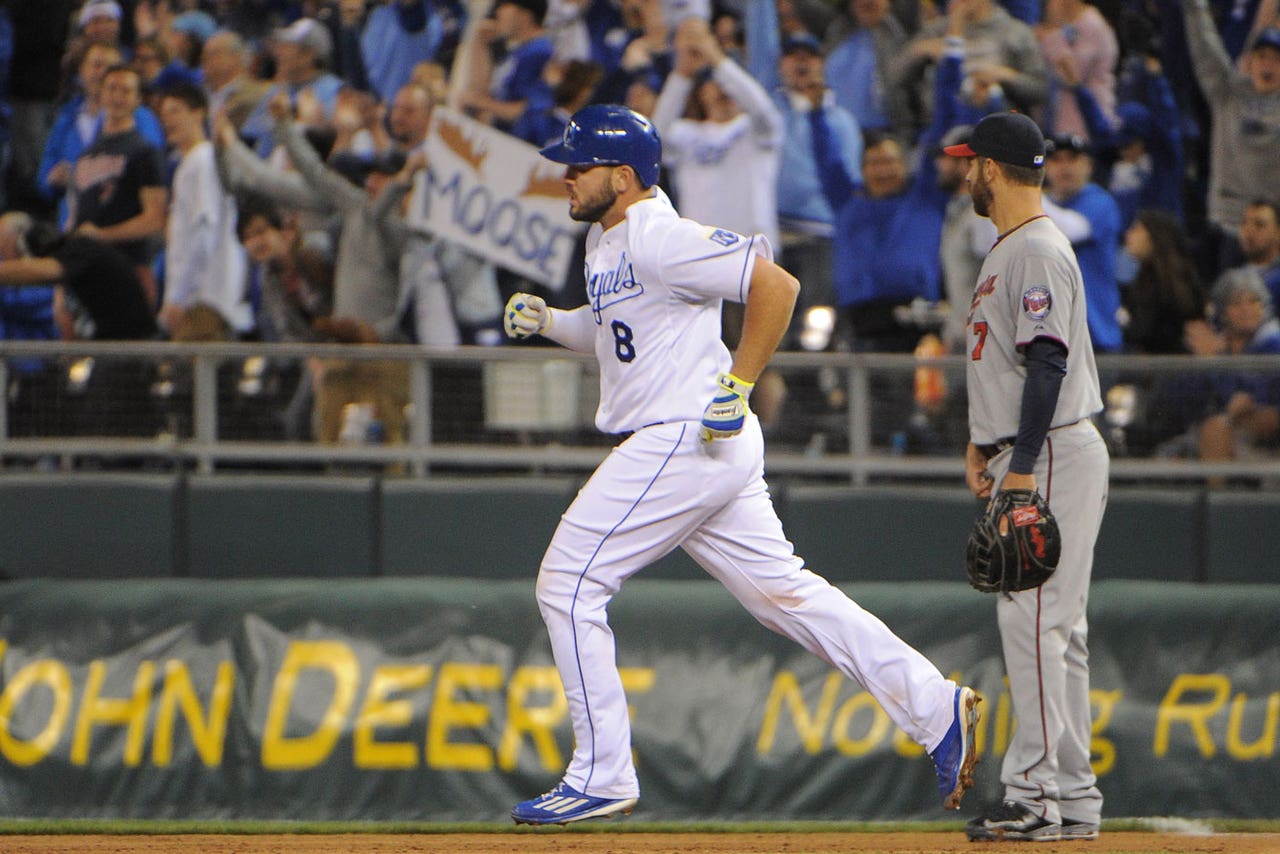 KANSAS CITY, Mo. -- Ned Yost stuck by Mike Moustakas when just about everyone else had given up on him, dutifully penciling him into the Royals' starting lineup at third base despite all of his slumps.
Finally, the Kansas City manager is feeling vindicated.
Moustakas hit an early two-run homer, then drove in the go-ahead run with a single in the eighth inning, as the Royals rallied to beat the Minnesota Twins 6-5 on Tuesday night.
"You almost want to stand up on this table and yell, 'I told you so!'" Yost said, flashing a wry grin. "But I'm not. I'm not an I-told-you-so kind of guy."
The Royals trailed 5-3 in the sixth when Christian Colon started their comeback with an RBI double. Colon added a run-scoring groundout off Casey Fien (0-1) in the eighth to knot the game and Moustakas fileted a single to left off Glen Perkins to take the lead.
It was the kind of opposite-field hit that Moustakas struggled to deliver a year ago.
"Just looking for a fastball. He was throwing a bunch of fastballs," Moustakas said of Perkins, the Twins' left-handed closer. "I was able to fight that one to left field."
Chris Young (1-0) pitched two scoreless innings in relief of Jason Vargas, and Wade Davis breezed through the Twins in the ninth for his third save of the season.
Davis has been closing games with All-Star reliever Greg Holland on the disabled list.
Joe Mauer drove in a run in the second for Minnesota, and Trevor Plouffe, Oswaldo Arcia, Kurt Suzuki and Shane Robinson had run-scoring singles in the sixth inning.
Watch the Royals Live pregame and postgame shows before and after every Kansas City Royals game on FOX Sports Kansas City.
Alex Gordon also went deep for the Royals (11-3), who have taken the first two games of the three-game set after losing their only series of the season in Minnesota last week.
The Royals are off to their best start since 2003, and have won eight of their first nine at home. They also improved to 16-5 in their last 21 against the Twins at Kauffman Stadium.
Minnesota dropped to 1-7 on the road this season.
Gordon's solo shot to right staked the Royals to the lead in the second inning, but the Twins quickly answered in the fourth off Vargas with three consecutive singles.
Kansas City pulled back ahead in the fifth. Colon led off with a single, and Moustakas just managed to coax a fly ball over the right-field wall for a two-run homer.
Dancing with trouble throughout the night, Vargas finally got bogged down in the sixth inning. The left-hander got the first two outs thanks in part to catching Mauer in a run-down between third and home, but then gave up consecutive two-out RBI singles.
Royals manager Ned Yost lifted him for reliever Jason Frasor, and he gave up two more two-out singles -- none of the four were particularly hard-hit -- that gave Minnesota a 5-3 lead.
Colon drove in a run with a two-out double in the bottom half to start the Kansas City rally, but Twins reliever Blaine Boyer managed to retire Alcides Escobar to leave the tying run on third.
Kansas City also left the bases loaded in the third and a runner on second in the fifth, but managed to come through when the game was on the line in the final innings.
"A loss always hurts," Fien said. "When I don't my job that's what happens."
STARTING TROUBLE
Vargas allowed five runs on eight hits and a walk, while Twins counterpart Tommy Milone gave up four runs on five hits and four walks. Both lasted 5 2/3 innings. "Walks in general are just no good," Milone said. "It seems usually to bite you in the butt."
TRAINER'S ROOM
Twins: Suzuki started at catcher despite taking a hard foul ball off his shin courtesy of Arcia while standing in the on-deck circle during Monday night's game.
Royals: 2B Omar Infante (groin strain) took grounders and hit soft toss before the game, and Yost said he could have been used in an emergency situation.
UP NEXT
Twins: RHP Mike Pelfrey (0-0) is 0-2 with a 9.49 ERA against the Royals.
Royals: RHP Jeremy Guthrie (1-0) has won his last four regular-season decisions.
---