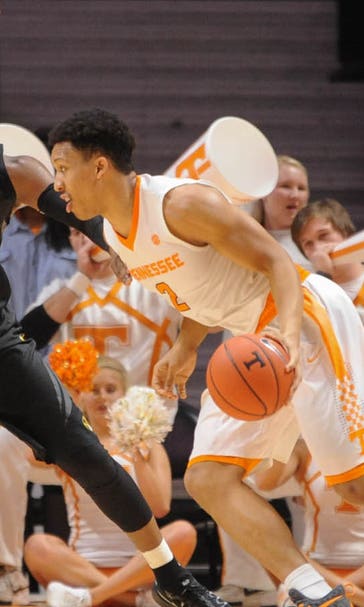 Mizzou suffers lopsided 90-70 loss to Tennessee
February 18, 2017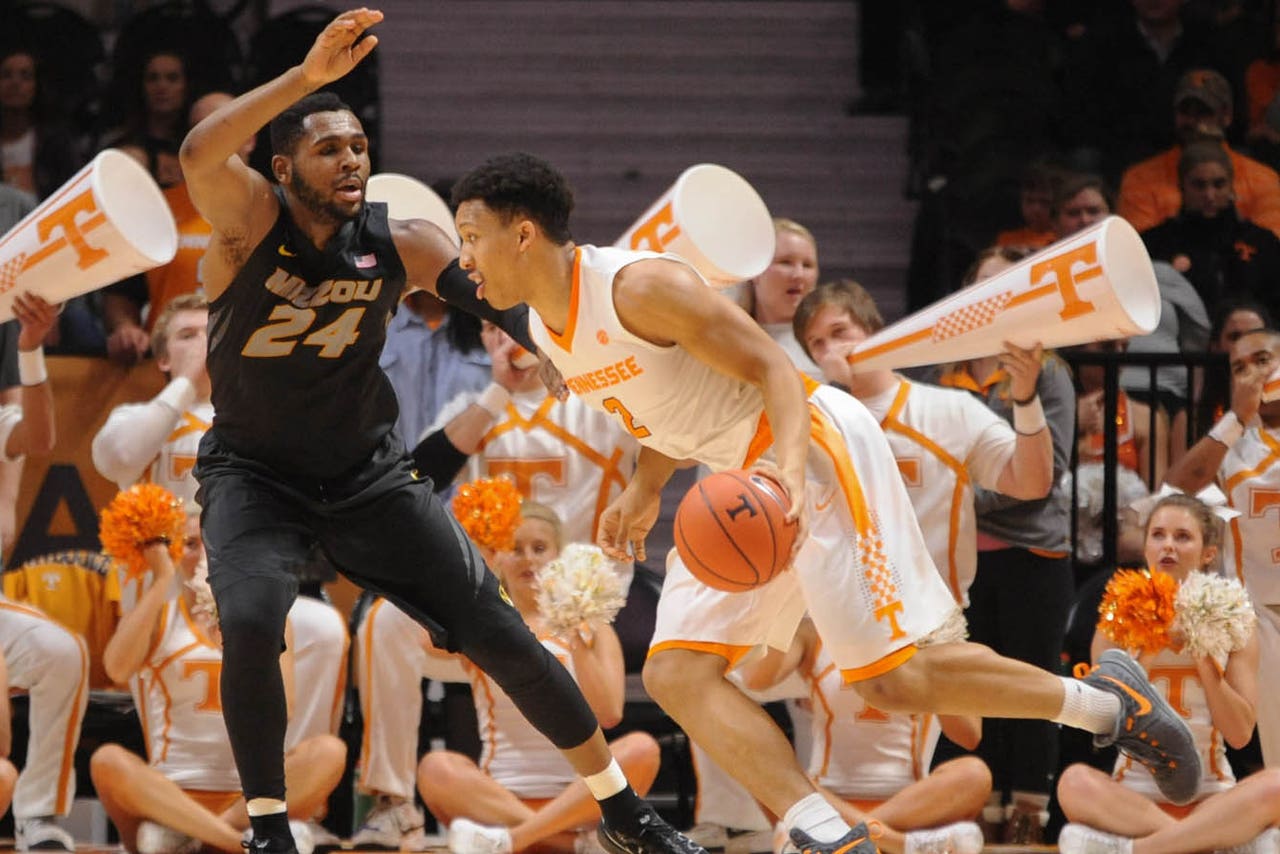 KNOXVILLE, Tenn. -- Tennessee guard Robert Hubbs III's different look gave the Volunteers some different luck.

Grant Williams scored 25 points and Hubbs added 21 on Saturday as Tennessee bounced back from its most lopsided loss of the season by delivering a 90-70 blowout of Missouri.

Hubbs had his hair in cornrows for the first time this season, though he said it wasn't a superstitious attempt to get out of his recent funk. Hubbs, the Vols' leading scorer, had exceeded the 11-point mark just once in the six games leading up to this one while battling a knee injury.

"I just had to do something with it," Hubbs said. "It was getting out of control, so one of my friends was like, 'Just braid it.' "

The hairstyle resulted in some good-natured teasing from Tennessee coach Rick Barnes as Hubbs entered the postgame interview room.

Hubbs said he felt faster with his hair braided.

"That hair was like a windshield holding you back," Barnes quipped.

When Barnes asked why Hubbs didn't just cut his hair short, the senior guard replied that it would "look weird."

"You don't think that does?" Barnes replied.

Hubbs wasn't saying how he planned to style his hair for Tennessee's next game, but his teammates may want him to keep the cornrows as a good-luck charm. Tennessee had lost three of its last four games before Saturday and was coming off an 83-58 loss at No. 13 Kentucky, but the Vols' victory over Missouri kept alive their NCAA Tournament hopes.

Tennessee (15-12, 7-7 SEC) already has matched its win total from last year, when the Volunteers finished 15-19 for their first losing season since 2004-05.

Although Tennessee has a much better record, Missouri (7-19, 2-12) actually had been playing better than the Vols recently. Missouri had split its last four games. Tennessee had lost three of its last four and was coming off its most lopsided defeat of the year -- an 83-58 setback at No. 13 Kentucky.

"We've actually used Missouri as an example all year to our players (because they're) a team that shows great perseverance," Barnes said. "They keep playing hard. And over the last couple of weeks, they've gotten some wins because they'll battle you. We've told our guys we've got to have that resolve."

But the Tigers couldn't put up much resistance against Tennessee.

After Missouri's Cullen VanLeer gave Missouri a 2-0 lead 54 seconds into the game, the Tigers wouldn't get another basket for over eight minutes. Tennessee went on a 16-2 run and scored 13 straight points during one portion of that Missouri drought.

Tennessee was ahead 41-28 at halftime and led by as many as 24 in the second half.

"The impressive thing about (Tennessee) is how hard they play," Missouri coach Kim Anderson said. "It's not that they're particularly big, but they play really hard. I thought we didn't match that intensity level at the beginning of the game. Consequently, when that happens, you tend to foul a lot. We fouled a lot, especially in the first half, put them on the line and they made free throws."

Admiral Schofield scored 17 points and Shembari Phillips had 10 for Tennessee. Terrence Phillips scored 18 points, Jordan Barnett had 11 and Kevin Puryear added 10 for Missouri.



BIG PICTURE

Missouri: Saturday's game represented a reunion of sorts for Barnett and Barnes. Barnett played 21 games and averaged 1.9 points in 2014-15 for a Texas team that was coached by Barnes. ... Missouri's frustrating day included technical fouls that were called on assistant coach Rob Fulford and Phillips.

Tennessee: The Vols have led by at least 13 points in five of their losses this season, but they had no trouble protecting a double-digit advantage Saturday. Tennessee remained in front by at least 10 throughout the second half.

TURNING POINT

After trailing by 18 late in the first half, Missouri went on an 11-0 spurt to cut Tennessee's lead to 33-26.

Tennessee responded with a five-point possession, as Lamonte Turner hit a 3-pointer and Williams sank two free throws after getting fouled away from the ball. The Vols weren't seriously threatened the rest of the way.

UP NEXT

Missouri: Hosts No. 13 Kentucky on Tuesday.

Tennessee: Hosts Vanderbilt on Wednesday.
---
---