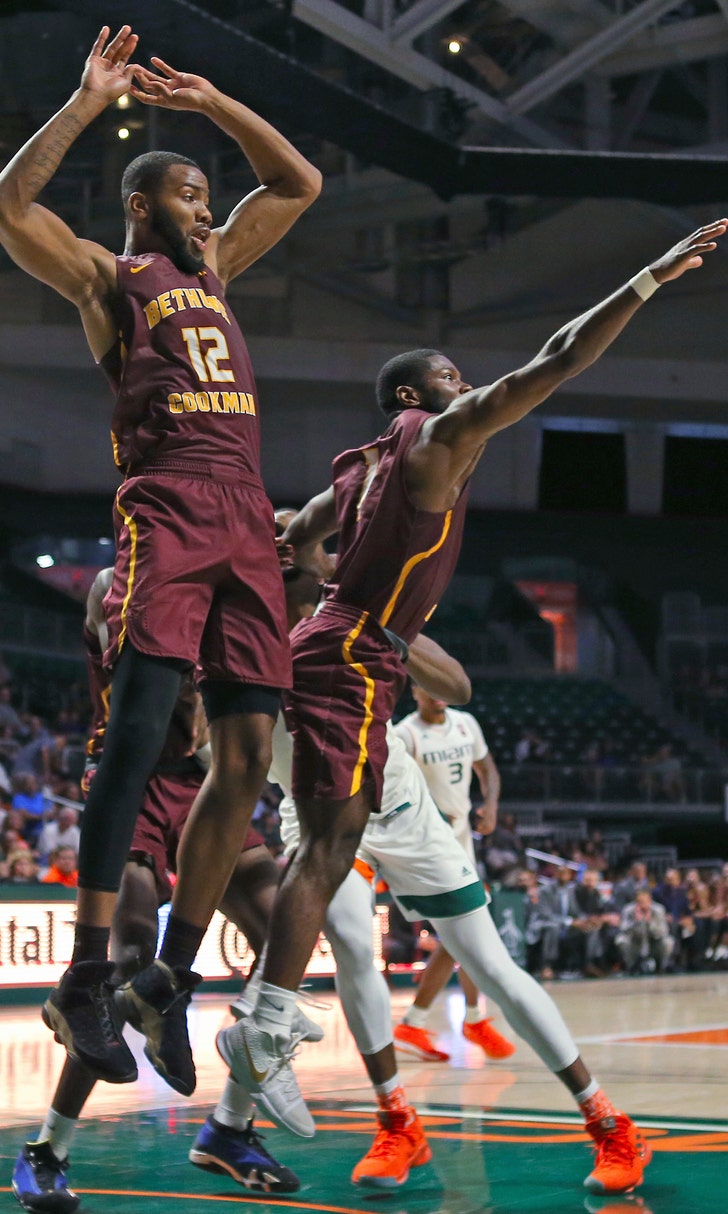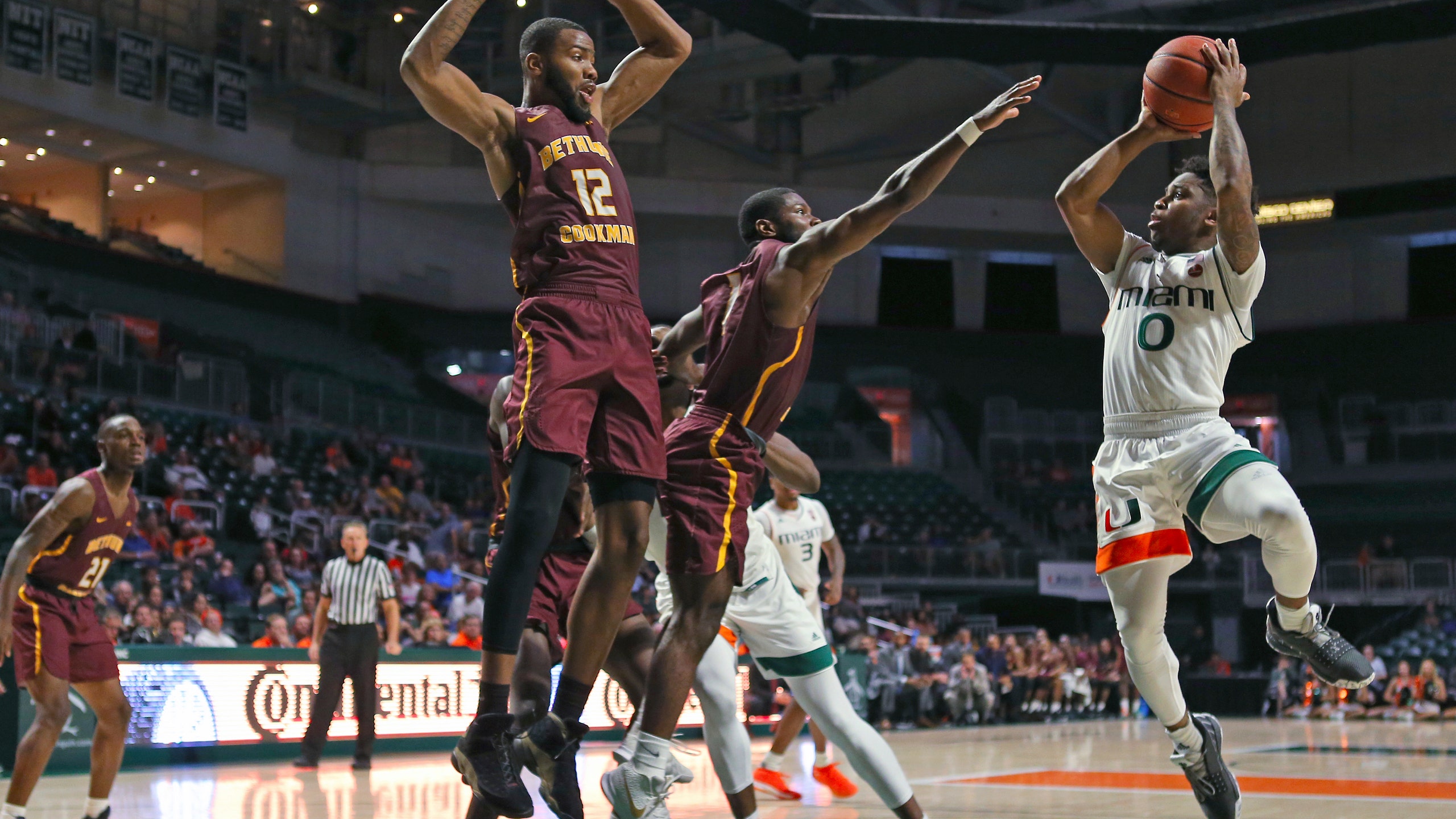 Miami fights off Bethune Cookman in 78-70 win
November 17, 2018
CORAL GABLES, Fla. (AP) — After two blowout wins to start the season, Miami finally overcame a difficult test.
Chris Lykes scored 21 points as the Hurricanes fought off Bethune Cookman for a 78-70 victory Saturday afternoon.
Lykes' two free throws with 2:19 remaining gave the Hurricanes (3-0) the lead for good at 69-67. Anthony Lawrence, DJ Vasiljevic and Lykes hit 3-pointers in the final two minutes to secure Miami's 19th straight home win against a non-Atlantic Coast Conference opponent.
"We're going to face adversity a lot, especially during the ACC," said Lykes, who scored 19 points in the second half and shot 6 of 10 from the field. "It is very competitive during that part of the season. Any type of competition like that is going to make us better."
Vasiljevic scored 20 points and Lawrence finished with 13 points.
"Full credit to Bethune Cookman and how they came out," Vasiljevic said. "They played with a lot of energy. They jumped on us and made things difficult. But for me and Chris to come down the stretch and get the crowd into it and then hit those big shots, it's what college basketball is all about."
The Wildcats (2-3) rallied from a 10-point deficit early in the second half and took a 50-48 lead on Wali Parks' basket with 9:16 remaining. Miami built a 67-61 lead on Lawrence's two free throws with 4:21 before Bethune Cookman ran off six unanswered points capped by Malik Maitland's two free throws with 2:38 left.
"I thought we were tough, I thought we were gritty," Bethune Cookman coach Ryan Ridder said. "Having the opportunity to come in and play a top 25 caliber program, I thought we competed the right way. Proud of our guys' effort, just fell short in those last four minutes or so."
Maitland scored a game-high 29 points for the Wildcats. He shot 11 of 16 from the field, including 5 of 7 from behind the arc.
"You really have to give a lot of credit to Bethune Cookman their players and their coaches for coming in here and playing as well as they did," Miami coach Jim Larranaga said. "Maitland was absolutely terrific."
Bethune Cookman twice built seven-point leads in the first half. Houston Smith's layup with 4:04 remaining gave the Wildcats their second seven-point advantage before the Hurricanes finished the half on an 11-4 run.
"Even though they jumped on us early and we didn't get off to a great start we finished strong," Vasiljevic said. "Coach always emphasizes the game is 40 minutes long it's not 15 or 20."
REVERSAL OF SHOOTING WOES:
Lykes shot 1 of 6 from the field in the first half and his shooting struggles reflected Miami's woes as it shot a collective 28 percent. But the Hurricanes rebounded with 53 percent shooting in the second half.
"I thought we were a little bit in a hurry," Larranaga said. "Missed some easy shots early and then it became contagious."
IMPROVING WILDCATS:
The Wildcats consider the opportunities of playing ACC opponent Miami and Big East schools Marquette and DePaul early in the season as valuable experiences for their conference schedule and post season.
"We challenge our guys to get better each game," Ridder said. "We put together good 12 minutes at DePaul and about 20 minutes at Marquette. For our guys, five straight games, we can say we found a way to get better. If that trend continues, hopefully we'll be playing our best basketball in March."
BIG PICTURE:
Bethune Cookman: The Wildcats are predicted to finish first in the Mid-Eastern Athletic Conference for the first time in program history. The return of four starters and nine players from last year's squad which tied for the MEAC regular season championship factored heavily in the pre-season outlook.
Miami: Forward Anthony Walker, of Nottingham, Md., and guard Isaiah Wong, of Trenton, N.J., signed national letters of intent to play with the Hurricanes next season. Recruiting website Rivals rates Walker and Wong among the top 100 high school players nationally.
UP NEXT:
Bethune Cookman: The Wildcats return home and face Nebraska-Omaha on Tuesday.
Miami: The Hurricanes will play LaSalle in the first round of the Wooden Legacy Thursday in Fullerton, Calif.
---