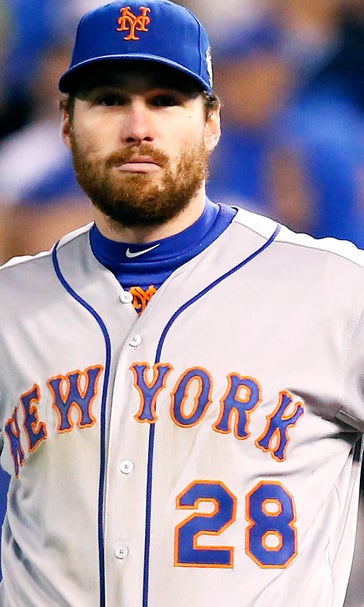 Mets enter offseason with fewer question marks than Royals
November 3, 2015

These are heady days for Royals fans, obviously. But also for Mets fans! Given up for dead on Opening Day last spring, they wound up ... well, they wound up at least a few plays away from beating the Royals in the World Series. Hey, it could have happened! The Baseball Gods are a capricious lot.
Heady or not, though, there's quite a good chance that one of this year's World Series teams won't even be in the playoffs at all next year. From 2005 through '14, only 12 of the 20 World Series teams were back in the postseason the next year (or would have been, with two wild cards in each league).
In eight of the years, it was just one team from the previous year's World Series; in two years, both made it back.
I'm not going to question the Royals' future today; let's let everybody enjoy the big parade in peace. I do think it's not too soon to talk about the Mets, though.
They were, as everyone knows, a completely different team, performance-wise, after trading for Yoenis Céspedes.
But Céspedes is free to sign with whomever he likes this winter. As is Daniel "Babe" (or "Boots") Murphy.
The good news? As electric as Céspedes was – until the World Series, anyway – the Mets would have been in the playoffs even without him. He played in only 57 games for them, and they finished the regular season with a seven-game lead over the second-place Nationals.
Meanwhile, Murphy was merely good before September, and did you hear the news about his fielding at second base? It's not real good!
Still, the twin departures of Céspedes and Murphy would create a couple of holes in the lineup. Sure, you can always shift Wilmer Flores to second base, with Ruben Tejada reassuming his duties at shortstop. But that essentially leaves the Mets with two just-fair players playing big roles in the middle of the infield. Which seems sub-optimal.
What seems most likely, though, is that Flores will either return to utility chores or get traded, with prospect Dilson Herrera taking over at second base. Herrera actually got a couple of trials in May and June and struggled, but he won't be 22 until next spring and his future's still quite bright. Between Tejada and Flores and Herrera, management should be able to cobble together a perfectly decent keystone combo. Which isn't to suggest the Mets won't, or shouldn't, pursue free agents Howie Kendrick or Ben Zobrist this winter ... but then, those don't seem like the Mets' sort of free agents, as both probably will wind up getting three- or four-year contracts. Which isn't the Mets' style (nor should it be, considering that both Kendrick and Zobrist are already well into the decline phases of their careers).
Things are a bit trickier in the outfield. Céspedes isn't locked up for next year, but Michael Cuddyer is. And it's hard to imagine the club just eating the $12.5 million they still owe him. Which means he's still in the picture, barring a trade. But you know Curtis Granderson's going to play right field and Michael Conforto's going to play somewhere. Oh, and of course 2014 Gold Glove center fielder Juan Lagares is still hanging around, too.
Four outfielders for three spots might work perfectly well, especially if Cuddyer rediscovers his stroke (if he doesn't, he's not worth a roster spot). But you have to figure the Mets will do something big this season, and there are some outstanding outfielders on the market: Céspedes (of course), but also Alex Gordon and Justin Upton and Jason Heyward. Signing one of those guys would allow the Mets to a) not worry much about Cuddyer, and b) trade Lagares or maybe Granderson, probably for some bullpen help.
Because that's where I'm going to guess the Mets are most aggressive this winter. With Jeurys Familia and Addison Reed and lefty Sean Gilmartin, the Mets already have the core of a fine bullpen. But that bullpen seemed exposed in the World Series, at least relative to the parade of power arms the Royals threw at them. And while the bullpen might not be the Mets' biggest need this winter, it's almost certainly the easiest to address.
At this point, it's foolish to make a prediction for the Mets in 2016. Since we can reasonably identify only about 75 percent of their Opening Day roster.  I will say this, though: They enter this offseason with fewer question marks than the Royals. But it's the answers that will tell the tale.
---
---