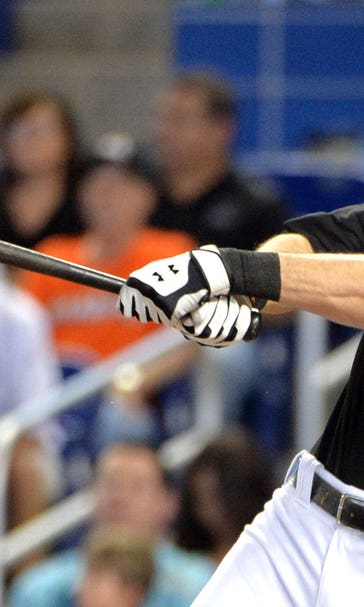 Marlins can't keep pace with Braves, fall 9-5
May 31, 2014

MIAMI -- Despite issuing nine walks and committing three errors, the Miami Marlins still had a chance to beat the Braves.
They just fell short, losing 9-5 to Atlanta on Saturday.
Miami trailed 6-5 with runners on first and second in the eighth before slumping Jarrod Saltamacchia struck out.
"At the end of the day we still had a chance," Marlins manager Mike Redmond said.
The Braves added three runs in the top of the ninth to beat the Marlins 9-5.
"We're walking way too many guys and then you cap that off with sloppy defense," Redmond said. "We're going up against the best teams in baseball. To go out there and compete we have to play better baseball."
Shae Simmons, a 23-year old righty, struck out Saltalamacchia in his Major League debut. Saltalamacchia is 1 for his last 21.
"I wasn't really thinking," Simmons said. "I thought I was done for the day and I'd just come tomorrow, but luckily I went in and threw strikes."
Veteran catcher Gerald Laird helped Simmons settle in with the Braves leading by a run.
"I told him, `Don't worry about calling your game. Let me call the game, just throw it where I call it,'" Laird said. "And he did a good job of that."
Simmons was one of six Braves relievers used to help Ervin Santana (5-2) win his first game since May 10 against the Cubs.
"I drank a whole bottle of coffee because I thought I felt like I was about to doze off out there (in the bullpen)," Simmons said. "Then all of the guys just started talking and said to treat it like any other day."
Jason Heyward and Freddie Freeman each drove in a pair of runs to lead the Braves offense, which pounded out 12 hits.
"It was nice to add some runs up on the board," Braves manager Fredi Gonzalez said. "Guys got some good at-bats."
Santana (5-2) allowed three runs and seven hits in six innings. He struck out four.
Craig Kimbrel got the last two outs for his 15th save of the season, which tied him with John Smoltz for the most saves in franchise history with 154.
"I know if John would have done it his whole career he would have had a lot more," Kimbrel said. "It is nice to say I'm a part of something like that, but then again I've had a lot of opportunities and played on some good ball teams in the first three or four years. If it weren't for that case, we wouldn't be sitting here talking about this right now."
Derek Dietrich and Casey McGehee each drove in two runs and Christian Yelich had three hits for the Marlins as starter Jacob Turner (1-3) took the loss allowing five runs--four earned-- in five innings.
Miami bench coach Rob Leary was ejected in the bottom of the eighth inning by home plate umpire Quinn Wolcott for arguing balls and strikes during an at-bat by Giancarlo Stanton with David Carpenter on the mound.
"Everybody was yelling in there," Redmond said. "They just picked Rob, the poor guy. I have to give him some money."
Immediately after the ejection Stanton singled and McGehee drove him home with a double to pull Miami within 6-4.
Two batters later Marcell Ozuna brought the Marlins within a run with a base hit. Carpenter exited without recording an out in the four batters he faced before Simmons came on.
"The kid did a nice job," Gonzalez said of Simmons.
The Braves scored three runs in the ninth off A.J. Ramos on Laird's RBI single, Ramiro Pena's squeeze bunt, and B.J. Upton's bases loaded walk.
"I just didn't find the zone - plain and simple," Ramons said. "Whenever I missed it was too big of a miss."
NOTES: Kimbrel's save percentage of 90.1 (154 for 171) ranks third all-time among Major League pitchers with at least 150 opportunities. ... Miami RHP Henderson Alvarez threw a bullpen session on Saturday and remains on schedule to start on Tuesday against Tampa Bay. "Bullpen went well, everything's fine so he's on schedule to make his start on Tuesday so that's great news," Marlis manager Mike Redmond said. ... Marlins RHP Carter Capps (elbow) will get a second opinion from Dr. James Andrews on Wednesday. ... Atlanta will send RHP Aaron Harang (4-4, 3.29) to the mound in Sunday's series finale against Miami RHP Nathan Eovaldi (4-2, 3.36).
---