Andre Drummond
Andre Drummond
Magic can't hold off Andre Drummond in home loss to Pistons
Published
Nov. 8, 2018 10:13 a.m. ET
ORLANDO, Fla. (AP) — Detroit center Andre Drummond has expanded his offensive game dramatically.

Drummond had 23 points and 19 rebounds and the Pistons beat the Orlando Magic 103-96 on Wednesday night to snap a five-game losing streak.

Drummond hit 10 of 16 shots, including a buzzer-beating 3-pointer at the end of the first quarter, and nailed both free throw attempts. He scored 19 points in the first half, then set picks and chased down offensive rebounds for teammates in the final two periods.

"Andre was the player of the game for me," Pistons coach Dwane Casey said. "The way he competed, just playing hard. Not one play was called for him, but he's not worried about touches. He just goes out and plays his butt off and once we all get in our mind what the important things are to win in this league, we're going to be OK."

The Pistons were especially good at the end of each quarter and needed it to squeeze out a win.

Detroit rallied from a 15-point first quarter and 11-point third quarter deficits to keep within tracking distance of the Magic.

After allowing Orlando to pull to 94-93 with 2:58 left in the game, Detroit ran off nine straight points to seal their first win on this six-game trip.

"We've been struggling with finishing quarters, letting teams go on runs and it's been killing us," said reserve Langston Galloway, who had 12 points and six rebounds. "For us to finish out those quarters was big."

Evan Fournier led Orlando with 27 points, D.J. Augustin had 16, Aaron Gordon 15 and Nikola Vucevic 14, but the Magic's bench was dismal. Terrence Ross had 15 points, but the rest of the reserves combined to shoot 1-for-14 with 11 turnovers between them.

"The starters were really good and the bench was ... whoa!" Magic coach Steve Clifford said. "They were bad, I mean really, really bad, not competitive in either half. That makes it hard to win in this league. Guys have to be professional and be ready to play. The bench was embarrassing, that's it."

Fournier hit three straight shots and Aaron Gordon added a dunk to pull Orlando to 94-93 with 2:58 left. Griffin made a pair of free throws to start a 9-0 run for Detroit that Jackson finished with a 3-pointer and a layup.

The Magic opened the third period with three straight 3-pointers and a 27-9 run to take a 78-67 lead,

Detroit, as it did the first two periods, rallied in the final minute to get control. Griffin hit a 3-pointer and a layup and Ish Smith had a block and breakaway layup at the buzzer that made it 80-78,

TIP-INS

Pistons: Drummond has 19 or more rebounds in three of the last four games. ... Detroit has attempted a team-record 328 3-pointers in its first 10 games. ... The backups had a plus-82 rating in the game.

Magic: The Magic started the fourth quarter 0 for 7 from the field and committed seven turnovers. ... Orlando got two four-point plays in the first half, one from Ross and another from Augustin. ... The Magic bench had a minus-110 rating.

ISAAC CONCERNS

Orlando hasn't seen much of a return on Jonathan Isaac, the sixth pick in the 2017 draft. Isaac missed 55 games his rookie year with ankle problems. He started the first eight Magic games this season, but missed the last three with another sprained ankle. He took some shots during practice Wednesday, is not expected to play for at least another week. "It's important we handle this the right way so it's not one of those things where he plays two games and it's sore and he has to miss one," Magic coach Steve Clifford said. "Hopefully he'll feel 100 percent and then just play injury free or pain free the rest of the season."

UP NEXT

Pistons: Finish a six-game trip at Atlanta on Friday night.

Magic: Host Washington Friday night.


---
---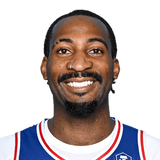 Get more from Andre Drummond
Follow your favorites to get information about games, news and more
---