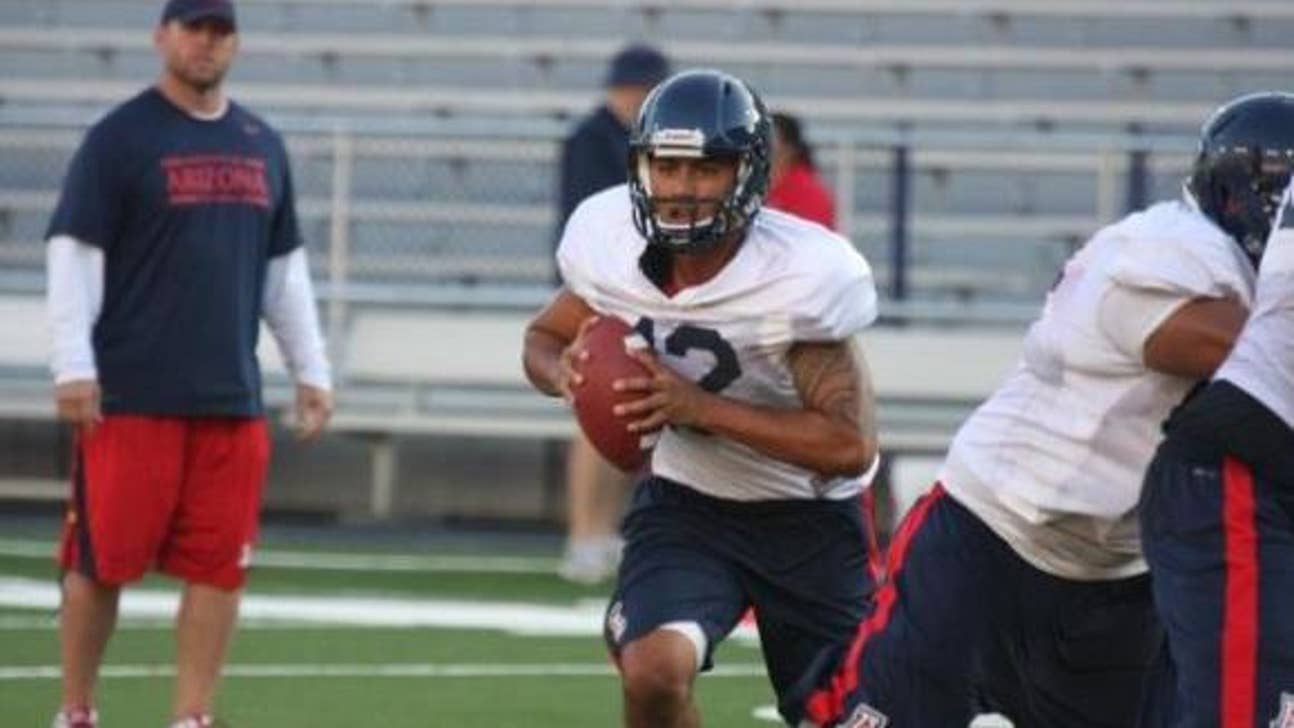 'Laid back' Solomon serious about being Arizona's next QB
Published
Aug. 13, 2014 2:04 a.m. ET

TUCSON, Ariz. -- All Anu Solomon can control is, well, what he does.
Work hard. Make smart decisions. Stay confident. Be a leader.
And oh yes, get faster and be stronger with his arm.
Whether that's good enough the win the battle for Arizona's starting quarterback job is anyone's guess.
"It's about doing the big stuff," the redshirt freshman Solomon said after the Wildcat's late practice Tuesday night. "It's about bringing guys up when they are down, getting on guys when they mess up, including myself."
It's all part of the learning process, but good players know that. In fact, that's one of the ways they get better. It's how they've gotten better all their careers.
And, yes, coach Rich Rodriguez has been tough on his quarterbacks.
"Nobody got yelled at more than B.J. Denker last fall and instead of going into the tank, he got better," Rodriguez said of last season's starter, who was at practice Tuesday. "By the end of the season, he got pretty good."
Rodriguez said he hopes to see that from this year's group, which includes Jesse Scroggins, Jerrard Randall, Connor Brewer and Solomon. Time -- and patience? -- will tell.
"Maybe I'm not yelling enough," Rodriguez said with a straight face. "Maybe I've gotten too soft. It's good to have B.J. around, just as a reminder of how we got him ready to play."
Rodriguez's motto: Get comfortable with the uncomfortable.                                    
"He's been real tough on all of us," Solomon said.
It's all about learning. Solomon does that. He knows right away when he's made a mistake, knowing the yelling will soon follow. Then again, he knows the drill.
"My coach (in high school) ... I got yelled a lot (so) I'm kind of used to that," Solomon said. "I had a rough high school coach. I just sucked it up."
How does he deal with it?
"I take the message but I don't take the yelling," he said. "The yelling goes in one ear and goes out (the other). I get the message ... I got to get better. I say, 'I gotta do this.'"
And Rodriguez has to do what he does with the quarterbacks. It's his way of making them tougher, pressure-free.
"Some people treat their quarterbacks a little differently," Rodriguez said, "and worry about their confidence and all that. But I'm worried about my confidence. I'm worried about the team's confidence and getting it done. If the quarterback that can handle the heat in practice ... the games should be easier for them."
More importantly, Rodriguez can see his guys "progressing." Some days are better than others, he said. Monday was better than Tuesday. But that's how it's been.
Solomon said it's his goal to be more assertive, faster and stronger. And to make sure the coaches know he's serious about the job. Last week, Rodriguez said he thought Solomon was a player who was a bit laid back.
"It's about flipping the switch," Solomon said. "You just have to know when it's time to get serious and when it's time to fool around.
"But sometimes I catch myself being laid back," he said.
Follow Steve Rivera on Twitter
---