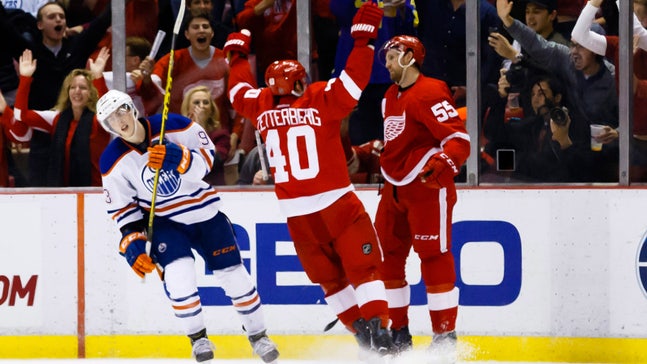 Kronwall, Nyquist lead Red Wings over Coyotes 5-1
Published
Dec. 3, 2015 10:47 p.m. ET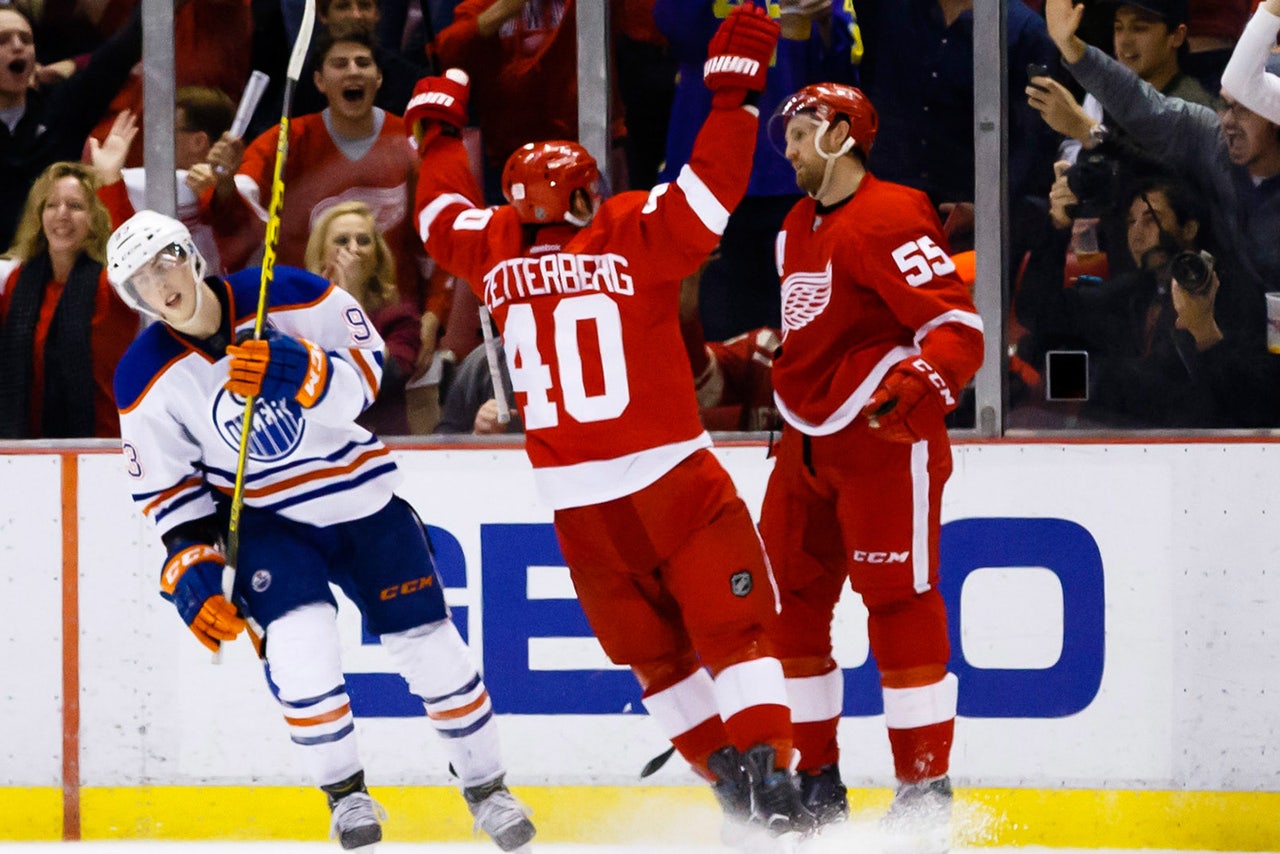 DETROIT (AP) -- The Detroit Red Wings needed only 60 minutes to get their points -- for a change.
Niklas Kronwall and Gustav Nyquist scored 18 seconds apart in the first period and the Red Wings beat the Arizona Coyotes 5-1 Thursday night to earn at least one point in a ninth straight game.
Justin Abdelkader, Danny DeKeyser and Darren Helm also scored for Detroit, which played five straight overtime games before opening a 3-0 lead in the first period and shutting down the Coyotes.
"You just have to keep getting points, playing great hockey and get as many points as you can along the way and continue to get better as a hockey team," Red Wings coach Jeff Blashill said.
Detroit lost two players to injuries. Teemu Pulkkinen left with an upper-body injury after being taken into the boards by Martin Hanzal at 6:19 of the first period. About six minutes later, Drew Miller took a shoulder to the chin by Klas Dahlbeck. Miller, who has played 190 straight games, was wobbly when skating off and he did not return.
"We're still evaluating both but they both look like they'll be out for a while," Blashill said.
Jordan Martinook scored for the Coyotes, who had a goal overturned just 1:21 into the game.
Dahlbeck's shot beat Red Wings goalie Jimmy Howard. But the on-ice call was reversed because it was determined that Coyotes defenseman Connor Murphy was offside on the play.
"It was a good job by our video coach, David Noel-Bernier," Blashill said. "He was real positive that it was offside and obviously a big moment in the game."
The Coyotes said there was no excuse for not being able to overcome the overturned goal.
"The goal disallowed might have taken the wind out of our sails but we've got to come back from that," Martinook said.
Shortly after Miller left, the Red Wings scored as Abdelkader took a pass from rookie Dylan Larkin and backhanded the puck past Mike Smith at 12:30.
Kronwall made it 2-0 at 19:18 with a shot from the slot. Just 18 seconds later, Nyquist beat Smith with a shot from outside the blue line.
"Tomas (Tatar) made a real nice play back to me there," Kronwall said. "I was just all by myself there in the slot. Just able to hit the net and the puck went in."
Anders Lindback replaced Smith in goal to start the second period.
"Just a momentum change," Coyotes coach Dave Tippett said. "Two goals in the last minute. Just tried to create a momentum change."
The Coyotes cut the lead to 3-1 at 5:52 of the second when Martinook scored from the left circle. But the Wings regained the three-goal lead when DeKeyser scored from the high slot at 7:18.
"We got the 3-1 goal and we felt like we were back in it but then they got it right back," Dahlbeck said. "A tough night."
Darren Helm added to Detroit's total with his first goal of the season at 4:28 of the third period. It was Helm's first goal since April 9, 2015 at Montreal.
NOTES: Coyotes captain Shane Doan missed his fifth straight game with a lower-body injury. Coach Dave Tippett said there was a chance Doan could return Friday at Buffalo. ... Forward Steve Downie returned to the lineup after missing nine games with an upper-body injury. ... Red Wings defenseman Kronwall played in his 700th career game. ... Howard played in his 350th career game, his 342nd start.
---
---