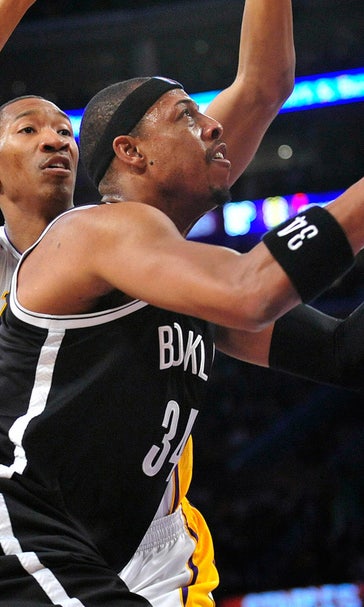 Jason Collins back in NBA, Nets beat Lakers 108-102
BY foxsports • February 23, 2014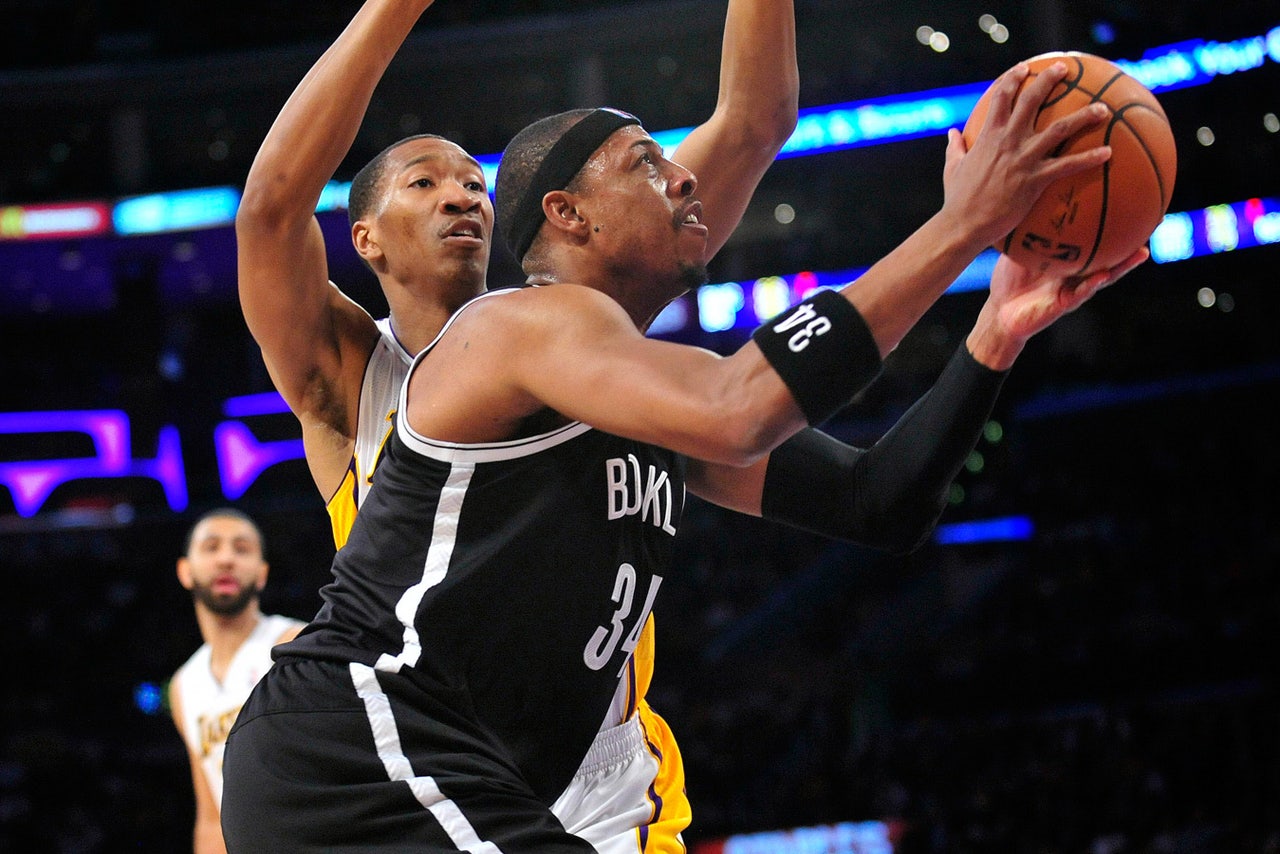 LOS ANGELES (AP) -- Jason Collins played his first game with the Brooklyn Nets on Sunday night, becoming the first openly gay active player in the four major U.S. professional sports leagues, and Deron Williams had a season-high 30 points along with seven assists in a 108-102 victory over the Los Angeles Lakers.
Collins was signed to a 10-day contract Sunday, nearly 10 months after his announcement on April 29 in Sports Illustrated. He played 10 scoreless minutes with two rebounds and five fouls.
The 12-year veteran spent his first six-plus NBA seasons with the Nets and helped them get to the NBA Finals in 2002 and 2003. This was the 35-year-old center's first NBA game since April 17, 2013, with the Washington Wizards.
Paul Pierce had 25 points and seven rebounds, helping end an 11-game Nets losing streak against the Lakers.
Pau Gasol had 22 points and 11 rebounds for the Lakers, who never led and lost for the 24th time in 30 games with Kobe Bryant, Steve Nash and Xavier Henry all sidelined by injuries.
Brooklyn played without Kevin Garnett, who was rested following Saturday night's 93-86 loss at Golden State. Shaun Livingston also didn't play because of a bruised tailbone that occurred in the first half against the Warriors. Marcus Thornton, who joined the club following Wednesday's trade that sent Reggie Evans and Jason Terry to Sacramento, has yet to see action for the Nets because of food poisoning.
Nick Young played for the first time since Feb. 5, scoring 10 points in 19 minutes for the Lakers after missing six games with a fracture in his left knee.
Nets general manager Billy King, in need of a post player after losing center Brook Lopez for the season on Dec. 20 with a broken right foot -- and failing to acquire another one before last Thursday's trading deadline -- took a chance on the 7-foot, 255-pound Collins.
Collins also has played for Memphis, Minnesota, Atlanta and Boston, where he was a teammate of Pierce and Kevin Garnett last season. Sunday was a homecoming, as he was born in Northridge, Calif., and played his high school ball at Harvard-Westlake School in North Hollywood. Collins' new coach is a former Nets teammate -- Jason Kidd.
Collins' scheduled pregame press conference was delayed about 15-20 minutes while he was still getting his physical. He reported into the game with 10:28 left in the second quarter and the Nets leading 35-26 after the Lakers' Nick Young made the first of his two free throws.
The sellout crowd welcomed Collins with a nice ovation when public address announcer Lawrence Tanter announced his name, and he spent 4 minutes and 15 seconds on the court during his first stint while the Nets increased their lead to 16 points.
Andrei Kirilenko made his first start of the season in Livingston's place and had 10 points and 10 rebounds in 35 minutes. Rookie Mason Plumlee made his second NBA start in Garnett's spot, and the Nets didn't miss a beat -- using 14 points by Pierce to build a 31-12 lead with 3:35 left in the first quarter.
Down by 12 after Alan Anderson's 3-pointer with 10:24 to play, the Lakers narrowed the gap to 89-84 with eight straight points. But Pierce responded with a 3-pointer and Williams added a short jumper that restored Brooklyn's double-digit lead to 97-86 with 5:28 remaining. The Lakers got no closer than four points on Jodie Meeks' layup with 10.5 seconds to go.
NOTES: Bad timing Dept.: ESPN had this game on its original schedule, but dropped it a few weeks ago because of the Lakers' dismal record and Bryant's injury. As a result, the network settled for the Houston-Phoenix game instead. ... Kidd, in his first season as an NBA coach, is one of only four players in league history to play more minutes than Garnett -- and one of only four to have made more 3-pointers than Pierce. ... The Lakers hosted the Nets for the first time since Nov. 20, 2012, the night Mike D'Antoni coached his first game with Los Angeles. D'Antoni's teams are 21-8 against the Nets, including a 9-5 mark during his three-plus seasons with the Knicks. ... The Lakers had 37 rebounds and 58 points in the paint against Brooklyn, after Golden State had 50 boards and 52 points in the paint against the Nets. ... The Nets are 3-10 in the second half of back-to-back sets.
---