Gary Harris
Gary Harris
Harris sparks Nuggets to 116-111 win over depleted Pelicans
Published
Oct. 30, 2018 1:28 a.m. ET
DENVER (AP) — The Denver Nuggets were out of sorts at times on offense — until it really mattered. They looked lethargic on defense — until it really, really mattered.

Then, they rose to the occasion. More specifically, Gary Harris did.

Harris scored nine of his 23 points in the fourth quarter and came up with a big steal late to help the Nuggets hold off the short-handed New Orleans Pelicans 116-111 on Monday night after nearly squandering an 18-point lead.

The Nuggets are 5-1 despite feeling like they've yet to find their rhythm. That's encouraging to Harris.

"There's a different vibe around the team," Harris said. "Everybody can feel it. ... The defense could've been better tonight. But we keep getting these wins. That's the point of it all — the wins."

Jamal Murray chipped in 23 points and Nikola Jokic had 12 points and 10 assists for his fifth double-double in six games.

Nikola Mirotic came up clutch with 17 points and 10 rebounds for the Pelicans, who were without star Anthony Davis (sprained right elbow) and Elfrid Payton (sprained right ankle). Reserve Julius Randle added 24.

Down by 18 points in the third quarter, the Pelicans cut it to 96-94 with 3:50 remaining on a layup from Jrue Holiday. Malik Beasley answered by hitting a 3-pointer and a layup to give the Nuggets all the separation they would need. Harris' steal with 38 seconds remaining wrapped it up as Denver moved to 4-0 at home.

"We knew this team wasn't going to back down," said Paul Millsap, who had 18 points. "It's when we get out there and try to blow teams out is when we kind of get ourselves in trouble. Taking our time and letting the game come to us, that's when we're at our best."

The Pelicans turned the ball over 22 times, including three costly miscues down the stretch.

"You can't do that against a really good defensive team like these guys are," Pelicans coach Alvin Gentry said. "We just didn't have enough firepower to finish."




Randle's thoughts exactly.

"We just dug ourselves a bit too deep at the end of the first half. That's what got us," Randle said. "This was their home-court and we didn't have enough juice."

Before the game, Nuggets coach Michael Malone warned his team about not taking the Pelicans too lightly just because they were without Davis. His message apparently didn't take root, and Denver trailed by nine points during the opening quarter.

The Nuggets woke up from their slumber in the second quarter and grabbed a 58-45 lead at the break and ran the lead to 18 in the third before the Pelicans rallied.

"It's not about who we're playing. It's not about who's available," Malone said. "It's about us."

TIP-INS

Pelicans: Gentry said Davis is still experiencing some pain in his elbow and was held out for a second straight game as a precaution. "I don't think it's anything that we're worried about," Gentry said. ... Holiday hit 2 of 3 3-pointers before fouling out. He entered the game 3 of 22.

Nuggets: Reserve Trey Lyles had 17 points with his father in the stands.

NIKOLA VS. NIKOLA

In a faceoff of two big men with the first name Nikola, Jokic and Mirotic put on quite a show. Jokic finished a rebound shy of his second triple-double of the season. Meanwhile, Mirotic knocked down shot after shot in crunch time.

PRACTICE MAKES PERFECT

The Nuggets took advantage of a three-day break to focus on shooting. They rank near the bottom in 3-point percentage.

"Throughout the NBA season in practice, one of the last things you do is shoot. You're working on offense, you're working on defense, special situations," Malone explained. "Hopefully all that repetition will help us finally make some shots."

The team was 11 of 35 from 3-point range.

CRUNCH TIME

Beasley is getting more playing time with Will Barton out following surgery to fix his hip/core muscle. Beasley was in late in the fourth quarter, which was an eye-opener for him.

"I looked at the scoreboard with two minutes to go and was like, 'Wow, I'm out here,'" Beasley said.

UP NEXT

Pelicans: Stop No. 2 on a five-game trip will be Wednesday against the Golden State Warriors.

Nuggets: At Chicago on Wednesday.


---
---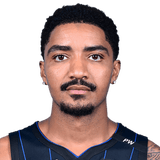 Get more from Gary Harris
Follow your favorites to get information about games, news and more
---