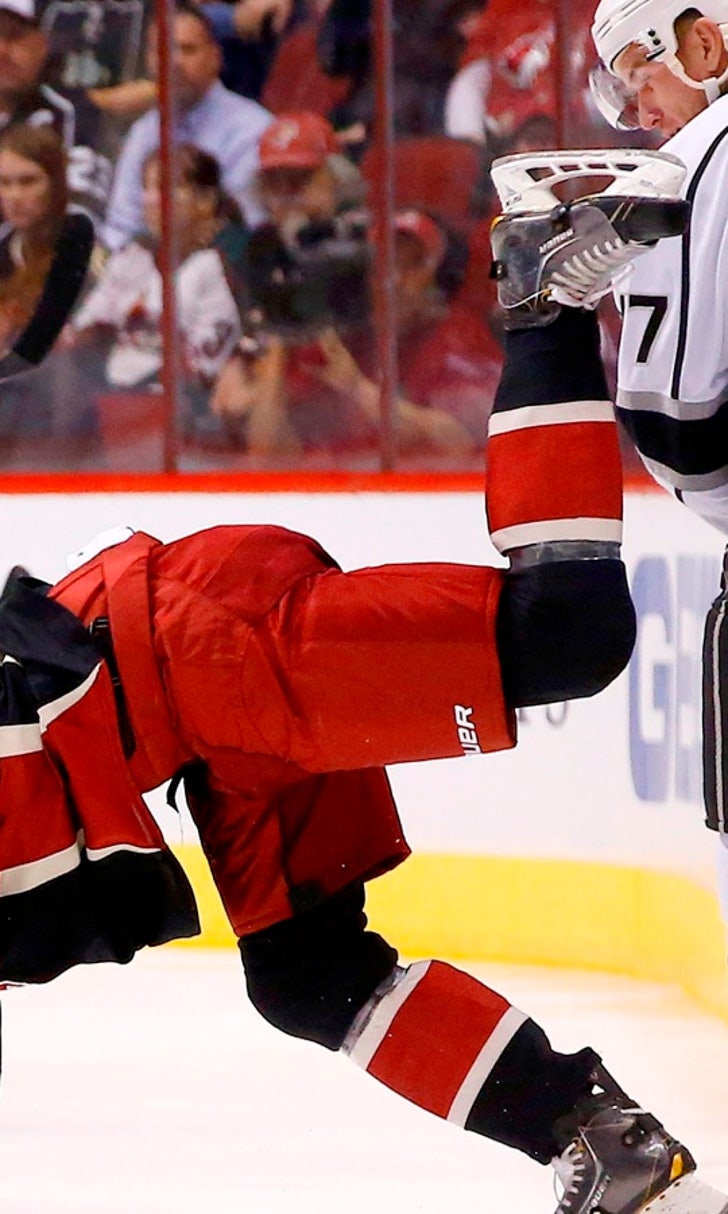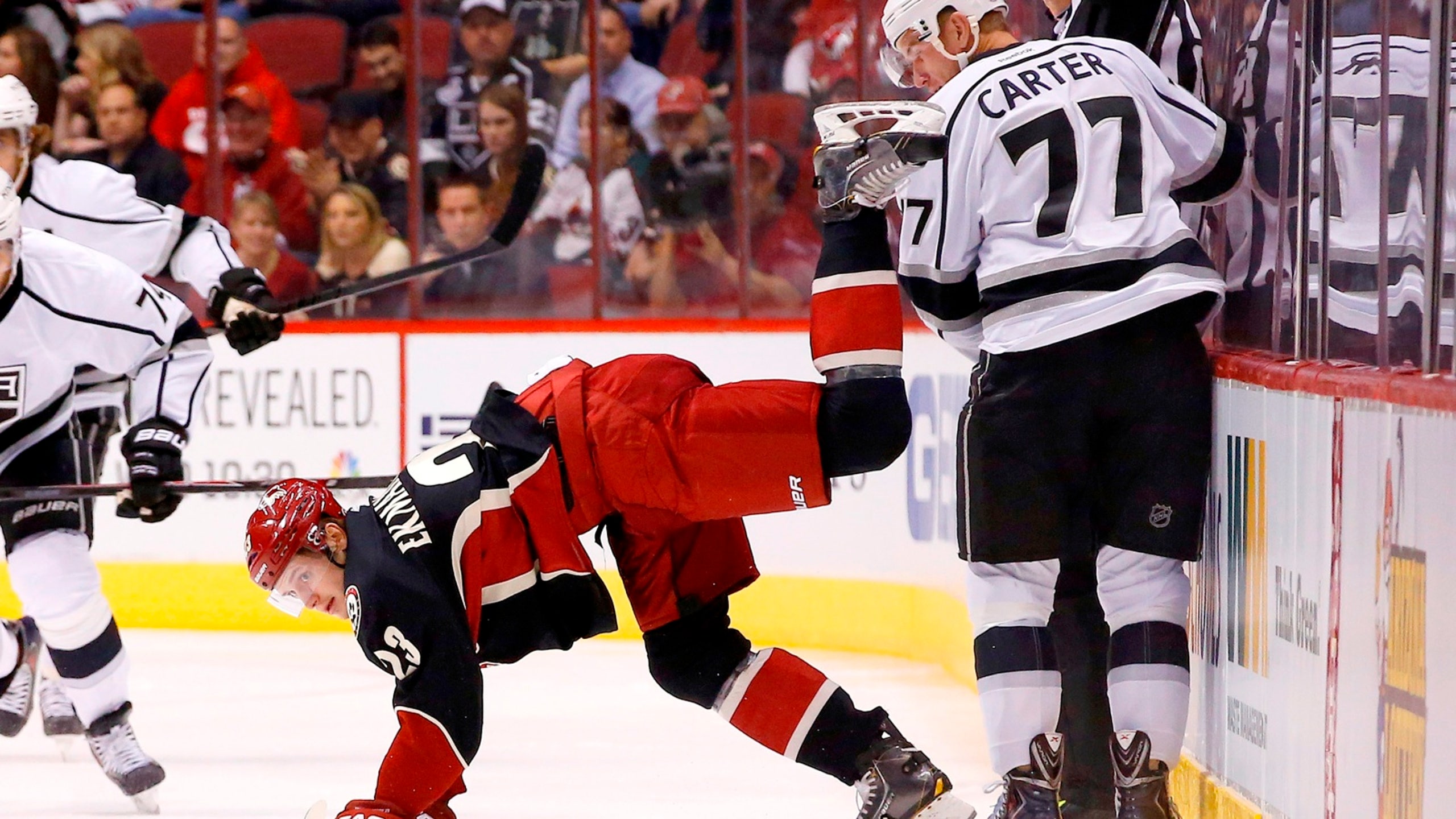 Greiss, Coyotes shut out Kings
BY foxsports • January 28, 2014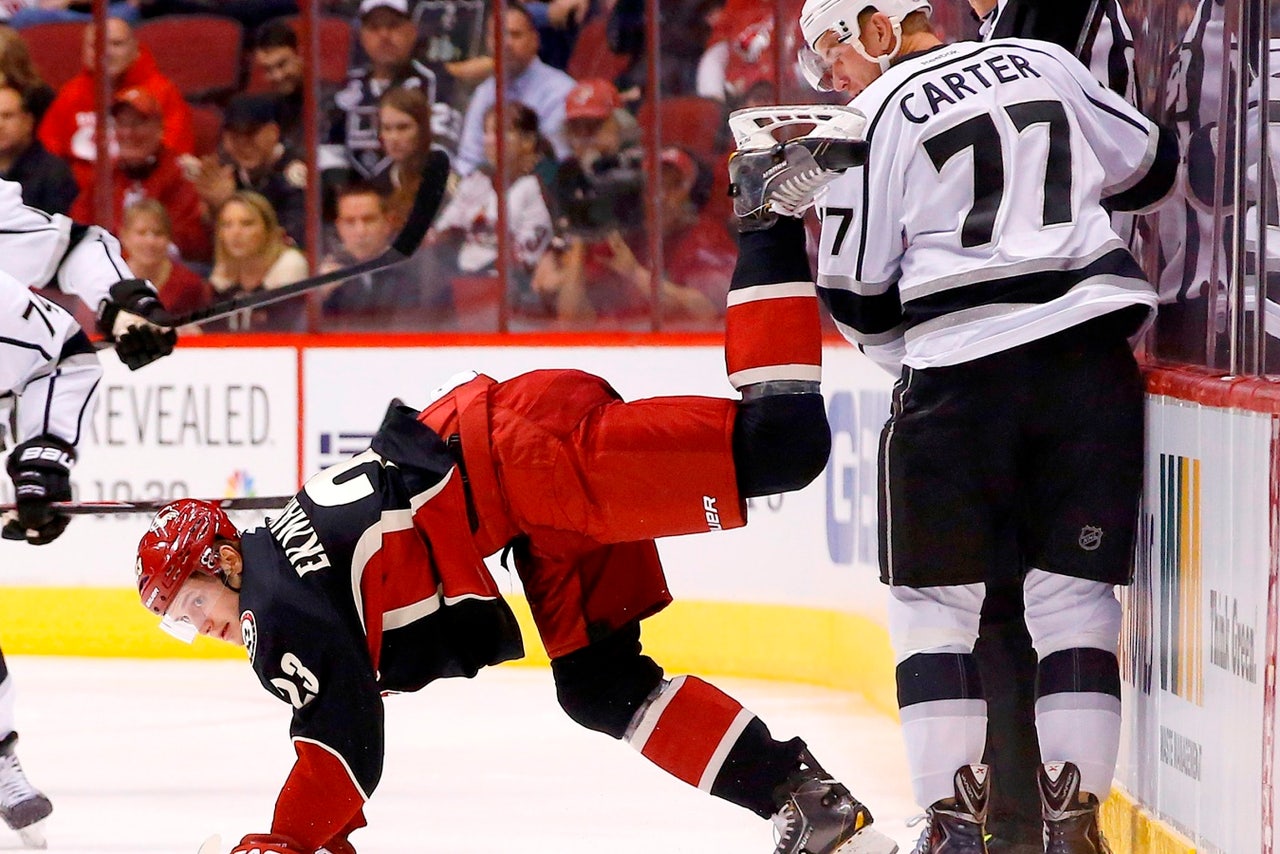 GLENDALE, Ariz. -- The Phoenix Coyotes zipped around the ice, generating good scoring chances, getting into a scrap after a big hit, pumping in a goal late in the first period.
It was just the kind of effort they needed against a team that had played the night before, particularly one that's ahead of them in the standings.
Oliver Ekman-Larsson scored two goals, Thomas Greiss stopped 30 shots and the Coyotes kicked off an important five-game homestand with a 3-0 win over the Los Angeles Kings on Tuesday night.
"We caught a team at the right time, but that being said, I thought we played the right kind of game to take advantage of it," Coyotes coach Dave Tippett said. "We kept getting pucks deep, we put some pucks at the net and it was a pretty solid game throughout our lineup."
The Coyotes needed to string together some victories during their homestand after a rough stretch dropped them to ninth in the Western Conference.
They responded with arguably their best game of the season, playing solid in their own end while peppering Jonathan Quick with 29 shots.
Antoine Vermette had a goal and an assist to extend his points streak to five games and Shane Doan had his 500th career assist on Ekman-Larsson's second goal. That was more than enough for Greiss, who had his second shutout this season, third career.
"It was a huge game for us," Ekman-Larsson said. "We talked about this game and I think we played well for 60 minutes."
Los Angeles labored after playing the night before and for the fourth time in six nights.
The Kings also continued to struggle in the offensive zone.
Los Angeles was relegated to the outside mostly in the first two periods and hit the post twice in the third, unable to get anything past Greiss. The Kings have scored two goals in their past four games and have lost six of seven.
"Tonight, I don't know how many really good chances we had," Kings captain Dustin Brown said. "Probably a bit of them playing really well and us not being hungry enough to get to the dirty areas and if we're going to score goals, that's what we're going to have to get back to."
The Coyotes have been tumbling down the Western Conference standings, losing seven of their past 10 games.
They did rally from a 4-2 deficit to earn a point against Vancouver Sunday night behind Vermette's third career hat trick.
Phoenix still had its offensive mojo going early against the Kings, creating some good chances and while getting traffic in front of Quick, who made some tough stops, including a sprawling save on Jeff Halpern.
Ekman-Larsson broke through late in the first period, whipping a wrister from the point past Quick.
A physical game between two rivals became even rougher in the second period, when Jordan Nolan leveled Kyle Chipchura with a shoulder, setting of a scrum along the boards. Phoenix got a power play out of it and scored 12 seconds into it, when Ekman-Larsson beat Quick with a slapshot just outside the faceoff circle.
Greiss had a string of tough saves as the game opened up late in the second period and Vermette put it out of reach in the third, punching in a rebound for his team-leading 19th goal of the season.
The Kings hit the post twice in the final period, but, as has been the case lately, the pucks caromed away instead of into the net.
"There's a team-wide frustration and a personal frustration for some guys in here," Brown said.
---