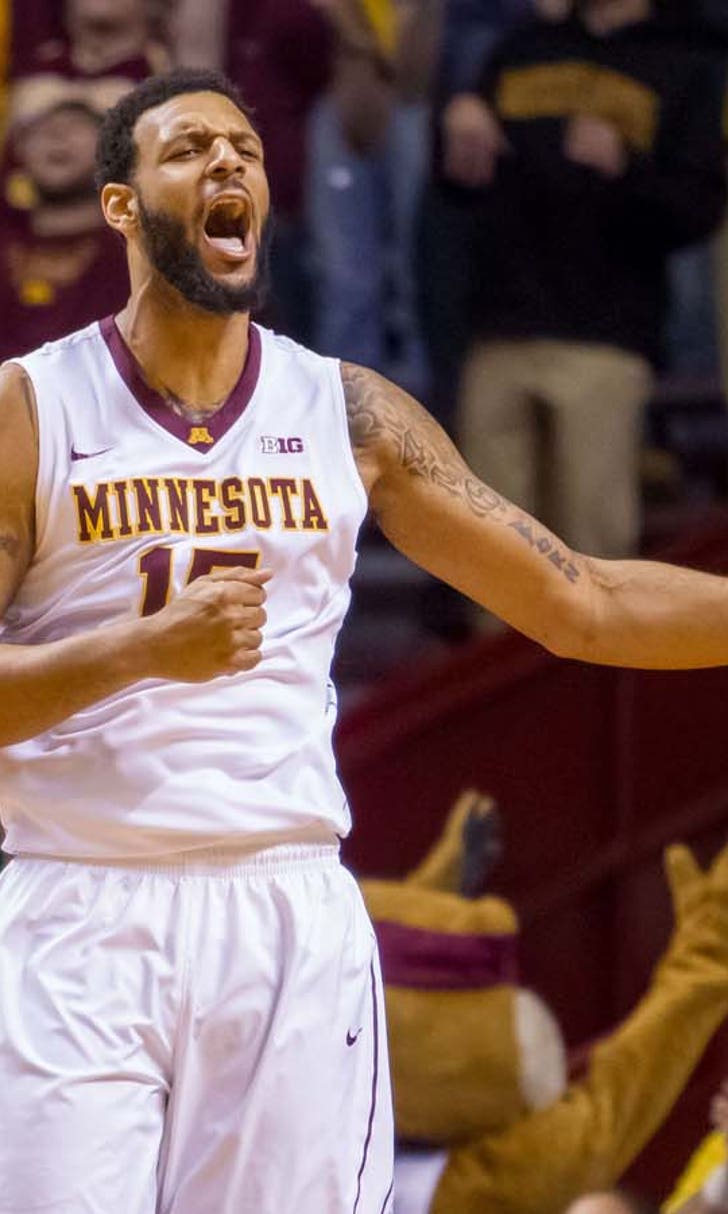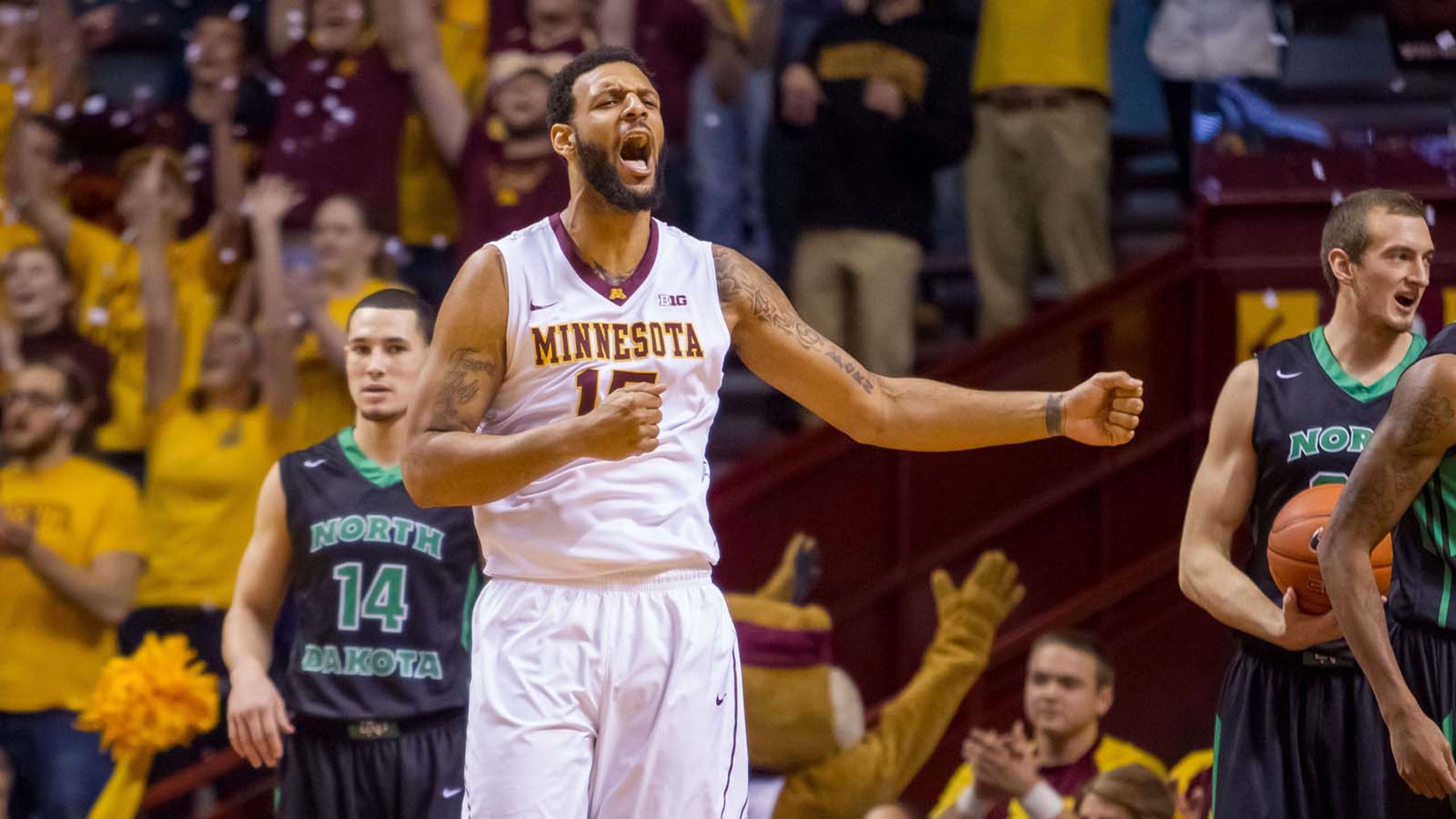 Gophers' Mo Walker shows off mean streak in win
BY foxsports • December 9, 2014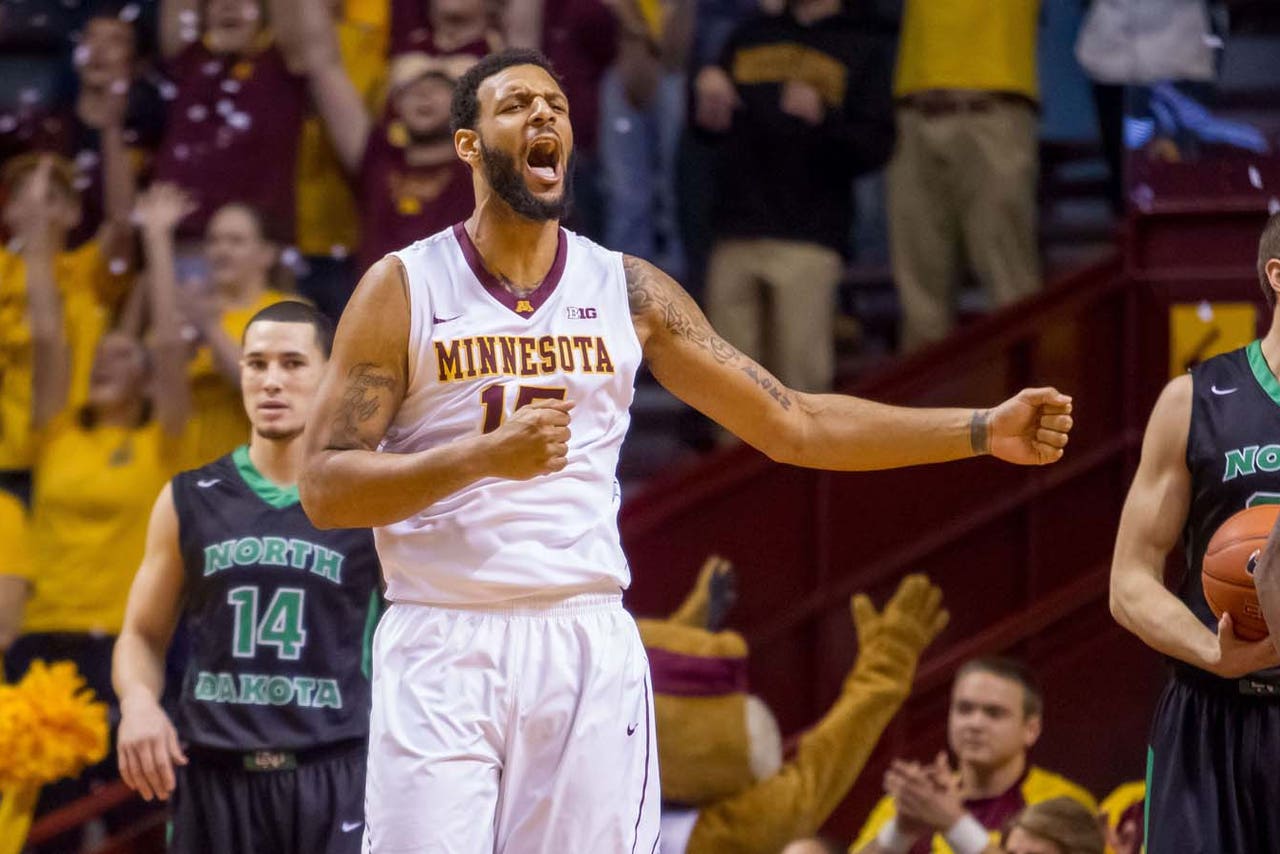 MINNEAPOLIS -- Gophers coach Richard Pitino has said numerous times that he believes center Mo Walker can be one of the best big men in the Big Ten. North Dakota is by no means a Big Ten team, but Walker showed Monday that his game continues to improve.
Walker had a career-high 22 points in just 23 minutes as the Gophers dispensed of UND by a 92-56 final at Williams Arena. His teammates attribute it to a newfound mean streak Walker has developed since last season, one that helped him break out for a performance like the one he had Monday.
"The guys have been telling me they want me to be mean, because sometimes in practice I get a little ticked off and I get a lot more aggressive," Walker said after Monday's win. "I play a lot harder. I'm trying to keep that mean streak going and translate it over to the court."
Walker made significant strides on and off the court last year, shedding a ton of weight in order to be able to play in Pitino's new system. That led to career highs in points, minutes, rebounds -- just about every statistical category.
Through nine games of the 2014-15 season, Walker's progression has continued even further. He entered Monday's contest averaging 9.9 points per game and 5.0 rebounds a night, both of which were career highs. Against North Dakota, Walker set a new personal best for points in a game, topping his previous high of 18 points against Wisconsin last season. On top of that, Walker's seven rebounds against UND tied a season high.
North Dakota had no answer for the 6-foot-10 Walker, who was frequently matched up with UND's Chad Calcaterra, a 6-foot-9 center. The Gophers went inside early and often on Monday, taking advantage of the mismatch.
Walker put Minnesota on the board with a three-point play and eventually had the Gophers' first seven points of the game. A hook shot over Calcaterra gave Walker 11 points early in the first half, and he scored quickly thereafter to give himself 13 points on 6-of-7 shooting. He finished the first half with 15 points as Minnesota took a 43-26 lead into the locker room.
That newfound mean streak was on display early for Walker, who gave his team a lift.
"We need that," Pitino said. "I always joke, like, 'What do you need me to do, punch you right before you walk out or something to wake you up?' We need that. He understands it.  . . . He had that today."
Walker continued to pad the stats after halftime. A layup early in the second half put the Gophers up 49-34 and gave Walker 19 points, a new career high. He later converted his second three-point play of the night to stretch Minnesota's lead to 17, giving him 22 points for the game.
With the Gophers up big late, Walker watched the game's conclusion from the bench as his team improved to 7-2 with the 26-point win. Minnesota will likely rely on senior guards Andre Hollins and DeAndre Mathieu to carry the scoring load this season, while forwards Carlos Morris and Joey King are capable of chipping in offensively.
But if Walker can continue to reach double-figures -- Monday was his fifth game of 10 or more points this year -- it's an added bonus for Minnesota's scoring attack.
"When Mo's got it going, he's got it going," said Mathieu, who had 10 assists and zero turnovers Monday. "All you've got to do is feed him and he can normally score himself. His touch around the rim is very good.  . . . He's going to really help us the more he develops and the more he gets confidence in himself."
The Gophers have four more non-conference games before the Big Ten season begins on Dec. 31 against Purdue, meaning Walker has a few more games to fine-tune his skills before he collides with the Big Ten's best bigs.
By season's end, Minnesota hopes Walker is one of them.
"My teammates are pushing me every day," Walker said. "They tell me I can be. I just try to play with that chip on my shoulder. I'm trying to turn it up now that we have a little bit of a break before the Big Ten starts. I don't want to just flip the switch. I want to get going now and try to carry it over."
Follow Tyler Mason on Twitter
---