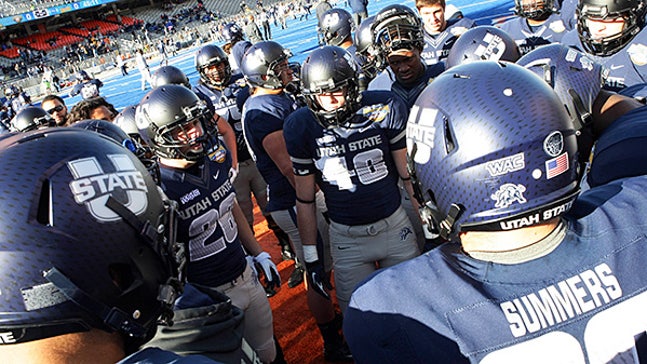 Game Week!
Updated
Mar. 4, 2020 2:09 p.m. EST

It's game week in college football - and there are some really exciting match ups this week: 
-Alabama-Virginia Tech
-Georgia-Clemson
-Mississippi State-Oklahoma State
-TCU-LSU
You get the idea. 
But there are two games we're really looking forward to this week: Thursday's "Battle of the Brothers:" Utah State @ Utah, 8p ET on FOX Sports 1. AKA the first college football game in FS 1 history! 
Second, the Boise State-Washington tilt, 10p ET on Saturday night. The Gus Effect will be in full swing for that one as Gus Johnson and Charles Davis have the call. 
---------- 
Dance off! Who has the fresher moves? 
Illinois:
Or Arizona:
We give the edge to the Wildcats - but only because head coach Rich Rodriguez broke it down at the 3 minute mark. 
-------
Finally, we mentioned the Utah-Utah State rivalry is called the "Battle of the Brothers." 
But there are several famous fathers who have sons playing college football this season. 
Here are the top 5 sons FFD is keeping an eye on:
-Corey Robinson, Notre Dame (David Robinson's son)
-Trey Griffey, WR Arizona (Ken Griffey Jr's son)
-Nick Montana, QB Tulane (Joe Montana's son)
-Barry Sanders Jr, RB Stanford 
-Jerry Rice Jr, WR UNLV 
---