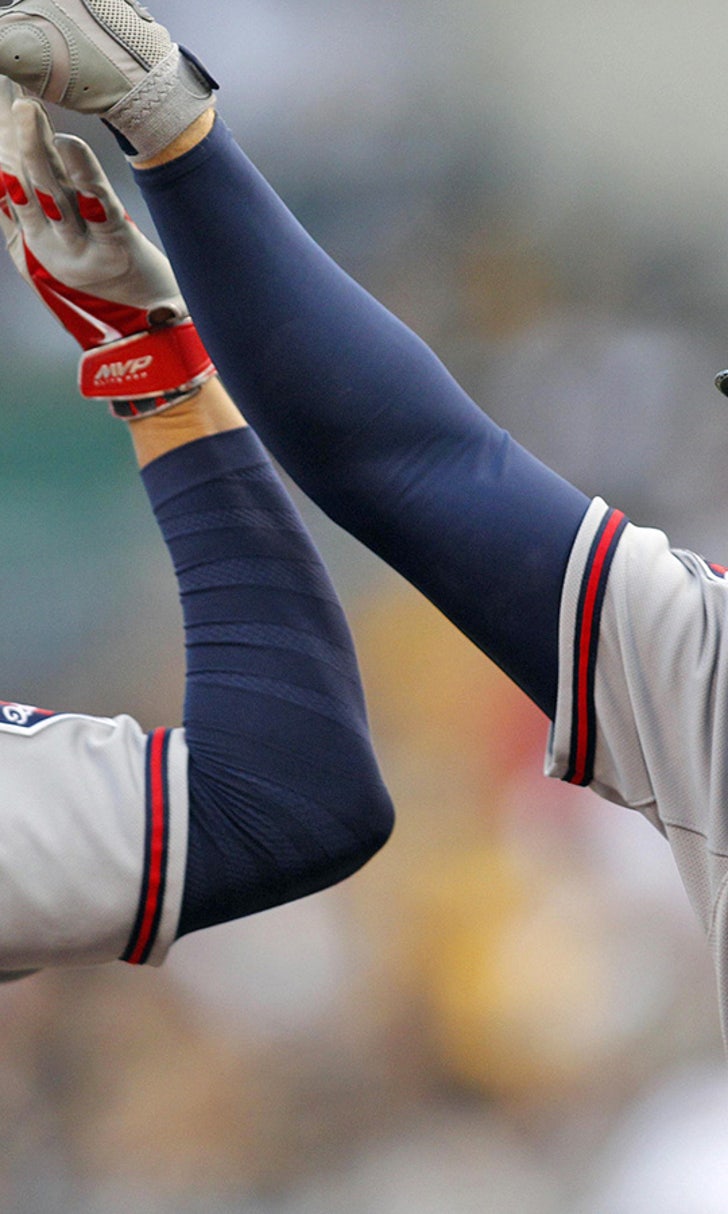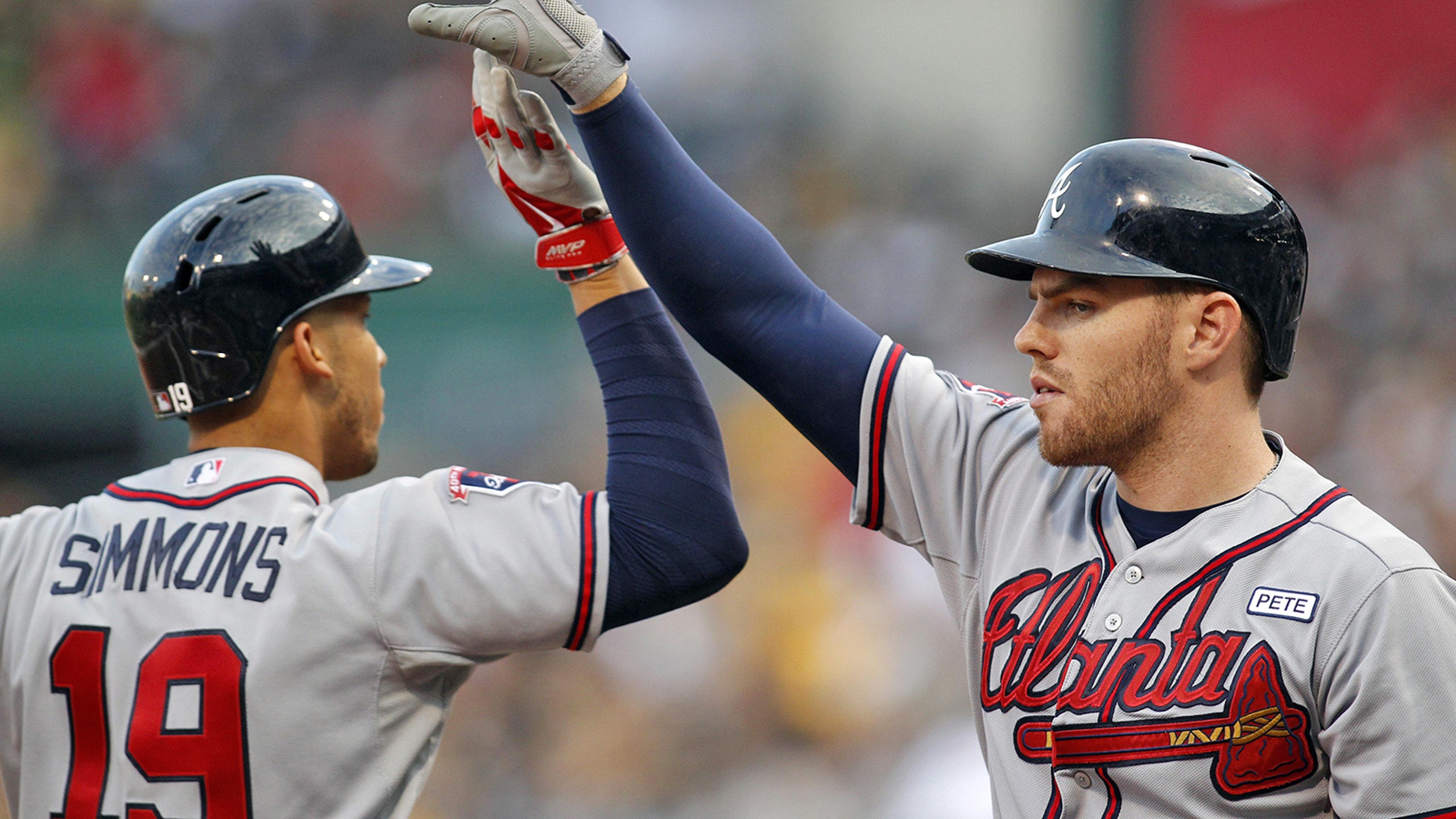 Freeman, Simmons miss Heyward, but embrace Braves' changes
BY Cory McCartney • February 26, 2015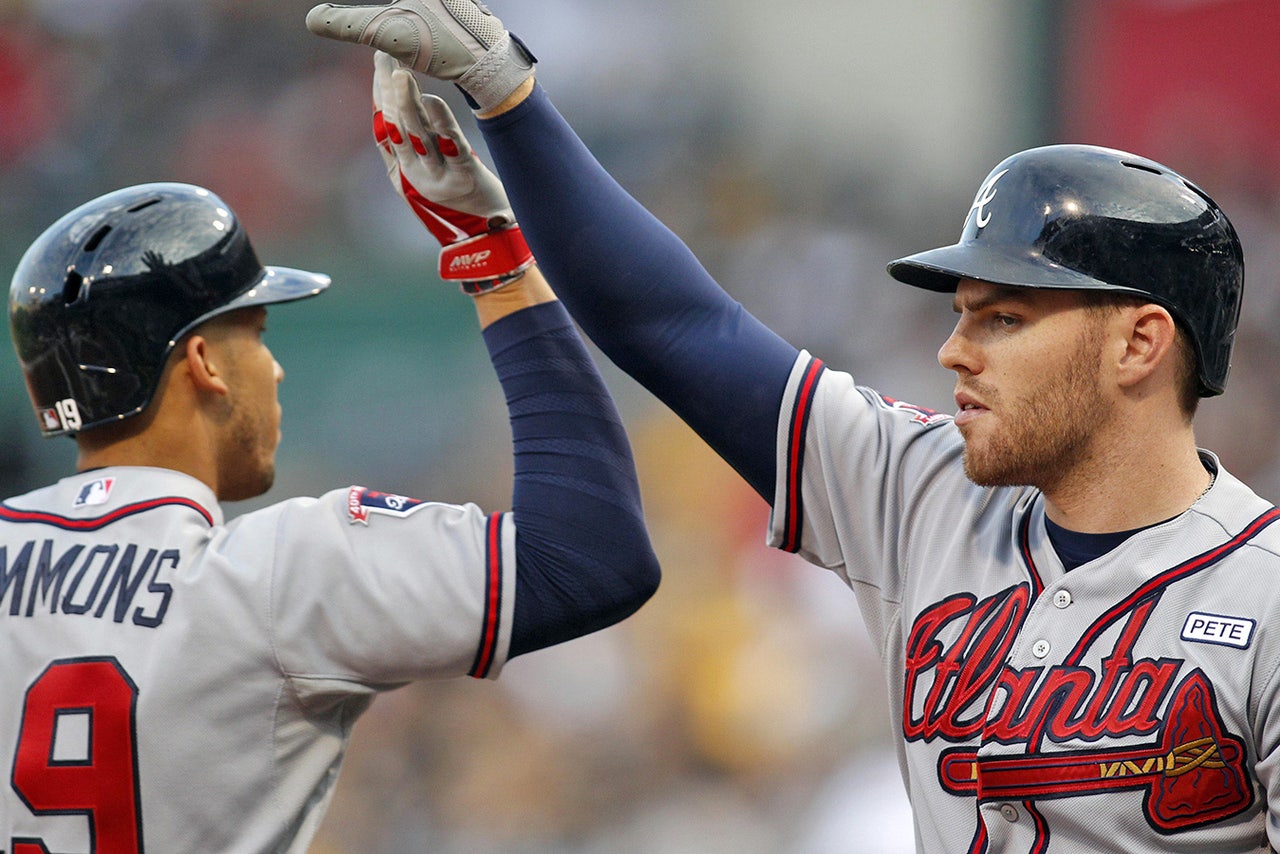 LAKE BUENA VISTA, Fla. -- It was in mid-January after Evan Gattis had been traded that Braves manager Fredi Gonzalez met with the man who has the biggest contract in franchise history.
It was time that he shared the vision for the future with Freddie Freeman.
"You sit back in the winter and you go 'What's going on? I signed up for seven years to be able to put pennants up on the wall and we just came off winning a division,'" Gonzalez said of his first baseman, who last February inked an eight-year, $135 million deal.
"We explained everything to him afterward and I think that's the right thing to do."
Freeman arrived at spring training two days before position players were scheduled to report, getting in early work in the batting cage and meeting the new faces on a roster that includes 67 players at camp and is devoid of Gattis, Justin Upton and two-time Gold Glove winner Jason Heyward.
"This was definitely an interesting offseason," he said. "All my friends are gone. We've got a young, exciting team with a group of veteran guys they brought in."
Freeman is coming off back-to-back All-Star seasons and in 2014 played in all 162 games, setting a team record for innings with 1,449. While he has the contract and the resume, the 25-year-old isn't ready to say he's the Alpha dog in the clubhouse just yet.
"I think you can't put that on anybody," he said.
But amid the moves that the Braves made, it did so with the intent of building around its foundation. Freeman, closer Craig Kimbrel, starting pitcher Julio Teheran and shortstop Andrelton Simmons were all given extensions last year that combine for $267.4 million and take all well into life in the Braves' new stadium in Cobb County.
While they managed to provide a major boost to the farm system, which per the annual rankings of ESPN's Keith Law jumped from a bottom-five system after the '14 season to sixth, it was stunning for its young stars.
"When it started happening, I was like 'Oh, this guy's gone. This guy's gone. This guy's gone,'" Simmons said. "After a little bit you try to see what they're doing and try to build toward the future a little more."
With Upton and Heyward on the last seasons of their contracts and expected to command in excess of $15 million a season, the Braves didn't believe they could resign them. While Gattis is still a year away from arbitration, his power and no guarantees of getting him 600 at-bats with Christian Bethancourt behind the plate made him expendable.
But the Braves gave up their top two home run hitters in Gattis and Upton and after Freeman's 18 HRs, don't return a player who had more than 12 last season. It creates an obvious issue for Freeman, the team's No. 3 hitter, who could be limited in the number of quality pitches he'll see this season.
As much as that affects life at the plate for the first baseman, it's the loss of Heyward that had the deepest impact.
A close friend of Freeman's -- the two were roommates for two seasons in the minors and they lived together when Freeman was first called up in 2010 -- he was also a mentor to Simmons when he joined the team. Heyward was sent to St. Louis on Nov. 17 along with reliever Jordan Walden in exchange for starting pitcher Shelby Miller and pitching prospect Tyrell Jenkins.
"That was a tough day when I heard he got traded," Freeman said. "We've been together before we even got drafted. We knew each other when were 16 years old. We came up together and been here for the last nine years together, so it's kinda weird.
"Still got to get used to it. He got down to spring training pretty early for the Cardinals -- he looks kinda weird in that color."
Said Simmons, who arrived at camp Thursday: "J-Hey was one of my boys. He really helped me get used to the life, being in the bigs, being in the bigs and telling me what to do and what not to do. It was a little sad seeing him leave out of everybody."
Nick Markakis was brought in to replace Heyward in right field -- he'll wear the same number (No. 22) and has the same locker in the spring training complex at Disney's Wide World of Sports -- but for now he's doing so in title alone. Following December surgery to repair a herniated disk in his neck, Markakis was just cleared to resume activities Wednesday and is unsure if he'll be ready for Opening Day, though Gonzalez seems more hopeful, believing Markakis should be able to play after 3-4 spring training games.
"I really do, for Opening Day of regular season," he said. "For Opening Day of spring training? I'm not going to do it."
Throughout the process of rebuilding an organization, president of baseball operations John Hart had positive reactions from Freeman, Kimbrel and Simmons and Gonzalez said that in that January sit down with his first baseman, the conversation wasn't one of frustration.
"He didn't want to know 'Why this or why that,'" Gonzalez said. "He said 'I understand the corner guys getting traded. What kind of players (did we) get back and how close are they?' That's a good conversation."
Said Hart, "I think they understood. Players are smart. These guys have been very supportive of what we've been doing, and I think they like the dynamic around the club."
The first day of full-squad workouts isn't going to be near enough to build chemistry on a revamped team. But while one sports book's projections have Atlanta with an over/under of 73 1/2 wins, better than only the Phillies (67) among National League East clubs, Freeman doesn't subscribe to that view.
"We believe in ourselves," he said. "We wouldn't show up here wanting to just go through the motions and expect to lose. I don't think anybody does that. We obviously have a different team than we've had the last couple years, but I think we're moving in the right direction."
Simmons looked around the clubhouse and peered up at the name plates above the lockers, with second baseman Alberto Callaspo immediately to his left and outfielder Jonny Gomes two stalls to his right.
"A lot of new faces," Simmons said. "It's been pretty interesting so far, getting to know all the guys."
Follow Cory McCartney on Twitter @coryjmccartney
---