Frazier 'not worried' over home run shortage
Published
Aug. 10, 2014 11:34 a.m. ET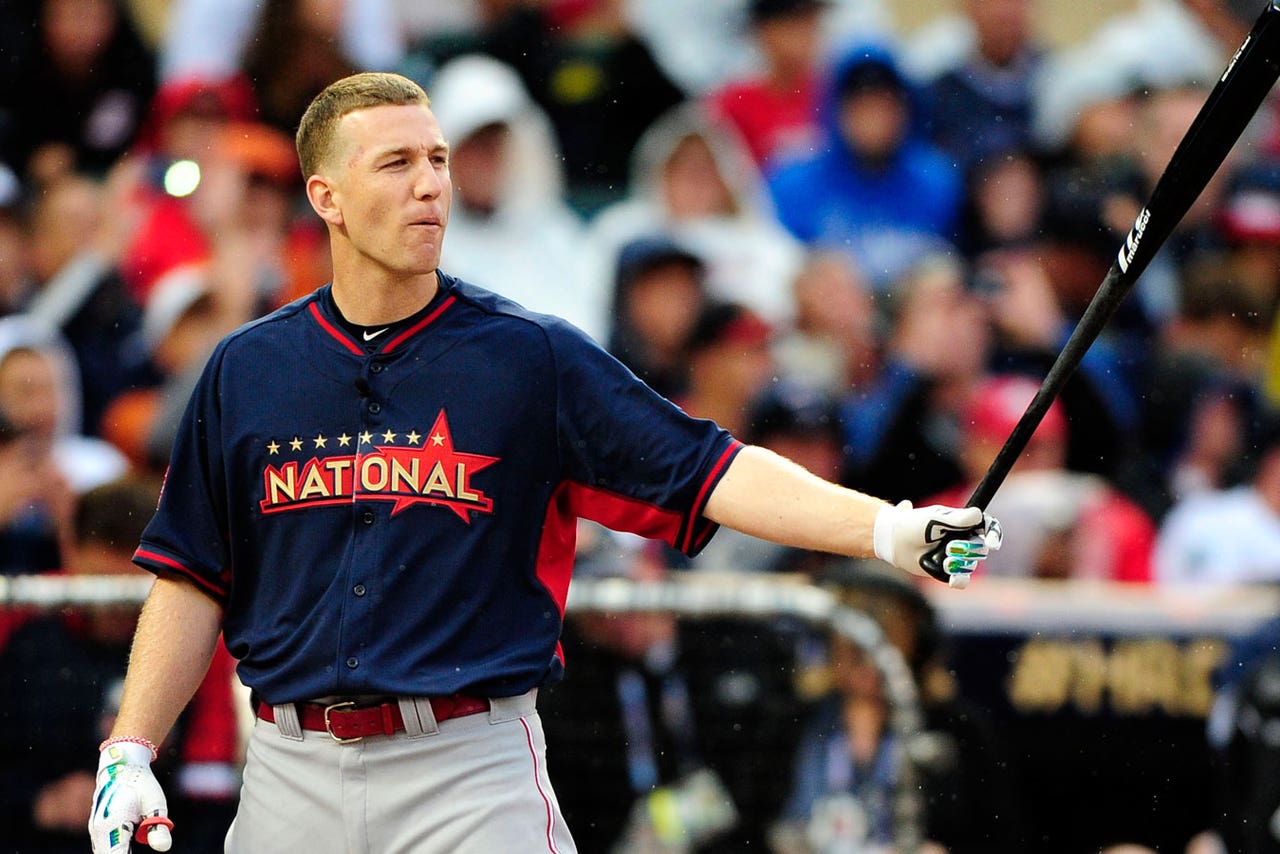 CINCINNATI -- Todd Frazier hears the whisperings, the all-knowing opinions of why he has hit only one home run in the three weeks since the All-Star break.
"He shouldn't have participated in the Home Run Derby at the All-Star Game because it messes up a hitter's swing," they say.
They say it because Frazier had 19 home runs at the All-Star break and now, three weeks later, he has 20.
Frazier, the talented third baseman for the Cincinnati Reds, couldn't disagree more and said, "If they want me, I'll appear in the Home Run Derby every year, especially next year." The 2015 All-Star Game is in Great American Ball Park and Frazier definitey wants to be part of that.
"I don't understand it when people say it ruins your swing,"said Frazier. "You have two days off afterwards and then you can come in four hours before the first game and ask the hitting coach (Don Long) to work with you for an hour, if you want to. It makes no sense to me."
Manager Bryan Price doesn't see it, either.
"He is still giving us really good at-bats," said Price. "As far as home run numbers, it is like looking at the Cruz kid in Baltimore. He hit his first home in about three weeks recently and he has 30.
"During the long course of a season, you try to pin-point why something is happening and it is just guesstimating," Price added. "I haven't seen it, haven't seen anything that the Home Run Derby might have altered, no difference in his approach."
Price believes that Frazier hits the ball as hard as anybody in baseball and remember a long drive he hit Saturday that nearly disemboweled Miami pitcher Brad Penny.
"How about that ball he hit?" said Price. "It was a bullet. He hits the ball as hard as anybody in the league. The fact that he is not trying to lift the ball is a good thing. He is staying in a real good approach."
Frazier agrees with that assessment in that although the home runs aren't coming, the singles and doubles are. During August he is hitting .351 (13-37) with two doubles and five RBI.
"It isn't affecting me at all," Frazier continued. "If I was struggling maybe I might think so. I'm getting a lot of singles and I'm producing. They come in spurts. When I hit home runs I get three or four a week."
Frazier recalled that when he played at Class AA Louisville in 2010 he went his first 115 at-bats without a home run, "But I still finished with 14. And I had 40 doubles, too."
Frazier said he went for a lengthy time last season without a home run, "And I know it has been nearly three weeks since I hit one this year, but that's the way it goes."
Frazier likes to think he is a home run hitter, even though he hit only 19 last year and 19 the year before and 17 was his top minor-league total.
"If you hit 20 home runs you have to be somewhat in that category," he said. "I hit 19 the last two years and I like to think I am somewhat of a home run guy. I'm a guy who can produce and hit the ball out of the park at any point in time."
Frazier said the missing home runs will come again and, "And I'm not worried about it. I'm still producing. I went off the track hitting a little bit then got right back on by going 3 for 4 the other day with an RBI. And I had two RBI yesterday (Saturay)."
Frazier laughed when it was said that if he had continued hitting home runs right after the All-Star break nobody would mention anything about messing up his swing. "They say that, but then they are excited to watch me be in The Home Run Derby. It's a double-edged sword."
And that's what Frazier's bat usually is -- a double-edged sword of doubles and home runs.
---