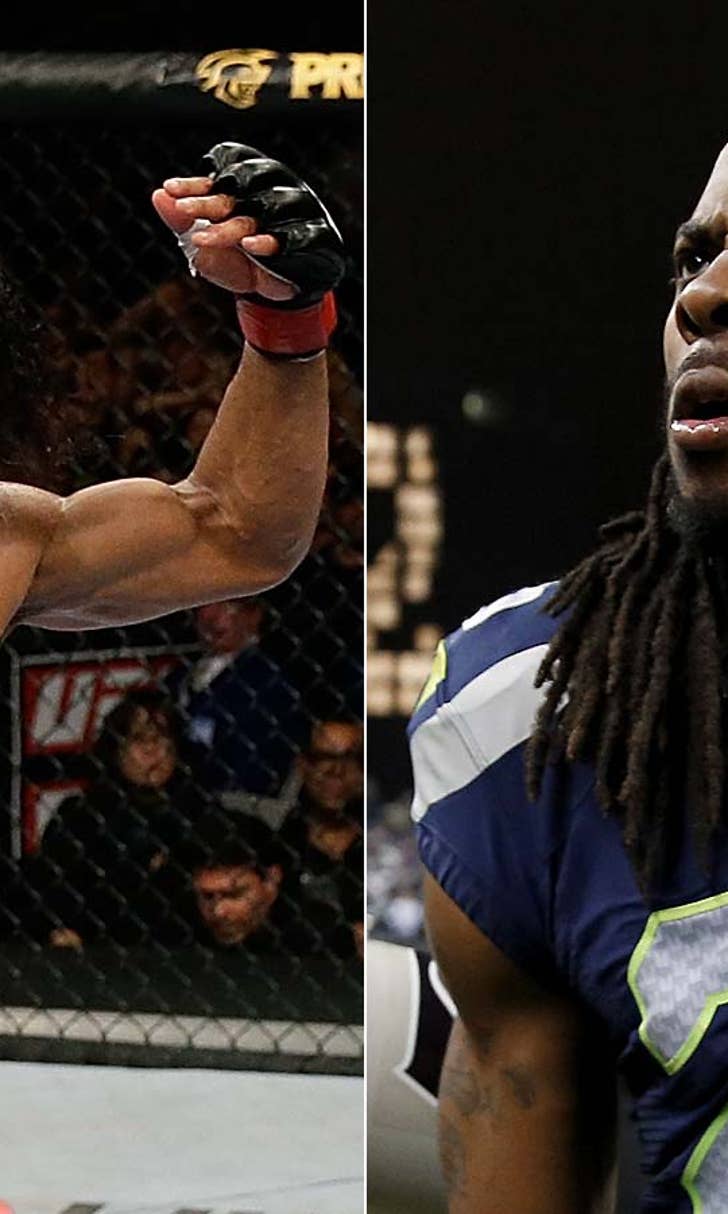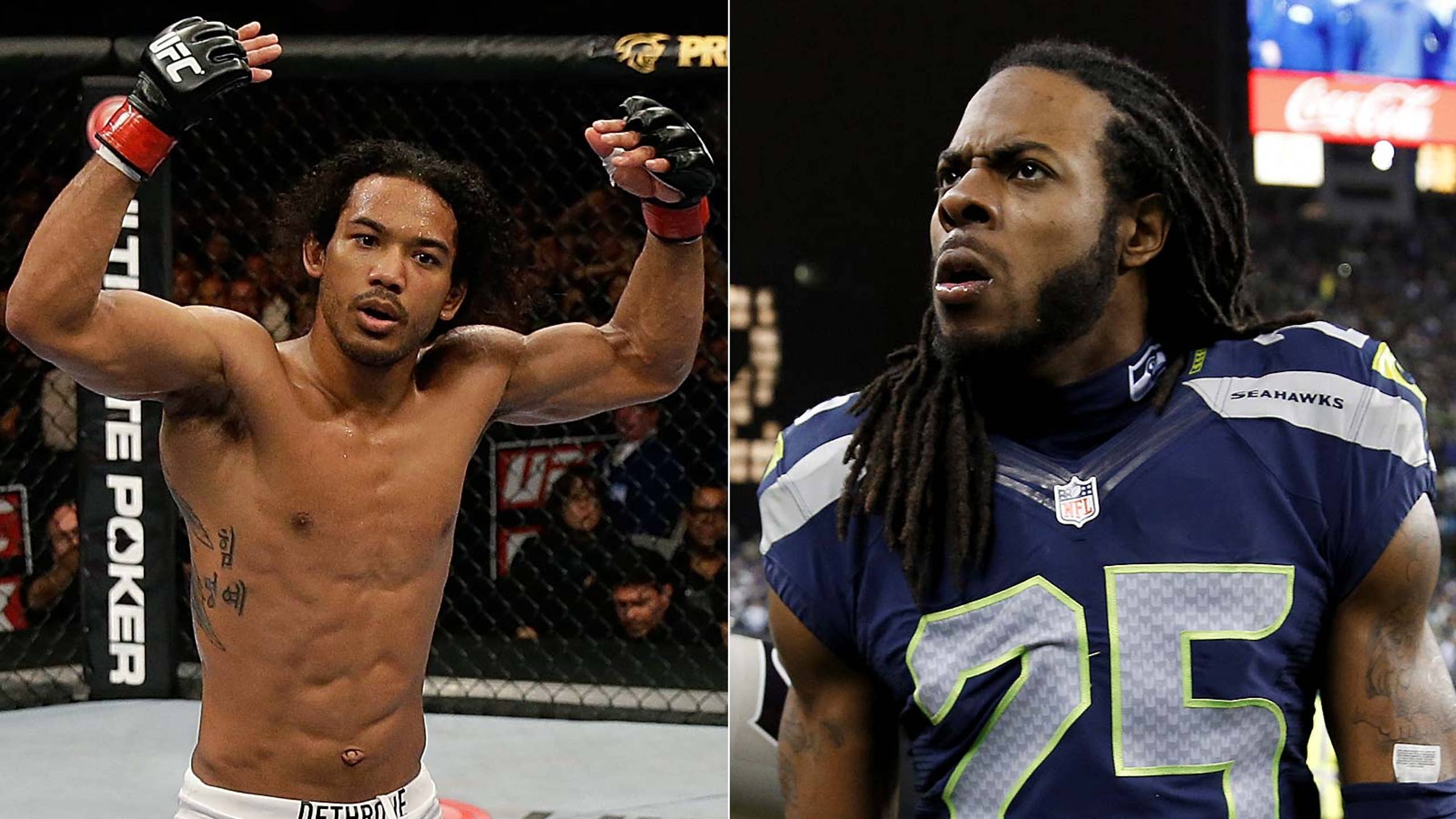 Former UFC champ Benson Henderson defends Richard Sherman's controversial rant
BY Damon Martin • January 21, 2014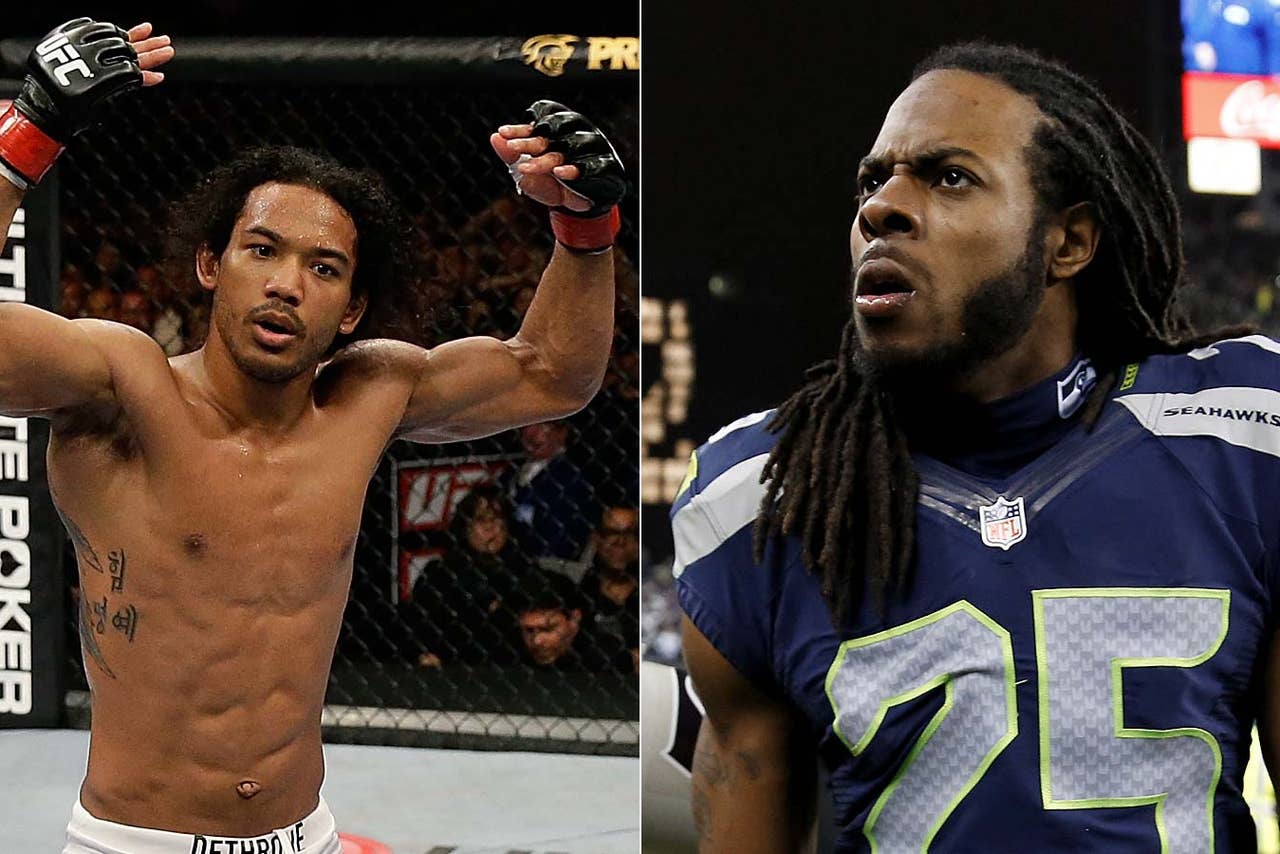 Growing up in Washington as a kid, Benson Henderson didn't get a lot of joyous moments as a Seattle Seahawks fan.
Outside of a 2005 Super Bowl run, the team has mostly been a middle of the pack contender with more bad years than good, but under the direction of coach Pete Carroll things have turned around lately.  With a solid foundation built around a stout defense and an incredible home crowd, the Seahawks have gone from pretenders to contenders in quick order.
On Sunday, the Seahawks marched to Super Bowl XLVIII after beating their division rival San Francisco 49ers, and Henderson couldn't be happier to see his hometown team reach for the gold.
"It was pretty awesome," Henderson told FOX Sports on Tuesday.  "My team is the (Carolina) Panthers, but of course I'm a Seahawks fan, growing up in Washington and watching them.  It was all the years, the struggles, all those lean years, the tough years, they had some tough times.  All the hurt, all the pain, all the anguish to finally make it to the Super Bowl."
Watching the game on Sunday, Henderson witnessed all of the great moments as they unfolded and then after the final seconds ran off the clock he saw an entirely new kind of spotlight fall upon defensive back Richard Sherman.  Following a play that saw Sherman knock a pass away from wide receiver Michael Crabtree that not only stopped a touchdown, but essentially won the game for the Seahawks, he erupted in a post game interview with FOX Sports Erin Andrews.
Sherman tore into Crabree while shouting directly at the camera, and his comments have been met with criticism and harsh reactions from all over the country after such a high profile game ended with his on air rant.  Henderson has never been one to get involved with trash talk before or after one of his fights, but he sympathizes with Sherman's emotion and believes everyone should give the guy a break.
"Come on, it was like four minutes after he made the biggest play of his entire career, sent his team to the Super Bowl.  You could say he single handedly tipped the ball in the air and sent his team to the Super Bowl.  Of course he's worked up, he's excited, he has tons of adrenaline of emotions running through him," Henderson said.
"It's just like interviewing a fighter after a big knockout.  Of course you're going to say something silly or stupid, that's why you want to interview them afterwards.  That's why you put the microphone in front of their face right after the fight so you can get it caught on camera and have it be newsworthy or headline worthy."
Henderson is excited to see what kind of effect Sherman can have against the high-powered offense of the Denver Broncos led by multi-time MVP quarterback Peyton Manning.  He does offer up some advice to Sherman and the rest of the Seahawks rocketing towards New Jersey for the game on Feb 2.
As a former UFC champion, Henderson knows what it's like to fight on the biggest stages with everything on the line and his words of wisdom to the players from Seattle is to enjoy the moment but don't it overwhelm you.
"All I would say to the players is enjoy the moment.  Just go out there and do what you normally do.  Don't get too hyped up for it, don't get too antsy, don't get too rattled up for it.  It's definitely a big game, it's another big game in the road of big games.  Definitely treat it as such.  You've got to go out there and perform well and enjoy it," Henderson said.
"It's kind of like fighting for a world title.  Guys can go their whole careers playing in the NFL and never play for the Super Bowl.  Guys can have a nice, long UFC career and never fight for the UFC title or never win it. So that being said, enjoy it.  Go out there and do what you normally do, don't play outside yourself."
As for his own fight, Henderson is gearing up for his main event matchup this weekend in Chicago when he faces Josh Thomson (who happens to be from the Bay area and a 49ers fan) but he's planning a little side bet with another fighter who is also competing on the card.  Donald 'Cowboy' Cerrone is a native of Denver and was in attendance during the game when the Broncos punched their ticket to the Super Bowl by beating the New England Patriots.
Henderson plans on offering up some high stakes to Cerrone when he sees him this week for a little hometown pride pitting Seattle against Denver.
"I'm going to have to give him a hard time about that and we will have an epic bet for the Super Bowl.  You can believe that," Henderson said about Cerrone.
For the game itself, of course Henderson is predicting a Seattle victory but he's smart enough to know it won't be easy to get there.  He hopes the Seattle defense can 'play physical with Peyton Manning' and put him on his butt during every offensive set.  If that happens, the former UFC champion sees a Seahawks win and championship coming home to Seattle.
"Seahawks win," Henderson said.  "31-28 for Seattle."
---