For two Gators, Jose Fernandez will never be forgotten
BY foxsports • September 29, 2016
GAINESVILLE, Fla. – They have memories. So many memories.
In the darkness of their sadness, Mike Fahrman and Alex Faedo beam when they think of their friend, their former teammate, their baseball hero.
Jose Fernandez was a bright light that burned out way too soon, the youngest major league All-Star to die. The 24-year-old Fernandez was killed along with two other men in the wee hours of Sunday morning in a boating accident off Miami Beach.
The Marlins held a memorial Wednesday afternoon for Fernandez, who struck out more batters through his first 76 starts than anyone in history other than Doc Gooden and Yu Darvish. The Ravens held one Wednesday night. The Alonso High Ravens of Tampa, where Fernandez's American dream began to blossom after he escaped Cuba with his mother and sister.
Fahrman, a reserve catcher for the Gators who finished his career a few months ago, caught Fernandez for three years at Alonso. The Ravens advanced to the state championship game three consecutive times, won two.
Fahrman's first memory of Fernandez is from 2009, their sophomore year of high school. Fernandez was new to the school and was in homeroom with Fahrman.
"All of a sudden, halfway through the class, I felt a tap on my shoulder. There was this kid who was a friend of a lot of kids who played on the baseball team. He spoke English and Spanish. He says, 'my buddy over there, he says he knows you play on the baseball team and he wants to know when tryouts are.' I looked over and it was Jose, smiling like he always was. I tell him the day. He tells me that Jose says he throws in the low 90s and he knows you're the catcher. I look over there and he gives me a wink. That's the thing I always remember. He was just so confident in everything he did."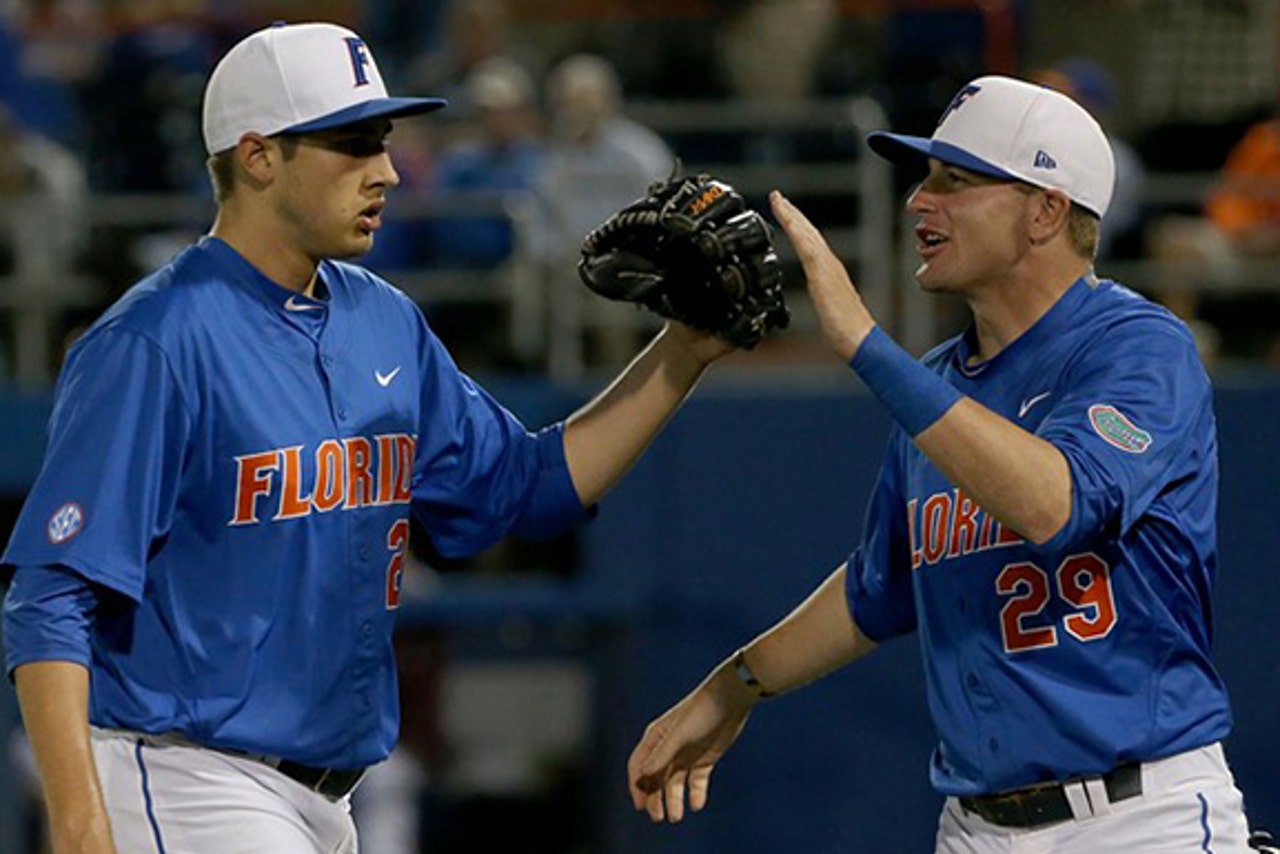 Alex Faedo (left) and Mike Fahrman were teammates of Jose Fernandez at Alonso High in Tampa.
Set to enter his junior season at Florida as one of the country's top pitchers, Faedo first met Fernandez as a seventh-grader. Landy Faedo, Alex's father, is the longtime head coach at Alonso.
In one of Fernandez's first games at Alonso, he hit a home run.
A favorite memory of Alex's.
"He was running the bases for his home run and took his helmet off and was waving it in circles around the bases the way you do playing with your friends. My dad was like, 'Jose, you can't do that here.' What do you mean? He didn't know. He just played the game so passionately."
Fernandez was a friend to everyone at Alonso. He was the star baseball player, a first-round pick of the Marlins in 2011, but he was a big fun-loving kid more than anything.
Fahrman has told this story many times, always eliciting laughs from his Florida teammates. It was just another day at school with Jose.
"I was in the principal's office for something and this girl, who was one our friends, was in there too. She had just been accepted in Yale. And then like Kramer on Seinfeld, Jose barges in. He was all riled up about his homework or something, and the principal was there. He and Jose spoke Spanish a lot. He told Jose to calm down. 'You've got to congratulate Sarah. She is going to Yale.' Jose goes, 'No, Sarah is not going to jail. Sarah can't go to jail.' We were laughing for the rest of the period."
By the time Fernandez was a senior, Faedo was a freshman teammate on the 2011 Alonso team.
They advanced to the Class 6A state semifinal game in Port St. Lucie against Park Vista, which featured a dangerous lineup that included current Washington Nationals outfielder Trea Turner. Park Vista roughed up Fernandez for 10 hits and the game was tied 5-5 in the top of the seventh when Fahrman stepped to the plate with a runner on third and one out.
He struck out with Fernandez on deck.
"I was so pissed because I thought our season was over. Top of seventh. They were the home team. When I was walking back to dugout, Jose walks by me and grabbed me by the shirt. 'Don't worry, I got this.' It's something you are not expecting to hear. He ends up hitting a home run, one of the loudest, quickest home runs I've ever seen."
Faedo remembers Fernandez's home-run trot – actually, full-blow sprint – as much as the home run.
"He sprinted around the bases so fast. He was so tired from sprinting we didn't think he was going to go back out there. But he went back out in the seventh and mowed them down and we won. That was Jose."
Fernandez was the ultimate competitor. Both Faedo and Fahrman said that everything you have read this week about Fernandez being a great teammate, a happy-go-lucky big kid who always had time for an autograph or a picture, is true.
In the offseason prior to his relocation to Miami in 2015, Fernandez would often return to Alonso and work out with the baseball team before reporting to spring training. He always had time to talk to the Ravens and help them any way he could.
Fahrman developed a close connection to Fernandez the way pitchers and catchers do. After high school, after Fernandez was named the National League Rookie of the Year in 2013, he once asked Fernandez who was the hardest batter he faced in the majors.
Cincinnati's Joey Votto was whom Fernandez said posed the biggest challenge.
Fahrman asked if Votto put fear into Fernandez.
"Mikey, I've already tried to flee Cuba. I've been in jail. That doesn't put fear into me. It's just competition, my best against his best."
One more favorite memory of Fernandez from Faedo. It happened in the 2011 state playoffs after Alonso lost in the district tournament.
"There was a time when we went to go scout out a game for the playoffs. We ended up having to play the winner because we lost in the district championship. It was us and the team that beat us, [Tampa] Plant. We're sitting in the bleachers with my dad next to the Plant coach. Jose looks over and says, 'we're going to see you guys Friday.' The Plant coach goes, 'You're not pitching Tuesday?' I'm going to throw both of them. My dad then says, 'Jose, you can't throw both of them.' No, I will. I'm going to throw 50 pitches and we're going to run-rule Sarasota. He went out there and threw 40 or 50 pitches. He threw two-seamers the whole way and we run-ruled them. He did that."
The last time Fahrman saw Fernandez was early in 2015 when the Gators played Florida Atlantic in Jupiter, where the Marlins hold spring training. Fernandez stopped by Florida's dugout prior to the game and talked to the players and coaches.
He never expected it to be the last time. Faedo remembers the night well, too.
As Fernandez developed into one of baseball's top young stars, his former high school teammates watched every time he pitched if they could.
He was just Jose to them.
Both woke up to the terrible news on Sunday morning. Fahrman got a text from former UF teammate Shaun Anderson and turned on ESPN and immediately was stunned. Faedo did the same.
On a dark night in a boat, the bright light they considered a friend left too soon.
Faedo and Fahrman have so many memories. Fernandez is gone, but those memories remain.
"He brought out the best in people. He opened my eyes to being the biggest competitor on the field,'' Faedo said. "He had fun with it. I probably don't show as much good emotion as him, but he always taught me it's not bad to show emotion. Just go and compete the hardest you can. It makes the game fun. Always in the back of my mind, especially once I got [to UF], I felt like I kept getting better every day. I always felt like I'm going to see him again and see that smile on the field. It's just sad that's not going to happen."
Fahrman is back in Tampa and will be at Alonso tonight to honor Fernandez at a candlelight vigil on the school's baseball field.
A message board in front of the school reads: "In Memory of Jose Fernandez. Fly High and Soar Proudly."
"I'm sure it will be very sad. I just wish he would have been able to finish his career. It would have been a great one," Fahrman said. "I just wish more people would have been able to meet him and know what kind of person he was. He just lit up a room."
Sometimes with a wink.
---
---