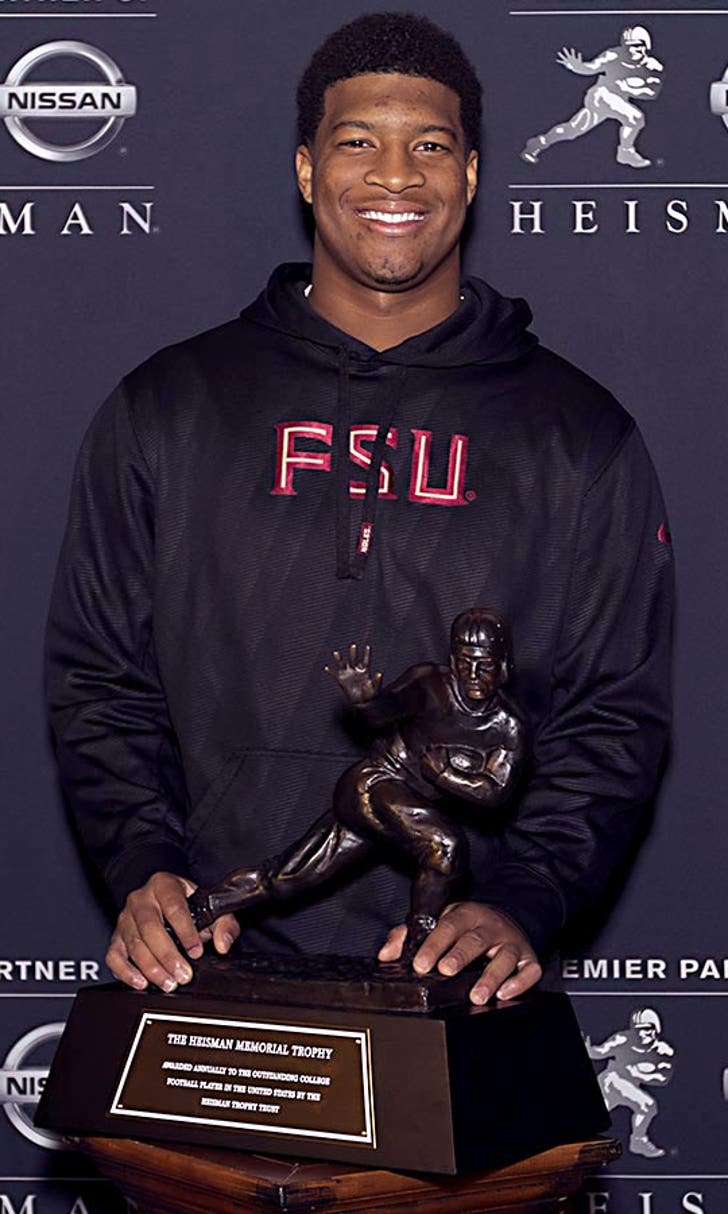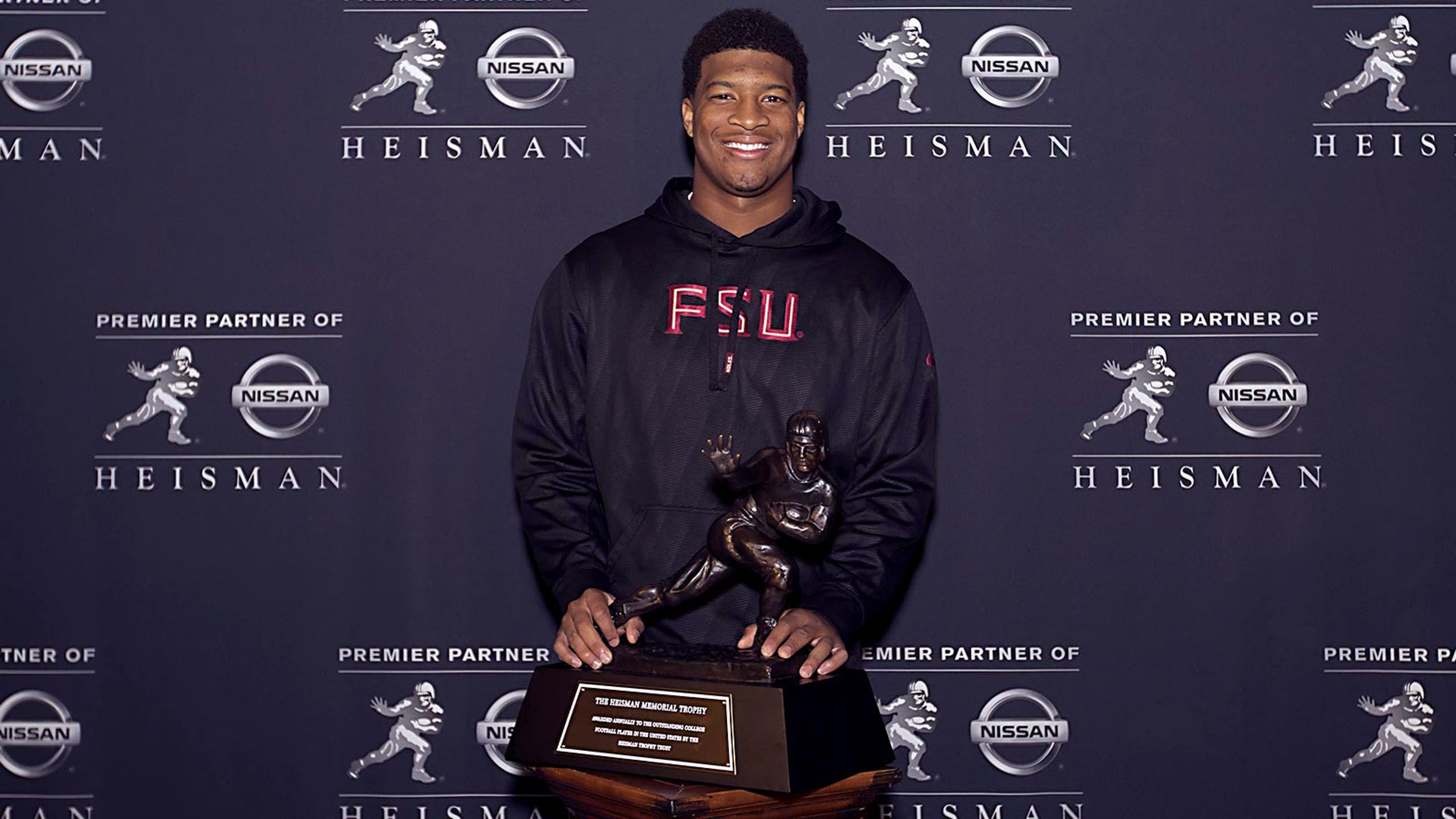 Florida State's Jameis Winston on the Heisman Trophy bubble
BY foxsports • December 8, 2014
TALLAHASSEE, Fla. (AP) -- Florida State quarterback Jameis Winston has won a national championship, the Heisman Trophy and every single game he's played in college.
Now he's waiting to see if he gets an invitation to this year's Heisman ceremony.
There are questions whether Winston will be among the finalists that will be announced Monday for this year's award after a roller-coaster season that included a game suspension and student code of conduct hearing.
The Seminoles have won 27 consecutive games since Winston was named the starter before the 2013 season. He led them through a season of close games this year, and the team has a spot in the first college football playoffs. But Winston's candidacy may hinge on how voters feel about his off-field distractions.
Winston completed a university hearing this week to determine whether he violated any or all of four sections of the code of conduct -- two for sexual misconduct and two for endangerment.
He was not arrested and a prosecutor declined to file charges last December, citing a lack of evidence -- and that was before he was named the 2013 Heisman winner.
"If you're talking about the best player in college football, he should be in the conversation," NFL Media Analyst and former scout Bucky Brooks said. "The things that hurts Jameis' Heisman (consideration) is the off-the-field stuff. The number of turnovers that he's had this year compared to last year, it's hard to say he's playing better than he did the previous year, which makes it hard to throw him in the conversation."
If Winston does make the cut, and wins the award, he would join Archie Griffin as the only repeat winner of college football's most prestigious individual honor.
Here's what to know about Winston's Heisman finalist chances:
UNQUESTIONED IMPACT: Winston has played in 27 games and has walked away victorious in each. He was named the Heisman winner and led Florida State to the national championship a year ago. His numbers have dropped, but the Seminoles have not lost a game despite losing an NFL rookie of the year candidate receiver, a center starting for the New England Patriots and a running back now playing for the Atlanta Falcons.
CHARACTER QUESTION: The Heisman Trust mission statement says, "The Heisman Memorial Trophy annually recognizes the outstanding college football player whose performance best exhibits the pursuit of excellence with integrity." He is involved in a university student code of conduct hearing stemming from a sexual assault allegation. He was suspended for the Clemson game after making "offensive and vulgar" comments about women. The two-sport star also was suspended three baseball games following a shoplifting incident after he walked out of a supermarket without paying for $32 worth of crab legs and crawfish. He was issued a civil citation and completed 20 hours of community service.
IMAGE PROBLEM: Winston's off-field reputation has resulted in him being linked to several reports of wrongdoing, though many haven't been proven. There were reports indicating Winston may have been involved in a point-shaving scheme and or selling autographs during the season, though no legal action was taken against Winston. He was also criticized after he pushed an official during a game, but was not flagged or reprimanded by the ACC.
STATISTICALLY SPEAKING: Winston completed 66.9 percent of his passes in 2013 for 4,057 yards, 40 touchdowns and 10 interceptions. The touchdowns and yardage set national freshman records. He has completed 65.4 percent of his passes in 2014 for 3,559 yards (ninth-most in the country), 24 touchdowns and 17 interceptions. But the Seminoles rushed for 2,844 yards in 2013; this year 1,753 -- with 360 of that coming the last two weeks.
ELITE COMPANY: Winston is the 14th player to win the Heisman and return to play the following year. Griffin is the only player to walk away with the trophy in back-to-back seasons and only four winners did not finish in the top 10 of the voting the next season: Ohio State's Vic Janowicz (1951), Navy's Roger Staubach (1964), Oklahoma's Sam Bradford (2009) and Alabama's Mark Ingram (2010). Bradford suffered a knee injury that cut short his Heisman defense.
---