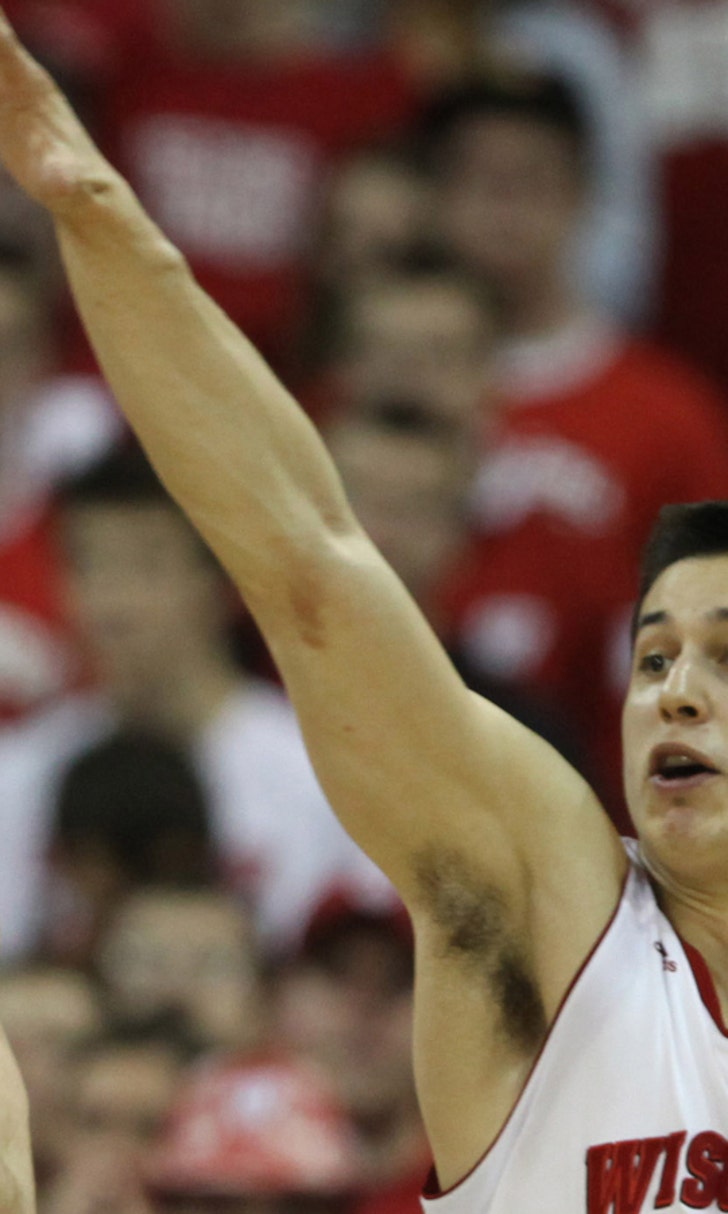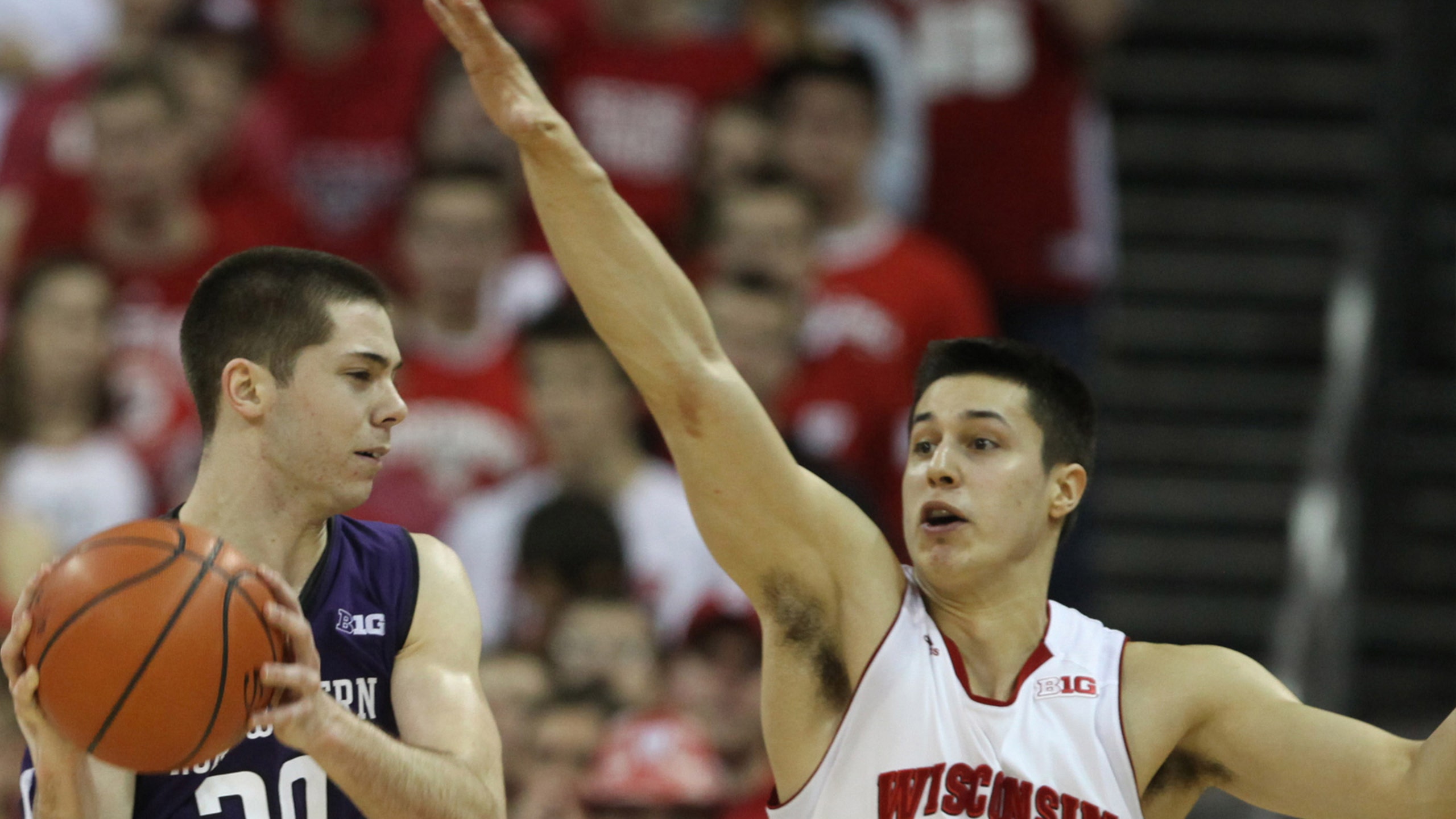 Fifth-ranked Badgers use balance to ease past Wildcats
BY foxsports • February 7, 2015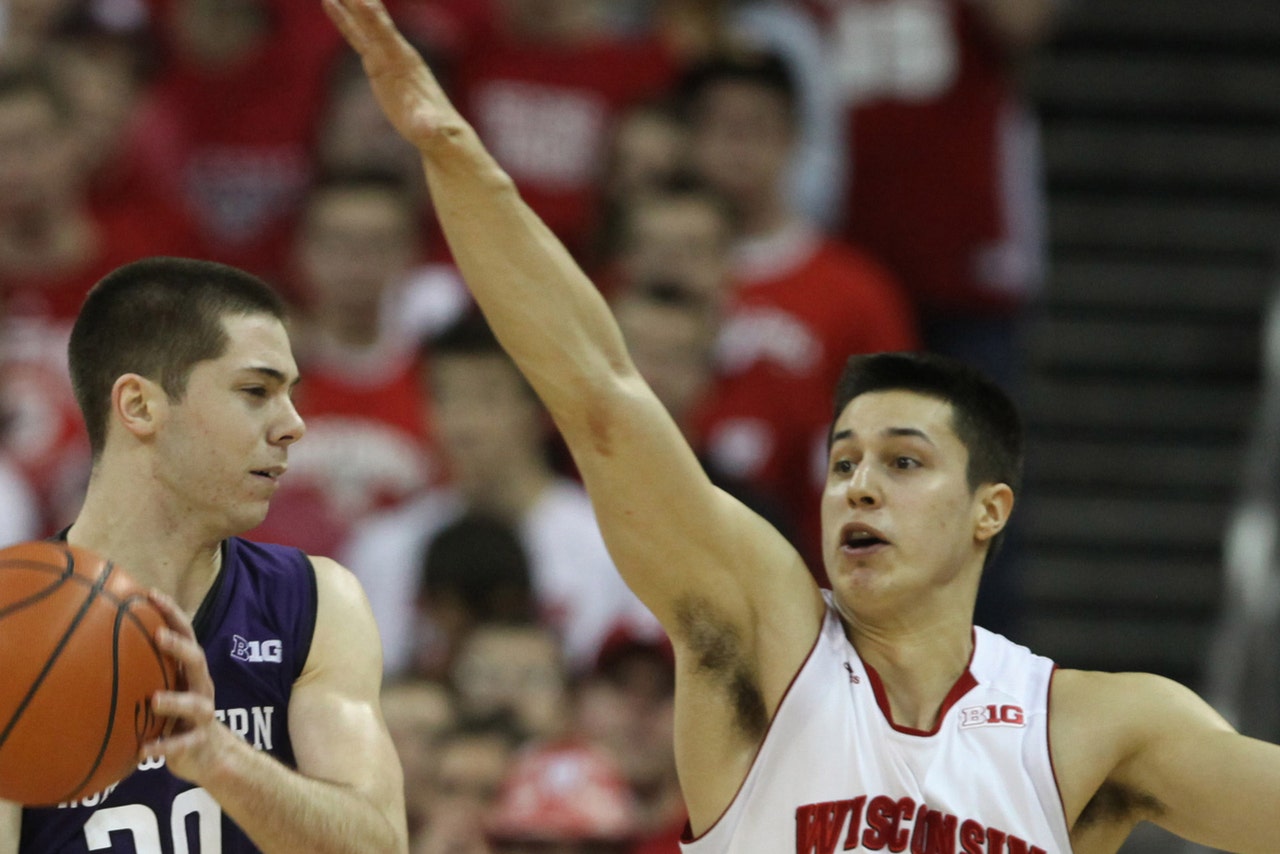 MADISON, Wis. -- Wisconsin's basketball team is playing at such a high level that opponents often have to make difficult decisions about which players to negate. Pick a guard, and the Badgers' frontcourt will own the paint. Pick a post, and the team's guards will bury shots from the perimeter.
Northwestern does not have the talent, depth nor experience to compete for 40 minutes against Wisconsin. So Wildcats coach Chris Collins dumped a 2-3 zone on the Badgers in the hope that packing the paint would slow national player of the year candidate Frank Kaminsky.
It did. And it didn't matter.
No. 5 Wisconsin handled Northwestern 65-50 on Saturday afternoon at the Kohl Center during a workmanlike performance in which the Badgers never really were seriously threatened despite the Wildcats staying competitive until the end.
Victories have come this season in small places for Northwestern (10-13, 1-9), which could take solace in knowing it held Kaminsky to his fewest number of shots this season: seven. Kaminsky finished with 12 points, seven rebounds and five assists anyway, but the performance of his teammates showed why this year's Badgers group is a true contender for a national championship.
Badgers point guard Bronson Koenig scored a career-high 16 points while connecting on four 3-pointers. He was joined in double figures by Sam Dekker (16 points), Kaminsky (12 points) and Nigel Hayes (11 points). Josh Gasser, who set a program record by making his 127th career start, added eight points and a team-best nine rebounds.
"That's what makes us so good," Gasser said. "Northwestern, that's pretty much what they wanted to do is just get the ball out of Frank's hands. Not let him touch it. Smart. He's a heck of a player. But that's what shows how good of a team we can be offensively.
"I think we had 1.2 points per possession. It didn't really seem like that, but that's good. Sam stepped up big. Bronson. Look at their numbers. They played really well. So that just shows the type of guys we have around Frank. Obviously, we're better when he plays well, but other guys can step up, too."
Wisconsin (21-2, 9-1) equaled the best 23-game start in school history and appears primed to make a second straight run at the Final Four. The Badgers also matched the program's best conference start since 1914. In those 101 years, UW has won nine of its first 10 conference games just eight times, including three times under coach Bo Ryan (2007, 2008, 2015).
UW established a 21-4 lead on Vitto Brown's jumper with 11:25 remaining and seemed headed for a 30-point blowout before Northwestern battled back. NU trimmed its deficit to eight points (25-17) on Bryant McIntosh's first-half jumper, but Wisconsin closed on a 12-4 run to take a 37-21 halftime lead. Northwestern did not creep closer than 11 points in the second half.
Badgers players passed the ball around so everyone on the floor touched it against Northwestern's zone and often converted an open bucket after the most miniscule of Wildcats defensive breakdowns. A Koenig 3-pointer from the top of the key. A Kaminsky spinning jumper in the lane. Two Dekker dunks.
Long shots also led to long rebounds, and Wisconsin's rebounding advantage (39-25) tied for the largest discrepancy for UW this season. Wisconsin had four players record at least seven rebounds. No Northwestern player tallied more than five.
"They did a good job of taking some things away," Ryan said. "But we were patient. And the way we were taking the clock down, for them to make a comeback, you can make a comeback of six, seven points. But to make a comeback of 15 with how much time we were using on our possessions, that's what we were trying to do."
Wisconsin ranks first nationally in adjusted offensive efficiency, which measures points per 100 possessions, the quality of opposing defenses, the site of each game and when games were played. A big part of that success stems from the way in which every starter in the rotation can score. All five starters rank in the top 12 in the Big Ten in offensive efficiency. And Wisconsin's 1.22 points per possession this season is on pace for the best mark in Ryan's 14-year tenure.
"The way we move the ball and share the ball with one another and get open shots, I think it shows we're a very unselfish team that's capable of knocking down shots," Hayes said.
If there is any cause for alarm with this year's Wisconsin team, it could be the Badgers' propensity to not put teams away after establishing large leads. Wisconsin blew a 12-point halftime lead in a loss at Rutgers on Jan. 11. Indiana trimmed a 32-point deficit down to 12 on Tuesday, and Northwestern cut a 21-point lead down to 11 in the second half Saturday.
"It can be tough when we're up 20, 25 points to maintain that focus," Gasser said. "Once tournament time starts, you can't slip up on any possession."
Still, that complaint seems to be small peanuts for a group with a two-game Big Ten lead whose offensive arsenal is as good as any team in college basketball.
Follow Jesse Temple on Twitter
---