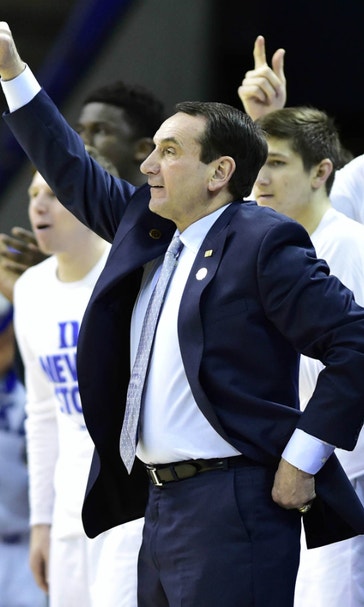 Coach K: Blue Devils should live in the moment, ignore mounting pressure
BY foxsports • March 25, 2015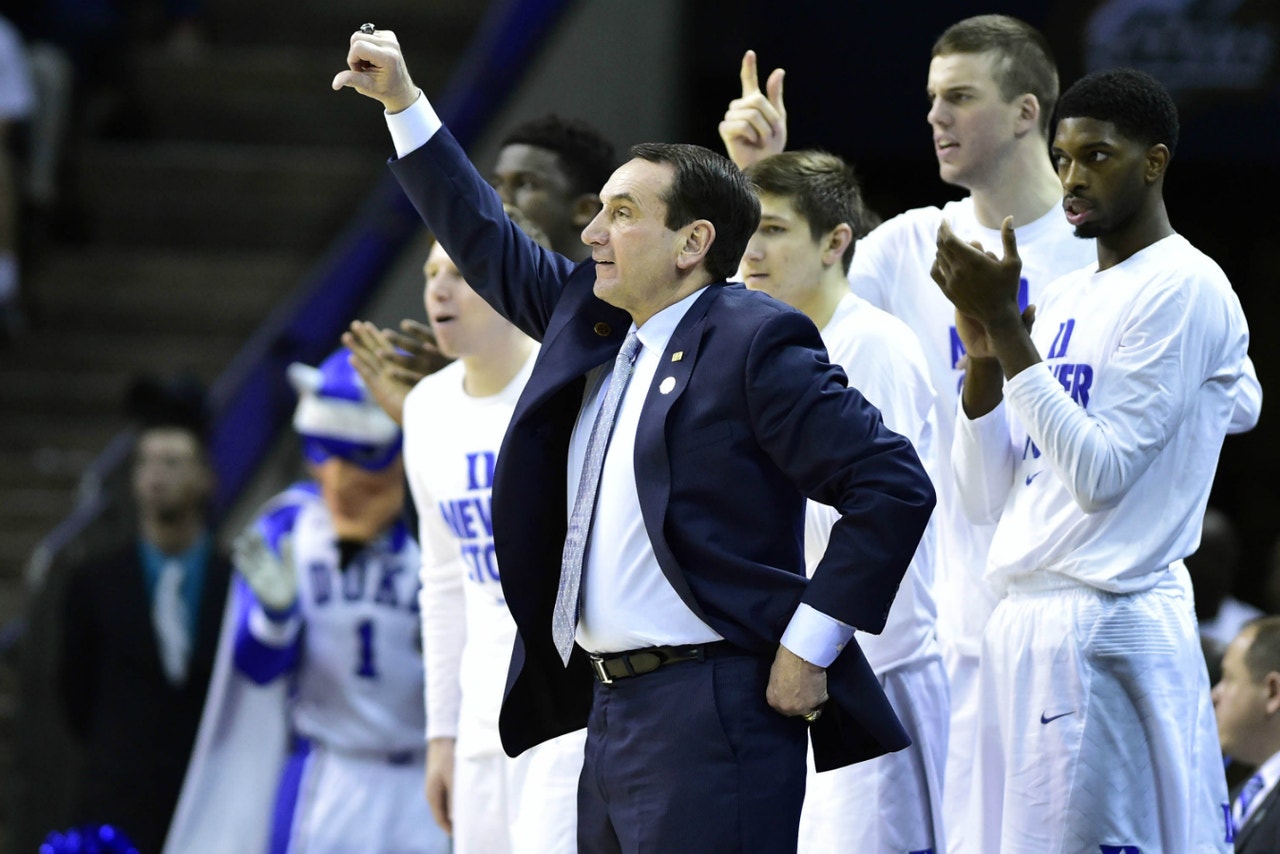 The NCAA tournament is all about the underdog. The joy that America feels collectively when the so-called Cinderella wins, defeating the odds to topple the big dog.
It puts the uniqueness into March Madness.
When that happens, there's a team on the other side of it, typically not remembered sympathetically, or even at all. We don't care as much when the camera zooms in on a sobbing player on the favored team as his season -- sometimes even his career -- comes to an abrupt and unexpected end.
They're not part of the story. Unless, of course, they're Duke, or a tiny handful of storied programs. Then, there's almost a collective reveling in the Blue Devils' failure.
Schadenfreude at its finest.
The Blue Devils last won a national title in 2010, and that team was as close to an underdog as you'll find -- although few embraced Duke in that way.
The Blue Devils have been to a Sweet 16 and an Elite Eight since that championship. But first-round losses to Lehigh (2012) and Mercer (2014) remain punch lines for opening-weekend flops.
Head coach Mike Krzyzewski collected his 1,000th career win this season (against St. John's), giving America a chance, maybe, to enjoy this particular Duke team.
Krzyzewski clearly likes this group very much, a collection of kids who enjoy each other's company. There are multiple future pros on this top-seeded Duke squad -- Jahlil Okafor and Justise Winslow are seemingly locks for the next level.
"We've been to 14 out of 18 Sweet 16s. People say, 'OK, they're supposed to do that.' Well, not many people do that. You've been to 11 Final Fours. You've won four national championships. Don't try to be that, either. Be who you are right now," says Krzyzewski.
After last season, Krzyzewski admitted some distraction from the court, following the death of his brother. But during an offseason press conference, Coach K felt the freshmen coming in would be really special.
Okafor has been spectacular, Winslow rebounded after a slow start and Tyus Jones, the freshman point guard, has been at his best when the lights are brightest.
Plus, senior leader Quinn Cook has been this club's heart and soul. He could have been envious of Jones and the freshmen; instead, he's been their emotional rock and best friend.
But things will soon go up a notch.
Duke's next two potential opponents are Utah (one of four remaining teams from Ken Pomeroy's top-20 rankings for offensive/defensive efficiency) and 2 seed Gonzaga (34-2) -- the latter likely a loss removed from a No. 1 seed.
Utah is actually a spot below Gonzaga in Pomeroy's overall rankings -- in spite of the substantially lower seed.
The Blue Devils demolished their opponents in Charlotte last week, though, and looked as scary as any team left in the field. Okafor's numbers were gaudy, but Winslow was especially ridiculous -- averaging 9.5 points, 11.5 rebounds, 6.0 assists, 2.0 blocks and 2.0 steals for the weekend.
"His performance against San Diego State offensively and defensively, it's a separator if you can get that," Krzyzewski said. "We're more accustomed now to having that small lineup in where Justise is at the 4. But we tried it at (North Carolina State on Jan. 11), and Justise wasn't ready yet. Also, that was a time where he'd had some injuries, so he wasn't fluid yet. Then we came back to it."
Winslow has been dealing with shoulder and rib issues this season, sometimes cutting into playing time. But he's clearly feeling better now.
Since the dismissal of Rasheed Sulaimon back in late January, this Duke team has rallied around each other. It's not necessarily because of that, but it's a consequence of it.
There are only eight scholarship players left, and each one has to play well this weekend at some point for Duke to advance to the Final Four.
"Every team should, but this team has kind of evolved. It's been really good, but it's evolved. We're playing our best basketball now, and we got better in Charlotte," Krzyzewski said.
"Hopefully we can win Friday, and hopefully we get a chance to win on Sunday and if we do, I think we can -- if we stay healthy -- this team can get better is what I'm saying. We've got to keep playing in order to get better."
Krzyzewski looks realistically at his teams before and during the year, evaluating them to see if they have a chance to win it all.
When asked if this squad can win the title, Coach K said yes. But in his mind, the same also holds true for the other remaining ACC teams (North Carolina, Louisville, NC State, Notre Dame).
He just doesn't want his team to be haunted by the past.
During the win over Robert Morris on Friday, Duke had withstood a run by the Colonials and pulled back ahead by 20 in the second half.
During a TV timeout, in a move that was surely unintentional, someone from the NCAA decided it would be a good idea to play highlights of Duke's loss to Mercer last year.
The crowd booed. The players noticed. The families of the players noticed. It was like that shadow was something the Blue Devils couldn't escape -- similar to how Duke cannot escape the shadow of its national titles and Final Four berths.
This Duke team doesn't live in either realm.
"I just think they shouldn't be (held to high standards of seasons past), they should be enjoyed. They should be followed. I'm not saying that they've been in some wringer or anything. ... People get caught up in what happened before if it was negative, and what should happen because we're Duke, instead of just enjoying. ... I just want them to be in their moment," Krzyzewski said.
And so late in the San Diego State game, with his team up by 20 points, Coack K addressed his team in the huddle. "We're going to Houston," he told them, grinning. "We're going to Houston!"
"All of a sudden, you could see them just smiling and put their arms around one another. It was really good. It was really good. Instead of, 'You're expected to go to Houston! You're expected to go to the Final Four! What about Mercer?' Like, come on.
"That's what I've tried not to have, and that's why. I just want them to live in their moment, man. It's a cool moment to be in."
At times last season, Krzyzewski seemed exhausted and overwhelmed. This season, he's seemed reinvigorated, constantly tweaking things as big as adding a zone defense ... or as small as what time they practice or eat or head over to the stadium for each game.
Whether Krzyzewski likes it or not, this team will be an overwhelming favorite. Fair or not, No. 1 seeds are supposed to advance past this weekend.
It's clear that whatever happens, though, Krzyzewski will be at peace with it. Because unlike last season, Coach K has done all he can to help this team achieve its potential.
And for the most part, it hasn't even seemed like work for the 68-year-old.
"(It's) just great, how much fun they are," said Krzyzewski of his team's refreshing outlook. "Just play for this year. Play for this year. That's the only thing they can really relate to, man. So why not let them do that?"
---