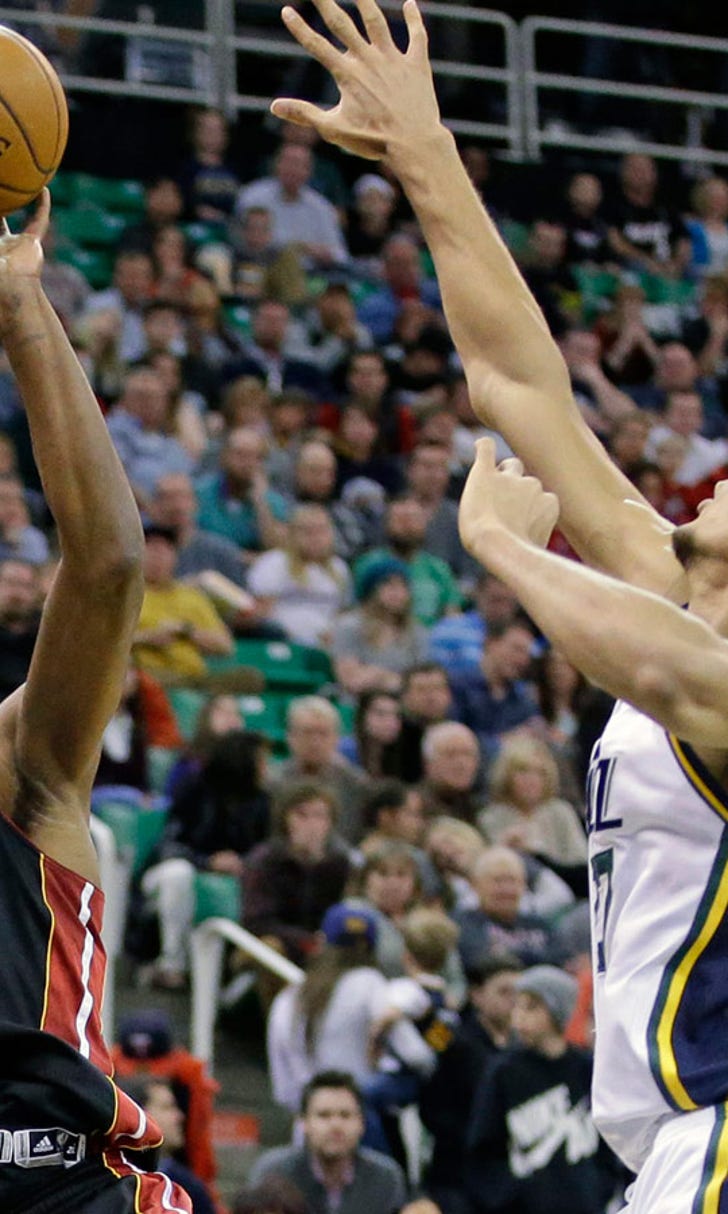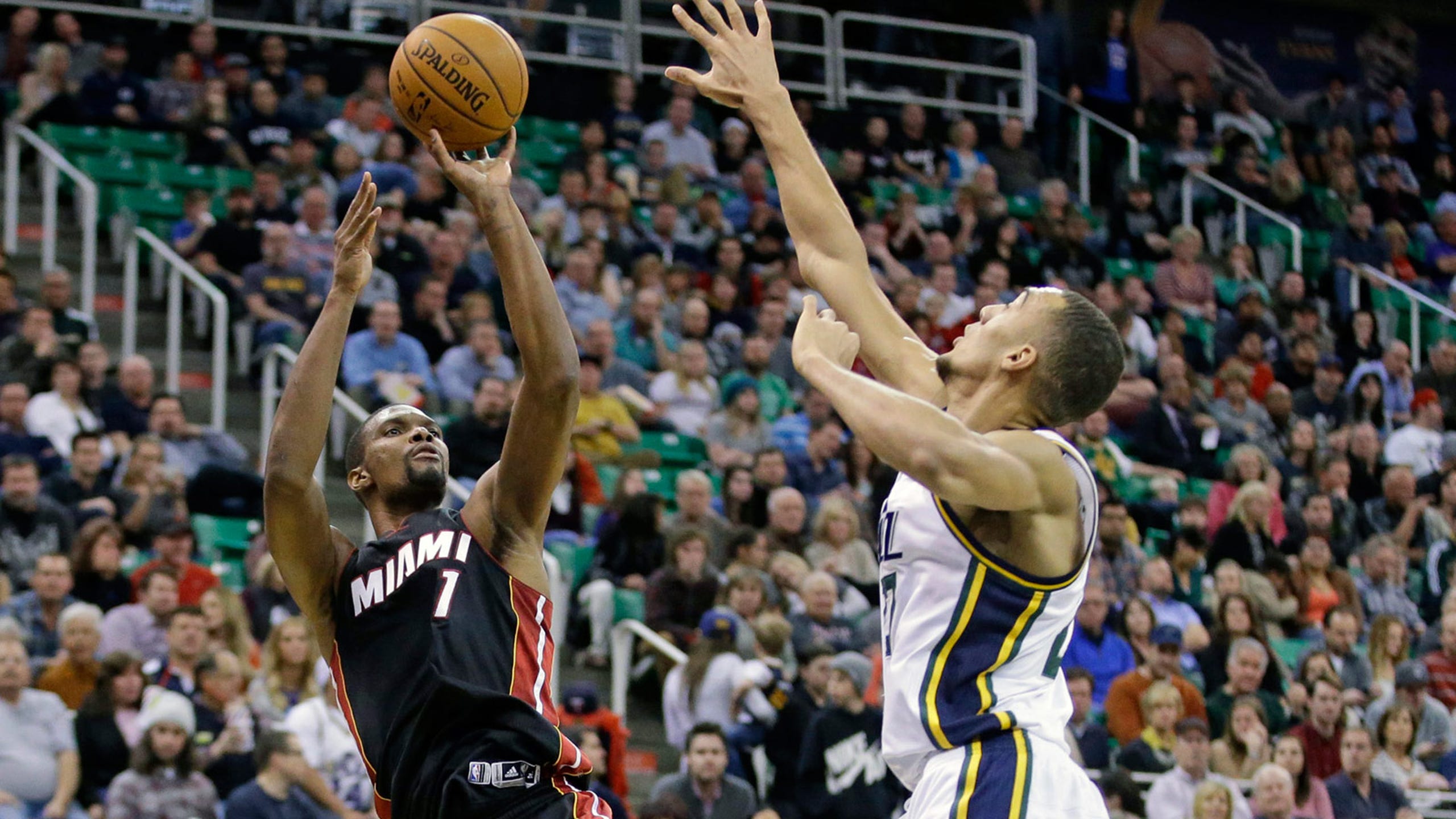 Chris Bosh, Dwyane Wade lead way as Heat hold off Jazz
BY foxsports • December 12, 2014
SALT LAKE CITY (AP) -- At 3 p.m., the training staff told Miami coach Erik Spoelstra that Dwyane Wade was sick and probably would not be able to play.
A few hours later Wade was in the Heats starting lineup ready to go.
Wade had only eaten half a bowl of chicken noodle soup in the past 24 hours but summoned the energy to score a season-high 29 points, including three free throws in the final 9 seconds, to help Miami beat the Utah Jazz 100-95 on Friday night.
"He dug deep tonight. We all just appreciated that he was just out there with his spirit but then to have a game like that was tremendous," Spoelstra said.
Wade made 10 of 16 shots and recorded seven assists, despite his illness.
"You don't ever want to be sick at all, but I do know when you have an injury or if you're sick, it makes you focus a bit better," Wade said.
Chris Bosh had 22 points and Luol Deng added 14 for the Heat, who closed a five-game road swing on a winning note after losing five of their previous six.
Enes Kanter scored 25 points, Gordon Hayward had 18 and Alec Burks 16 for Utah, which has lost 10 of its last 11 games.
Wade's final free throw attempt with 5.2 seconds remaining rimmed out, leaving the score 98-95 and giving the Jazz a chance to tie. However, Joe Ingles failed to get the ball inbounds within 5 seconds after a time out, turning the ball back over to the Heat.
"I knew they were trying to go to Hayward at the top of the key. I just wanted to be on top of him and change his route so he'd be in the 2 area, instead of the 3. As soon I saw them line up, we knew the play and put ourselves in position to stop it," Deng said.
Norris Cole was then fouled and made both free throws with 2.1 seconds remaining for the final margin.
Bosh broke a nearly 4-minute drought with a jumper at the 58-second mark to put Miami in front, 95-89.
"We felt like we could salvage the road trip with a solid win tonight but we knew it wasn't going to be easy. Defensively, we answered the bell," Bosh said.
The Heat had to overcome a rare out-of-bounds travel by Deng and four quick points by Hayward along with a layup by Rodney Hood before the last-gasp inbounding gaffe.
After the Jazz trimmed the edge to one point in the fourth quarter, Wade and Mario Chalmers made back-to-back 3-pointers to put the Heat back in command until the final minute.
Down by 16 points in the third quarter, the Jazz stormed back behind the slim, shot-blocking combo of Jeremy Evans and Rudy Gobert. Dante Exum's 3-pointer at the end of the period completed a 15-3 run and closed the gap to 78-74.
Wade had scored 20 or more points in nine consecutive games but then had two subpar outings, before the outburst against the Jazz.
"Why shots started falling now, when I felt bad, no one knows," Wade said.
Early on, the Heat encountered little resistance to their drive-and-dish offense, which produced open shots in the first half. Miami shot 63 percent and led 62-47 at the break.
"We are getting a slow start and playing catch up. We have enough talent to beat every team in every quarter. But it's tough," Kanter said.
The Heat finished 50 percent from the field.
TIP-INS
Heat: Miami's 62 first-half points were the most the Heat have scored in an away game this season and the 63 percent shooting was the best of any half. ... Starting PF Josh McRoberts missed the game with a bruised right knee and Chris Andersen was out with a sprained right ankle. ... Justin Hamilton, who played high school in Utah, filled in for McRoberts and had nine points, including two key baskets in the fourth quarter.
Jazz: Favors limped off the court for the locker room after twisting his right ankle in the first quarter and did not return. The Jazz have gone 0-10 without Favors in the lineup over the past two years. ... The Jazz outrebounded the Heat 44-35. ... Without Favors for much of the game, Gobert posted a season highs in rebounds (11) and career highs in blocks (5) and assists (4).
UP NEXT
Heat: Host Chicago on Sunday.
Jazz: At Washington on Sunday.
---