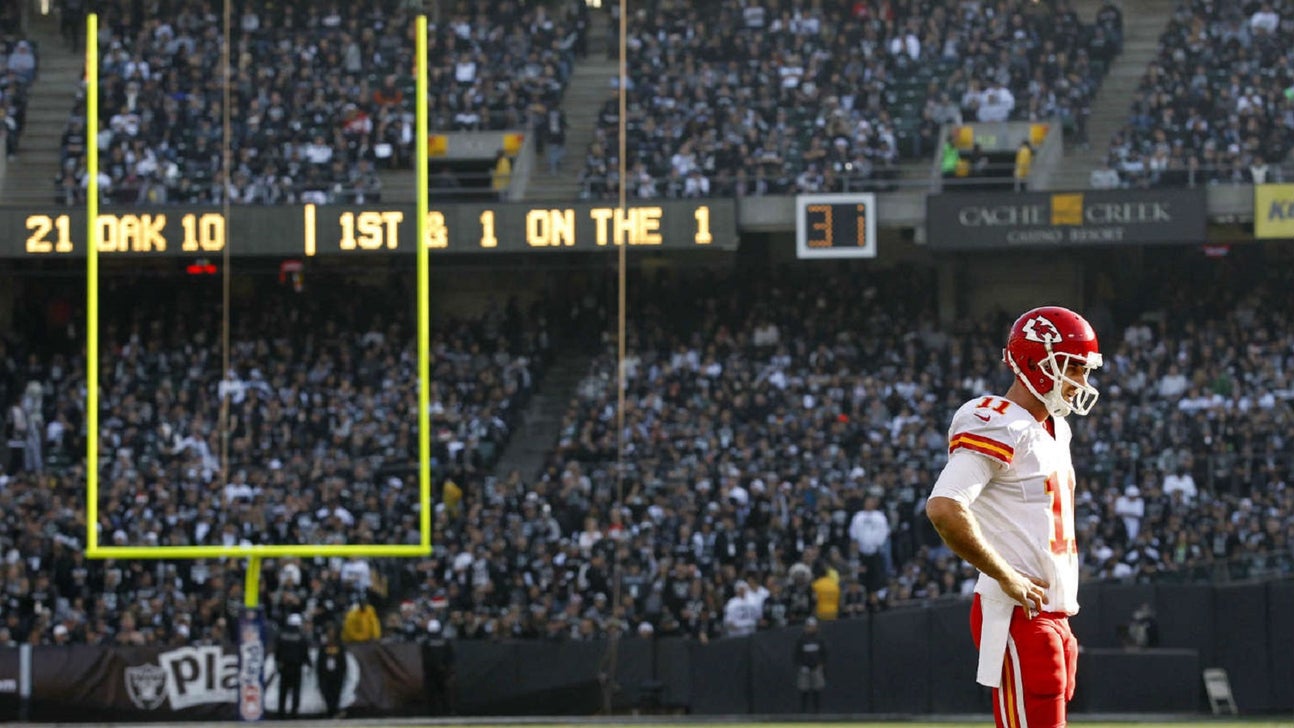 Chiefs' Alex Smith doesn't have to apologize for a 'perfect' passing day
Published
Dec. 15, 2013 10:00 p.m. ET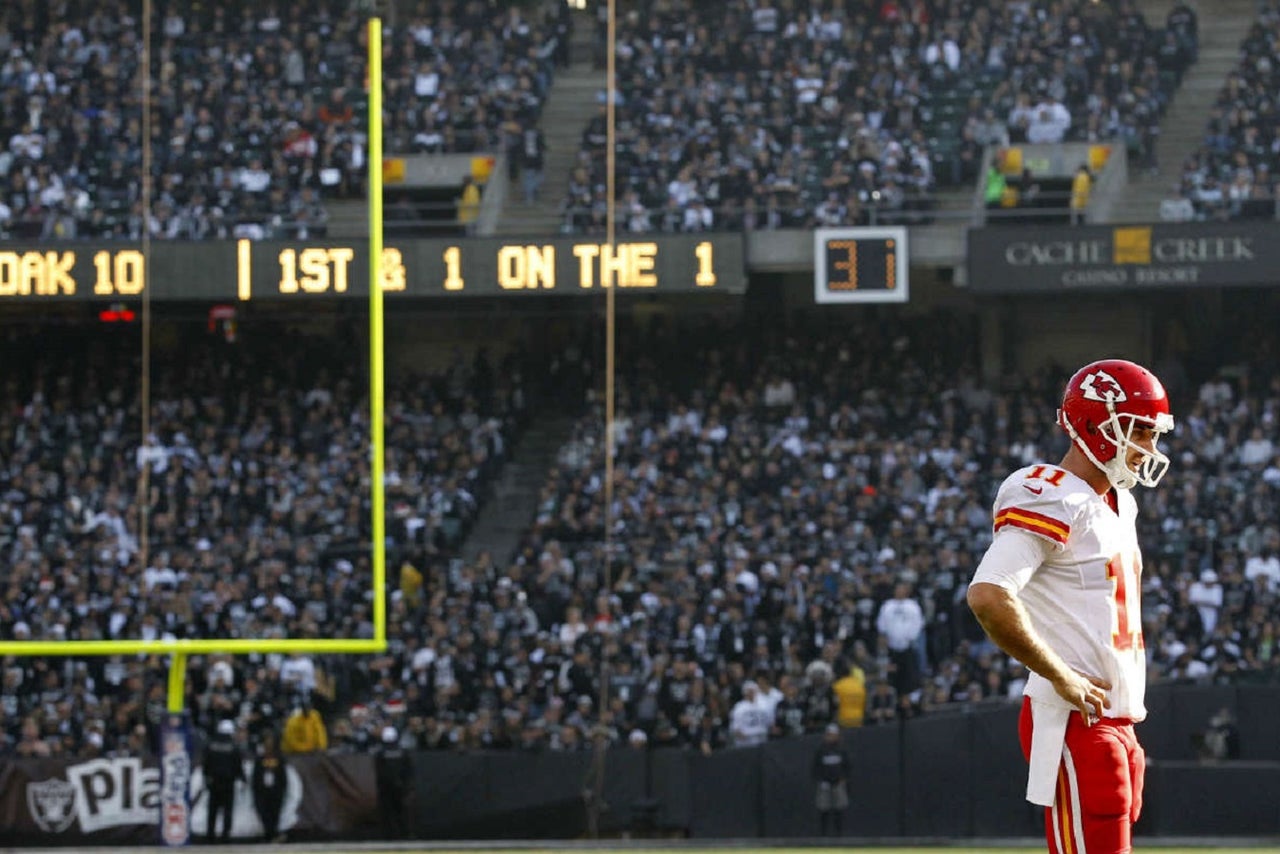 Even when Alex Smith wins, he loses. Take Sunday. The Kansas City Chiefs suplexed Oakland, 56-31, at the O.Co Coliseum, or whatever they call it when sewage isn't flooding the place. Smith threw five touchdown passes in the effort, a new career high.
Of those five, four of them went to all-world tailback Jamaal Charles. Of those four, two of those came on screens that were absolutely, positively textbook.
A few hours later, an Associated Press reporter tweeted this:
Alex Smith's 5 TD passes traveled a combined 13 yards downfield
And the haters laughed again.
History will recall Charles as doing the heavy lifting Sunday. But what history won't tell you, unless you read the fine print, was that No. 11 spotted him much of the way.
The line: 17 completions on 20 attempts for 287 yards and five touchdowns. The passer rating: 158.3.
In other words, perfect.
According to Pro-Football-Reference.com, in Chiefs franchise history, only two other men have ever registered a 158.0 rating or higher in a single game before Smith on Sunday: Len Dawson, twice (158.3 vs. Denver, Sept. 7, 1963, and 158.0 vs. Houston, Nov. 28, 1965), and Trent Green once (158.3 vs. Detroit, Dec. 14, 2003).
That's it.
Yes, among the myriad of goofy official NFL statistics, the passer rating is among the goofiest. Like ERA or batting average in baseball, it's been supplanted, over the generations, by better metrics. Not all "perfect" games are created equal, even though the Chiefs have now only seen three of them over the past 50-odd seasons.
But to somehow throw that back in the face of Alex Smith isn't clever. It's spiteful.
The perception is that Smith is a dink-and-dunk artist. The reality is that people focus too much on the "dink-and-dunk" part of the equation and not enough on the "artist" part.
The perception is that coach Andy Reid's passing game is three-yards-and-a-cloud-of-dust, but the reality is that the Chiefs went into the weekend ranked 14th in the NFL in average yards after catch -- YAC -- per reception (5.62). According to the website SportingCharts.com, Smith came out of that Washington rout in Week 14 ranked fifth among NFL starting quarterbacks in terms of highest percentage of YAC yards relative to total passing yards (53.4).
No. 6? Aaron Rodgers (53.1 percent).
No. 7? Matt Ryan (53.0).
No. 8? Andy Dalton (51.8).
And yet because it's Alex Smith, the guy Jim Harbaugh gave up on, so when he produces one of the greatest single most efficient passing games in the past five decades of pro football, there has to be an asterisk.
Or a footnote.
Or an apology.
Or a snicker.
Over his past four contests, Smith has averaged 253 passing yards, completed 69.2 percent of his throws, and posted a touchdown-to-interception ratio of 12-to-2. His Chiefs have averaged 41.8 points over the last month.
Who's laughing now?
"I didn't do much," Smith told reporters after the game. "I mean, three screens for touchdowns. I've never been a part of anything like that or seen that."
Doubt, of course, he's seen plenty of. The Chiefs (11-3) are a good story, and Smith has been one of its central players, through thick and thicker. Ultimately, though, he will be judged -- or redeemed or cursed -- by January. He knows this. Reid knows this. Warpaint knows this. The candy wrapper in the stairwell knows this. It's not fair, it's not kosher. It just is.
What pitching is to The Show in October, signal-callers are to the NFL in January. If the Chiefs should leave the AFC's postseason party after one game (again), out will come all the "Smith-is-just-a-game-manager" labels (again) -- and that'll be among the nicer things that get tossed into the ether. The radio types will call him a passenger on the S.S. Reid, insist that No. 11 just piggybacked his way into the postseason party on the backs of a historically salty defense and Charles' mighty cleats.
The truth, as it often is, is more complicated than that. In his past 39 starts, the teams he's quarterbacked have gone 30-8-1. When he needed to get out of the way, he got the hell out of the way. When he needed to be good, he was good. When he needed to be perfect, he was perfect.
Without Alex Smith, there is no January football for the Chiefs. Period.
Tweet that.
You can follow Sean Keeler on Twitter (@seankeeler) or email him at seanmkeeler@gmail.com.
---