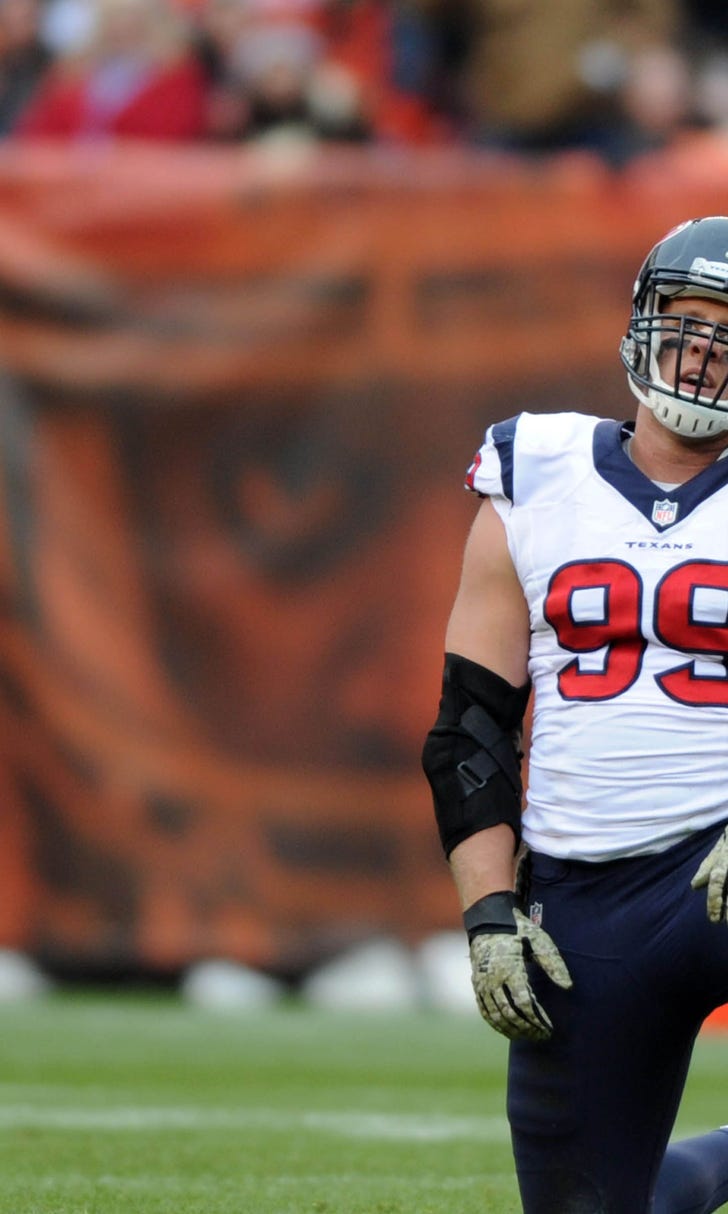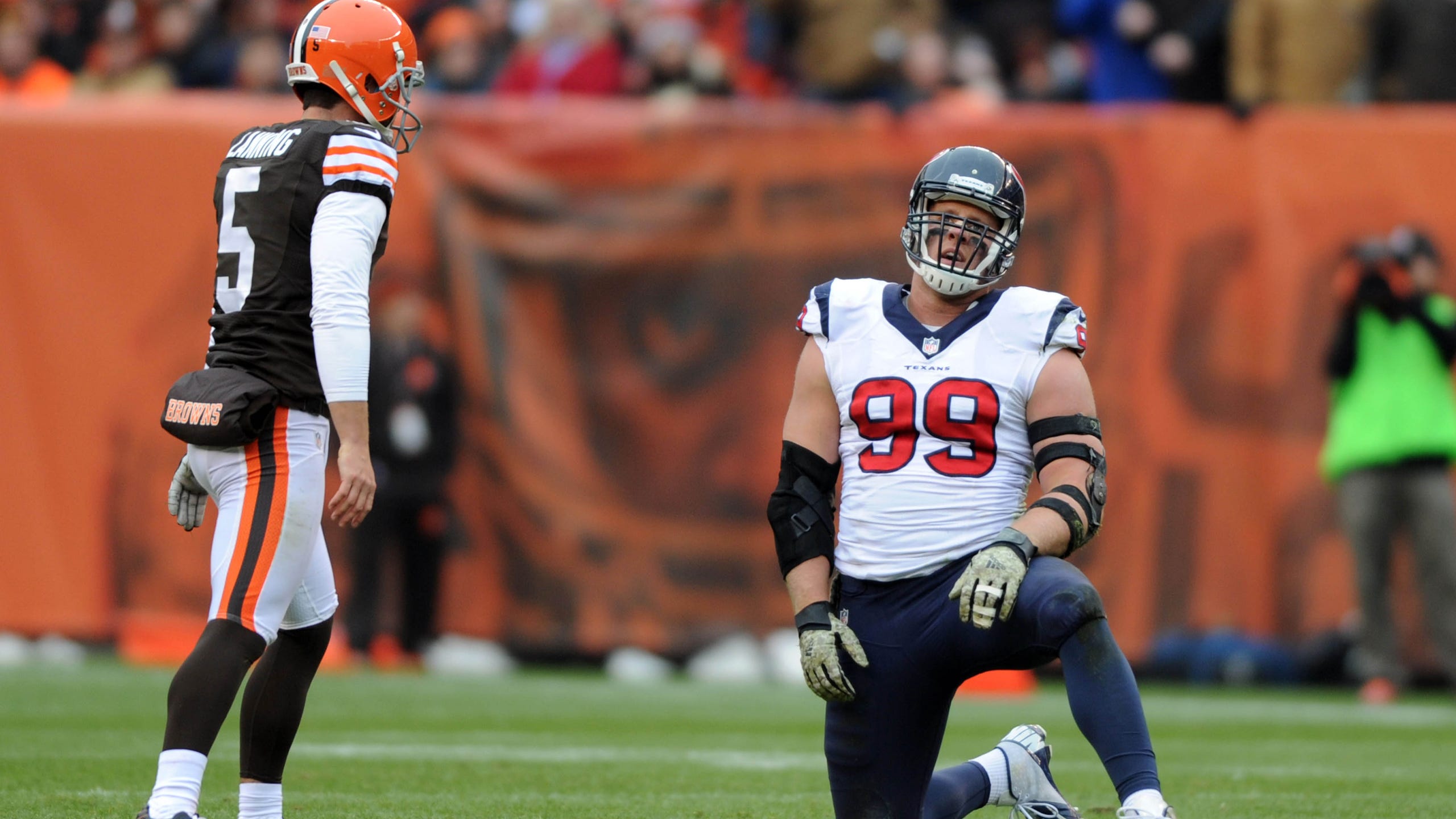 Browns punter suggests Watt was intentionally too aggressive in block attempts
BY foxsports • November 17, 2014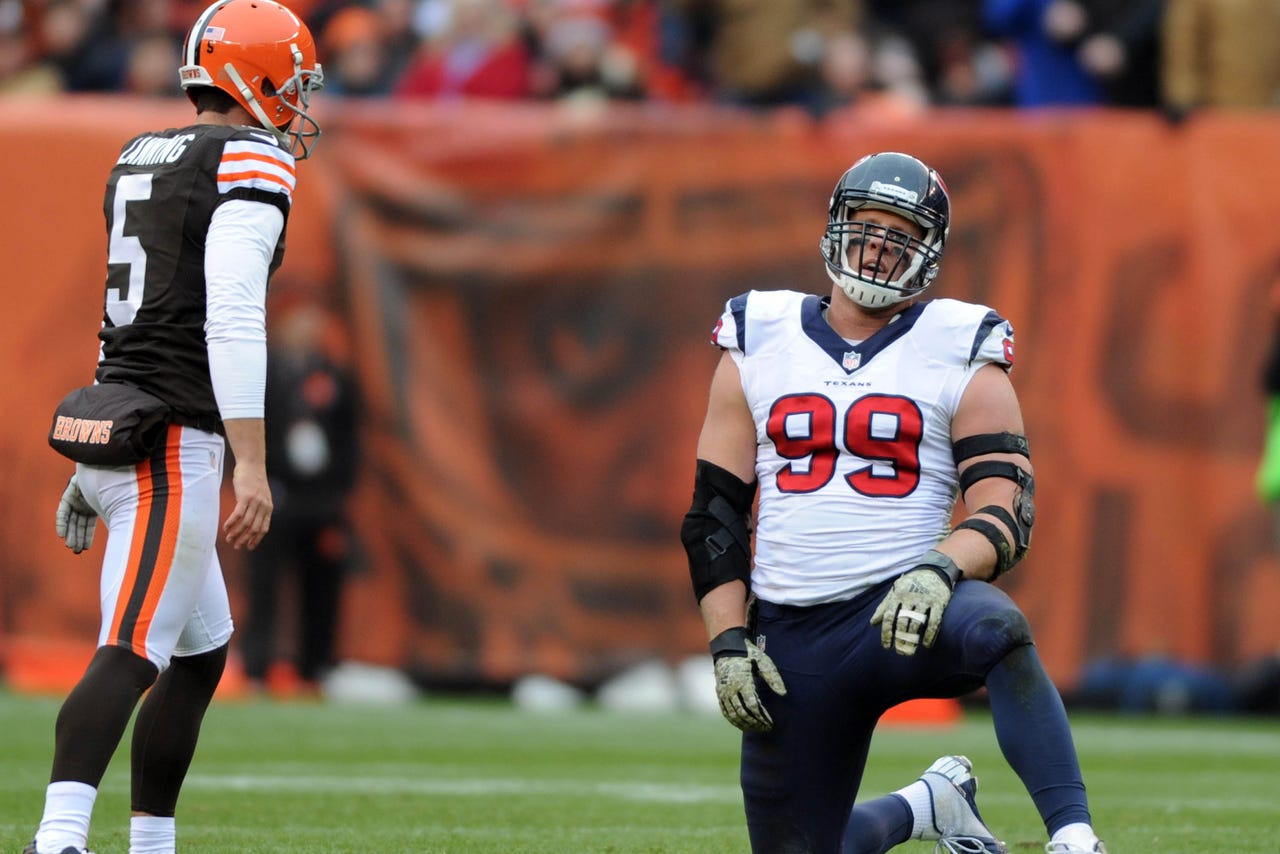 Texans defensive end J.J. Watt has been given a lot of labels throughout this career. Most recently, Dallas Cowboys owner Jerry Jones labeled him "arguably the best player in the NFL."
But Browns punter Spencer Lanning is labeling Watt something he isn't use to hearing: Dirty. (Or at least he's suggesting it.)
Sunday, during the Texans' 23-7 win over the Browns in Cleveland, Watt was flagged twice for roughing the kicker. And the kicker thought that was no accident.
"I'd like to think that he thought he could make a play at the ball, but it sort of seemed late --a late dive --  because I felt like I was almost coming down with my foot,'' Lanning told the Cleveland Plain Dealer. "We looked at the sideline copy and he wasn't anywhere near it when I struck the ball.''
"I wouldn't call it dirty,'' he continued. "I haven't seen it on film. All I can say is from the cut-ups we have on the sideline, he wasn't even close. So for him to come through twice and not be close ...''
"We knew if he was out there (on the punt team), he's disruptive. He just inflicts pain.''
After the first penalty, Lanning "sarcasticly" patted Watt on the head.
"Oh, absolutely, 100 percent (I was sarcastic)," he said. "Yeah 'cause if he's going to try to come in and potentially hurt me, I'm going to try to do something to discourage it 'cause that's the only thing I can do."
But when it happened a second time? Lanning began to wonder.
"He was even later the second time,'' he said. "I mean I was almost coming down with my leg when he came the second time. I'd like to think that he was just trying to block the second one instead of trying to get back at me for making a comment to him or something. But you know, it's all part of the game."
Watt's unofficial stat line from the game included five tackles, three for loss, one sack, a forced fumble, a fumble recovery, a touchdown and those two penalties.
"Obviously there are two plays I didn't do, but I will never apologize for trying to make a play," Watt said after the game. "My number was called and I tried to make a play. I wish I had gone a little more to the left."
For Watt, the penalties motivated him. "It definitely motivated me,'' Watt told HoustonTexans.com. "I told the guys, 'I owe you one. I owe you two, technically.' It definitely motivates you to go out there and make plays and make something happen because you want to avenge yourself for that screwup.''
That wasn't good enough for Lanning.
"If he wants to be a wild man and come through there, then I'm going to pick my feet up and if he touches me, it's going to be a first down,'' he said. "It's what we have to do or else they'll come through all the time."
[NESN]
MORE FROM FOX SPORTS SOUTHWEST: 
- Ranking NFL quarterback salaries
- Best college football traditions
- Greatest NBA players without a championship ring
---