Brewers overcome Dodgers, 9-3
Published
Aug. 8, 2014 11:39 p.m. ET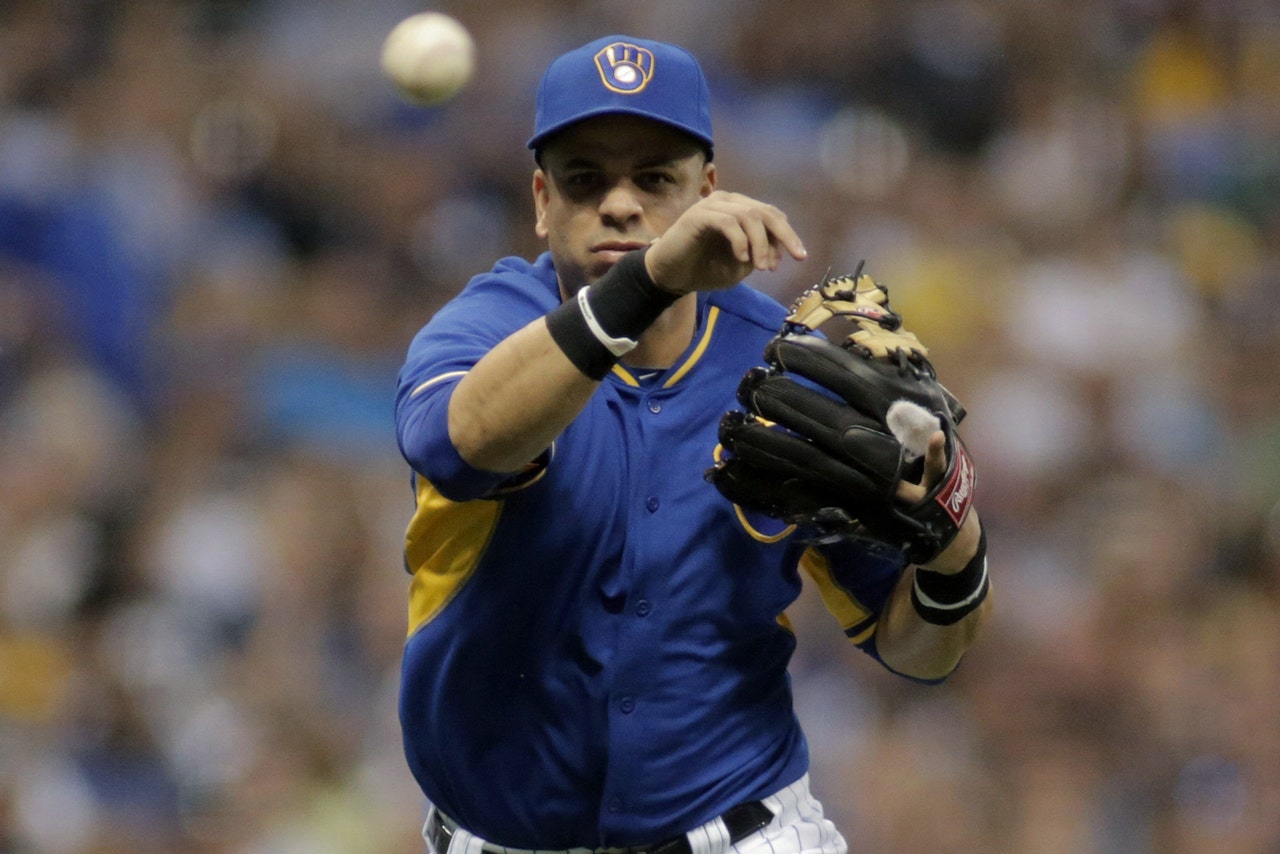 MILWAUKEE -- The Milwaukee Brewers are ready for a difficult weekend against the Los Angeles Dodgers. Especially after a successful performance in the series opener.
Rickie Weeks hit a three-run homer and Gerardo Parra had two hits and two RBI to lead Milwaukee to a 9-3 victory over Los Angeles on Friday night.
"We know the pitching that we are going to face the next couple of nights," Brewers manager Ron Roenicke said. "So, it was important to win this game."
The Dodgers' major league-best road record slipped to 36-24, but they will send Zack Greinke to the mound Saturday night and Clayton Kershaw on Sunday.
Roenicke said that Brewers simply didn't quit, especially after falling behind and not having much success against Roberto Hernandez in his Dodgers debut.
"Not only do we come back and tie it, and then get the lead, and then all of a sudden we get the big homer from Rickie," Roenicke said. "That opens it up."
Los Angeles scored two runs in the seventh to take a 3-2 lead, but Milwaukee capitalized on two errors by reserve shortstop Justin Turner and scored four runs in the bottom half of the inning.
"Actually, it was a pretty good game there until the seventh," Dodgers manager Don Mattingly said. "Then, we just defensively let our pitching down really. Really, it was our defense in general that let it down."
Martin Maldonado tied it at 3 with a squeeze bunt that scored Weeks. He bunted the ball toward Brandon League (2-3), who tried to flip it with his glove to catcher Drew Butera, but was late.
Pinch-hitter Khris Davis reached on Turner's first error to load the bases. Carlos Gomez then reached on Turner's throwing error that allowed Mark Reynolds to score. Parra followed with a two-run single that gave Milwaukee a 6-3 lead.
"Unfortunate," Mattingly said of the fielding miscues. "Brandon comes in, really gets ground balls is what he's trying to do, what we asked him to do, and we just don't get what we want."
Adrian Gonzalez homered in the sixth for the Dodgers, and then had a tying RBI single in the seventh. Andre Ethier's RBI single later that inning gave the Dodgers a 3-2 lead.
Dodgers shortstop Hanley Ramirez left the game in the first inning with tightness in his right side and was replaced by Miguel Rojas.
Ramirez said he hurt himself in the batting cage before the game. During his at-bat in the first, Mattingly didn't like how Ramirez reacted and took him out.
"One swing, it just tightened up on me," Ramirez said. "What he (Mattingly) did is smart. He don't want to make it worse."
Turner pinch-hit in the seventh and then took over at shortstop in the bottom of the inning.
Hernandez was traded by Philadelphia to the Dodgers on Thursday for two players to be named or cash considerations. He allowed two runs and three hits in six innings, throwing just 65 pitches.
Jeremy Jeffress (1-1) picked up the win in relief.
Milwaukee went ahead 2-0 in the first inning on Aramis Ramirez's run-scoring single and Scooter Gennett's sacrifice fly.
---